Driving A Double Initiates The 2013 Launch Programs
Arianespace has successfully carried out the 54th Ariane 5 launch in a row, orbiting two telecommunications satellites: Amazonas-3 for Spanish operator Hispasat, and Azerspace/ Africasat-1a for the Azerbaijani operator Azercosmos 0JSC and the Azerbaijan Ministry of Communications and Information Technologies.
The 68th launch of Ariane 5 set a new record for weight injected into geostationary transfer orbit: the launcher on this mission carried a total payload of 10,317kg, including 9,503kg. for the two satellites, Amazonas-3 and Azerspace/ Africasat-1a. This was the first Ariane 5 launch of 2013. Amazonas-3 is the seventh Spanish satellite launched by Arianespace. The company first launched the Hispasat 1A and 1B satellites in 1992 and 1993, respectively, followed in 2005 and 2006 by the XTAR-Eur and Spainsat satellites for Hispasat and its subsidiary Hisdesat. Amazonas-2 was launched in 2009, followed by Hispasat 1E in 2010.
The Azerspace/Africasat-1a satellite is the first national satellite to be launched by Arianespace for the Azerbaijan Ministry of Communications and Information Technologies. Arianespace has already launched the first satellites for 31 operators to date.

The mission was carried out by an Ariane 5 ECA launcher from Europe's Spaceport in Kourou, French Guiana.
Liftoff was on Thursday, February 7th, 2013 at 6:36 p.m. local time in Kourou
(4:36 p.m. in Washington, D.C., 21:36 UT, 10:36 p.m. in Paris, and 1:36 a.m. on Friday, February 8 in Baku).
Amazonas-3 was built by Space Systems/Loral using the SSL 1300 platform and weighed 6,265kg. at launch. It has 33 Ku-, 19 C-band transponders, and 9 Ka-band spot beams.
This high-power satellite provides a wide range of telecommunications and broadband connectivity services in Europe, the Americas and North Africa. It offers a design life of 15 years. Amazonas-3 is the 43rd satellite built by Space Systems/Loral to be launched by Arianespace.
The Azerspace/Africasat-1a satellite was built by Orbital Sciences Corporation using a Star-2 platform. Weighing 3,000kg. at launch, the satellite is equipped with 24 C- and 12 Ku-band transponders and will provide a wide range of telecommunications services for Azerbaijan, Central Asia, Europe, the Middle East and Africa. Azerspace/ Africasat-1a is the 24th satellite built by Orbital Sciences Corporation to be launched by Arianespace.

* * * * * * * * *

Up + Away Without A Hitch

A beautiful day at mission base Space Launch Complex-3 at Vandenberg Air Force Base in California was the scene for the successful launch of the Landsat Data Continuity Mission (LDCM) Launch Readiness Review (LRR).


This was the second ULA launch of the year, the 36th Atlas V mission, and the 68th ULA launch in just over six years.

"We are privileged to work together with NASA and such a strong LDCM mission team," said Jim Sponnick, ULA vice president, Mission Operations. "This is the second NASA mission ULA has launched in just 12 days. The ability to successfully execute this launch rate is a testament to a very dedicated and skilled workforce, excellent teamwork with our NASA customer and all of our mission partners, and a one-launch-at-a-time focus that enabled both the TDRS-K launch on January 30 and today's LDCM launch, both of which delivered critical capabilities to orbit."

This mission was launched aboard an Atlas V 401 configuration vehicle, which includes a 4-meter diameter payload fairing. The Atlas booster for this mission was powered by the RD AMROSS RD-180 engine and the Centaur upper stage was powered by a single Pratt & Whitney Rocketdyne (PWR) RL10A-4 engine.

The Landsat Program provides repetitive acquisition of high resolution multispectral data of the Earth's surface on a global basis. The data from the Landsat spacecraft constitute the longest record of the Earth's continental surfaces as seen from space.

ULA's next launch is the Atlas V SBIRS GEO-2 mission for the Air Force scheduled for March 19, 2013, from Space Launch Complex-41 at Cape Canaveral Air Force Station, Florida.

ULA program management, engineering, test, and mission support functions are headquartered in Denver, Colorado. Manufacturing, assembly and integration operations are located at Decatur, Alabama, and Harlingen, Texas. Launch operations are located at Cape Canaveral AFS, Florida, and Vandenberg AFB, California.


* * * * * * * * *

Beefing Up The Bouquet

Spacecom, operator of the AMOS satellite fleet, and SatLink Communications have announced the addition of TV5MONDE Afrique to the AMOS-5 17 degrees East French-language broadcast bouquet.

SatLink Communications is providing a TV distribution platform on the satellite via its MCPC (Multi Channel Per Carrier).

TV5MONDE Afrique, the first international channel in the French language, is a general interest quality channel bringing knowledge and understanding of various cultures to the world. TV5MONDE Afrique enriches programming through exclusive and informative films, entertainment shows, sporting events, documentaries and productions.

The channel is well known in French-speaking countries, with a nine out of 10 recognition rate.



SatLink Communications allows broadcasters to effectively distribute video content to and out of Africa for DTH or via Cable TV, DBS, DTT, MMDS, Mobile TV and IPTV partners across the continent.

Taking advantage of SatLink's Global Satellite and Fibre Network, the service is available on the AMOS-5 Pan African C-band coverage in DVB-S and DVBS-2, and additional two Ku-Band MCPC platforms to serve Sub-Saharan countries. This gives broadcasters greater flexibility with the provisioning of services to Africa including the Uplink, Downlink, Turnaround, Playout, content management, content localization, encryption (CA) solutions and inland installations.

* * * * * * * * *

Same Transponder Segment, Full Duplex Data

NovelSat has introduced Duet™ next generation software-based Echo Cancellation technology within its NS3000 Modem.

This ground breaking new feature enables NovelSat's Modem to transmit twice the amount of data over existing bandwidth, delivering data transmission rates of up to 730Mbps, and ensuring maximum spectral and cost efficiency.

Patent pending Duet™ Echo Cancellation technology, now embedded as an OTA (Over-The-Air), remotely downloadable software module in the NS3000 Modem, allows Teleports, Telcos and Cellular companies using satellite backhaul, DSNG operators and others offering data intensive applications to establish full duplex data, video and voice communication on the same transponder segment with the highest efficiency.


Duet™ revolutionizes the way DSNGs operate. By supporting bi-directional communication with the studio on the same bandwidth, Duet™ offers new capabilities that were previously considered impossible. Users with symmetrical data links can particularly benefit from the transmission of twice the amount of data without leasing additional bandwidth, and the significant cost savings that ensue. The NS3000 Modem supports all applications—from the smallest links to the world's largest pipes, a claim that no other modem can fulfill.

Of particular note is that, unlike all other existing echo cancellation technologies, NovelSat's Duet™ eliminates the mandatory need for dedicated, costly and performance-impairing hardware.

Furthermore, all processing is done in the digital domain, eliminating degradation associated with the redundant conversion of digital to analog and back.

In addition to technology that pushes performance boundaries to the limit, the NS3000 offers transparent pricing that allows unlimited configuration changes and flexible, pay-as-you-grow feature and capability additions, resulting in a compelling cost structure.

* * * * * * * * *

Interoperability Pilot TestsInteroperability Pilot Tests

VT iDirect, Inc. (iDirect), a company of VT Systems, Inc. (VT Systems) has successfully completed pilot tests with ip.access Ltd. to support 3G service over ip.access' nano3G® small cell device and iDirect's Evolution® X1 Outdoor satellite remote.

The pilot simulated a live network that could support data rates of 10Mbps on the outbound channel, 1.2Mbps on the inbound channel and up to 24 simultaneous voice calls.

The tests validated that mobile operators can affordably expand 3G services into remote or new areas, delivering broadband data rates and carrier-class voice quality using small cell technology.

The pilot addressed two persistent challenges for mobile operators—how to extend voice and data services to remote areas, where traditional macro cell towers are either too costly or simply not possible to install, and how to affordably backhaul mobile traffic.

The pilot featured a nano3G small cell device from ip.access, a leading small cell solutions vendor for mobile operators around the world.


The nano3G is a low-power wireless access point that provides hot-spot-like 3G coverage in a public area, private home or business. Small cell devices are a cost-effective alternative to macro cell deployments. They offer significantly lower cost points in purchase and backhaul and can be deployed quickly, with greatly reduced need for technical expertise.

The test also featured iDirect's Evolution X1 Outdoor satellite remote, which works in tandem with small cell devices to backhaul data from remote locations to the core network.

Modern TDMA-based satellite systems deliver carrier-class, two-way, all-IP connectivity and can share bandwidth efficiently across multiple end user sites.

Further, satellite backhaul has advantages over competing technologies in being quicker and more convenient to deploy and often more economical when extending service into territories that are otherwise difficult to reach.

The proof of concept highlights the opportunity for mobile operators to cost-effectively expand 3G and even 4G connectivity to underserved areas and markets. It's a critical business opportunity as smartphone adoption and data subscription plans are growing exponentially worldwide. Cisco predicts that mobile data traffic will increase 18-fold worldwide by 2016, compared to 2011 rates. And the number of mobile connected devices will surpass 10 billion.

"This joint test is an important validation that mobile operators can leverage small cell devices and satellite backhaul to cost effectively expand 3G service into new areas. This initiative builds on more than four years of successful 2G ip.access deployments in fixed rural and mobile environments using iDirect satellite backhaul. We can now enable mobile operators to capitalize on the global surge in demand for smartphone service." Gavin Ray, VP Product and Marketing, ip.access


"Together, small cell technology and satellite communications are dramatically changing the economics of remote connectivity. Companies like ip.access are opening a gateway for mobile operators to capture millions of new subscribers and achieve significant profitable growth, while bringing high-speed connectivity to underserved populations and business markets." Richard Deasington, Director, Market Development, iDirect.

* * * * * * * * *

A Dignitary's Visit, Then Space Bound

Indo-French space cooperation is all set to soar to new heights with the scheduled launch of a satellite to study changes in the environment, to occur soon after the visit of French President Francois Hollande in New Delhi next week.


The SARAL-Altika satellite, a joint project of the space agencies of India and France, will complement the observations of the seas made by current satellites.

The Indian Space Research Organisation (ISRO) has identified a launch window between February 22 and February 25 for putting the 450kg Indo-French satellite into orbit from its spaceport at Sriharikota, official sources said.

India's warhorse rocket, the Polar Satellite Launch Vehicle (PSLV), will launch the satellite into orbit.

SARAL is short for Satellite with ARgos and ALtiKa, the two main devices on it which have been provided by French space agency CNES. Besides building the spacecraft, ISRO will launch and operate it through its life.

SARAL would be one of the very few ocean-centric satellites and a vital cog in studying sea surface heights and other aspects. Earlier, the launch was scheduled for December last year but it had to be put off to complete a few tests and validations.

AltiKa is an Ka-band altimeter system, dedicated to accurate measurement of the rise in the sea levels. The satellite would be useful in studying the sea state, light rainfall climatology, mean sea level and coastal altimetry.

The satellite will also help ocean scientists gather accurate data on the rise in the sea level which could threaten the low lying and coastal areas of the country.

* * * * * * * * *

Flyaway Feedback Incorporated

Norsat International Inc. has launched the GLOBETrekker 2.0, an upgraded and more feature rich model of their popular fly-away satellite terminal.


Upgrades to the auto-acquisition terminal are the result of feedback from key military and enterprise customers, including the NATO Communications and Information Agency, with whom the Company worked to produce the DART+ line of fly-away terminals.

The re-engineered GLOBETrekker is now lighter, more field serviceable and faster to deploy while maintaining the rugged design Norsat has become known for.

Important feature additions to GLOBETrekker make the terminal easier and more intuitive to use for operators of all skill levels. The GLOBETrekker now includes a one touch user interface and maintains its easy tool-free assembly process, enabling rapid deployment in less than 15 minutes.

Auto-acquire technology is provided by Norsat's revolutionary LinkControl™ Software. Through LinkControl's sophisticated system of user configured profiles, operators can now switch satellites, equipment, or systems rapidly in the field. A USB recovery process saves a full system image, providing security, configuration storage and disaster recovery if necessary.

LinkControl's automated troubled shooting also provides visible and audible alarms to guide the technician through an intuitive resolution process.

Design improvements make the already rugged GLOBETrekker tougher and more flexible in the field. A new modular architecture, developed to enable rapid sub-assembly swapping in the field, includes a removable base unit, which allows the modem and key electronics to be integrated with the terminal or removed and positioned indoors for maximum customer flexibility.

The GLOBETrekker is multi-band capable (X-, Ku- and Ka-band), and band switching is possible in less than 10 minutes in the field. The development of quad pod legs keeps electronics well above snow, mud or running water when used in challenging environments, and automatic levelling enables rapid deployment in uneven terrain.

The addition of a sunlight readable display (greater than 1200 NITS) provides visibility even in direct sunlight.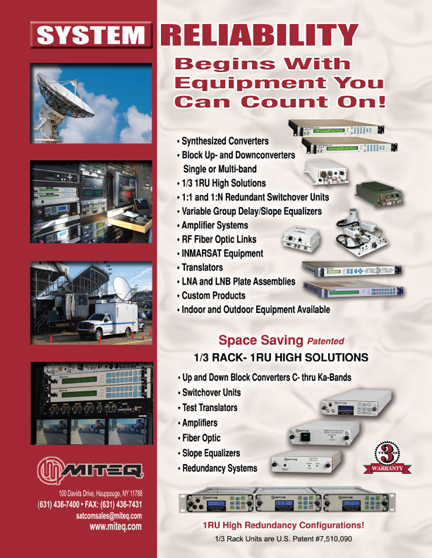 The GLOBETrekker is undergoing Wideband Global SATCOM (WGS) certification to allow for operation on the ten satellite WGS constellation for use by U.S. and other WGS-enabled military forces.

* * * * * * * * *

A Spatial First For Singapore

Singapore Technologies Electronics Limited (ST Electronics) has announced that its subsidiary, ST Electronics (Satellite Systems) Pte Ltd., has started the design and development of its first commercial remote sensing satellite.

Named TeLEOS-1, this made-in-Singapore Earth observation satellite should launch into commercial service in 2015.

ST Electronics is the electronics arm of public listed Singapore Technologies Engineering Ltd. (ST Engineering). Established in May 2011, ST Electronics (Satellite Systems) is a joint venture of ST Electronics' wholly owned subsidiary, ST Electronics (Satcom & Sensor Systems) Pte Ltd., Nanyang Technological University and DSO National Laboratories.

ST Electronics recognizes that the space industry, with its high value-add and market potential, provides commercial opportunities for its next growth frontier.

To capture these opportunities, ST Electronics, with the support of the Singapore Economic Development Board (SEDB), has committed itself into the design and manufacturing of satellites, with the vision of developing satellite technologies for the global market.


Collaborations with local and foreign research institutes, institutes of higher learning, space agencies and leading space industry players is instrumental in strengthening ST Electronics' core engineering and business competencies, and building up indigenous capabilities for the development and commercialisation of its satellite technologies.

TeLEOS-1 will be the launch platform for ST Electronics to tap into this growing business, to exploit commercial potential, and to grow the indigenous capability in the design, development and production of advanced earth observation satellites.

TeLEOS-1, weighing about 400kg., is designed and developed by ST Electronics (Satellite Systems), and its operations, marketing and sales of related services will be undertaken by ST Electronics (Satcom & Sensor Systems), a wholly owned subsidiary of ST Electronics.

TeLEOS-1 is designed to orbit around the equator, at an orbital height of about 550km, with an update rate of 90 minutes.

The satellite will provide images of 1 metre ground sampling distance from an electro-optics camera.

The satellite images can be used for disaster monitoring and management, mineral exploration, precision farming, environmental monitoring, climate change studies, agriculture resource studies and management, maritime and coastal observation, urban planning and homeland security.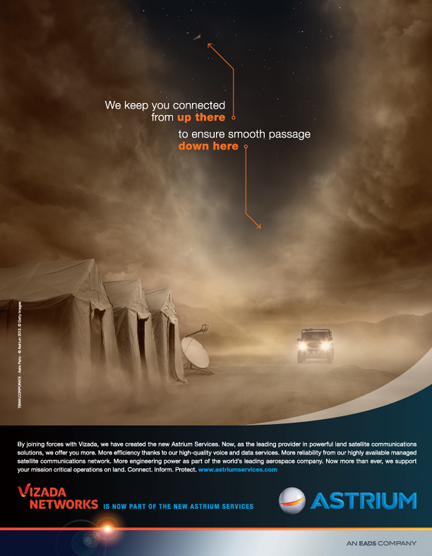 In this regard, it is currently developing the first made-in-Singapore commercial satellite which will be launched soon. In addition to using its own satellite to provide imagery and value-added services to customers, ST Electronics plans to collaborate with partners to tap on their complementary satellite images to enhance the offering of high quality geospatial solutions and value-added services to the market.

* * * * * * * * *

Meshing With Mozambique

PolarSat Inc. has received a multi-phase order from GECI for equipment supply and technical services for a VSATPlus®3 satellite communications network.


This network is to upgrade the air traffic control communications network within Mozambique.

This upgrade is a strategic element within Aeroportos de Mozambique master plan to improve its overall Communications, Navigations and Surveillance (CNS) systems.

The Mozambique ATC network consists of total of 11 sites with two Air Traffic Control (ATC) regional control centers all connected in a full mesh all-IP based network.

The VSAT network provides backbone connectivity for VHF voice communications relay to cover the whole continental airspace and Oceanic airspace delegated to the Beira Flight Information Region.

The airspace is divided into northern and southern regions that are controlled by their ATC control centers, located in Maputo and Beira. The VSATPlus®3 provides geographic redundancy in transporting control center traffic. In the event of a failure of one of the centers the VSATPlus®3 system automatically provides connectivity to the other ATC center.

All sites will support a complex mix of voice and data communications including hot lines, AFTN, AMHS, ADS B, Internet and general corporate internal communications.

The VSATPlus®3 family of terminals provides a full mesh, hubless network with no single point of failure and offers the greatest ease of network configuration and expansion. It supports the most demanding network applications including high quality voice, low and high-speed data, video conferencing and fax—all in a single low-cost, integrated platform.

* * * * * * * * *

Lose That Latency

Fujitsu Frontech North America Inc. exhibited at VidTrans13, the Video Service Forum's annual technical conference and exposition that occurred in Los Angeles last month.


At the show, Fujitsu showcased a new firmware release that dramatically improves end-to-end latency for its IP-9610, IP-900, and IP-920 HD/SD H.264 video encoders/decoders while delivering an exceptional picture quality at reduced bit rates.

The new enhancement enables Fujitsu's H.264 video encoders/decoders to operate at less than 99 milliseconds, ensuring a seamless interaction between talent, studio, and interviewees for HD satellite newsgathering, broadcasting, and IP streaming applications. Leveraging high-performance H.264 video compression algorithms, and considered by many as the highest quality in the industry, Fujitsu encoders/decoders enable bandwidth-efficient, real-time transmission of digital media content over IP, DVB-ASI, and RF networks.

The new ultra-low latency enhancement is available today and can easily be added to existing IP-9610, IP-900, and IP-920 H.264 video encoders/decoders, allowing users to realize the return on investment of previously purchased equipment while simultaneously adapting to new technology advancements.

* * * * * * * * *

Teleport Revitalization In Africa


BringCom Inc., supplying communications technologies to Africa, and local Djibouti partners have established a new private company, Djibouti Teleport SARL, to revitalize and manage the daily operations of the Djibouti Teleport facility.

Under the agreement, BringCom becomes the managing partner of Djibouti Teleport. In addition, the partners agreed to upgrade the Djibouti Teleport with new buildings, backup power, security hardware and an iDirect hub to create a first-class teleport facility serving the African region.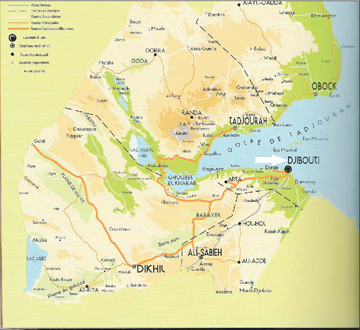 Djibouti Teleport will also provide competitive international connectivity through five large-capacity undersea cable systems connected to the facility. BringCom has assigned trained teleport technicians to assist the experienced Djibouti Teleport staff in providing roundthe-clock teleport services.

"This agreement is a significant extension of BringCom's capabilities to serve the requirements of customers in the Middle East and Africa," said Fabrice Langreney, President and CEO of BringCom. "This relationship will allow us to revitalize the Djibouti Teleport in a way that makes it well-suited to a great number of potential users."

Djibouti Teleport currently provides Apstar 7 Ku-band connectivity with a 7.3 meter antenna and C-band connectivity with a 16 meter antenna. Both antennas have been refurbished and upgraded with new electronics. Additional antennas and equipment are currently being installed and should be available shortly. BringCom and Djibouti Teleport will continue to add technical functionality and personnel resources to the teleport as necessary to support the requirements of their Djiboutian, African and international commercial and government customers. The Djibouti Teleport is well suited to support terrestrial, aeronautical and maritime satellite applications owing to its unique geographical location, multiple satellite look angles and international connectivity to multiple fiber optic systems, including SEMEWE3, EIG, SEACOM, and EASSY.

* * * * * * * * *

Big Plans For Small Sats

Skybox Imaging (Skybox), an emerging high-resolution images of the Earth by provider of timely satellite imagery designing and building microsatellites and data services, has announced and cloud services. it is adding an imaging satellite, By operating the world's first SkySat-2, to its fleet during 2013, via coordinated microsatellite constellation, a newly available secondary launch Skybox aims to empower commercial and opportunity aboard a Soyuz-Fregat.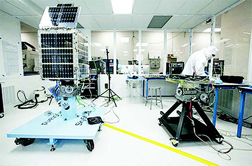 Skybox has secured this launch informed, data-driven decisions that will opportunity by contracting with JSC improve the profitability of companies and Glavkosmos, a secondary a secondary payload launch provider within the Russian Federal Space Program that works on behalf of the Russian Federal Space Agency (Roscosmos).

The previously unplanned spacecraft will substantially increase Skybox's near-nearterm imaging capacity and accelerate the availability of timely information products.

Skybox can respond to new launch coputing technologies and Skybox's opportunities such as this Soyuz launch because it is capable of building a highresolution imaging satellite within nine months, demonstrating the company's capability to scale to a near-term, multisatellite constellation.

Skybox provides global customers easy access to reliable and frequent high-resolution images of the Earth by designing and building microsatellites and cloud services.

By operating the world's first coordinated microsatellite constellation, Skybox aims to empower commercial and government customers to make more informed, data-driven decisions that will improve the profitability of companies and the welfare of societies around the world.

"The ability to build and launch a satellite with the capabilities of Skybox's satellites in less than a year wasimpossible five years ago," said Joe Rothenberg, technical advisory board chairman for Skybox and former director of Goddard Space Flight Center. "The convergence of launch opportunities, computing technologies and Skybox's Silicon Valley approach to aerospace enables the company to innovate more rapidly than other players in the industry."

The satellite will launch alongside the Meteor-M weather satellite from the Baikonur space center in Kazakhstan. It will be a copy of Skybox's first satellite, SkySat-1, which is planned for launch in 2013 aboard a Dnepr launch vehicle.

* * * * * * * * *

Bringing Beidou Into The Picture

Spectracom, a business of the Orolia The recent release of the Beidou Group, has upgraded its capability ICD specification has confirmed that to China's global navigation satellite Spectracom simulators will be able to system, Beidou.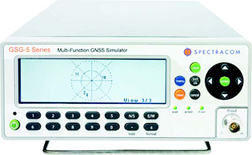 The Spectracom GSG Series 5 and Series 6 GNSS simulators, released last year, are designed to be field upgradeable to simulate current and future GNSS constellations. GSG simulators are capable of outputting the frequencies, modulations and data formats of anticipated GNSS systems.

The recent release of the Beidou ICD specification has confirmed that Spectracom simulators will be able to simulate these satellites with a simple field-upgradeable firmware update.

The Series 5 single frequency simulator is fully capable of the all the signals in the L1 (GPS and GLONASS) / E1 (Galileo) / B1 (Beidou) band, including all the GLONASS FDMA satellites.

The Series 6 multi-frequency simulator is fully capable of all four bands of all the systems: L1 / E1 / B1; L2 / L2C; L5 /E5 /B2; and E6 / B3.

* * * * * * * * *

Landing Landsat

Honeywell announced that after Landsat 7 operations staffing from 24 Honeywell Technology Solutions hours a day to just 10 hours a day, Inc.'s (HTSI) successful management contributing to the overall cost savings for of the Landsat program for the the USGS. past 12 years, the organization was Under the new six-year contract, awarded a new six-year contract for HTSI will continue to manage both the continued flight operations for the Landsat 5 and Landsat 7 satellite Landsat 7.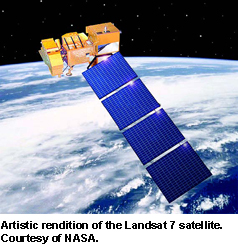 Honeywell's new mission and data management processes anticipate and rectify anomalies and have saved the U.S. Geological Survey (USGS), the managing organization of the Landsat satellites, $9 million over the past 12 years.

In addition, HTSI has successfully eeyear mission to 29 years and kept the Landsat 7 operationally viable.

Beyond its data management processes, HTSI also deployed its innovative "Lights Out" automated operations capability that reduced Landsat 7 operations staffing from 24 hours a day to just 10 hours a day, contributing to the overall cost savings for the USGS.

Under the new six-year contract, HTSI will continue to manage both the Landsat 5 and Landsat 7 satellite programs while adding new tasks such as these:

» On-orbit flight operations and technical services for the Landsat 5> and Landsat 7 satellites

» Sustaining engineering for each spacecraft, helping to keep the spacecraft operationally longer

» Sustaining engineering for the Landsat mission control centers, helping manage their critical ground support and management functions

HTSI will also assist the USGS with the safe decommissioning of Landsat 5 by lowering it from its orbiting altitude of 705 kilometers and mitigating risk to nearby U.S. and international Earthobserving satellites.

HTSI's flight operations team has already completed Phase 1 of the decommissioning by successfully lowering Landsat 5's orbit by 20 kilometers in two delta velocity maneuvers.

* * * * * * * * *

The Technology + The Challenges

Espial has a new whitepaper entitled advancements—including open Web Agile IP Video Delivery: Redefining standards such as HTML5—payTV STB Software Architecture. operators can cost-effectively address

The white paper addresses the current STB limitations and power a more technology and business challenges dynamic user experience that includes: that payTV operators face in delivering cloud-centric user interface delivery a sophisticated television experience to
consumers on set-top boxes (STBs).

The whitepaper provides a detailed insight into the current state of the industry, followed by strategies to leverage recent hardware and software innovations to implement an STB software architecture capable of supporting compelling user experiences at a faster time to market, with significantly lower development costs.

Relying on a multipronged approach that utilizes recent technology advancements—including open Web standards such as HTML5—payTV operators can cost-effectively address current STB limitations and power a more dynamic user experience that includes: cloud-centric user interface delivery models, new advertising and business models, rapid application development, interactive content, and integrated Web and social applications.

An excellent resource for the payTV industry, the whitepaper is available as a free download from the Espial website at this direct link. Further details at www.espial.com