2010 has been a year of continued growth for Marlink. Despite the global economic downturn, there are some sectors of the maritime industry that have been relatively unaffected. The demand for satellite communication services to facilitate a wide range of applications such as improved operational efficiency and online monitoring of vessel performance has continued. In addition, the introduction of smaller antenna systems and entry-level VSAT services has resulted in VSAT becoming more accessible to a broader range of customers.
A key development throughout this past year has been growth in data consumption, driven by Internet usage for social applications. Demands from crew have become focused on data and for social applications, such as Facebook. An important consideration for crew is being able to stay in touch with their lives ashore at an affordable cost. To meet this demand, the Company has focussed on delivering solutions which offer acceptable quality for social communication on the Internet, in a cost-effective method.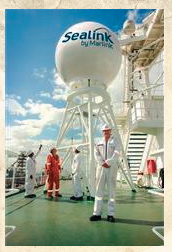 For Marlink, this year's developments have resulted in a rise in demand for our broadband services, which range from Inmarsat Fleet Broadband products to our VSAT portfolio Sealink™, WaveCall™ and @SEAdirect™. A highlight in 2010 has been the expansion of the contract with one of the world's largest shipping companies, AP Moller-Maersk. The renewed agreement has seen Inmarsat FleetBroadband airtime services supplied to an additional 200 vessels, increasing the total number of AP Moller-Maersk vessels sailing with FleetBroadband airtime supplied by Marlink to 370.
The contract with AP Moller-Maersk is testament to Marlink's strong understanding of that company's communications requirements, especially with exceptional global 24/7 support, guaranteeing customers access to the highest quality and most reliable satellite communications, which is fundamental to AP Moller-Maersk's operations for business-critical and crew applications.
In 2011, the demand for increased communications systems which offer enhanced services will continue to increase. Marlink has identified a number of opportunities wherein product lines are expanded to offer creative solutions for customers.
The maritime businesses will continue to focus on cost efficiency — Marlink is committed to introducing new and innovative services to ensure our Inmarsat and VSAT offerings provide exceptional value. We also expect satellite network operators to increase satellite capacity, which will allow for higher data rates and better coverage for VSAT services.
The strategy for 2011 will remain much the same as for 2010, to provide unmatched flexibility, reliability, and cost-effective satellite communication solutions to the maritime industry. Part of this is the Company's operation of customer service centers in major regions throughout the world. This level of local presence means we are able to offer faster, more effective, and locally focused levels of service intervention, and customer support, whenever required. In addition, experienced and skilled engineers are employed who are available all year, ensuring reliable communications, any time, at any location.