GTX Corp is in the business of keeping you connected — the Company continues to be at the forefront of the personal location industry and debuting new technologies that impact how you ask the "where is" question.
With the end of the year upon us, it is evident by the milestones achieved that GTX Corp was not only building a Company, but actually defining a category. The novel and award winning idea of putting GPS tracking devices inside shoes to monitor the elderly with dementia rapidly expanded into a lot more; through the incorporation of customization, localization and optimization. GTX Corp (GTXO) has pioneered 2-way GPS tracking technology over the past eight years and has defined an innovative category of Location Based Services (LBS) by coining the phrase Personal Location Services (PLS) — personal, because "location" is all about you and keeping you connected.
This past year, GTX engendered quite a few headlines. The Company started the year with the launch of our the popular GPS Tracking app, which "hit the charts" in its second week and remains one year later, on the Apple App Store's top downloaded, and top grossing list, closing out the year with 17 apps on six platforms with more than 750,000 customers in 100 countries. This kind of development roadmap and traction is fueling this new market, which carriers are calling "pure gold" and is on track to be a $15 billion dollar industry within the next three years.
GTX formed a relationship with Samsung and developed two custom apps for its new bada platform, which is expected to be available on 40 million phones by mid-2011. Also, GTX is currently in discussion with several handset, wireless operators, and tablet manufacturers about custom development and placement of several of our apps "on deck".
Shifting gears to the enterprise side, GTX has signed on several new license partners, both in the U.S. and Latin America, and recently launched its enterprise portal, fully localized in Spanish and operational in Mexico. The most gratifying technology for the Company is the multi-patent GPS Smart Shoe™ . This product won the 2010 People's Choice Award for Most Innovative Connected Location Device. The GPS Shoe, licensed by Aetrex Worldwide, is available through e-commerce at www.foot.com and will becoming to retail stores in 2011.
The latest surge in consumer awareness of GTX can be attributed to several factors, ranging from millions of new GPS handsets hitting the market to an increase in an older population requiring care giver assistance products to corporations wishing to manage work productivity and logistics in a more effective manner. However, the seismic shift came from the massive life style adoption of mobile location based social networking. Facebook and Twitter, for example, became giants by answering the "what are you doing" question. Now add in the missing component — "where" — shifting the question to "what are you doing and where are you doing it". This has now become the new paradigm for staying connected in today's digital and global world.
GTX's increase in traction is directly related to greater brand recognition, a diverse pipeline of products, and an intense focus on delivering customized, localized solutions. The business model for GTX is to provide a complete customizable solution of hardware, middleware, apps, connectivity and professional services, to become a one stop shop for the consumer or enterprise looking to implement GPS Tracking technologies.
GTX Corp recognizes the global landscape and understands the different requirements from country to country and how dissimilar geographies and economies factor into the equation of choosing a solution that's correct for the individual consumer.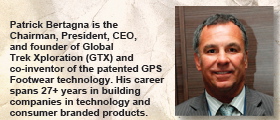 Looking forward to 2011, GTX will continue to pave the LBS way and will introduce new products to the market, with a focus on e-Health and apps for various mobile platforms and devices, from smartphones to tablets to TVs. Today, the Company is acknowledging the user demands, which require an experience based on where they are, with that information readily available through whatever device they are viewing. Asking the "where is" question in Korea via a TV set is different than asking "where is" from an iPhone in Los Angeles or a desktop in Mexico City. To accelerate consumer traction, customization, localization and optimization are paramount objectives for GTX Corp in 2011.