For the satellite and broadcast industries, this is definitely a busy time of the year. Summer, and hopefully a restful holiday, leads into a frantic conference season that has already experienced Euroconsult's Paris World Satellite Week.
However, while Paris has provided plenty of opportunities for senior staffers to meet and greet, to grin and grip, with rivals, bankers, insurance folk, launch specialists and perhaps even a few journalists, it could be that the real future of the industry is being decided—not in Paris—but in Berlin (at IFA), at IBC2014 in Amsterdam and even a month later at the giant MIPCOM programming market event in Cannes.
The key question for each of these conferences, at least for satellite operators working in the broadcasting and payTV sphere, is the shape and speed of take-up for 4K, and perhaps even 8K video broadcasting. An early ramp-up, and positive take-up of Ultra-HD by consumers, and the operator's bandwidth forecasts are safe. A slow take-up and such forecasts might prove to be overly-optimistic and could damage the already fragile growth predictions for the sector.
This batch of conferences has—at least—thrown up a huge number of thought-provoking (and business impacting) studies.
One somewhat negative report from researchers at The Diffusion Group on August 14th: (TDG: Forecasting the 4K Video Ecosystem, 2014-2025) said that while 4K will ultimately reach the mainstream, it will be a niche market for at least another five years, with widespread viewing of 4K content arriving in 2019 and growing quickly beyond that date.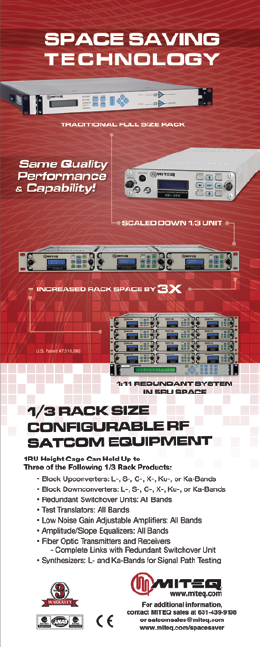 Joel Espelien, author of the new report, notes that short-term viewership of 4K video will be driven by consumer purchases of smart TVs with 4K functionality. However, the diffusion of 4K televisions will occur more slowly than many believe due to poor consumer awareness, high set prices, and a lack of 4K content. That said, the emergence of 4K-enabled devices will help to fill this gap.
For example, Espelien predicts that ISTBs (Internet Set-Top Boxes) from companies such as Amazon, Apple, and Roku, will join smart TVs in supporting 4K streaming from OTT services. "This will create a 'halo effect' around broadband video quality and provide a strong differentiator for OTT services such as Netflix and Amazon," noted Espelien. "This will be a valuable tool in recalibrating consumer perceptions of video quality and reinforcing the value proposition of broadband streaming services."
According to TDG, iSTBs and Blu-ray players will each account for almost one-fifth of all 4K video viewing in 2017. While physical discs will enjoy only short-term success, the use of 4K ISTBs will be propelled to even greater heights due to several factors, including support from the 'Big 4' (Apple, Amazon, Google, and Microsoft); a one to two year replacement cycle (versus seven to eight years for TVs); and a sub-$100 price when they arrive in market. As such, 4K-ISTB diffusion will remain strong throughout the forecast period and surpass 4K smart TVs to become the single most-important platform used to view 4K video aside from legacy payTV operator STBs.
While OTT streaming video will be the most notable short-term driver of 4K video, payTV operators will also play a defining role. Beginning with on-demand 4K offerings, payTV operators will slowly add live 4K support as the ecosystem matures. As Espelien noted, "Regardless of the timing of market entry, and irrespective of the availability of alternatives, the sheer strength of legacy payTV and the ability of operators to deliver must-see live events, such as the Super Bowl and the Olympics, will propel operator 4K-enabled STBs to a dominant position."
In fairness, and for balance, there are a slew of much more optimistic predictions available, which we might all favor. However, the fact remains that the next three to four years will be a worry for those operators who have to create extra capacity with a similar construction and launch time-lag.
One well-regarded group of analysts at Futuresource Consulting anticipates a more positive take-up, especially following on from a flat (no pun intended) 2013, when flat-panel sales disappointed the market. Futuresource Consulting said, "Flat panel saturation in developed markets has resulted in oversupply and has been exerting downward pressure on vendor profitability," said Jack Wetherill, Senior Market Analyst at Futuresource. "Moreover, the stimulus provided by the switchover from analogue to digital in the years up to 2012 did not carry over into 2013.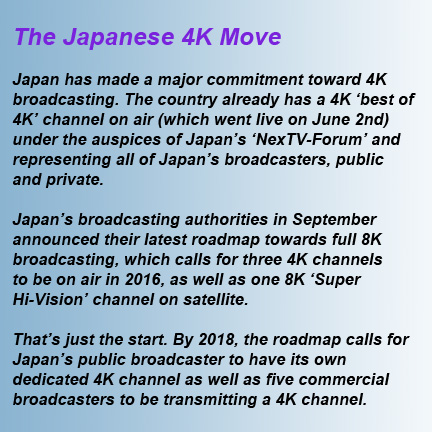 "However, in among last year's global market weakening—with TV revenues down to $104 billion at trade—we did see pockets of profit. The Chinese market grew strongly in 2013 after an underwhelming 2012, to reach 47 million units, with a government subsidy program bolstering a particularly strong H1. Latin America and MEA also enjoyed growth, with flat panel volumes up 3 and 6 percent, respectively.
"As we progress through 2014, we're going to see the global TV market grow by around 1 percent to exceed 230 million units, with the majority of growth being derived from Latin America, Middle East & Africa (MENA) and emerging Asia Pacific (APAC). Value will be driven even higher, with forecasts of nearly 2 percent, on track to exceed $105 billion."
This is all well and good, but what about 4K, you might ask. Futuresource's view is much more positive than that of TDG. To generate higher margins, panel makers and TV vendors are beginning to push new generation 4K TV sets, and Futuresource forecasts show that 4K sets will account for 5 percent of the global TV market this year, rising to 42 percent by 2018.
In addition to attractive pricing, the industry is hoping that the ability of many of the sets to upscale from HD will encourage consumers to buy the sets in advance of the content industry gearing up for widespread 4K content capture and distribution. The larger screen size segments are now expected to migrate rapidly to 4K, predominantly as the result of upstream competitive pressures and efficiencies in panel manufacturing.
But just to return to TDG for a moment—their study has a very valid point, which is that consumers are confused by the technology—and fazed by the high prices. Every reader of Inside Satellite TV knows only too well that the 'chicken and egg' situation is also affecting take-up where there is simply no content being aired, other than few series on Netflix and other download services (and the movies packaged in with high-end Sony and Samsung displays).
TDG research indicates that more than eight in 10 adult broadband users have never heard of, or are unfamiliar with, 4K/UltraHD televisions. That's hardly a favorable environment for those OEMs looking to grow unit sales. According to TDG President Michael Greeson, "The industry is counting on 4K/UHDTV to be the solution for slow television sales and declining unit prices."
All of the major TV OEMs have 4K/UHDTV sets in the market, with prices generally ranging from $1,500 on the low end to as much as $10,000 on the high end. Unfortunately, even among those familiar with the technology, TDG's research suggests that prices are still too expensive for many consumers.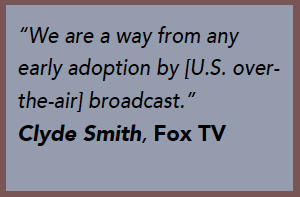 At a retail price of $1,499—the midpoint of the three prices evaluated—only 6 percent of adult broadband users are moderately or highly likely to purchase a 4K/UHDTV. "This explicitly quantifies just how poor the demand for 4K/UHD televisions actually is," explained Greeson, "and clearly demonstrates that current prices are too high to stimulate new sales."
"To illustrate how rapidly this demand evaporates relative to price, only 3 percent of adult broadband users are moderately or highly likely to purchase a new 4K/UHDTV set at $1,999 a unit, a modest increase in price of $500 that results in a 50 percent decline in demand at $1,499," said TDG.
There is little doubt that prices are coming down and technology promotion is occurring. The likes of Sony, Samsung, LG and others are pushing the technology and there's not a high-end electrical retailer that is not evangelizing 4K and the benefits of what lies just around the corner.
And broadcasting—at least via some technologies—is just around the corner. In addition to the already mentioned Netflix-type streaming of 4K, there are now broadcasters around the world desperately seeking content for their 4K plans. Mike White, CEO at DirecTV, has promised to start streaming 4K services this coming winter, and broadcasting 4K a year later (by winter 2015-16). DirecTV will not be alone.
However, terrestrial transmission is a major problem for most networks, other than Japan and possibly South Korea. Here are comments from Clyde Smith, Fox TV's head of new technology, "I suspect when we do start 4K, we will all again be surprised at how long, and close, people will look at the screen. When we started in HD, people were almost glued to their sets. And they watched the HD commercials! But in those days, the audience measurement systems were not that sophisticated. Now they are. Then, we could not monetize the improvement in viewing quality. Now we can do so, and the industry needs to move to a census-type ratings system so that we can monetize 4K.
"But we are in a whole new experience. For most people, the first time they ever saw HDTV was via a broadcast signal. Now, 4K is being watched today on Netflix and other streamed services. On-line is first, then cable and satellite will follow, and poor old broadcast will be last.
And in the USA, because of the broadcast regulations, it might be a way off. The ATSC is drafting its ATSC v3 specification for the end of 2015, which will then take six months for ratification, and then the FCC has to act on that, and they're not the speediest of organizations because of what they have to go through. So, we are a way from any early adoption by [U.S. over-the-air] broadcast."
As mentioned, DirecTV (and quite possibly NHK, Sky Germany, NTV Plus in Russia and others) will be at MIPCOM this coming October to seek out that content. MIPCOM, again, is doing its best (with Sony's help) to push producers to consider 4K in their future transmission plans, and plenty are. Some examples include...
• Atlantic Productions, working with Sky UK
• BBC Natural History Unit, active in 4K
• NHK, shooting in 4K
• RAI Italy, Commissioning in 4K
• Sky Italia, building its 4K portfolio
• Sky Germany, Europe's 4K pioneer
• France Televisions, experimenting
• 4KMedia4U, Germany, building a 4K archive
• Red Bull Media, shooting in 4K
• Trator Films, Brazil, shot the FIFA 4K film
In other words, the production community is thinking ahead about Ultra-HDTV. Indeed, some are already shooting in 5K and 8K. That satellite delivery is going to be hugely important is clear to everyone, and the payTV sector will lead this charge. It just needs to happen.

About the author
Senior Contributor Chris Forrester is a well-known broadcasting journalist and industry consultant. He reports on all aspects of broadcasting with special emphasis on content, the business of television and emerging applications. He founded Rapid TV News and has edited Interspace and its successor Inside Satellite TV since 1996. He also files for Advanced-Television.com. In November of 1998, Chris was appointed an Associate (professor) of the prestigious Adham Center for Television Journalism, part of the American University in Cairo (AUC), in recognition of his extensive coverage of the Arab media market.
---