Market momentum, supply chain realities and more...
Low Earth Orbit (LEO) constellations clearly require a new, more flexible kind of antenna that can quickly track multiple satellites as they pass over the horizon. LEOs' promise depends on reliable, nimble electronically steerable antennas and terminals that can access this connectivity. Whether for military, aviation, maritime or ground-based mobility, operators and users recognize that they must get the antenna right if they want to fully capitalize on the promise of LEO satellites.
---

---
With a working prototype of its active Electronically Steered Antenna (ESA) in Ku-band for its first customer, L3 Harris Communications, NXTCOMM sees strong momentum for ESAs in 2022, both in the military and with market leaders in aviation. NXTCOMM initially targeted the defense market segments, as the military are clamoring for next-generation satellites to drive future communication needs. NXTCOMM isn't alone in this view. Steve Collar, CEO of SES, recently stated that he selected government over other segments when asked which market he was most excited about pursuing over the next two to three years with the arrival of the company's MEO network, O3b mPOWER.
SATCOM hardware players such as NXTCOMM have further benefited from the consolidation of much of the DoD's space purchasing office under a single command, the U.S. Space Force. As with many defense-first pivots in technology, NXTCOMM sees its early efforts to drive its product down to the smallest size and form factor benefiting the entire LEO ecosystem.
Building A Different Kind Of Antenna
NXTCOMM's unique differentiation is its fragmented aperture technology. Current mechanically steered antennas on a vehicle or an aircraft use moving parts that tend to fail and, when coupled with size and weight, fall short of the promise that ESAs bring to the industry.
---

The NXTCOMM Ku-band antenna testing on range. (Photo credit: NXTCOMM)
---
In contrast, NXTCOMM's active ESA is completely electronically controlled. As it has no moving parts, the antenna possesses high reliability and compatability with LEO, MEO and GEO satellite constellations. The NXTCOMM ESA features a small antenna panel called a subarray, with an integrated printed circuit board that acts like a LEGO brick — all customers need do is add more subarray Legos to scale the technology based on the form factor needed to fit an application. NXTCOMM's architecture — based on using repurposed sub- arrays on standard printed circuit boards — allows for faster development cycles in turning the core technology into products for multiple markets.
The global chip shortage took global supply chains and the manufacturing sector by surprise. NXTCOMM is mitigating the supply chain challenges by multi-sourcing all parts and understanding risk lead times early in the manufacturing cycle. The multi-sourcing strategy also allows for country-specific limitations to be integrated into specific product builds to support Department of Defense (DoD) technology source mandates.
Fortunately, the company had already started to stock up on chips well before the shortage hit the global stage. Recognizing that chips were the ESA's main cost driver, NXTCOMM negotiated with key suppliers to acquire sufficient quantities to ensure its antennas would hit cost targets in its key markets. As a result, NXTCOMM had plenty of building blocks for the heart of its antenna system.
Having initially pursued the military market opportunity, NXTCOMM is also excited about the prospects for ESAs within aviation. The company anticipates first adopters to come from business jet operators and then from major airlines, UAVs and other pilotless aircraft. At some point, these antennas will migrate into maritime markets, long-range trucking and passenger vehicles.
Reliable ESAs Will Be Key For Commercial Aero
Aero customers clearly need antennas that can support higher bandwidth and uptime — ESAs deliver both. Greater uptime comes when an antenna doesn't break every few thousand hours. ESAs can provide that peace of mind to airlines. Unplanned repairs can dramatically hurt an airline's operational costs — they can drive the cost equation significantly more than the costs of new equipment. Change-outs on a yearly basis eclipse the cost of the initial antenna. While we see definite market momentum for ESAs in the commercial aero sector, their adoption is not realistic until 2025 or 2026, depending on the network.
---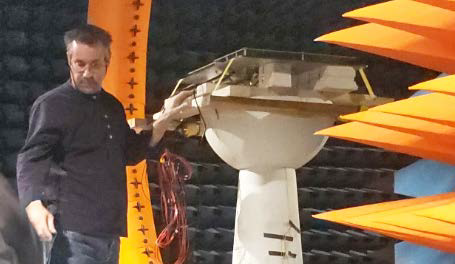 A NXTCOMM engineer setting up the NXTCOMM ESA for detailed assessment at a spherical range. (Photo credit: NXTCOMM)
---
As an RF innovator, NXTCOMM recognizes that it needs to make the correct investments in technology and talent. In fact, more than half of the firm's technical team has worked on previous generations of ESAs for a wide range of companies.
"I enjoy developing these cutting-edge antennas and hope to perpetually be pushing the industry into the next generation of technology," said Jimmy Strates, NXTCOMM lead RF engineer, who recently was recognized by SSPI's "20 under 35" ranking of young professionals to watch. Strates leads a team responsible for NXTCOMM's active ESA's design, including the RF systems and components and the antenna's modeling and optimization. Strates came to NXTCOMM from Georgia Tech Research Institute, where he served as a research engineer and developed RF technologies from early prototypes to maturity for multiple DoD platforms. He was instrumental in developing the first-ever beamforming, frequency-agile and polarization-agile antenna that remains a leading performer in software-defined antennas.

Brad Laird, NXTCOMM's VP of Engineering, brought more than two decades of hardware engineering and product development to the company, including leading a 20-member engineering team at a metamaterial-based flat panel antenna provider. "NXTCOMM continues to pursue highly technically skilled candidates who are focused and can collaborate well in an environment where they are empowered with much influence," he said.
That innovative spirit will be critical as NXTCOMM tackles the next phase of its roadmap and growth strategy to bring its first ESA to market and engage other parts of the connectivity sector, including early adopters in aerospace. To NXTCOMM, all connectivity roads lead to LEO... LEOs are made great by ESAs and ESAs are made great by LEOs — the firm sees the coming revolution and is laser focused on delivering products for that market.
www.nxtcomm.com


Steve Newell
As Chief Commercial Officer (CCO) for NXT Communications Corporation (NXTCOMM), Steve Newell leads sales, business development and product marketing efforts for the company's next-generation antenna solutions.
A satcom and avionics veteran, Newell previously served as VP of Business Development for FLYHT Aerospace Solutions, Ltd., as Chief Commercial Officer at TrueNorth Avionics (now owned by Satcom Direct), and CEO of Mission Mobility, LLC., a leading provider of rugged network solutions, serving the needs of warfighters for mission-critical communications.
---