This is the first University of Hawaii (UoH) -built satellite to be launched into space and will fill a critical need by performing radar calibration and performance monitoring for the U.S. Department of Defense and NASA radar stations that track missiles, aircraft, rockets, satellites, asteroids, and space junk.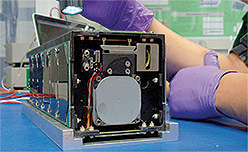 About 50 students from the UH Mānoa College of Engineering's Small-Satellite Program, established by Professor Wayne Shiroma in 2001, have spent the last four years designing and building the cube satellite, or CubeSat, from scratch.
Dubbed Ho'oponopono 2, or H2, it measures 4 inches by 4 inches by 13 inches, about the size of a loaf of bread, weighs less than 9 pounds and cost $220,000 to build. It replaces a satellite 20 times larger and 40 times more expensive that recently failed in orbit and left the radar community without a dedicated calibration satellite.
Ho'oponopono means "to make right" in Hawaiian, an appropriate name for a calibration satellite.
"We have exceptional students at the University of Hawai'i, and I couldn't be prouder of the team," said Shiroma, who attended today's launch. "Creating, building and deploying the first radar calibration satellite in CubeSat form demonstrated the ability of our UH student team to address an urgent operational need at very low cost, and simultaneously provided immense educational value."
"We congratulate Dr. Shiroma and his students on this historic effort," said Interim UH President David Lassner. "The development and launch of Ho'oponopono 2 illustrates how the University of Hawai'i is helping to solve some of the nation's most pressing problems and is training the workforce for the high-quality jobs we are helping to build here."
The UH Small-Satellite Program has trained more than 250 students since 2001 and has brought in more than $1 million in funding, including funding from student-solicited proposals. Graduates have gone on to work for major aerospace companies, including Northrop Grumman, Boeing, Raytheon, Lockheed Martin and more.
Three of the program's students have been recognized as the "Most Outstanding EE Student in the Nation" by IEEE-HKN, the international honor society for electrical engineers. Larry Martin is a UH Mānoa graduate student who received that honor and he is currently the H2 project program manager.
Martin, who also attended the Wallops launch, said, "It is so exciting to see all of our hard work launched into space and now being put to good use. It is also gratifying that the skills we have gained through building H2 are the same skills that major engineering companies are employing today."
H2 is just one of UH's aerospace initiatives. The first space launch from Hawai'i, which will also be carrying a UH student-built satellite, is scheduled for the second quarter of 2014 from Kaua'i's Pacific Missile Range Facility (PMRF). UH's Hawai'i Space Flight Laboratory, a collaboration between UH Mānoa's School of Ocean and Earth Science and Technology and the College of Engineering, is an important partner in that launch. Several UH Community College campuses are also involved in the project.
UH Mānoa Chancellor Tom Apple said, "These projects demonstrate our commitment to working with sister campuses to develop research that matters to the entire State of Hawai'i."
Hawai'i's first space launch known as ORS-4 is sponsored by the U.S. Air Force's ORS Office and is the first launch of the Super Strypi launch system. This mission will demonstrate a new, low-cost launch capability able to deliver 300 kilograms to Low Earth Orbit (LEO). This is the first orbital launch for PRMF and will carry the University of Hawai'i's hyperspectral imager as the primary payload along with 12 CubeSats in an integrated payload stack. This demonstration will enable low-cost launch alternatives and range processes for the future.
UoH is currently a funded participant in the AFOSR University Nanosat-6/Nanosat-7 Program (UNP-6/UNP-7) and is the only one of 11 awardees that has a CubeSat-based mission. The mission is driven by current operational needs of U.S. radar range facilities: The design, build, test, and operation of a very low-cost radar calibration nanosatellite.
The radar calibration mission now orbiting will supplement two existing, aging spacecraft with the student-built Ho'oponopono 2 CubeSat that carries a C-band transponder and high-accuracy GPS payload.
This mission will demonstrate a university's ability to satisfy an immediate operational need at a low cost, while simultaneously providing immense educational value. Students will learn to operate under customer-driven design requirements, constraints, and schedules to offer a solution to an immediate, real-world need.
H2 and ORS-4 both represent the tremendous possibilities of the Hawai'i Innovation Initiative, in which the university is partnering with the private sector and government to cultivate a $1 billion research industry in Hawaii over the next decade.
University infosite: http://manoa.hawaii.edu/
Editor's note: Much of the preceeding Information was supplied by Professor Wayne Shroma and Kelli Trifonovitch, University of Hawai'i