Product Presentations
Digital Rapids will be showcasing the company's newest media transformation and workflow solutions at BroadcastAsia2013, June 18-21, in Singapore, with partner Gencom in booth 5D2-01... on display: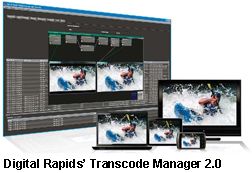 – Digital Rapids Transcode Manager 2.0 powered by Kayak—This automated media processing software goes far beyond transcoding, seamlessly blending media file transformation and workflow processes while offering unparalleled efficiency and agility for applications from post production and archive to multiscreen distribution. Powered by the Kayak workflow platform, Transcode Manager 2.0 combines powerful management tools, superior quality and exceptional format flexibility with adaptive, automated decision-making; exceptionally rich metadata support; intuitive, visual workflow design tools; dynamic deployment; fast, easy integration of new and emerging technologies; and a deep ecosystem of third-party technology partners

– StreamZ Live 8000EX—Simplifying the convergence of core television and multi-platform streaming operations, the new StreamZ Live 8000EX integrated broadcast/multiscreen live encoder combines the proven multi-format flexibility and output quality of the StreamZ Live family with robust features for the unique demands of satTV, broadcast, cable, and telco deployments



– StreamZHD—A new version of the software for the versatile StreamZHD multi-format ingest and encoding system will be shown, featuring further quality and performance enhancements for Digital Rapids' highly-acclaimed H.264, MPEG-2 and DVCPro encoding, plus expanded support for transforming advertising insertion markers for multiscreen protocols. StreamZHD provides superior quality, flexibility, format support and efficient automation for transforming media for applications from post production and archive to live and on-demand multi-screen distribution.
* * * * * * * * *

WORK @ CommunicAsia2013
For the first time in the Asia-Pacific market, WORK Microwave will unveil a powerful new multistream feature for its demodulator product line.
WORK Microwave will be located at stand #1V2-07 showcasing a wide range of innovative satellite communications technologies spanning various applications within the broadcast, satellite, and telco markets.
Attendees will get a first look at the DVB-S2 multistream functionality being integrated into WORK Microwave's complete line of demodulator solutions, including the company's popular SDD-TS and SDD-DV products. Using this powerful new technology, users can seamlessly deaggregate up to six transport streams and IP data from a single carrier, thereby optimizing efficiencies while reducing the amount of equipment required for uplink and downlink operations. Ideal for local cable distribution and satellite newsgathering applications, the technology simultaneously supports IPv4 and IPv6 outputs, as well as full integration of DVB-S2 multistream, including null-packet reinsertion and output realignment, decreasing CAPEX and OPEX for cable and satellite providers.
Also on display at CommunicAsia2013 will be WORK Microwave's DVB-S2 Modem SK-DV. Using DaVid technology, the combined data and video modem simultaneously transports data (network connection) and live broadcast (video content) over a single satellite carrier, aggregating multiple MPEG transport streams and IP data into a unified DVB-S2 multistream. Ideal for operators relying on a hybrid infrastructure that requires TS and IP interfaces, the DVB-S2 Modem SK-DV leverages a powerful feature set, including VideoACM, traffic shaping, cross layer design, Generic Stream Encapsulation (GSE), and OptiACM, to maximize data throughput and bandwidth use while reducing OPEX and CAPEX.
WORK Microwave will also demonstrate the DVB-S2 IP-Modem SK-IP at CommunicAsia2013. Harnessing XipLink traffic shaping and WORK Microwave OptiACM functionalities, this powerful IP modem optimizes throughput and increases network bandwidth for service providers, corporate networks, and telcos. An additional showcase will include several important enhancements to the company's new-generation frequency converter series designed for applications that require low phase noise, ranging from S-band to Ka-band. Utilizing a sophisticated new synthesizer, the frequency converters can deliver phase noise at a level that significantly exceeds the respected industry standard according to Intelsat's Phase Noise Specification, IESS-308/309.
* * * * * * * * *

New APAC Senior Director
Inmarsat has named Bill Peltola as Senior Director, Aviation Services in the Asia-Pacific region.
Bill will be responsible for developing market opportunities for Inmarsat aviation services in the region, building on the company's long standing leadership position in satellite-based, aviation safety services and introducing Global Xpress (GX), the world's first globally available superfast mobile broadband service, delivered through Ka-band.
Bill joins Inmarsat's aviation team from Panasonic Avionics Corporation, where he was instrumental in the development and implementation of connectivity services offered by its Global Communications Services group. He has also held senior positions with aircraft connectivity companies including AirCell (Gogo), Stratos and British Telecom.
Miranda Mills, Vice President, Aerospace, Global Xpress, said, "Bill's strong background in aviation connectivity will be put to good use in the Asia Pacific region as we expand our already broad offering with the introduction of our unique, high bandwidth aviation services."
Bill Peltola said, "Inmarsat has a great story to tell. Its reputation for technology development, customer focus and market innovation are second to none. Inmarsat's game-changing Global Xpress broadband solution is coming online at the perfect time to satisfy the growing needs of airlines and aircraft operators. I look forward to using my industry experience to help communicate this story—ensuring GX's profile in the aviation space continues to keep pace with our growing position and potential in the Asia-Pacific region."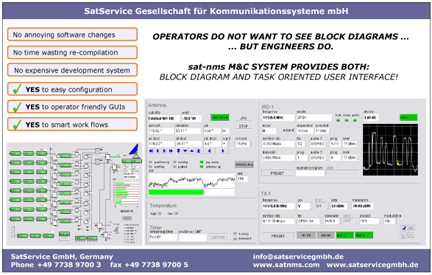 Inmarsat's GX service will offer the unique combination of seamless global coverage from a single operator and consistently higher performance with download speeds of up to 50Mbps, and the network reliability for which Inmarsat is well known.
Services will be delivered over Inmarsat's next generation of satellites, the Inmarsat-5s, with the first satellite scheduled for launch by the end of 2013. Global coverage is planned for the end of 2014.
* * * * * * * * *

WGS-5 Wends Its Way Upwards
A United Launch Alliance (ULA) Delta IV rocket successfully launched the fifth Wideband Global SATCOM (WGS-5) satellite for the U.S. Air Force from Space Launch Complex-37.

This mission launched just nine days after ULA successfully launched the GPS IIF-4 satellite last Wednesday, May 15th.
"United Launch Alliance and our many mission partners continue to focus on mission success, one-launch-at-a-time," said Jim Sponnick, ULA vice president, Mission Operations. "We are honored to work with such a strong industry and government team and deliver another critical communication capability to orbit to support our nation's warfighters throughout the world."
This mission was launched aboard a Delta IV Medium-plus configuration vehicle using a single ULA common booster core powered by a Pratt & Whitney Rocketdyne (PWR) RS-68 main engine, along with four ATK GEM 60 solid rocket motors.
The five-meter diameter upper stage was powered by a PWR RL10B-2 engine with the satellite encapsulated in a five-meter diameter composite payload fairing.
The WGS-5 launch marked the third flight of the Delta IV medium+ (5,4) configuration and the 22nd flight of the Delta IV family of launch vehicles.
This was the first Delta IV launch following the low engine performance that was identified on the successful Global Positioning System (GPS) IIF-3 launch last October. Although the GPS IIF-3 spacecraft was accurately placed into the required orbit, ULA, Pratt & Whitney Rocketdyne (PWR) and our U.S. Air Force teammates embarked on an investigation to determine why the upper stage engine performance was lower than expected.
Prior to this mission, rigorous hardware inspections along with vehicle and operational design modifications were implemented to prevent a recurrence of the fuel leak in the RL10 engine that was the direct cause of the low engine performance on the GPS IIF-3 launch.
"The team has worked tremendously hard and exceptionally well to complete a robust investigation and get us to a successful launch today," said Sponnick. "We sincerely thank the PWR team and our customer community for working with us throughout the investigation and flight clearance process, as well as the involvement from senior industry technical advisors."
Wideband Global SATCOM provides anytime, anywhere communication for the warfighter through broadcast, multicast, and point to point connections.
WGS is the only military satellite communications system that can support simultaneous X- and Ka- band communications.
ULA's next launch is the Atlas V MUOS-2 mission for the U.S. Navy scheduled for July 19, from Space Launch Complex-41 at Cape Canaveral Air Force Station, Florida.
The EELV program was established by the United States Air Force to provide assured access to space for Department of Defense and other government payloads.
The commercially developed EELV Program supports the full range of government mission requirements, while delivering on schedule and providing significant cost savings over the heritage launch systems.
ULA program management, engineering, test, and mission support functions are headquartered in Denver, Colorado. Manufacturing, assembly and integration operations are located at Decatur, Alabama, and Harlingen, Texas. Launch operations are located at Cape Canaveral AFS, Florida, and Vandenberg AFB, California.
* * * * * * * * *

More Product Presentations
At BroadcastAsia2013, Harmonic will showcase solutions that enable more efficient multiformat content production, more cost-effective distribution of content over any network, and better support of high-quality video delivery regardless of the display device.
Harmonic will demo HEVC compression for OTT and the latest Ellipse® contribution encoder.
Spectrum™ ChannelPort™ Integrated Channel Playout System—The Spectrum ChannelPort™ integrated channel playout system will feature powerful, new channel-in-a-box capabilities such as dual DVEs with independent branding. The Spectrum ChannelPort platform speeds the cost-effective deployment of new SD and HD television channels by integrating branding and master control switching with clip playback on the industry's most trusted media server platform. Fully compatible with Spectrum MediaCenter™ and MediaDeck™ 7000 servers, ChannelPort fits seamlessly into existing production and playout infrastructures, reducing complexity and cutting the time it takes to launch new services.
Also to be showcased will be the Ellipse® 3000 contribution encoder for the first time in Asia, which employs MPEG-2 and MPEG-4 AVC 4:2:0/4:2:2 8- and10-bit compression technologies to enable transmission of pristine real-time video over satellite and broadband contribution networks. By encoding the highest-possible picture quality at the front end of the broadcast chain, the Ellipse 3000 offers low latency in conjunction with multiformat and multicodec versatility. The Ellipse 3000 is ideal for digital satellite newsgathering (DSNG) operations and live sports coverage—or any application in which premium image quality and high performance are primary considerations.
Harmonic has made significant enhancements to its award-winning ProMedia™ suite of adaptive bit rate (ABR) solutions for multiscreen processing and delivery. New features include support for HEVC for VOD transcoding, increased synergy with the Harmonic MediaGrid shared storage system, and support for closed captioning, regional blackouts, and Nielsen ID3 tagging. ProMedia is the industry's most complete multiscreen preparation solution. streams, and improve the video experience.
Also to be shown is Harmonic's new ProStream® 9000 and industry-leading Electra™ universal multifunction, multiformat encoding platform, which currently powers more than 75,000 channels worldwide.
* * * * * * * * *

DoD Experiments To Japan
The DoD Space Test Program STP-H4 payload complement, which includes three Naval Research Laboratory experiments bound for the International Space Station, has been shipped to Japan for integration on the HTV-4 vehicle that is expected to launch from the Tanegashima Space Center in August of 2013.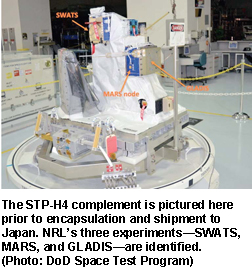 The STP-H4 payload complement is a suite of experiments managed, integrated, and flown to the International Space Station (ISS) under the direction of the DoD Space Test Program (STP).
The complement consists of five payloads developed by the DoD and three experiments from NASA.
Three of the DoD payloads were developed and built at the Naval Research Laboratory. NRL's Space Science Division developed the Small Wind And Temperature Spectrometer (SWATS) and Miniature Array of Radiation Sensors (MARS), and the Space Systems Development Division, part of NRL's Naval Center for Space Technology (NCST), developed the Global Awareness Data-Exfiltration International Satellite Constellation Concept (GLADIS) experiment. The Spacecraft Engineering Department, also part of NRL's NCST, provided the flight harness for the STP-H4 platform and the Power Control Electronics Box for STP-H4.
The STP-H4 payload complement is scheduled for launch in August 2013 from Tanegashima Space Center in Japan, on an H-II Transfer Vehicle (HTV) launch. After launch, the HTV will free-fly to the ISS and then berth to the ISS. The HTV Exposed Palette (EP) will then be transferred to a temporary storage location on the ISS. The STP-H4 complement will be removed from the HTV-EP and installed on the Express Logistics Carrier (ELC-1) for initial checkout and operations.
The SWATS experiment is a low size, weight, and power space weather experiment suite that will acquire simultaneous co-located, in-situ measurements of atmospheric density, composition, and winds of both ions and neutrals. MARS consists of an array of nine micro dosimeters that measure the total dose radiation at different locations on the STP-H4 complement for 3-D radiation modeling. NRL researchers look to these experiments to improve their ability to understand and forecast space weather at Earth that can affect military and civilian space and communication systems.
* * * * * * * * *

U.S. STRATCOM + Australia
A new agreement made between the United States and Australia represents the first in what U.S. Strategic Command's commander hopes will be many that promote transparency in the space domain.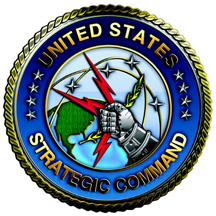 U.S. Air Force Gen. C. Robert Kehler signed the agreement on behalf of the United States, short-cutting the process for the Australian government to request data through STRATCOM's Space Situational Awareness Sharing Agreement Program.
The agreement represents another step in the November 2010 pact between the two countries to cooperate on space situational awareness activities. It streamlines the process for the Australians to make specific requests about space data gathered by STRATCOM's Joint Operations Center at Vandenberg Air Force Base, California. This information, which includes locations of some 23,000 man-made objects in space, is critical in planning launches into the increasingly crowded space domain.
"Many nations share the space domain, and it is in our best interest to create an environment where the sharing of [space situational awareness] data facilitates transparency and improves flight safety," Kehler said.
The new U.S.-Australian agreement paves the way for similar ones between the United States and its closest allies and partners, and is modeled on commercial agreements STRATCOM has forged with commercial companies over the past three years. Space situational awareness exchanges will assist partners with activities such as launch support, maneuver planning, support for on-orbit anomaly resolution, electromagnetic interference reporting and investigation, support for launch anomalies and de-commissioning activities, and on-orbit conjunction assessments, officials noted. (Source: Donna Miles, American Forces Press Service.)
* * * * * * * * *

Spatial Fender Bender Perhaps Fatal
A small Ecuadoran satellite collided in orbit with the remains of a Russian rocket, certainly classifiable as "junk," but it is too soon to know how much damage it might have sustained, Ecuador's space agency stated.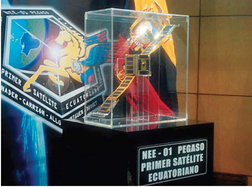 Ecuador's space agency EXA had warned that a space fender-bender was likely between its "Pegaso" (Pegasus) nanosatellite and the remains of the Soviet rocket S14 launched into space nearly three decades ago. The agency's director Ronnie Nader said in a Twitter message sent after the crash that U.S. space officials had confirmed Pegaso had suffered only a glancing blow from the Russian space debris.
"It was not a direct hit," tweeted Nader. "Pegasus remains in orbit."
He added that despite the collision—which occurred at around 0538 GMT some 1,500 kilometers above the east coast of Madagascar—the satellite seemed to be holding its course. However, Nader said it was too early to say what the extent of the damage to the nanosatellite is, adding that it would take another day or two to know for sure.
However, this collision has now ended up being more than just a fender bender. Unfortunately, this collision has resulted in the nanosatellite now spinning like a top, unable to send or receive signals.
The small satellite did survive the encounter, according to the Ecuadorian Space Agency (EXA)—final findings should be released shortly as to whether or not Pegaso is salvageable. It is unknown if this setback for the Ecuadorian space program will affect their planned launch of their second satellite, named Krysaor, set for August by Russia. Both Ecuadorian satellites required an investment of approximately $780,000, which was supplied by EXA, private companies, and the government of Ecuador and required a year to build.
* * * * * * * * *

Active Hurricane Season For U.S.
In its 2013 Atlantic Hurricane Season Outlook recently issued, NOAA's Climate Prediction Center is forecasting an active or extremely active season this year.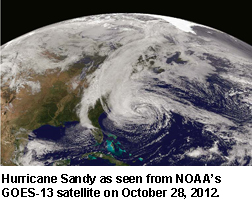 For the six-month hurricane season, which starts June 1, NOAA's Atlantic Hurricane Season Outlook says there is a 70 percent likelihood of 13 to 20 named storms (winds of 39 mph or higher), of which 7 to 11 could become hurricanes (winds of 74 mph or higher), including 3 to 6 major hurricanes (Category 3, 4 or 5; winds of 111 mph or higher).
These ranges are well above the seasonal average of 12 named storms, 6 hurricanes and 3 major hurricanes.
"With the devastation of Sandy fresh in our minds, and another active season predicted, everyone at NOAA is committed to providing life-saving forecasts in the face of these storms and ensuring that Americans are prepared and ready ahead of time." said Kathryn Sullivan, Ph.D., NOAA acting administrator. "As we saw first-hand with Sandy, it's important to remember that tropical storm and hurricane impacts are not limited to the coastline. Strong winds, torrential rain, flooding, and tornadoes often threaten inland areas far from where the storm first makes landfall."
Three climate factors that strongly control Atlantic hurricane activity are expected to come together to produce an active or extremely active 2013 hurricane season. These are: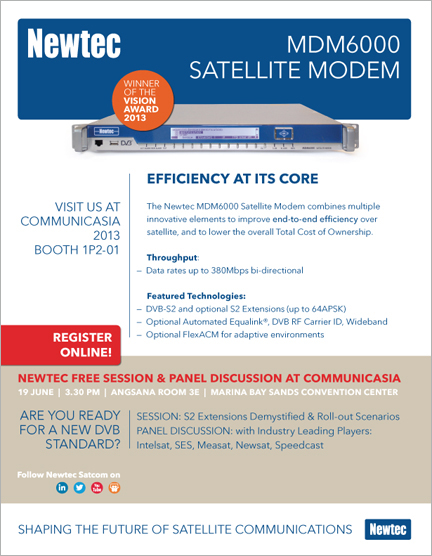 – A continuation of the atmospheric climate pattern, which includes a strong west African monsoon, that is responsible for the ongoing era of high activity for Atlantic hurricanes that began in 1995
– Warmer-than-average water temperatures in the tropical Atlantic Ocean and Caribbean Sea
– El Niño is not expected to develop and suppress hurricane formati
on
"This year, oceanic and atmospheric conditions in the Atlantic basin are expected to produce more and stronger hurricanes," said Gerry Bell, Ph.D., lead seasonal hurricane forecaster with NOAA's Climate Prediction Center. "These conditions include weaker wind shear, warmer Atlantic waters and conducive winds patterns coming from Africa."
NOAA's seasonal hurricane outlook is not a hurricane landfall forecast; it does not predict how many storms will hit land or where a storm will strike.
Forecasts for individual storms and their impacts will be provided throughout the season by NOAA's National Hurricane Center.
New for this hurricane season are improvements to forecast models, data gathering, and the National Hurricane Center communication procedure for post-tropical cyclones.
In July, NOAA plans to bring online a new supercomputer that will run an upgraded Hurricane Weather Research and Forecasting (HWRF) model that provides significantly enhanced depiction of storm structure and improved storm intensity forecast guidance. Also this year, Doppler radar data will be transmitted in real time from NOAA's Hurricane Hunter aircraft. This will help forecasters better analyze rapidly evolving storm conditions, and these data could further improve the HWRF model forecasts by 10 to 15 percent.
The National Weather Service has also made changes to allow for hurricane warnings to remain in effect, or to be newly issued, for storms like Sandy that have become post-tropical.
This flexibility allows forecasters to provide a continuous flow of forecast and warning information for evolving or continuing threats.
"The start of hurricane season is a reminder that our families, businesses and communities need to be ready for the next big storm," said Joe Nimmich, FEMA associate administrator for Response and Recovery. "Preparedness today can make a big difference down the line, so update your family emergency plan and make sure your emergency kit is stocked. Learn more about how you can prepare for hurricane season at
www.ready.gov/hurricanes
."
* * * * * * * * *

First Looks
Forty-eight hours after launch, Astrium delivered the first VNREDsat-1 images.
Astrium is the prime contractor for the Vietnam Natural Resources, Environment, Disaster Satellite, the first Vietnamese Earth observation satellite. The Astrium-built VNREDsat-1 was launched on May 7th from Kourou.
The images show Hanoi's Red River (Vietnam) and the city of Melbourne (Australia) at a resolution of 2.5 metres.
Having reached its operational orbit, the satellite has now entered its in-orbit test phase. Official delivery to the customer, the Vietnam Academy of Science and Technologies (VAST), will occur at the end of this phase.
* * * * * * * * *

Even More Product Presentations
Broadpeak will showcase several innovative technologies at CommunicAsia2013.
For the first time in Asia, Broadpeak will demonstrate their umbrellaCDN solution—content providers can allocate the ideal CDN for their content according to various criteria such as format, end-user location, content provider, quality, or time of day. umbrellaCDN also offers the opportunity to centralize content geoblocking to manage the sending of replacement content and the modeling of quotas. Advanced analytics provide full information about the audience and the content consumption.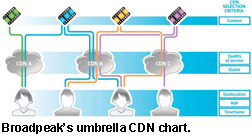 At CommunicAsia2013, Broadpeak will also showcase C-CAS (Conditional Access System-Compliant Adaptive Streaming), an innovative technology that enables payTV operators to support adaptive streaming protocols while simultaneously remaining compliant with conditional access systems on subscribers' existing set-top boxes (STBs).
Leveraging adaptive streaming technologies, C-CAS unifies the video user experience across next-generation and existing STBs, providing superior video quality for subscribers in a very short time frame with minimal cost for pay-TV operators. The first application of C-CAS is available on Broadpeak's widely deployed BkS100 VOD servers, enabling operators to ensure a superior Quality of Experience while relying on adaptive streaming controlled at the network level as opposed to within the player.
Broadpeak will also demo its nanoCDN technology at CommunicAsia2013. Harnessing subscribers' home networks, nanoCDN dramatically reduces infrastructure investments for network service providers. The first application of nanoCDN is to optimize live OTT video delivery, with more applications to be supported in the future. nanoCDN improves the scalability of live OTT TV content by effectively managing video consumption peaks that are not supported by the network infrastructure. Using nanoCDN, cable and telecom operators can cost-effectively deliver high-quality, live OTT video services to millions of simultaneous viewers using only a few megabits per second from the operator network.
* * * * * * * * *

A Shallow Team Is Initiated
Leading geospatial services company AAM has announced the launch of a dedicated Shallow Water Survey Team, with world-renowned hydrographic surveying expert Andy Waddington appointed to lead the team.
The announcement follows AAM's merger with Vekta Pty Ltd. in April and represents another significant investment in Australia's fast-growing geospatial sector.
Under Waddington's leadership, the newly-formed team will provide innovative geospatial solutions to support government, environment, resources and infrastructure projects in shallow water environments.
AAM's Executive Director, Brian Nicholls, said the announcement represented a major addition to AAM's diverse range of geospatial services and technology. "The interaction between natural and man-made features in the coastal zone creates unique and complex management challenges," said Nicholls. "This near-shore region is subject to increasing pressure as 44 percent of the world's population lives within 150km of the sea and the vast bulk of world freight is transported via the ocean. Andy's knowledge of both traditional and modern survey theory and practice will assist our clients with managing these challenges."
A former ship's captain in the Royal Navy, Waddington has been active in the development of bathymetric LiDAR and remote sensing surveying techniques, particularly in shallow water and the near-shore region.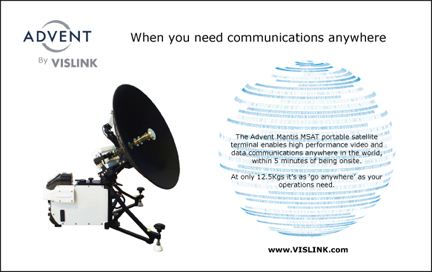 He is a qualified FiG/IHO Cat A Hydrographic Surveyor with 25 years of surveying experience, including two years on exchange with the Royal Australian Navy.
He also holds a BSc in Systems Management and an MSc in GIS and is a member of the Chartered Institute of Civil Engineering Surveyors, the Nautical Institute and Chairman of the Hydrographic Society (UK) SW Region.
* * * * * * * * *

Acquiring Australian Talent
Inmarsat has acquired TC Communications Pty. Ltd. of Australia, an award winning satellite communications specialist.

Inmarsat will integrate the company into its existing operations with a particular focus on supporting its expanding Global Government and Enterprise Business Units.
Concurrent with the acquisition, Todd McDonell, CEO of TC Communications, joins Inmarsat as Vice President of Global Government Solutions. His role will cover sales and operations of the direct arm of Inmarsat's Global Government business in Australia, Canada, New Zealand and the Netherlands.
Andy Start, President, Inmarsat Global Government, said, "The strategic rationale is compelling. The acquisition of TC Communications brings strong VSAT, Wideband Global Satcom system, aviation and solutions skills to Inmarsat's Global Government and Enterprise Business Units. These skills are particularly important to drive the take-up of Global Xpress® in the enterprise and government markets following the launch of the first satellite later this year. In acquiring TC Communications, Inmarsat has gained access to a professional team with a strong reputation for excellent customer service and technical expertise."
Todd McDonell, CEO of TC Communications, said, "We see this acquisition as a very natural growth strategy for TC Communications. Inmarsat brings the financial capital and reach to be able to fully exploit the solutions and expertise that TC has built up over the past twenty years in the satellite industry. This move will enable us to share and replicate our successful, multipronged model with Inmarsat providers throughout the region so as to assist the entire market to aggressively pursue Inmarsat's growth objectives."
In 2012, TC Communications had 24 employees. The acquisition will increase Inmarsat's team in Australia to 65 people based in Sydney, Perth and Canberra.