The Cable & Satellite Broadcasting Association of Asia (CASBAA) concluded its annual India Satellite Industry Forum in New Delhi on 22nd March. Themed "On the Digital Edge — Where Broadband HITS The Streets", the Forum featured three policy addresses from government departments, as well as high-level inputs from global industry specialists.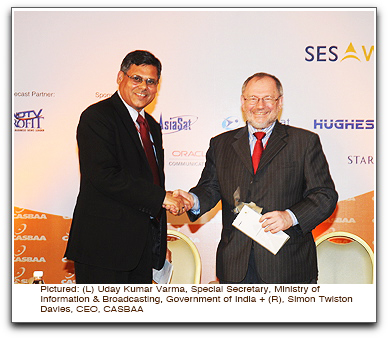 Most notable for the high powered gathering of domestic and international officials, delegates and media was a government commitment to the long-awaited harmonisation of the multiple taxes and tariffs affecting India's satellite, DTH, cable TV and IPTV sectors. Broadcasters, operators and technology vendors believe this is essential if India is to achieve its goals of industry-wide digital networks.
During a keynote address,
Uday K. Varma
, Special Secretary,
Ministry of Information & Broadcasting
,
Government of India
, said, "the time frame for digitization needs to be 'staggered' in view of the number of TV homes and players in the market. He continued, "Digitization is essential if the need for greater transparency and accountability for investment is to be met."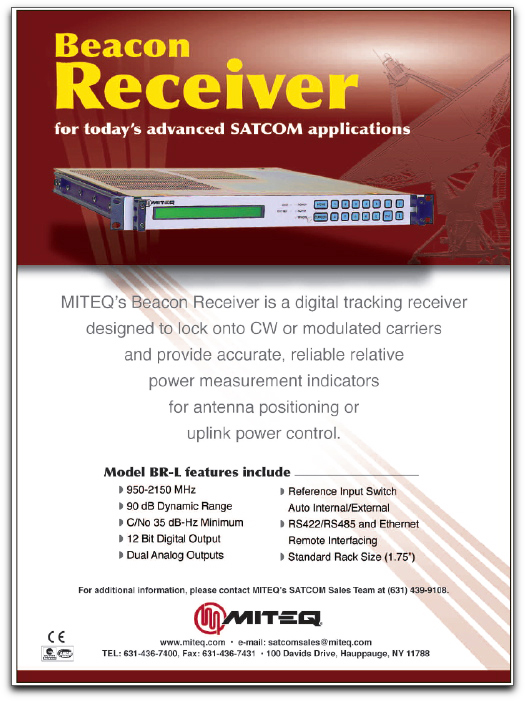 Most recent data shows some 84 million (overwhelmingly) analog cable TV homes, with 18 million DTH households. There are less than 7 million digital cable and IPTV homes in India.
A second high-value address to the meeting came from
Andrea Appella
, Director of Legal, Competition and Regulatory Affairs for
News Corp
in Asia and Europe, who picked up on the theme of viable regulatory frameworks, noting that rapid pay-TV market growth follows the implementation of light-touch regulatory policies. "Governments should reserve intervention in wholesale TV markets for cases where market failure can be proven," he said.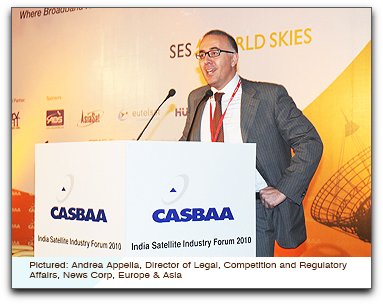 During panel discussions the industry leadership highlighted that digital sports content will be one of the most effective tools for promoting advanced services such as broadband-based IPTV, HDTV and digital cable.
"The introduction of 3G and HDTV along with the staging of the Commonwealth Games in October will boost new media growth," said
Jawahar Goel
, President of the
Indian Broadcasting Federation
(
IBF
) and MD of DTH provider
Dish TV
. "Regional areas where billions of subscribers need broadband services are the silver lining for this industry."
According to
Shyamal Ghosh
, Chairman of the
IPTV Forum India
, the
FIFA World Cup
will certainly create new demand for IPTV. "Before the Commonwealth Games 2010 starts, IPTV and mobile TV should be pushed."
Rajesh Sawhney
, President,
Reliance BIG Entertainment
said, "IPTV is a sexy technology and along with HDTV and 3G it will change the future of our industry. On the content side, conditions are just right... If we digitize, we will see around 500 channels in India with more regional channels."
Despite issues yet to be addressed for the India's communications sector, regional satellite operators are still very optimistic with the local business opportunities.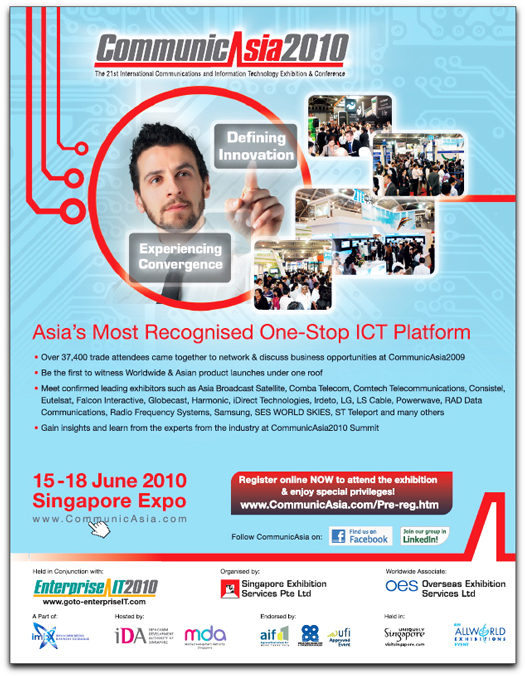 "There is vast potential for satellite services in this market. But we also need a regulatory environment that enables more spectrum that can propel HD platforms," said
Terry Bleakley
, VP, Commercial Operations,
Measat
.
"I see India as a most dynamic market. There is a huge demand for satellite services in military, DTH and many other services in India, and I believe that this productive demand will keep rising. However, easy access technology for Internet growth is still required," said
Srini Prasanna
, VP, Business Development & Regulatory Affairs,
Asia Broadcast Satellite
.
"India needs to follow a road map that is pro-consumer supported by a pro-industry approach. Service providers can provide best services for everyone only when the environment for them is conducive and profitable," said Simon Twiston Davies, CEO of CASBAA. "A light handed approach to regulation is necessary for a robust growth of the sector."