A big deal about a small satellite
Tyvak Nano-Satellite Systems, Inc., developer of nanosatellites and turnkey SmallSat solutions, has announced the successful completion of the development of the Cubesat Proximity Operations Demonstration (CPOD) vehicles and has officially received the approval to continue into the Vehicle Assembly Integration and Testing (AI&T) Phase.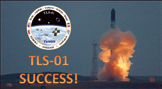 After undergoing multiple rigorous program reviews, the management team of the Small Spacecraft Technology Program (SSTP) at Ames Research Center, Moffett Field, California, determined that the Tyvak's team is actively retiring all the foreseeable risks and is demonstrating the required technical and programmatic capabilities to successfully complete this phase of the project. SSTP managers also recognized that with Tyvak's continued success, the team will be in an excellent position to proceed with the final phase of the project leading to the on orbit operations.
Dr. Marco Villa, Tyvak's President and Chief Operating Officer, said, "Tyvak has established itself as a leader in the nanosats segment by recognition of its advanced technical capabilities, but it is great to also be acknowledged for our attentiveness and diligence towards program management and mission assurance."
With responsibility over the entire mission, from subsystems' design to operations, the company said they remain on-track with the original schedule and to expect a full vehicle integrated by the end of the year with Flight Readiness Review as early as May 2015.

The Cubesat Proximity Operations Demonstration (CPOD) mission will demonstrate rendezvous, proximity operations and docking using two three-unit (3U) cubesats. This mission will validate and characterize several miniature, low-power avionics technologies applicable to future NASA projects. The CPOD project is led by Tyvak Nano-Satellite Systems, Inc. of Irvine, California with funding from NASA's Small Spacecraft Technology Program. Learn more here.
For additional information, please visit http://tyvak.com/
---
Two climb with fervor via Ariane 5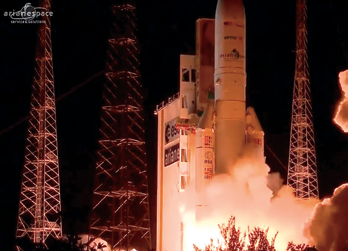 Arianespace successfully launched two telecommunications satellites, MEASAT-3b for the Malaysian operator MEASAT, and OPTUS 10 for the Australian operator OPTUS.
The launch was performed by an Ariane 5 rocket at 07:05 pm (local time) on September 25th from the Guiana Space Center in French Guiana.
The MEASAT-3b satellite is the third satellite orbited by Arianespace for the operator MEASAT Global, following Measat-1 and Measat-2 in January and November of 1996. The new satellite will offer telecommunications and direct TV broadcast services for Malaysia, India, Indonesia and Australia.
The OPTUS 10 satellite, which will provide direct TV broadcast, Internet, telephony and data transmission services for Australia, New Zealand and the Antarctic region, is the sixth satellite orbited by Arianespace for the Australian operator, the most recent being in 2009. Except for one satellite, Arianespace has launched the entire active OPTUS fleet.
Since being founded in 1980, Arianespace has boosted into Geostationary Transfer Orbit (GTO) two-thirds of the commercial geostationary satellites launched for the Asia-Pacific region. That represents 80 contracts already signed, including ten more satellites to be launched for Australia, India, Indonesia, Japan and South Korea.
Shortly after the announcement that the satellites had been injected into orbit, Arianespace Chairman and CEO Stéphane Israël said, "Arianespace is very proud to have orbited two new satellites for operators in the Asia-Pacific, a region where we have always been very successful as shown by our market share, which now exceeds 60 percent. We are also pleased as this launch not only marks the 61st success in a row for Ariane 5, but also the 100th consecutive successful launch of a geostationary satellite in less than 12 years.
"I would like to thank our two customers, MEASAT and OPTUS, for continuing to entrust us with their satellites. I would also like to thank the French export credit agency, COFACE, which played a key role in financing the MEASAT-3b satellite, to the benefit of our customer, MEASAT, as well as the space industry in France and more largely in Europe.
"Finally, thanks to all the partners of this new success: Airbus Defence and Space, prime contractor of Ariane 5, the industrials working at the French Guiana Space Center, CNES-CSG, and of course the entire Arianespace team."
The Arianespace infosite is located at http://www.arianespace.com/
---
China's "secret-experimental" satellite launched
There is industry speculation that this series of Chinese satellites could be part of that nation's constellation of early warning satellites, most equipped with infrared sensors.
A Long March-2C carrier rocket carrying the Shijian-11-07 experimental satellite launched from the Jiuquan Satellite Launch Center in Jiuquan, located in northwest China's Gansu Province, on September 28, 2014.
The first Shijian-11 satellite was launched on November 12, 2009, by a Long March-2C from the Jiuquan Satellite Launch Center.
The satellite, which was developed by China Spacesat Co. Ltd under the China Aerospace Science and Technology Corporation, will be used to conduct scientific experiments in space. This was the 194th flight of the Long March rocket series.
Shijian' means 'Practice,' and this series of satellites have been used in a variety of configurations and missions for scientific research and technological experiments.
---
Attacking SATCOM industry roadblocks—Colloquium enlightenment
The regulatory and legal aspects of the SATCOM industry are a miasma of sometimes contradictory information, processes and requirements that are clouded in legalese and roadblocks constructed by various agencies that can mislead, delay and otherwise obstruct business needs.

In cooperation with Mansat and Dentons US LLP, SatNews is going to present a highly informative, one-day Space and Satellite Regulatory Colloquium that will be focused on emerging space law and the myriad regulatory issues that face the U.S. and international government administrations.
To be conducted at the W Washington Hotel in Washington D.C., the event is scheduled to start on 7:30 a.m. on October 23, 2014, with a breakfast, lunch and reception all provided to attendees.
The Colloquium will be in session until 5:30 p.m. At the close of the day, the reception will be held at the rooftop garden venue of the hotel.
To register for this timely and crucially-needed event, please visit http://www.satnews.com/space14.php
---
Presenting Astra Connect to German subscribers
SES Broadband Services (SBBS) has expanded their partnership with the Internet Service Provider ORBITCOM to include the delivery of Astra Connect for communities in Germany.

The new deal follows ORBITCOM's successful delivery of the Astra Connect service, which provides broadband Internet to individual households and businesses via a satellite dish.
The partnership, which has been in place since April, has now been extended to include the marketing of Astra Connect for communities.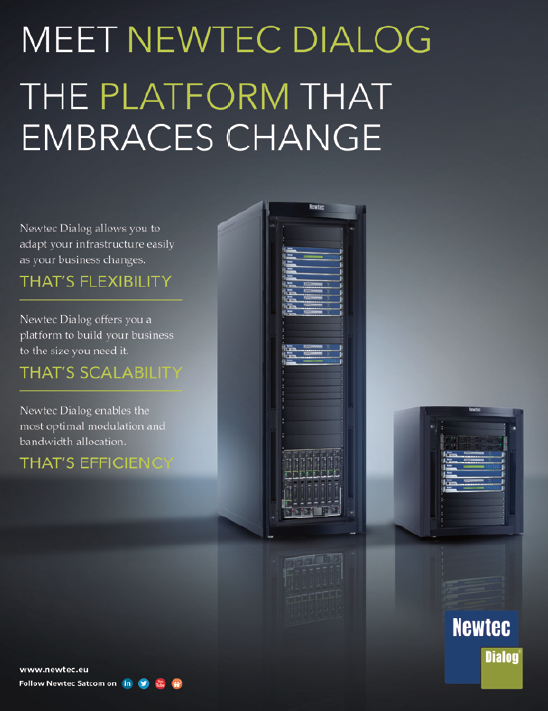 The solution uses a single antenna to provide an entire community with a satellite broadband connection, which is then distributed via a local network infrastructure, such as Wi-Fi. Users served by the networks will be able to browse the different packages offered online and then place orders through a dedicated website and webshop set up by ORBITCOM.
The ISP will also be responsible for the delivery of the equipment and customer support.
"Our Astra Connect for communities service provides a much needed solution for people who cannot be supplied with a high-speed Internet connection via the terrestrial infrastructure," said Patrick Biewer, the Managing Director of SES Broadband Services.
"By expanding our partnership with ORBITCOM, we are able to extend and accelerate the rollout of this solution to villages and communities in Germany," Biewer added.
"With Astra Connect for communities, we can reach 100 percent of households where broadband access is insufficient. It is a quick and inexpensive solution for underserved communities," said Andreas Schmidt, the CEO of ORBITCOM.
For more information on Astra Connect, please visit http://www.astraconnect.com
---
Perhaps there's more payTV In Brazil's future
Being reported by Interactive Intelligence, Brazilian regional telecoms service provider Sercomtel is considering plans to launch a payTV service via satellite technology for DTH.
It is understood the operator is also mulling over the introduction of IPTV services in its concession area in Parama state.
Sercomtel has been forced to close its MMDS operation in Brazil to comply with Anatel's wishes to use the 2.5GHz band for the provision of 4G Long Term Evolution (LTE) services in the country.
Separately, Net Servicos—which is owned by America Movil (AM) and offers payTV and broadband services nationwide in Brazil—has unveiled its subscription service 'Net HD' in Cuiaba and Varzea, according to the local news journal Diario de Cuiaba.
The addition of a TV offer in these areas means that the AM-backed carrier is now able to provide triple-play (TV, broadband Internet and voice telephony) there, having previously been limited to just web and telephony services.
Sercomtel's infosite may be visited at http://www.sercomtel.com.br/
---
RFPs for resupply initiated by NASA
On the heels of awarding groundbreaking contracts to U.S. commercial space companies to ferry American astronauts to the International Space Station, NASA has released a request for proposals (RFP) for the next round of contracts for private-sector companies to deliver experiments and supplies to the orbiting laboratory.
Under the Commercial Resupply Services 2 RFP, NASA intends to award contracts with one or more companies for six or more flights per contract. As with current resupply flights, these missions would launch from U.S. spaceports, and the contracted services would include logistical and research cargo delivery and return to and from the space station through fiscal year 2020, with the option to purchase additional launches through 2024.
The ability to continue commercial deliveries to the station is critical to continuing the use of the station as a platform for discovery that improves life on Earth, expands the commercial use of low-Earth orbit, and helps advance America's journey to Mars through high-quality scientific research and technology development.
This RFP is open to companies able to demonstrate safe, reliable launch and rendezvous capabilities with the station. The contract will fulfill NASA's need to procure cargo delivery services for pressurized and unpressurized cargo delivery, disposal, return or any combination, to the space station using U.S. commercial carriers after the initial Commercial Resupply Service contracts conclude.
The goal of the RFP is to foster a full and open competition that provides the most complete set of services, providing the best value to American taxpayers. Proposals are due November 14. The awarded contracts will be firm-fixed price, indefinite-delivery/indefinite quantity. NASA anticipates making a selection in May 2015.
On September 16, NASA announced U.S. astronauts once again will travel to and from the International Space Station from the United States on American spacecraft under groundbreaking commercial contracts.
For more information about NASA's commercial space transportation programs, please visit http://procurement.jsc.nasa.gov/crs2
---