Research consultancy Futuresource expects a number of broadcasters to launch 4K channels during 2014. This appears to be the next iteration in the broadcast and media industry and equates to resolutions of approximately 4,000 pixels wide by around 2,000 pixels in height.
Test transmissions from the SES Astra and Eutelsat could start showcasing the technology in 2013. Futuresource's forecasts suggest that by 2020 the sale of 4K-equipped receivers could amount to some 15 percent of the overall TV set market and a healthy 29 percent of sales of 50-inch plus units.
Indeed, on December 1st,
News Corp
-backed
Sky Deutschland
carried out extensive 4K experiments at an important soccer game between
Bayern Munich
and
Borussia Dortmund
. Sky's CEO
Brian Sullivan
admitted this was but the first of many other steps on the road to 4K transmission, but the results were "already amazing".
Technically,
Sullivan
's team used just one camera (a
Sony F65
unit) at the stadium, which they moved to various positions around the ground and used a variety of lenses. The content was captured to memory cards. Sky's local production partner was
Kropac Media
(based at Ingolstadt) which is fast building up a reputation for 4K shooting. Kropac also used a
JVC
4K camcorder in a drone above the ground for aerial shots.
Specifically,
Futuresource
—which mounted a London webinar on the prospects for 4K on November 30th—said that 4K cameras have been around since the introduction of the
RED
units in 2007 and that 4K shooting was now a well-established technique for cameramen. Hollywood has now produced around 50 movies in 4K. Additionally, classic movies, such as Lawrence of Arabia, have been re-scanned in 4K.
At the prosumer end of the market, JVC has launched a 4K handheld camera priced at just 4,000 pound, and Sony has a couple of 4K camcorder units planned for launch at the upcoming
NAB
show in Las Vegas.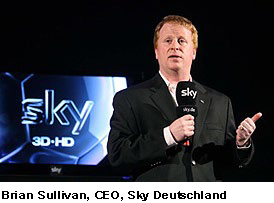 Jonathan Tustain
, editor at
3D Focus
, a specialist website, said, "The experts were quick to remind the listeners that many countries, especially in Eastern Europe, are still in the process of upgrading to HD, and that the reality, away from the excitement of IBC, is that there is a long way to go, and there could be an element of 'upgrade fatigue' setting in."
However, he also added, "Broadcasters and payTV operators are already trialling the technology due to the need to continue innovation and maintain competitiveness. TV Globo in Brazil are very proactive in evaluating 4K thanks to the 2016 Olympics and Futuresource Consulting quoted DirecTV, Sky, Comcast, Canal + and SES Astra as all looking at the technology. In fact, a few operators are expected to launch 4K channels in 2014."
Futuresource's panellists (hosted by
Adam Cox
, Senior Market Analyst—Broadcast,
Carl Hibbert
, Head of Broadcast, Content & Services, and
David Watkins
, Research Consultant), explored the reality of 4K and the commercial and technological factors that could drive the technology forward. They made some natural comparisons to 3D and that, although 3D has not gone away, the format has not achieved the expectations predicted for the technology in 2009 and 2010 when nearly every trade show exhibitor was either talking about, or showing off, a new stereoscopic tool.
Nevertheless, problems remain. "In the market today, 4K production, equipment and viewing opportunities are few and far between," said
Tustain
. "4K is being led by the theatrical industry but outside of the limited number of 4K projector equipped theatres, there are few monitors, camcorders and displays capable of processing the format.
"When questioning the rationale to go to 4K it was stated that it is a natural progression with an undeniable improvement in picture quality, a fact debatable with 3D. It was highlighted that during every 4K presentation at a trade show, crowds flock around the panels, despite only viewing static, slow based images—it is an easy sell. There is also no barrier to consumers—people do not need to wear a pair of glasses to enjoy the experience.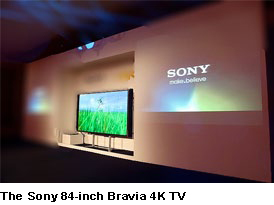 "From a commercial perspective, the vendors simply need it, in a time when technology becomes increasingly commoditized. 3D went from being a premium product to a feature built in by default with little price premium when take-up was so lacking. TV manufacturers will need to deliver desirable technology that encourages people to upgrade, but in today's economic climate, that is going to be a tough call. Throughout history there has always been a new technology feature to sell new sets—color, NICAM digital Stereo, Widescreen, HD, tapeless, flat screens, LED, OLED and 3D. It is one of the arguments that is used when debating whether, like in JAPAN, the industry should wait and skip straight to 8K (also known as Super Hi-Vision)—the cycle of upgrades is essential for TV manufacturers," said Tustain.
He explained that there remain some very real challenges ahead for 4K production and end-user viewer. "There is a lack of industry standard interfaces to cope with the fast transfer of the increased data. Also, acquisition is currently based around large sensors. When sensors are reduced to a quarter inch, less light can reach the individual pixels so sensitivity will need to be increased. Gain can be added but that also causes noise which has implications for encoding. Motion blur is also more apparent with 4K sequences so the frame rate may need to be doubled. However, that also halves the light and increasing the frame rate will add further bandwidth demands."
Futuresource states that video compression for 4K will be achieved using the
HEVC
codec (
High Efficiency Video Coding
), due to be ratified in January, which offers up to 50 percent greater efficiency than
H.264
. At the
IBC 2012
trade show, a HEVC encoder encoded video with a resolution of 3840×2160p at 60 fps with an average bit rate of just 15 Mbit/s.
Looking to the future, Futuresource Consulting predicted 4K will represent 15 percent of total TV sales in the USA by 2020. There is little doubt a whole new set of opportunities could be opened up for 4K. For example, BSkyB proved that millions of subscribers are willing to pay an extra 10 pounds per month for HD channels and, once consumers see more and more 4K, especially during in-store demos, it could command the price premium that 3D has struggled to do so.
The payTV business also has a vested interest in maintaining a video differential compared with the likes of
Netflix
,
Lovefilm
and
YouTube
. 4K, transmitted by satellite, is the answer to that OTT battle.

About the author
Senior Contributing Editor Chris Forrester is a well-known broadcasting journalist and industry consultant. He reports on all aspects of broadcasting with special emphasis on content, the business of television and emerging applications. He founded Rapid TV News and has edited Interspace and its successor Inside Satellite TV since 1996. He also files for Advanced-Television.com. In November 1998 he was appointed an Associate (professor) of the prestigious Adham Center for Television Journalism, part of the American University in Cairo (AUC).