There's always something to talk about at the annual Washington satellite show, this year held at the impressive
Gaylord
National Harbor site about a million miles out from downtown DC. Two topics dominated the commercial satellite sector: interference issues and the lack of a 3rd launcher. Delegates gave a warm welcome to 'new boy'
Michel de Rosen
, CEO at Eutelsat, who acquitted himself with confidence at the important opening CEO 'gang of four' session.
Unasked by the moderators was any sort of question as to what shape each of the four might be in a year from now. While
SES
seems reasonably well insulated from threat, the other three (
Intelsat
,
Telesat
and
Eutelsat
) all have challenges ahead (Intelsat's likely IPO; Telesat's freedom to acquire, or be acquired, and an IPO; and Eutelsat's
Ka-Sat
launch).
The interference issue is a two-headed problem. On the one hand there's the pesky issue of signal jamming, which has badly affected Eutelsat clients over the past year including the
BBC
's Persian service, jammed "professionally" according to Eutelsat insiders by Iranian interests.
Bad as that sort of problem is, the greater problem, according to
Dave McGlade
, president/CEO at
Intelsat
, is VSAT-type interference, which creates 99.99 percent of the problems. He added that such creates "at least 100 events a month".
Eutelsat's
Michel de Rosen
told delegates that governmental pressures were now being exerted in a coordinated fashion, with authorities in France, Germany, and the UK now adding their voices to Eutelsat's own efforts.
McGlade
, along with CTO
Thierry Guillemin
, set aside a separate 30-minute session devoted to the problems, arguing that while most of the VSAT interference was unintentional, this did not minimize the end resulting problems.
Guillemin
said there were three sources for this 'unintentional' interference: SNG and OB traffic, the military, and VSAT activity.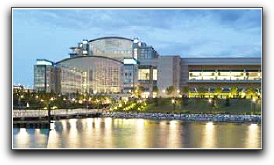 The influential Global VSAT Forum is helping raise awareness of the problem, and the issue gained widespread all-industry support at the show, with
SES
,
Telesat
,
Arabsat
,
J-Sat
,
AsiaSat
,
Amos
,
Telenor
,
Nilesat
and others all promising support and technical help. Intelsat says it will provide free training courses for VSAT installers, and 'ordinary' two-way broadband-by-satellite installers. Their fear was that with Eutelsat targeting up to 750,000 Ka-band 'Tooway' installs, and a growing interest from
SES Astra
from their
Astra2Connect
system, the ingredients were then in place for future problems.
The consensus was that "badly trained" (or zero-trained) installers were the nub of the problem. "Everyone must come together on this," said
Guillemin
, "because the trend is definitely up, and as we move towards more home and SME two-way installations, the problem will only get worse." He said that even with a correct installation, a subsequent problem with a wind-battered dish, or an inadvertent knock, could be creating the problem. Intelsat was creating 400 free training places for installers, but take up was – to date – low.
However, this view of events was strongly rebutted at a separate panel session when industry VSAT experts stated bluntly that their industry was not responsible. Panelists, which included senior representatives from
HNS
,
Gilat
,
Newtec
and
EMC
said that self-installation, or installation by ordinary DTH dish installers, had not created any notable problems in the US or Canada where 'domestic' two-way broadband installations were now commonplace.
Launchers
The second major worry for the operators was that of launch capacity — or lack of! Currently, with
Arianespace
and
ILS/Proton
working flat-out "and doing a fantastic job" according to
Telesat
's
Dan Goldberg
, the worry was "what happens when something happens, and something always happens."
Intelsat
is strongly backing the emergence from Chapter 11 of
Sea Launch
.
Dave McGlade
argued that pricing was also a worry, as well as the risk of a launch failure. He called for a return to the launch market of
Atlas
and
Delta
vehicles "and at competitive prices." He also welcomed the potential of the
SpaceX
vehicle.
As the show was winding down came news that Sea Launch has been permitted to draw down more cash to keep it alive as it moves towards an exit from its Chapter 11 situation.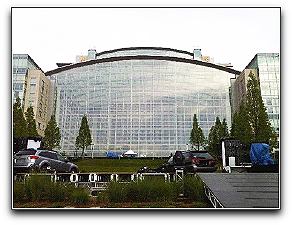 Paris-based Eutelsat also helped the show with news that it is committed to spending about €450m each year on capital expenditure from now until 2012. That translates into almost two satellites per annum. But the spending won't stop in 2012. CEO
Michel de Rosen
said that while the satellite operator had yet to give formal guidance, he saw capital expenditure continuing to average about €400m per annum for the mid-term future "while staying profitable."
He added that while some of this cash would go on fleet replacement, his firm intention was to see the Eutelsat fleet add fresh capacity, and develop new markets. However, he repeated that he saw this effort concentrated more in an Easterly direction, than Westerly. He said that North America was now generating only modest growth while there were many other parts of the planet represented considerable growth opportunities.
However, Mr.
De Rosen
said that Eutelsat was very keen to build on its recent successes with the
US Department of Defense
, which was buying significant quantities of capacity. The DoD is responsible for some 80 percent of Eutelsat's 'multi-usage' take-up, and that while contract lengths were shorter, there was still good business in military and governmental sales.
Mr.
de Rosen
confirmed in Washington that Eutelsat had previously looked at acquiring the
SatMex
assets (
EchoStar
pulled out of purchase talks last week), but had left the then discussions in the hands of
Hispasat
, in which it has a shareholding and a common shareholder. Now it says it may re-enter the discussions. Mr.
de Rosen
said, "We will probably look again," although explained that the due diligence conducted by Hispasat had resulted in a lower valuation than that agreed by EchoStar and the SatMex management. "We have a philosophy of being creatively stingy," he explained, "and I must stress an expansion [into Mexico] is not a 'must' for us."
Mr.
de Rosen
stated emphatically a merger between Eutelsat and Hispasat was not in the cards, despite the cross-over interests of
Abertis Telecom
. "We have no need to be global," he said. "Our customers do not ask for this."
As the show was taking place, there was another meeting, this time in Berlin, hosted by
SES Astra
, and where
Astra
unveiled their latest 'satellite monitor' statistics. The satellite story, as far as SES Astra is concerned, is more than spectacular. SES says they have added three million new satellite homes in Europe over this past year, and that the number of European satellite homes now exceeds that of cable. Moreover, satellite is now almost totally a digital audience, while cable lags behind with barely one-third of homes viewing digital channels.
SES Astra is now broadcasting to 125m TV homes across Europe and North Africa, three million more than the year before. For the first time, satellite reaches more households than cable in Europe, with 77m satellite and 71m cable households. Terrestrial infrastructures reach 86.5m households; however, not even half of them (48 percent) are digital.
The digitalization rate of satellite increased to 92 percent, with a total of 71m out of the 77m satellite households being digital. Cable still shows the lowest digitalization rate, with one third or 34 percent (24m) of all 71m cable households being digital. IPTV is 100 percent digitized and reaches 9m households across Europe.
In High Definition (HD), Astra counts around six million HD viewing homes and currently broadcasts 114 HD channels. The success of HD is underpinned by the high number of HD screens sold across Europe. 125 million HD Ready TV sets have been sold since the start of HD in 2005. It is expected that by 2013, an estimated 55 million households will be equipped with both, an HD Ready TV set and a suitable HD receiver. Satellite is expected to remain the largest distribution platform for HD.
"The significant increase in reach and the success of SES Astra are based on a stable business model and on strong drivers which allow us to develop our business despite the difficult market situation," says
Ferdinand Kayser
, President/CEO of SES Astra. "The underlying dynamics of Western European key markets, and the growth in Eastern Europe, impressively demonstrate that we are able to maintain our competitive position and further develop our reach, in technical and commercial terms. Whether in HD, hybrid reception or 3D TV, we are extremely well positioned to play a leading role in future innovations."
Astra's highlights:
Total of 244m analog and digital TV homes in Europe
Astra fleet reaches 125m analogue and digital TV households in Europe and North Africa (57m DTH, 68m through cable head-ends)
Around 60 percent or 146m TV homes receive programs digitally (includes all reception modes: satellite, cable, terrestrial, IPTV)
Satellite serves every second digital TV household and reaches 71m digital homes (49 percent of the digital market); cable reaches 24m digital homes (16 percent), terrestrial reaches 41.7m digital homes (29 percent), IPTV reaches 9m homes (6 percent)
Astra serves 52m digital satellite homes (72 percent of all digital satellite homes)
Astra currently features 114 HD channels and reaches around 6m HD viewing homes
Digitalization rate of satellite is 92 percent, compared to 48 percent for terrestrial reception and 34 percent for cable networks
Just as the important show was winding down, SES and EchoStar announced they would use an SES associate company in Mexico to aggressively start selling capacity on 48 transponders, via three satellites. The agreement wholly sidesteps EchoStar's earlier plan to buy three Mexican satellites from SatMex.
That deal is now seemingly dead in the water, and the new agreement — now officially licensed by Mexico's government (which bizarrely is a 'golden' shareholder in SatMex) — sees SES use its locally-backed business
Sistemas Satelitales deMexico
to re-sell capacity on SES-owned
AMC-15
(
105 degrees West
) and
AMC-16
(
85 degrees West
). In other words, EchoStar will now be competing directly against troubled SatMex.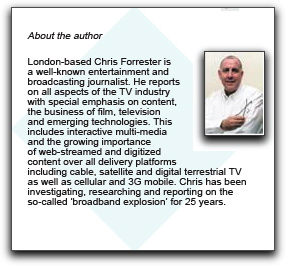 The third satellite in the SES/EchoStar arsenal is
QuetzSat-1
, a craft due to be launched next year into the
77 degrees West
slot. EchoStar is already contracted to use QuetzSat. "EchoStar is well positioned to leverage its satellite operations and uplink expertise in the US to expand its fixed satellite services throughout Mexico, including the delivery of satellite Internet services to rural communities," EchoStar Satellite Services President
Dean Olmstead
said in a March 19th comment.