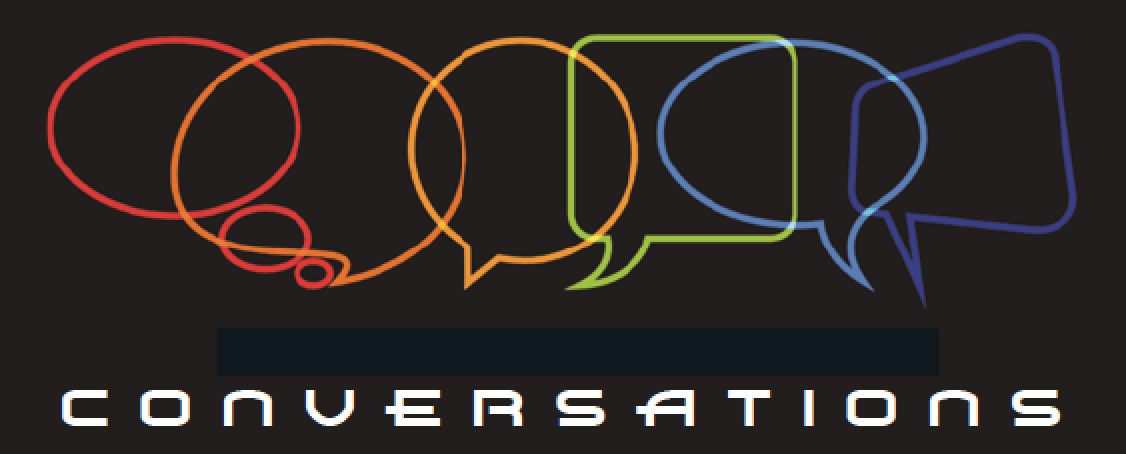 ---
Mr. Steve Richeson joined Mission Microwave in 2017 and is responsible for the company's sales and marketing organization. He has 30 years of Satellite and Radio Frequency (RF) experience in engineering and sales leadership with roles at Advantech Wireless, Exelis Inc., Harris Corporation, EchoStar, Scientific-Atlanta, GTE Spacenet International, RSi SATCOM Technologies and Schlumberger.



(The photo shows Steve Richeson holding the company's 55 Watt Ku Block Upconverter.)



Mr. Richeson is a Senior Member of the IEEE and a Registered Professional Engineer. He earned his electrical engineering degree at Georgia Tech and an MBA at Georgia State University.

Mission Microwave makes high power, solid-state amplifier block upconverters. The main element that differentiates them from competitors is the size, weight, and power of their products. According to Steve, Mission Microwave has the more efficient as well as the smallest block upconverters in the industry.

To make a reliable product in a small form factor is a big challenge in the industry. The reason the company has been so successful in creating small, efficient block upconverters is because their expertise really comes from the semi-conductor side of the industry. This is the starting point for the company's development methods.
According to Steve, the company's competitors are old school companies who have both the benefit and burden of being incumbents in the industry. As Mission Microwave approaches the market from the semi-conductor side, they are able to better participate in the industry as the market changes, such as moving toward flat panel antennas, supporting LEO architectures, and so on.
Mission Microwave is a relatively new company, so they are not burdened by a legacy of traditional fixed Earth station designs. Because of this fact, they are not chained to legacy products that help them to enable customers to do things they had not been previously able to do.

Mr. Richeson noted that Mission Microwave is really the only credible block upconverter company involved in flat panel antenna development because of the size and form factor the firm is able to produce.

Customers buy their products based on their proven performance, said Steve.
On display during IBC2019, the company had the 55 Watt Ku Block Upconverter. Previously, something like this would have to have been the size of a suitcase and weigh ~30 lbs.
The Mission Microwave product can be held in your hands and weighs ~ 4 lbs. This is extremely important because the entire satellite market is driven by mobility. One always wants to build products that are more portable and practical.

Also on display at the event was the firm's GX-XL (10 Watt) Block Upconverter which has twice the power of the traditional Global Xpress compatible BUC that it replaces. This enables the sale of more bandwidth from the satellite operator. Additional products being spotlighted include...
Stinger — the 25W Stinger Ka-Band Block Upconverter is the industry's smallest and lightest weight 25W solid state power amplifier at Ka-band.
Javelin — a rugged 11 lb. 100W amplifier that mounts directly on to an antenna boom, eliminating excess losses to the feed.
Titan
HPT Airborne
Ku- and Ka-Band Flatpack BUCs — only 1 inch thick and 35 cubic inches in volume that can be embedded in a flat panel terminal.
All of the core Mission Microwave products share a common architecture in X-, Ku-, or Ka-band across the line — it's all the same power and control interface, one just needs to change out the feed. Light enough to mount directly on an antenna boom, yet powerful enough to deliver content through adverse conditions, the products are equipped with an advanced control interface and are available in white and various, common colors.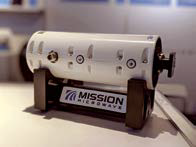 Mission Microwave's 55 Watt Ku Block
Upconverter.
Steve stated that the company's products boil down to one word: Efficiency. The company has determined how to optimize the conversion of prime input power to RF energy.

Their Ku-band Javelin product, for example has a 25 percent efficiency, versus a typical industry average of 15 percent. Greater efficiency means less power is converted to heat.
The Mission Microwave block upconverters generate less heat and that makes a more reliable product, since electronic failures are most frequently attributed to heat.

Many of the company's block upconverters also boast a round design with an in-line directed airflow. This helps their product eliminate the heat more efficiently.
The amount of metal in their products has also been minimized. The combination of less heat produced through greater efficiency, combined with a patented thermal design, keeps Mission well differentiated in terms of Size, Weight and Power (SWaP) which is critically important for mobile and transportable terminals.

The fact that the Mission Microwave products generate less heat is important because heat is exactly the opposite of reliability — heat kills electronics and makes them age faster, noted Steve.

The firm's block upconverters are made to work in high temperatures — up to 60 degrees Celsius.

The company features GaN technology rather than other avenues, the reason being that the leading alternative, GaAs, makes great amplifiers but they are less efficient. Yes, GaN is harder to work with, but the semi-conductor industry itself really isn't investing much into GaAs technologies anymore.

The major improvements and innovations in the compound semiconductor business are coming in GaN, not GaAs.

In regard to the industry's next steps, Steve believes such will entail the support of customer's mobility applications, more Ka-band high throughout applications and LEO/MEO (non-traditional architectures) applications.

Mission Microwave opens doors for customers. Steve stated the company is pushing innovation in terms of power, performance, and bandwidth. Customers are able to take these product improvements and use them with great success in new applications and missions.

Steve said that the real innovation story here is what our customers are doing to create high throughput terminals. Mission is an enabler by providing the
best RF power solution to the industry's leading ground terminal providers in aviation, maritime and ground environments.www.missionmicrowave.com
---