What if more than the lights went out during the Super Bowl? Imagine sitting at home and losing the audio of the broadcast and missing the ref's call... or, what about watching video that is so jumbled that the longest kick return in history is totally missed? You would have some unhappy customers and, no doubt, you would hear about it. Unfortunately, these things happen all the time. In today's highly competitive broadcast video marketplace, delivery of error free content is key to retaining your customer base.
Delivering high quality video content to an end-user customer is a highly complex process that involves multiple players and many different delivery methods. Stated another way, if there's a problem somewhere in the pipeline, will you find it in your networks and service layers and be able to fix it before customers experience difficulties? Just as importantly, how much time and money will be spent trying to root out the problems? In this article we'll look at the delivery of broadcast video from the perspective of the broadcaster and the cable operator, and how to preempt network disruptions and service related problems.
RF Interference + Broadcasting Revenue Threats
While there are numerous factors that can contribute to the degradation of the video carrier within the RF spectrum, let's address one of the most bothersome and most challenging to resolve—satellite interference. As more satellites are squeezed into the geosynchronous orbit within just a few degrees of one another, that crowding increases the possibility for the contamination or leaking of extraneous signals.
Interference also results from incorrect power levels at the uplink, a poorly tuned antenna, or an inexperienced operator. Additionally, the proliferation of VSAT terminals without RF operator expertise or terminals that are simply left unmanned (at the local gas station or convenience store using VSAT, terminals for point of sale operations), add to the problem. This unintentional interference accounts for roughly 90 percent of RF interference.
Then there's the growing phenomenon of deliberate or intentional interference, which is most prevalent in areas of geo-political unrest. This rogue jamming of signals is what occurred in the Middle East and North Africa during the
2010 World Cup
, with
Al-Jazeera
's broadcasts being deliberately knocked off the air.
While broadcasters will ultimately find out about degraded services from their customers, that's probably the least preferred method of notification. Let's consider what broadcasters 'see' and don't see, and how to improve the visibility for identifying and locating problems before service goes dark, advertising revenue is lost, and customers complain.
Are You Doing Enough To Protect Your Content?
Broadcasters typically monitor their video feeds by receiving the signal via a small receive-only antenna, often collocated with the satellite uplink facility. While this provides a quick instant look at the actual (broadcast) picture as transmitted, it provides little diagnostic information about the satellite signal itself. A more proactive means of monitoring broadcast signal quality involves inserting a carrier monitoring system that demodulates the signal to support digital monitoring of the spectrum, both on the RF output at the broadcast uplink terminal and on the receive-only antenna. This technique allows the signal to be characterized, or 'read,' for potentially degrading signal anomalies often before such errors cause video distortion.
Another effective measure is to monitor the receive signal from another location using an identical signal monitoring device. This allows all three signal sources to be compared—engineers can quickly diagnose the sources of signal distortion. By analyzing the resulting signal measurement values from the different locations, it can be determined whether the problem is on the uplink or downlink side of the satellite transmission. A caveat to note is that manual RF spectrum analyzers are limited to identifying just those anomalies related to power levels and bandwidth occupancy. Unless the spectrum analyzer is digital and can demodulate the signal, then identifying issues below the noise floor of the signal is limited—and this is often where the troubles begin.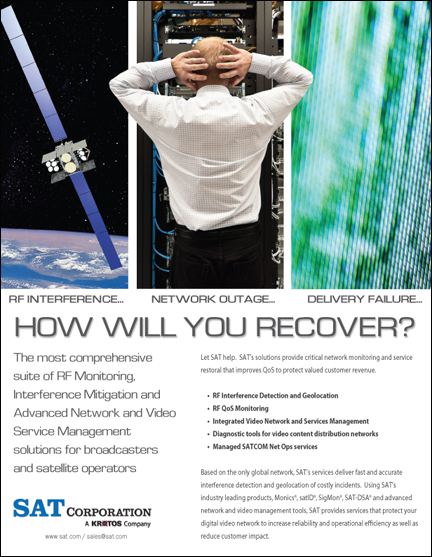 Reading The Signal
Even with the right equipment in place, monitoring the satellite RF for QoS requires an operator who understands the relationship between key performance indicators that comprise signal quality metrics. These indicators include C/N, Eb/No, Es/No, and various types of in-band noise. As an example, there may be a slight increase in the C/N that would normally not raise a red flag. However, when looking deeper, a skilled RF technician would immediately see the Es/No to be degraded, flagging the situation as potential interference. The signal can then be further characterized to determine whether interference is present using digital carrier under carrier techniques, and to initiate steps to remediate the issues well before it affects customers.
If Video QoS is the ultimate goal of any broadcaster, then employing digital RF monitoring can be one of the most valuable investments when it comes to delivering nothing short of perfect customer experience. Fortunately, in today's market, broadcasters have access to the signal measurement and characterization systems to identify troublesome issues before perceptible service degradation arises. There are also powerful service options available that can help broadcasters with the technical tasks such as accurate signal reading.
Full Control
Once the pristine video has left the broadcaster, it's up to the cable operator to (cleanly) move that content through their distribution networks. This presents a different set of challenges. The difficulty here is that today's cable operators manage a complex, multi-layer grid of systems and components designed to support the delivery of content over multiple platforms. Managing these transport and service layers as the standalone, stove-piped systems that they are creates more friction and disconnects, masking the causes and slowing the response to service degradation and outages.
In these complex ecosystems, advanced video content monitoring, network control, and redundant switching based on multiple NMS, EMS, and network probe data, are not only difficult to implement, they are often focused primarily on the network, not the services. These integrated network management systems also have to accommodate a wide-range of protocols, such as SNMP, XML, REST, SOAP, TL1, CORBA, TCP/IP, Serial 422/485, and TTL/Relay, to name a few. No matter how sophisticated the network elements and their management systems are, they can fall short of providing umbrella visibility, let alone "one touch" recovery and restoration of service if they're only focused on the network, and not the services, too. Operators need insight into the actual video service performance across the network. If you can't see or understand how the video services are traversing the distribution network, then you won't have full control over the quality of the product being delivered to the end consumer.
How Will You Recover?
The basic understanding of where each instance of a service resides on the network at both the ingress and egress ports of each network component is a great starting point. Take, for example, the monitoring of MPEG transport streams across all of the different transport domains; IP, ASI, RF, QAM. Each domain has its own tools to monitor the MPEG streams and report out issues through alarms. An operator may identify an alarm condition reporting from one tool that may be incongruent with conditions reported by another tool. Troubleshooting often occurs reactively through responses to network element alarms, and not the underlying content, service flow, and quality/performance indicators.
Only through the correlation of millions of messages, events and alarms across platforms and service layers will operators gain the insight into the actual video performance across the network, along with the knowledge of the service instances impacted and the quality of the MPEG stream. Intelligent monitoring platforms can now account for these varying conditions, making those complex associations and recommendations far more quickly and accurately than manually reconciling the events and logs from each separate system.
With our 'on-demand, always-on' world making the cable market ever more competitive, truly customer-focused, proactive organizations will want to understand system health and performance and how content services bear directly on key metrics such as call volumes, customer wait times, and expensive and unneeded truck rolls. Poor content quality or lack of availability impacts the business in a direct and measurable way, just look at numbers for increased customer churn, service related credits and increased operating expenses.
As these complex delivery networks continue to grow, protecting highly valuable content requires the tools and knowledge provided by experts. With the proper systems, processes and people in place, broadcasters and cable operators can have the peace of mind that they will continue to provide outstanding service to the customer.
About the author
Greg Caicedo is Vice President and General Manager of SAT Services SAT Corporation, the leading provider of products and managed services for RF interference mitigation for over 25 years. Readers may contact Greg at gcaicedo@sat.com.
* * * * * * * * *

Advanced Network Monitoring + Integrated Network Operations
For more than 25 years SAT Corporation, a Kratos Company, has delivered RF Spectrum Monitoring and Network Management solutions. SAT's products and services are used world-wide by prominent Satellite and Cable Operators and Service Providers to achieve their QoS goals.
Innovative Digital Video Monitoring + Management
Using Advanced Network and Services Monitoring, broadcasters and cable operators can quickly identify and gain near real-time response to network and service related anomalies that will directly impact service calls, poor service credits, and risk of lost revenue. Protect your digital video services and network and help ensure service availability, increased reliability and video quality.
The Standard For RF QoS Monitoring
The only independent provider of managed RF QoS Monitoring Services, SAT offers a complete suite of services to monitor the RF spectrum and detect costly RF interference. Our enterprise Managed RF QoS Monitoring Service, supported by SAT's state- of-the-art Monics product, is used by the largest satellite operators and telecommunications providers in the world. A combination of hardware and software provide monitoring for satellite up and downlink performance to enable operators to provide the best signal possible.
Accurate + Fast Geolocation Solutions
SAT's Interference Detection and Geolocation Service provides a fast and accurate all-in-one solution for locating and identifying ground-to-satellite transmission sources of interference due to equipment failure, operator error, intentional jamming, and unauthorized users. Based on the only global network of dual antenna sites, SAT's satID® product, and dedicated RF engineers, SAT delivers complete RF interference mitigation services to reduce the costly effects of interference. For more information, please contact
sales@sat.com
or visit
www.sat.com