The smallsat + hosted payload phenomenon, changing the face of the satellite industry
As sponsor and exhibitor, Surrey Satellite Technology-US (SST-US) recently attended the Hosted Payload and Smallsat Summit.
This conference is dedicated to hosted payload and small satellite opportunities, and comes only a few months after Surrey's Hosted Payload Solutions (HoPS) IDIQ contract was awarded to the company by the USAF's Space and Missile Systems Center (SMC). Surrey US CEO John Paffett participated in one of the Summit's panel sessions.
Entitled "Return-on-Innovation is the new ROI: Are Hosted Payload and Smallsats Opening the Door to New Space-Based Economies?"—the session explored how a wide range of market and technology-driven factors are leading to alternative business models.
Moderated by Theresa Beech, CEO and president of MetiSpace Technologies Inc., the panelists included representatives from long-established companies, recent startups, and data applications firms: Carolyn Belle, analyst at NSR USA; Ron Squires, director of Global Comms and Aerospace Products Business Development, Space Systems Business Unit, Northrop Grumman Aerospace Systems; and Jan King, vice president of Space Engineering, Dauria Aerospace.
In his opening introduction, Paffett explained that finding innovative ways to use small satellites to deliver value and increase access to space has been at the heart of Surrey's mission for over thirty years. Whether through hosting payloads or flying dedicated missions for its customers, the return on investment on hosted payloads and smallsats goes beyond the benefits of lower-cost access to space.
Enabling sustainability of space architectures is an important benefit of using small satellites and hosted payloads. Establishing the right price/performance point to close the business case to get the satellite to orbit is no longer sufficient; the systems need to generate enough revenue (or manage constrained program budgets effectively) to allow the growth, expansion, and refresh of these systems to ensure data continuity and coverage.
Another interesting question posed to each panelist was, "What does innovation mean to you?" John responded that innovation at Surrey occurs at all levels—that it's not just about using the new technology as an innovation enabler—new approaches to the way that programs are executed are also necessary.
The SST-US view is that while small satellites and hosted payloads may be the most appropriate solution for some missions, they won't be the solution for all missions. Some programs will necessarily require a more traditional, large satellite approach. Ultimately, the overall market for satellite systems—big and small dedicated missions and hosted payload missions—is set to grow over the coming years.
The SST-US infosite has more info at http://www.sst-us.com/
---
The build is on for Francisco de Miranda satellite
Venezuela has signed an agreement with China Great Wall Industry Corporation (ICGWIC) to build and deliver into orbit the country's third satellite, all with the help of Chinese technology.
The satellite will be named after the independence hero Antonio Jose de Sucre, although neither the Venezuelans nor the Chinese offered any details of regarding the satellite's cost or specific timeframe for the project.
The agreement, which was inked at the presence of Venezuelan President Nicolas Maduro, was signed between the Venezuelan government and CGWIC, China's sole commercial satellite launch service provider.
In addition, China will expand satellite technology transfer to Venezuela, Chinese President Xi Jinping said during his visit to Venezuela in July this year.
Venezuela's first satellite, a telecom satellite, was launched from China in 2008 and named after independence leader Simon Bolivar.
Venezuela's second satellite, a remote sensing satellite, was also delivered into space from China in 2012 and named after the independence hero Francisco de Miranda.
The second satellite is mainly used for the country's land resource inspections, environmental protection, disaster detection and management, crop yield estimation and city planning.
---
Success in reaching orbit—Russia's Express-AMC6 satellite taken aloft by a Proton-M
On October 21st, 2014, the Russian communications and broadcasting satellite Express-AM6 was launched into orbit.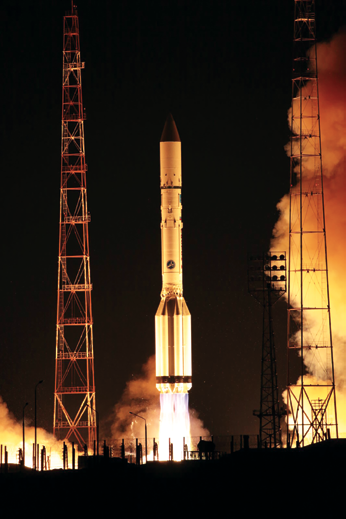 A Proton-M rocket booster took off from the Baikonur Cosmodrome (space launch facility) at 19.09 (Moscow time). The new Express-AM6 heavy-class space vehicle will be deployed into geostationary orbit at 53 degrees East, from where it will provide coverage of European Russia, the Urals and Western Siberia as well as the Middle East, Europe and Africa.
The Express-AM6 spacecraft was commissioned by the Russian Satellite Communications Company and built by Reshetnev ISS (Information Satellite Systems) of Russia in association with Canadian-based MDA and Russian NIIR (Radio Research and Development Institute).
The satellite is based on the Express-2000 satellite platform and is equipped to carry 72 C-, Ku-, Ka- and L- bands transponders (bringing the combined capacity to more than 2,700MHz). The vehicle service life is 15 years.
The Express-AM6 has been built based in consideration of the domestic market outlook for satellite communications and broadcasting services as set out in the Federal Target Program 'Development of TV and Radio Broadcasting in the Russian Federation for 2009-2015' under the Federal Space Program of Russia until 2015.
The satellite will provide additional infrastructure to make multi-program digital television and radio broadcasting services, including HD television, accessible to the Russia's western regions.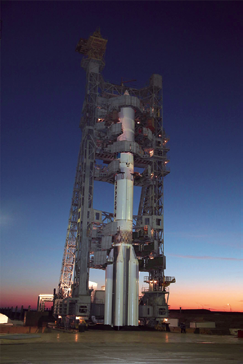 The AM6 space vehicle is also designed to furnish mobile presidential and governmental communications, broadband Internet and multi-service access capabilities (digital TV, telephony, video conferencing and data transmission) as well as to set up VSAT communications networks in European Russia, the Urals and Western Siberia.
Apart from that, the Express-AM6 satellite is proposed to be used for international projects to benefit Russian and foreign users in Africa, Europe and the Middle East.
The Express-AM6 satellite is expected to be commissioned at 53 degrees East in the first quarter of 2015 after completion of requisite flight tests and inspection of all on-board systems.
"It would not be much of an exaggeration to say that the launch of the Express-AM6 is one of the most anticipated event of the year in the satellite industry. With the new satellite in action, the overarching task of broadcasting nationwide television programs from Kaliningrad to Irkutsk will be addressed," said General Director of RSCC Yuri Prokhorov.
The Express-AM6 has been built under the Federal Target Program 'Development of TV and Radio Broadcasting in Russia in 2009-2015'. The first satellite produced in the context of this Federal Target Program is Express-AM5 and it has been servicing the consumer needs in the Far East and Siberia since April 2014.
Another two spacecraft—Express-AM7 and AM8—are expected to be launched in the first quarter of the next year, resulting in continuous high-quality broadcasting services throughout Russia.
---
Market for gas flow meters, sensors + monitors=$6.4 billion by 2019
BCC Research has recently published their new report, Gas Sensors and Gas Metering: Applications and Markets, which covers the global market for gas flow meters, sensors, monitors, and secondary flow instrumentation.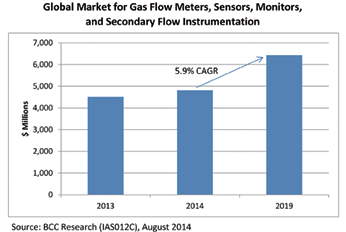 The report reveals this market is estimated to exceed $6.4 billion by 2019, registering a compound annual growth rate (CAGR) of 5.9 percent from 2014 to 2019. The gas flow sensors and monitors segment is growing at 6.7 percent CAGR for the projected period.
The market for gas flow sensors and monitors is expected to grow faster than the markets for flow meters or secondary instrumentation.
Stack gas monitoring is expected to become the largest application segment of the market with 21.6 percent market share by 2019, while custody transfer applications fall into second place with 19.7 percent and flare gas monitoring takes over third place with 16.6 percent.
Market drivers include new legislation (especially in the U.S. and Europe) affecting major user industries of gas sensing equipment, such as the chemical and petrochemical industry.
Other factors driving the market include innovative designs, lower prices, expanding applications areas, and increasing Southern European, South American, and Asian interest in environmental awareness and work safety.
"North America and Europe each accounted for over one-third of the global market for gas meters, sensors, monitors, and secondary instruments in 2013, while Asia accounted for less than a quarter of the market," said BCC Research's market analyst Dr. Edward Gobina. "By 2019, Europe is expected to be the leading market, with 36.1 percent of the global market."
Gas Sensors and Gas Metering: Applications and Markets presents data on demand for gas metering and gas sensors/monitors for different applications in current U.S. dollars for the major global regions.
Market share is presented for all major products, applications, gases, players/regions, and at the global level.
Additional information is available at http://www.bccresearch.com/
---
16K solutions from ORBCOMM
ORBCOMM Inc. has announced that one of the nation's largest retail fleets has selected ORBCOMM to deliver 16,000 dual-mode tracking and monitoring solutions across its mixed fleet of dry and refrigerated trailers.

ORBCOMM expects to ship the majority of the order in the fourth quarter of this year.
The company will provide its dual-mode GT 1100 solution for the customer's dry van assets using its new, more advanced OG2 satellites and Verizon's CDMA cellular network.
In addition, the customer will use ORBCOMM's dual-mode RT 6000+ cold chain monitoring solution for its refrigerated assets. ORBCOMM's powerful dual-mode tracking and monitoring solutions are ideal for meeting the demanding requirements of the customer's nationwide supply chain operations by ensuring complete asset visibility and continuous network coverage.
"Signing one of the nation's largest companies as a customer validates our ability to build and deliver high-performance M2M solutions that help our customers optimize their assets, drive down maintenance costs and increase their return on investment," said Marc Eisenberg, ORBCOMM's Chief Executive Officer. "This opportunity marks our largest GT 1100 order to date and sets the stage for future growth in the transportation & distribution industry."
For further information, please visit http://www.orbcomm.com/
---
Connectivity services in Africa are expanded by Emerging Markets Communications
The African Union Commission (AUC) has expanded Emerging Markets Communications (EMC) connectivity services in Africa and has renewed its existing contract.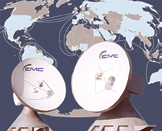 Over the past eight years, EMC has provided satellite communication services to the African Union in 20 countries throughout Africa for their corporate offices and remote locations. In addition to renewing services for these sites, the African Union added an additional eight international locations, for a total of 28 global sites. EMC provides connectivity for private data, Internet, voice and high definition video using HD Connect.
"EMC has been instrumental in supporting the African Union's mission over the last eight years," said Rekia Mahamoudou, Division
Head at African Union. "EMC's investments in local field support, satellite capacity, teleports and in-country inventory in Africa enables us to expand our operations to achieve our goals of promoting unity and solidarity among African states, coordinating the cooperation for development, and safeguard of the sovereignty and integrity of the Member States. We decided to continue and expand our connectivity services with EMC as a result of their consistent, reliable network performance and 24 x 7 support."
The African Union Commission (AUC) is an institution spread throughout Africa with a mission to efficiently drive African integration and development in collaboration with African Union Member States, the Regional Economic Communities and African citizens.
Through a strong infrastructure spanning 54 countries, the commission encourages diversity, teamwork, transparency, information sharing and maintains a high level of integrity to put the needs of Africa above all else.
"EMC's communications infrastructure throughout Africa in satellite capacity, fiber, teleports, in-country field support centers and locally hired engineers provides organizations such as the African Union the access to quick-deployed connectivity solutions," said Joe Kamau, Senior Vice President, African Business at Emerging Markets Communications.

Emerging Markets Communications is a provider of fully managed satellite and terrestrial connectivity solutions to all 54 countries in Africa. The company has 21 field support locations throughout Africa, staffed with locally hired engineers and an inventory of spare parts. In addition to its C-band satellite capacity, EMC has a corporate office and teleport in Nairobi, Kenya.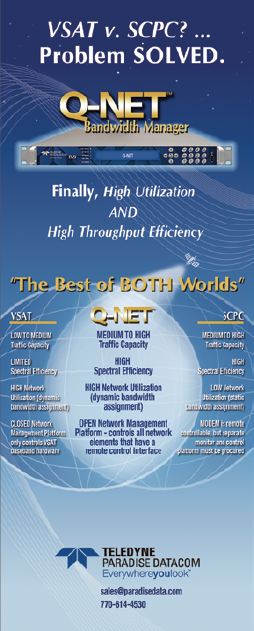 Emerging Markets Communications® operates in 150 countries, with 41 global field support centers and wholly-owned infrastructure of teleports and terrestrial pops in the U.S., Europe and Africa. Emerging Markets Communications® is financially backed by ABRY Partners; a firm specialized in funding the communications industry with $36 billion of completed transactions.
The EMC infosite may be reached at http://www.emc-corp.net/
---
Inmarsat's IsatPhone is now conducive to operations in Brazil
Inmarsat has announced that its IsatPhone portfolio is now approved for operation
in Brazil.
The handheld satellite phones provide reliable voice, data and GPS location services globally whether at sea or on land, ensuring seamless and reliable communications in areas where terrestrial and mobile networks cannot reach. Inmarsat's satellite phones can now be distributed by Globalsat Brazil, Brazil-based operating member of Globalsat Group, a leading provider of mobile satellite services in Latin America since 1999.
IsatPhone Pro and IsatPhone 2 operate over Inmarsat's global I-4 satellite network with an average network availability of 99.9 percent across the world. This has made the phones a favorite of emergency first responders; humanitarian aid organizations; journalists reporting from the field; companies operating in the mining, oil and maritime industries; and other organizations whose activities take them to areas where other forms of communications are unreliable or nonexistent.
Each phone, with its own unique features, is engineered to operate in extreme conditions, providing peace of mind to the users that they can remain in contact at all times, even in the absence of a fixed terrestrial or cellular network.
Alberto Palacios, CEO of Globalsat Group, said, "We are able to finally provide companies and government entities operating in such industries as mining, power, shipping and humanitarian relief the ability to communicate where and when it's needed most."
For additional information regarding the IsatPhone, please visit http://www.inmarsat.com/service-collection/isatphone/
For more information on purchasing an IsatPhone Pro or IsatPhone 2 in Brazil, visit Globalsat Brazil at http://www.globalsatgroup.com.br
---
EDRS traveling the Space Data Highway with ESA
The first component of Europe's space data highway passed several critical tests this summer replicating the harsh launch and space conditions it will soon have to endure.
The European Data Relay System, or EDRS, will consist of two geostationary nodes collecting data from low-orbiting satellites via laser and radio links for retransmission down to Earth. Complementing current routes, it will ensure the near-realtime availability of information for time-critical events such as environmental monitoring, emergency response and security missions. In addition to the sophistication of the technology, the payloads must also be robust enough to withstand the rigors of launch and life in space. This first element, EDRS-A, consists of three hosted packages on the Eutelsat-9B satellite for launch next year.
The first is a laser terminal capable of receiving 1.8Gbit/s of user data from a satellite up to 45,000km away. EDRS-A also carries a radio terminal that will handle up to 300Mbit/s—a vast improvement over today's systems. The third package is an 'opportunity payload' funded by Italy's ASI space agency operating independently of EDRS to provide broadcasting services over Italy.
The testing occurred at the Toulouse, France facilities of Airbus Defence and Space, the Eutelsat-9B prime contractor. After its two main modules were mated, the satellite and its hosted payloads passed the month-long thermal vacuum test in July.
The vibration test then subjected them to the rigors of launch, followed by a stint in the acoustic test chamber. They emerged unscathed from them all. Germany's TESAT Spacecom is the prime contractor for the EDRS payloads and also provided the laser terminals on the four low-orbiting Sentinel-1 and -2 Earth observation satellites.
Part of Europe's Copernicus program, these satellites will reduce the time delays in transferring their data to the ground through the greater flexibility of this new service. The satellite and EDRS payloads now face their final radio-frequency tests. Then the solar wings and antennas will be added ready for launch preparations to begin.
The EDRS SpaceDataHighway is a commercially operated data relay system created as a public–private partnership between ESA and Airbus DS. As prime contractor, the company will build, operate and co-fund the infrastructure, as well as providing the data transmission services to ESA and customers worldwide. ESA is carrying out the project on behalf of its Member States as part of its Advanced Research in Telecommunications Systems program.
The ESA infosite: http://www.esa.int/
---
A collaborative effort at 55.5 degrees West
The Spanish satellite telecommunications operator HISPASAT and satellite services provider Intelsat have detailed their collaboration with respect to capabilities at the 55.5 degrees west orbital position.
This agreement, which has allowed both companies to enhance their positioning in Latin America, has been consolidated for the long term so that the two operators can grow at this orbit position and offer new services, especially DTH services.
The companies have agreed to the shared future use of the Brazilian-focused Ku-band capacity on Intelsat 34, which is scheduled to be launched in the second half of 2015, providing continuity of service and growth at the 55.5 degrees west orbital location.
Since June 2014 HISPASAT's Amazonas 1 satellite has been co-located with Intelsat's Galaxy 11 satellite, increasing resiliency and expanding resources available to the quickly growing direct-to-home television community that is hosted at that orbital location, including Brazilian payTV operator GVT.
Over the longer-term, HISPASAT has procured capacity on the Galaxy 11 follow-on satellite, Intelsat 34, which is expected to launch during the second half of 2015. HISPASAT and Intelsat will cooperate at 55.5 degrees west, continuing to build the momentum at this important Latin American video neighborhood.
"Our collaboration with HISPASAT, which we initiated earlier this year, has been instrumental to building the momentum for media applications at this orbital location," said Intelsat President and CCO Stephen Spengler.
"This extension of our agreement in the medium and long term will give our clients greater security as to the continuity of the services we are offering them from 55.5 degrees west," said HISPASAT CEO Carlos Espinós. "For HISPASAT, this agreement is a clear example of efficient management of space resources, in terms of both orbital positions and satellites. This collaborative agreement allows each company to optimize the use of our respective assets and expand our business opportunities in an efficient manner."
For more information, please visit the Intelsat infosite at http://www.intelsat.com/
---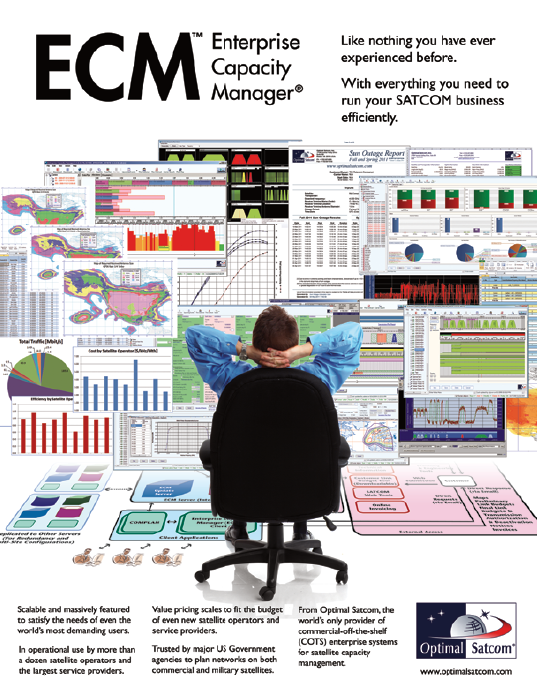 ---