Globecomm + NovelSat Are Happy Campers
Following the successful satellite distribution of a string of high-profile news and sporting events using NovelSat NS3, Globecast has decided to use NovelSat spectral efficiency software for global satellite video distribution of some of the major events that it covers.

Globecast distributes SD, HD and 4K video from the most watched live news and sporting events and will now be adding NovelSat satellite transmission solutions to its existing capabilities.
Globecast is a provider of media management, distribution, monetization and contribution solutions for broadcasters.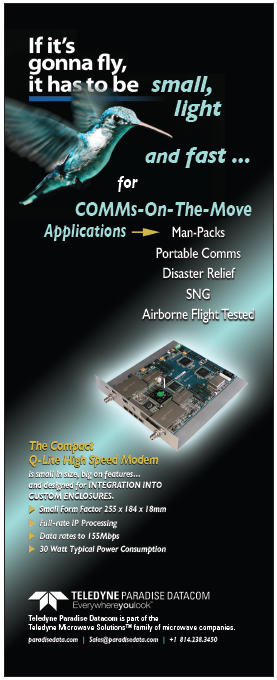 Using NovelSat NS3-based NS1000 and NS2000 Satellite Modulators and Demodulators, Globecast can consistently deliver more video services using less satellite bandwidth, creating greater efficiency.
NovelSat NS3 technology has been proven to utilize satellite spectrum far more efficiently than DVB-S and DVB-S2 standards. NovelSat NS3 increases data rates by more than 30 percent compared with many existing modulators, demodulators and modems.
The advantage of this next generation technology goes far beyond capacity savings. In extreme conditions, NovelSat NS3 boosts network reliability and availability more effectively and efficiently handles channel impairments including phase noise, non-linearity, jamming and interference.
"As a key partner for our broadcast customers, we've built a reputation for delivering a high quality service, which allows broadcasters to ensure the best possible viewer experience," said Liz McParland, Contribution Sales Manager of Globecast. "Using NovelSat NS3 technology for our high-profile broadcasts, Globecast can deliver consistently high quality content from start to finish with limited satellite bandwidth."
As display quality continues to improve, with growing demand for 4K and UHDTV, viewers of premiere sporting events are increasingly expecting exponentially higher definition content.
This new demand could quadruple current bandwidth requirements, further increasing the necessity of technologies such as NovelSat NS3 to help control costs by optimizing the efficiency of costly satellite bandwidth.

"Globecast has been particularly successful in showcasing how NovelSat NS3 can help to streamline broadcast distribution operation," said Dan Peleg, CTO of NovelSat. "Our NovelSat NS3 technology raises the standard of spectral efficiency and performance in the satellite broadcast industry, putting our customers at the forefront of broadcast technology and viewer satisfaction."
NovelSat management will be SATCON 2015 in New York City, November 11-12 in the Israel Pavillion.
---
Telsat 12 VANTAGE Passes Tests
Airbus Defence and Space has successfully completed the final integration and testing of the new Telstar 12 VANTAGE satellite for Telesat, a global satellite operator headquartered in Ottawa, Canada.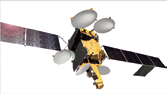 Telstar 12 VANTAGE is being transported to Tanegashima, Japan from the Airbus Defence and Space facilities in Toulouse, France. The satellite is due to be launched in the coming weeks on an H-IIA launch vehicle built by Mitsubishi Heavy Industries.
Based on Airbus Defence and Space's Eurostar E3000 platform, Telstar 12 VANTAGE is fitted with more than 50 high power amplifiers that will operate in Ku- and Ka-bands over four regional beams and eight spot beams.
Telesat's newest satellite will have a launch mass of 4,800 kg, spacecraft power of 11 kW and more than a 15 year design life. This is the fourth Eurostar E3000-based spacecraft built by Airbus Defence and Space to join Telesat's fleet.
Telstar 12 VANTAGE will give customers greater flexibility in network design along with improved efficiencies and lower costs per bit, especially over the North Sea and the Mediterranean where the satellite's high throughput capacity will support the latest mobility services for aero and maritime markets.
The satellite will operate at 15 degrees West in geostationary orbit and serve the growing needs of broadcast, corporate, and government users with powerful coverage of the Americas and EMEA regions as well as maritime zones in Europe, the Caribbean and South Atlantic.
---
Thuraya Signs On With Crisis Commitment
Thuraya Telecommunications Company—under the umbrella of the EMEA Satellite Operators Association (ESOA) and the Global VSAT Forum (GVF)—has signed a Crisis Connectivity Charter in Geneva.
The Charter was signed with the global humanitarian community represented by the UN Office for Coordination of Humanitarian Affairs (OCHA) and the Emergency Telecommunications Cluster (ETC).
The agreement embodies a commitment from the satellite community to enhance connectivity in humanitarian emergencies, and beyond.
It formalizes terms and protocols designed to accelerate the ability of emergency response teams to access satellite-based communications at times of disaster in 20 high-risk countries identified by the ETC within Thuraya's coverage area.
The principles of the Charter also include increased coordination to enable prioritization of humanitarian Internet traffic during disaster operations; pre-positioned satellite equipment and transmission capacity; and training and capacity building for the humanitarian community across all five continents during the initial phases of a disaster.
The Crisis Connectivity Charter creates an industry-led mechanism, which can be triggered by the ETC, leading to coherent, predictable, scalable and principled implementation of an end-to-end satellite-based response. It opens the door for more coordination among satellite operators, government and humanitarian agencies, thus allowing the humanitarian community to more effectively plan, refine and ultimately improve its response to disasters.
Samer Halawi, CEO, Thuraya, said, "Our purpose at Thuraya is to save and improve lives, and this shapes how we think as a business. So it is an exciting prospect to be able to save even more people, which the Charter will make possible. It is a humbling responsibility too, knowing that the best deployment of our technology can help people in their greatest need."
---
Yahsat's Brazilian Plans Bring Newtec In As A Team Member
UAE-based satellite operator Yahsat announced during the Latin America Satellite Congress a contract award to Newtec for the delivery of service platforms and operating systems in support of the company's planned extension across Brazil in 2017.
Yahsat has awarded a new contract to Newtec for their Newtec Dialog® multiservice VSAT platform, including VSAT baseband hubs, user terminals, as well as the Operating Support System (OSS) and Business Support System (BSS).
The contract also caters for the supply of various types of Customer Premise Equipment (CPE). The turnkey solution provided by Newtec, in partnership with Tech Mahindra, is integrated with an Oracle platform, bringing Tier-1 capabilities to the OSS/BSS layer.
Tech Mahindra comes with more than 20 years of experience in delivering OSS/BSS solutions to global telecom operators and has a strong presence in Brazil.
This partnership intends to maximize flexibility and innovation and will allow Yahsat and its customers to benefit from a broader product range and wider implementation, better serving the needs of its various markets—from consumer and enterprise broadband customers, to the provision of backhaul services for telecom operators and ISPs.
Yahsat's third satellite, Al Yah 3, is scheduled for service launch in early 2017, extending the company's commercial Ka-band coverage to an additional 19 countries and 600 million users across Brazil and Africa. Al Yah 3 will cover more than 95 percent of Brazil's population.
This latest partnership is in preparation for these developments, and is in line with Yahsat's strategy to appeal to wider demographics in the markets in which it operates.
While Newtec is the preferred partner for the Brazilian market, the Newtec platform may also be deployed in other territories across Yahsat's footprint.
The partnership reinforces Yahsat's commitment to expanding its footprint in growing markets, strengthening Yahsat's position as the world's eighth largest operator in terms of revenue.
David Murphy, Yahsat Chief Commercial Officer, said, "This latest contract award to Newtec signifies the first time a satellite operator is set to integrate a fully-fledged OSS/BSS into the VSAT service platform for both wholesale and consumer segments. By doing so, we are extending our service offering and ensuring a high level of customer experience for all."
Marcio Tiago, Yahsat's Brazil Country Director, said, "Yahsat is committed to addressing the market needs across Brazil by implementing a best-in-class platform, coupled with a flexible OSS/BSS platform, which together provide greater capacity and functionality for a wide range of customers. Yahsat's pre-defined high-speed broadband bundles will provide speeds up to 15-20 Mbps, while the platform will also enable customized solutions to meet wholesale and corporate requirements."
Serge Van Herck, CEO at Newtec, said, "As a multiservice platform, Newtec Dialog® guarantees optimal modulation and bandwidth allocation, whether it is being used for enterprise, consumer broadband, cellular backhaul or mobility on traditional or HTS satellites. The VSAT hubs also feature Newtec's patented return link technology, Mx-DMA™, which enables services to run more efficiently and reliably than ever before over satellite."
Newtec's Bart Van Utterbeeck, Vice President South America added, "Yahsat and its customers will be benefitting from high quality services through the advantages from the Newtec Dialog solution. It will allow Yahsat to build its network and to adapt the provided services as their business grows and diversifies across Brazil and abroad."
yahsat.ae/
newtec.eu/
---
European Parliament Resolution In Favor Of ADS-B Applaued By Aireon
Aireon LLC applauds the European Parliament for adopting a resolution to enhance aviation safety and efficiency through global flight tracking systems.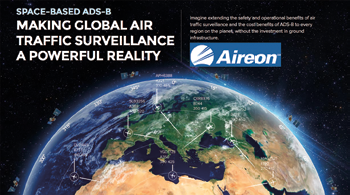 The resolution supports the assignment of primary radio spectrum allocation for satellite-based Automatic Dependent Surveillance-Broadcast (ADS-B). European Parliament's Commissioner for Transport, Violeta Bulc, called on all EU member states to welcome this resolution in order to ensure the objective of global flight tracking is supported in negotiations during the upcoming World Radiocommunications Conference (WRC).
Space-based ADS-B will allow for real-time air traffic monitoring, and provide performance-based enhancements in safety and efficiency, consistent with the International Civil Aviation Organization's (ICAO) objectives.
Members of the European Parliament across the political spectrum were universally supportive of the resolution, including the Chairman of the Transport Committee, Michael Cramer (Green Party, Germany), Marian-Jean Marinescu (PPE, Romania) and Lucy Anderson (S&D, UK) who detailed the importance of a having a global solution given the geographical limitations of existing flight tracking systems and ensuring the ability to help aircraft navigate difficult weather conditions in ways that are challenging with current technology.
Roberta Neri, chief executive officer, ENAV, said, "A primary spectrum allocation will ensure that the world's aviation community has access to the next-generation air traffic surveillance capability of space-based ADS-B to improve global safety and efficiency. It is imperative that we make safety a priority and it is encouraging that Parliament has made this critical issue a key objective during the WRC."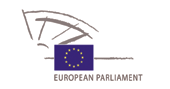 "The Aireon Partners are pleased with the support and commitment from the European Parliament to improve air traffic safety, as stated in the resolution. We see this as a strong endorsement of the need to improve global flight safety and efficiency using investments that are already being made by the airlines," said Eamonn Brennan, chief executive officer, Irish Aviation Authority (IAA).
"The European Parliament has set the standard in supporting this action and as the Air Navigation Service Provider in Canada, we fully support this initiative from the other side of the Atlantic," said John Crichton, president and chief executive officer, NAV CANADA. "Primary spectrum allocation for space-based global flight tracking is putting safety first. It is our primary goal and main objective in maintaining our airspace."
---
Inmarsat's SAS Heads To Greece
Inmarsat will locate the Satellite Access Station (SAS) for its European Aviation Network (EAN) high-speed inflight connectivity solution in Greece, under an agreement with OTE, the largest telecommunications provider in Greece and member of the Deutsche Telekom Group.
The development of the SAS in Nemea, Peloponnese, will be a key infrastructure milestone for EAN, which was unveiled by Inmarsat last month as the first aviation passenger connectivity solution in Europe to combine an advanced satellite network and LTE-based ground network, the latter of which will be operated by Deutsche Telekom. Aircraft will switch automatically between satellite and terrestrial connectivity using an onboard network communicator for optimal service delivery. As a result, airlines will be able to offer reliable, high-speed onboard internet access to passengers across Europe's high-traffic flight paths, using Inmarsat's 30MHz (2 x 15MHz) S-band spectrum allocation in all 28 EU member states.
The new SAS at Nemea will serve as a gateway towards Inmarsat's advanced S-band satellite, which is currently being manufactured by Thales Alenia Space, and a compact, lightweight Mobile Satellite Services (MSS) terminal being produced by Cobham SATCOM. OTE will deliver and operate the satellite teleport facilities on the same site that has also hosted Inmarsat's Ka-band Global Xpress (GX) satellite access station since 2012.
---
New Territory To Be Accessed By Forthcoming Chinese Satellites
A series of scientific satellites, including one to probe dark matter, will be launched later this year and next year, said Wu Ji, director of the National Space Science Center under the Chinese Academy of Sciences (CAS), in a new report from Xinhua.
The development of four scientific satellites is going well, Wu said recently at an event to mark the 10th anniversary of cooperation between China's Double Star space mission and the European Space Agency's (ESA) Cluster mission to investigate the earth's magnetosphere.
The first of the series, the dark matter particle explorer, will be launched from the Jiuquan Satellite Launch Center in northwest China at the end of this year. All the major tests and experiments have been completed, and a mission control center for scientific satellites has been set up in Huairou, a northern suburb of Beijing, Wu said.
The dark-matter particle explorer satellite will observe the direction, energy and electric charge of high-energy particles in space in search of dark matter, said Chang Jin, chief scientist of the project. It will have the widest observation spectrum and highest energy resolution of any dark-matter probe in the world. Dark matter is one of the most important mysteries of physics. Scientists believe in its existence based on the law of universal gravitation, but have never directly detected it.
China will also launch a satellite for quantum science experiments next year. "It's very difficult to develop the payload of the satellite. We have overcome many difficulties in making the optical instrument. We are confident of launching it in the first half of next year," Wu said.
A retrievable scientific research satellite, SJ-10, will also be launched in the first half of 2016. It will carry out research in microgravity and space life science to provide scientific support to manned space missions. The satellite is expected carry out 19 experiments in six fields.
---
AsiaSat Launches A Ginormous Footprint Via Their AsiaSat 4 Satellite
Asia Satellite Telecommunications Co. Ltd. (AsiaSat) announces the launch of
its first Ultra-HD (UHD) television channel "4K-SAT" at 122 degrees East on AsiaSat 4, marking a new era for AsiaSat's satellite broadcasting services in the region.
This new UHD channel will be available free-to-air (FTA) across more than 50 countries and regions within AsiaSat 4's enormous footprint, spanning from New Zealand to Pakistan and part of the Middle East.
Asian TV operators and home viewers with an AsiaSat 4 C-band antenna and a HEVC set-top box (STB) will be able to receive the UHD channel directly.
The new "4K-SAT" channel broadcasts full UHD produced videos featuring fashion, lifestyle and documentaries from content partners including Hong Kong Cyberport Management Company Limited, FashionTV and Rohde & Schwarz.
The compelling UHD content from FashionTV includes major fashion shows from all over the world as well as features highlighting the latest in beauty and lifestyle trends, all delivered to Asian viewers in clear, ultra-high definition.
FashionTV, the global multimedia network leader in fashion and lifestyle content, also broadcasts its HD and SD channels on AsiaSat 5 and AsiaSat 7 in the Asia-Pacific.
"We are delighted to be at the forefront of next generation broadcasting technology, bringing to Asian viewers true UHD content. We look forward to working closely with our content and technology partners to drive UHD audience penetration in Asia," said Sabrina Cubbon, Vice President, Marketing and Global Accounts of AsiaSat.
"The launch of this UHD channel on our new AsiaSat 4 UHD broadcast platform provides an opportunity for all stakeholders to experience and promote UHD content in Asia. This reaffirms our commitment to promoting leading edge technologies for the broadcast community. We shall continue to focus on compelling UHD content to enhance the quality of the television viewing experience."
The "4K-SAT" channel encoded in HEVC, is broadcasting at 50 frames per second (fps) with 10-bit colour depth.

In addition to offering 3840 x 2160 pixels resolution, four times the resolution of the full HDTV, the UHD specification also means a richer color palette, with more saturated colours and fine colour gradations.
The superior quality of UHD broadcasting will deliver to consumers much better quality and more realistic picture and sound, offering an immersive viewing experience, particularly for sporting events and action movies.
The UHD channel is available free-to-air (FTA) on AsiaSat 4 with the following reception parameters:
Orbital Location : 122 degrees East
Transponder : A4-C13H
Polarisation : Horizontal
Frequency : 4120 MHz
Video Format : HEVC DVB-S2
Modulation : 8PSK
Symbol Rate : 29.72 Msym/sec
FEC : 5/6
---