Between the rocky economy and the fast-changing landscape of the global communications industry, creativity and innovation have become more important than ever before for businesses operating in the satellite communications sector.
For NewCom International, a global communications company specializing in the transport of video, voice, and data via satellite, the secret to success in today's tumultuous marketplace comes down to a single word: Diversification.
"We have a plan that we started executing in 2009 and will continue to focus on for the next three to four years," says NewCom President and COO Jaime Dickinson, who was named the World Teleport Association's 2010 Teleport Executive of the Year. "It all centers on diversification: Diversification of our footprint coverage, diversification of our products, and diversification of our technologies. We are focusing on services that cover a mass volume of users and we are ensuring that we work with a broad range of clients. When we first started NewCom, we grew the company by servicing a small number of large clients — but that was a big risk. Now we service an even mix of small and large companies, in part a result of the new value-added products we have been offering."
Rather than providing one-off services to the clients it serves, voice, video, and data solutions are bundled together into customized packages that are targeted to vertical markets in developing regions around the globe. At the core of NewCom's business strategy is its commitment to quality service.
"For us, it has always been about servicing our clients in the best way possible and providing excellent quality," says Dickinson. "It's the personal relationships we develop and 24/7 support we provide that keeps our customers with us and ensures we continue to grow and succeed in today's competitive environment."
Looking ahead to 2011, the Company — which specializes in servicing the fast-developing regions of Latin America, the Caribbean and Africa — will continue to focus on three key market opportunities: Rural Markets, Cellular Backhaul and Natural Resources. NewCom will also continue to market its popular VideoMeetings™ service and is introducing an exciting new product offering into the mix: IPTV Services.
Recognizing that 21st century communications is the key to education and economic growth in rural, developing regions, NewCom International has made it a priority to bring world-class communications to remote villages and towns throughout Latin America and Africa.
By teaming with private contractors and government officials in Colombia, the Company has been instrumental in bringing high-speed Internet access to more than 1,000 rural schools, hospitals, government offices and businesses scattered throughout the country.
The government-funded communications initiative has given these rural communicates an open window to the world. Families once cut off from loved ones living far away now have the ability to instantly communicate with them. Teachers and students at schools located high in the Andes now have a world of educational material at their fingertips. Farmers can now connect online to learn more about their trade and earn more by producing new crops in the fields. Doctors at remote medical facilities now have access to telemedicine consultation with medical experts from top hospitals throughout the United States. It's a model that NewCom is working to emulate in countries throughout Africa with a packaged approach that combines quality voice, video, and data communications delivered via satellite.
NewCom has teamed with top IPTV content providers to offer a variety of news, entertainment, sports and pay-per-view channels to content hungry providers in the Caribbean, Latin America and Africa. NewCom, which houses several top IPTV content providers at its teleport hub in Miami, is able to transport the IPTV services to any country in Africa, the Caribbean and Latin America through a concentrated satellite link. The content is then delivered to individual subscribers through a local fiber or wireless network, and can be accessed via a small Internet port about the size of an old mobile phone handset.
"There is such a huge demand throughout these regions for content," notes Dora Mejia, director of business development for NewCom International. "In some areas, they can currently access only three channels. So to be able to offer IPTV Services is very exciting for us."
The fast-growth of cellular providers in developing regions throughout Africa has given NewCom a huge opportunity to partner with these operators to provide cellular backhaul services to the remote corners of the country.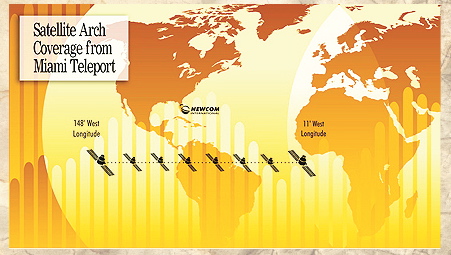 By integrating its satellite services with Comtech's new CDM 625 modem, NewCom offers GSM operators the flexible, cost-effective interface they need to connect with the various telecom players in the market and reach the most remote corners the regions they serve.
"The bottom line is that GSM operators need to grow their footprint throughout an entire region, not just in cities, and that requires satellite communications," says Dickinson. "All in all, I view cellular providers as strategic partners for us because they are doing the local market work to develop the customer base. As they do, there is a growing demand for more capacity — which is where satellite comes in."
The discovery of vast oil, gas and mining resources in African countries such as Nigeria and Congo has brought a huge influx of international companies into the region, which in turn is driving a huge demand for top quality communications. NewCom recently unveiled its Office Without Borders™ communications solution that enables businesses to enjoy all the global communications benefits and security of a first- class business office from remote jungles and exploration sites throughout Africa.
NewCom's Office Without Borders™ communications package is a turnkey solution that includes voice, Internet, email, fax or data services delivered via satellite. Because the multinationals working for these companies are hungry for video content, NewCom is also exploring partnerships to deliver its IPTV service offerings to this market sector.
The Company recently partnered with the Smithsonian and a team of engineers from Virginia Tech and Iowa State University to broadcast a live video cast of a historic Inca Engineering expedition from the remote, treacherous Andean mountains of Peru to a large auditorium screen at the Smithsonian's National Museum of the American Indian in Washington D.C. The company has also facilitated various telemedicine projects, including one recently launched at a hospital in Haiti that enables medical staff to consult face-to-face with top medical experts around the globe. In addition, the Company has teamed with several university campuses to launch interactive virtual classes, and makes it possible for businesses to hold interactive sales meetings with associates around the globe without ever leaving home. In 2011, NewCom will continue to explore ways to advance medicine, research, education and business development around the world by incorporating its VideoMeetings™ technology.