John Stolte joined ORBCOMM in 2001. He has more than 20 years of technology management experience in the aerospace and telecommunications industries.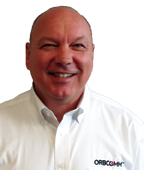 Prior to joining ORBCOMM, Mr. Stolte held a number of positions at Orbital Sciences Corporation, the most recent being Program Director where he was responsible for the design, manufacturing and launch of the ORBCOMM satellite constellation. From 1982 to 1990, Mr. Stolte worked for McDonnell Douglas in a number of positions, including at the Naval Research Laboratory where he led the successful integration, test and launch of a multi-billion dollar defense satellite.
SatMagazine
Good day, Mr. Stolte. You have gained a great deal of experience within this industry at a number of leading companies and organizations… what led you to embark upon a career path in SATCOM?
John Stolte
After graduating from the University of California, Davis, I started my career at McDonnell Douglas, where I was given the opportunity to work on many different aerospace projects, ranging from F18 fighter jets to Delta launch vehicles. After I witnessed my first Delta launch on a rocket I worked on, I got "the space bug." However, instead of just working to get the satellites into orbit, I wanted to work on the satellites themselves. This led to my transition to the Naval Research Laboratory (NRL) to work on classified space missions.
As a young engineer at the NRL, working side by side with true space pioneers, the experience was incredible. But the pace for launches was relatively slow and I wanted to work on both the production side and the commercial side of the space industry.
One of the upstarts in the commercialization of space was Orbital Sciences Corporation and I jumped at the opportunity to work there. Orbital was on the cusp of entering the satellite industry and had just conceived the idea to build a constellation of communications satellites, which we know today as ORBCOMM. ORBCOMM was the perfect combination of the production and commercialization of space, which is where I wanted to be—since then, I have never looked back.
SatMagazine
While at Orbital Sciences Corporation, what prompted you to move over to ORBCOMM?
John Stolte
Joining ORBCOMM was an easy decision. I was drawn to the ORBCOMM program because the work environment was extremely fast paced and cutting-edge, and clearly fed my passion for commercializing space and creating a truly ground-breaking production line for small satellites. I've also been most fortunate to work with an outstanding group of energetic, motivated and highly talented engineers.
SatMagazine
Who is ORBCOMM partnering with to launch its next generation OG2 constellation?
John Stolte
We have been working with a premier team on the OG2 program. Our partners range from long-time space innovators to relatively new entrants into the space industry, all of whom are focused on continuing to revolutionize space technology. What's even more exciting is that OG2 is built solely upon American innovation. The entire OG2 system, from engineering, launch and operation, are uniquely performed and supported by US-based companies. Sierra Nevada Corporation (SNC) designed and manufactured our state-of-the-art OG2 spacecraft and has led all development and integration efforts from their Louisville, Colorado, facility. Boeing manufactured the robust communications payload on-board the OG2 satellites and has worked hand-in-hand with SNC on integration. Moog provided critical hardware and support services, including a complete propulsion system and modular satellite dispenser, which allows us to launch as many as 12 OG2 satellites on a single mission.
Our launch provider, SpaceX, is truly advancing the boundaries of the space industry. SpaceX did an outstanding job with launching our first six OG2 satellites aboard their upgraded Falcon 9 rocket on July 14, 2014, from Cape Canaveral, Florida. The OG2 satellites were inserted within a fraction of a kilometer of their intended orbit. Each of the six satellites separated, deployed their solar panels and antennas properly, and they established connectivity at ORBCOMM's Gateway Earth Stations around the world. This was a nearly flawless launch and a true testament to the capabilities of our team of OG2 partners.
SatMagazine
How are the pre-launch activities taking shape for the launch of the next 11 OG2 satellites?
John Stolte
The next set of 11 OG2 satellites for OG2 Mission 2 is progressing well. SNC has completed all of the satellite buses and Boeing has completed all the payloads. SNC has optimized the integration and test process for the satellites, which is currently underway at SNC's Colorado facility. We expect SpaceX will launch our 11 OG2 satellites early next year (2015). Starting this month (October, 2014), SpaceX expects to maintain the pace of completing roughly one launch per month from Cape Canaveral Air Force Station in Florida leading up to our OG2 Mission 2 launch.
SatMagazine
What are the advantages of a Low Earth Orbit (LEO) satellite constellation?
John Stolte
Our LEO satellites orbit at roughly 500 miles above the Earth's surface and require only 100 minutes to circle the globe. The satellites are arranged in multiple planes for providing optimized worldwide coverage to enable two-way data communications anytime, anywhere. With multiple planes of satellites and the rotation of the Earth, the "look angle" to a satellite is constantly changing. This allows customers to send messages regardless of their location—behind hills or buildings and in urban canyons.
In general, LEO satellites are much smaller and lighter when compared to geostationary (GEO) satellites. A LEO satellite's low mass allows operators to launch multiple satellites on a single rocket. For us, that means we can launch 11 satellites on a single Falcon 9 rocket as part of our second OG2 mission, which will complete our next generation constellation.
Our OG2 satellites also have a fully reprogrammable software radio that allows us to continue to develop and upload new services while they are in orbit. In addition, LEO satellites are quite cost-effective. Our entire OG2 constellation of 17 LEO satellites was approximately the same cost as a single GEO satellite.
SatMagazine
Would you please explain the updated technologies or other included features of the OG2 satellites when compared with the initial OG1 satellites?
John Stolte
Each OG2 satellite will offer up to six times the data access and as much as twice the transmission rate of an existing OG1 satellite. Each OG2 satellite is the equivalent of six OG1 satellites, providing faster message delivery, larger message sizes and better coverage at higher latitudes, while drastically increasing network capacity. Additionally, the higher gain will allow for smaller antennas on communicators and reduced power requirements, yielding longer battery lives.
The OG2 satellites will average from 100 to 140 passes per day, depending on latitude, which will provide near-continuous global coverage. In representative regions of the world such as North America, South America, Asia, Europe, Australia and Africa, typical message delivery speeds are expected to improve significantly, and average delivery times are expected to be less than three minutes.
The OG2 satellites are completely backward compatible and interoperable with our existing OG1 network so they will communicate seamlessly with the ORBCOMM devices already deployed in the field.
In addition, the OG2 satellites are equipped with an Automatic Identification System (AIS) payload to receive and report transmissions from AIS-equipped vessels for ship tracking and other maritime navigational and safety efforts. The OG2 satellites will dramatically increase asset visibility and the probability of detection for ORBCOMM's AIS customers.
These improvements will have a major impact on enhancing network service for our customers and increasing the M2M markets they can serve, while continuing to support the reliable mission-critical communications available today through our current OG1 network.
SatMagazine
What are the secrets to maintaining the OG1 constellation?
John Stolte
Our existing OG1 constellation is nearly 15 years old, and the OG1 satellites continue to send and receive messages to support network capacity and message delivery. We have hired a top-notch team of satellite engineers and technical experts to continuously and closely monitor the health of our OG1 satellites and develop optimized operating modes to maximize performance. We've also built our satellites with the ability to perform comprehensive commands while they are in orbit and allow for us to update and/or change all on-board software from the ground to maintain full operational health and effectiveness.
SatMagazine
How will ORBCOMM integrate its new OG2 constellation with its existing OG1 constellation? What do legacy OG1 customers have to do to additionally engage or initiate new operations with OG2?
John Stolte
The first phase of the OG2 integration is quite simple. The OG2 satellites are fully backwards compatible with our existing OG1 network with improved results. Upon completion of the IOT process, the satellites are put into an operational mode that will enable all existing OG1 customers to start seamlessly using the OG2 satellites to send and receive messages for their M2M applications.
The first launch of six OG2 satellites was positioned to fill an existing gap in the OG1 constellation, which will significantly improve message latency and replenish the OG1 constellation. In addition, we have changed the orbit plane inclination for the OG2 satellites to provide better coverage over high and low latitude customers, such as those in northern Europe.
SatMagazine
How will ORBCOMM integrate its satellite and cellular services?
John Stolte
ORBCOMM is an integrated multi-network provider offering connectivity services for three global satellite networks and six Tier One cellular networks. We have integrated all satellite and cellular device provisioning and services management via our new Management Portal (MP) under our Multi-network Access Point Platform (MAPP) architecture.
The MAPP interface enables our customers to manage their entire network of devices—satellite, cellular or mixed devices from multiple carriers—through a single, easy-to-use and customized interface. Some of the top features of the new portal include dashboard management of fleets and usage reporting and alerting. For added flexibility, ORBCOMM has provided provisioning features to allow customers to define, link and manage dual-mode (a blend of satellite and cellular) devices together as single subscriber units. We will be kicking off the commercial launch of the portal to our global customers this fall.
SatMagazine
Given your work in the defense arena for eight years with McDonnell Douglas and the Naval Research Laboratory, how do compare the commercial business SATCOM environs with the MILSATCOM world?
John Stolte
The commercial SATCOM business requires a much more adaptive and flexible approach to meet the ever-changing market place. This is why ORBCOMM has decided to use a fully reprogrammable software radio. This allows us to easily change and/or update the services our OG2 satellites can provide. Additionally, the commercial side of SATCOM requires cost-effective solutions. The entire OG2 constellation of 17 satellites will be placed in service for approximately $200 million.
SatMagazine
Will ORBCOMM be committing additional resources to increase their tracking and theft prevention M2M work with government agencies and military commands?
John Stolte
ORBCOMM is already a significant player in the government cargo security business. We are a leader in the tracking and security of containers coming in and out of Afghanistan as well as the monitoring and security of critical fuel shipments. As the war effort in Afghanistan subsides, we expect to continue to support the troops in this capacity and expand into other regions.
In addition, the $102 million RFID–IV contract with our partner, Savi Technology, and our broad GSA schedule offering with our partner, CorpTen International, provide ready contract vehicles for government agencies to procure our industry-leading products and services. We expect our new and advanced OG2 constellation to offer satellite M2M services for both civilian government and military alike.
SatMagazine
What can we expect to see from ORBCOMM over the next few months as the OG2 constellation continues to expand in size and come online to further the M2M cause, especially in the crucial areas of Oil and Gas and maritime?
John Stolte
Our next generation OG2 satellite constellation will significantly expand ORBCOMM's reach across the global M2M industry, especially in the maritime and oil and gas markets. For the maritime industry, ORBCOMM's satellite-enabled systems offer advanced features and services to luxury recreational marine vessels and commercial fishing vessels, such as on-board diagnostics and other marine telematics, alarms, requests for assistance, security, location reporting and tracking, two-way messaging, catch data and weather reports.
In addition, each of the OG2 satellites is equipped with the capability to collect AIS data. ORBCOMM's AIS service tracks well over 130,000 vessels daily for commercial and government customers such as the U.S. Coast Guard, foreign Navies and other international maritime authorities. By using ORBCOMM's AIS service, security and intelligence departments around the world can know where nearly every large vessel is located, where it's going and when it will get there. These agencies can use this valuable data to quickly react to anomalies at sea such as suspicious movements, route deviation and other unusual behavior.
We will continue to focus on expanding into the new market sectors that could benefit from access to AIS data, including suppliers to the shipping sector, such as traders, brokers, insurance companies and support services. A potential new market involves combining AIS data with M2M asset tracking and monitoring solutions. We believe this creates the opportunity for ORBCOMM to provide complete end-to-end visibility of the shipment of goods throughout the global supply chain using an integrated information solution. This solution, once fully integrated into transportation management systems (TMS), has the potential to track and monitor individual shipping containers through the intermodal transportation system from origination to destination as it is transported on truck, rail and ship.
As for companies in the oil and gas industry, ORBCOMM services can be used to monitor productivity, manage inventory, increase security, minimize downtime and enhance operational efficiency. This can range from the tracking and monitoring of fuel shipments to managing and controlling the remote operation of valves and/or switches. Applications for automated meter reading, oil and gas storage tank monitoring, pipeline monitoring and environmental monitoring can also help companies reduce operating costs, including labor, fuel and on-site monitoring and maintenance.
SatMagazine
Why do you feel M2M is becoming a "must consider" technology for businesses? What has generated this increased interest?
John Stolte
As the adoption of M2M technology has continued to expand, what was once considered cutting edge, too expensive or impractical to deploy is now mainstream and within reach for small businesses. M2M is really becoming a requirement for competitive survival and a necessity for operating smarter and more efficiently in a fast-paced world requiring real-time information.
Leveraging M2M applications enables businesses to have critical information about their assets anywhere in the world—where and when they need it—which can revolutionize how they do business. They can significantly improve asset utilization and performance, gain operational efficiencies, reduce theft and unauthorized use and enhance customer service.
There's also a fast and sure return on investment, so it really becomes a matter of whether companies can afford not to deploy M2M technology. The best part is working with ORBCOMM—we offer everything companies need to launch a M2M solution—global satellite, cellular and dual-mode network services to devices (from turnkey solutions to OEM components), web reporting applications and device management platforms, the M2M industry's most comprehensive and unique service offering.
SatMagazine
Lastly, as you consider your career at ORBCOMM and elsewhere, what project or projects truly bring a sense of satisfaction to you?
There are many—from the satisfaction of receiving telemetry from our newly launched OG2 satellites to improving the performance of our 15-year-old OG1 satellites. I'll always remember the night we first started collecting AIS signals from our first satellite with AIS capability. I was amazed sitting at my desk, looking at the location of thousands of vessels and thinking that there is no one else in the world seeing this data.
However, the true satisfaction for me is working with incredibly talented people. Every day, here at ORBCOMM, I'm surrounded by highly dedicated and astonishingly creative engineers that are able to work through some of the most challenging problems to ensure we provide our customers with the best M2M services possible. I want to give a shout-out to our Technology and Operations team at ORBCOMM to thank all of them for their efforts.
To digest additional information regarding ORBCOMM, please visit http://www.ORBCOMM.com/
---