Surface Heating Systems Ltd (SHS) manufactures a range of antenna heating products to prevent the build-up of snow and ice on antennas ranging from 0.3 meter microwave antennas to (at present) 18 meter Earth Station antennas in C-, Ku- and Ka-band frequencies.
The company has successfully supplied and installed systems across the globe, enabling operators to function in the most arduous of weather conditions in countries such as...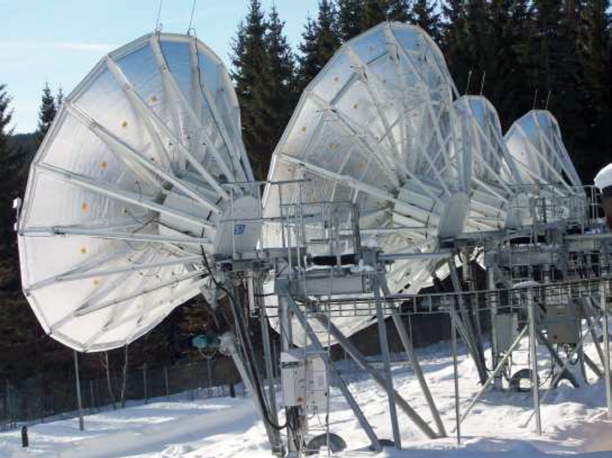 • United States
• Canada
• Argentina
• Antarctica
• Europe
• Scandinavia
• Russia
• Turkey
• Afghanistan
• Japan
• China
• Korea
• Australia
• New Zealand
Plus more…
The company was founded in 1997 by Mick Cummings, who, having served 14 years in the Royal Navy Submarine Service as an electro-mechanical engineer, adapted the skills he attained to develop a range of electric heating products for industrial and domestic applications. From beginnings in a single room office, the company has steadily grown over the years and now operates out of a 10,000 square foot manufacturing facility and employs a number of skilled and semi-skilled personnel.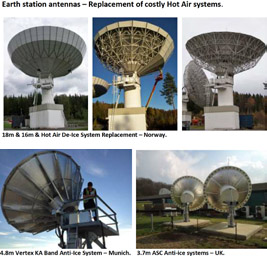 Antenna Heating—Some Basic Terminology
De-Ice is the application of energy to remove existing/accumulated snow and ice that exists on an antenna. The energy required, in most instances, can be up to and more than 800w/m2.
Anti-Ice is the application of energy to prevent the build-up/accumulation of snow and ice on an antenna. The energy required can range from 250 to 400w/m2.
With the use of modern heating elements, insulation and controls, SHS prefers to manufacture Anti-Ice systems as the energy savings, when compared with a standard hot air De-Ice system, could be as much as 50 percent.
Systems
Hot air De-ice systems are by their nature quite powerful. The energy required to heat the enclosed plenum can be phenomenal. When this is coupled with the additional weight on bearings/jacks and maintenance of all of the moving parts, such makes hot air systems rather expensive to operate and maintain.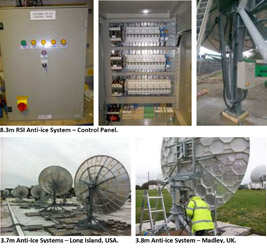 SHS has replaced a number of hot air systems, thereby reducing the customer's overall operating costs and releasing generator capacity. This enabled customer to install additional new antennas complete with company standard anti-ice systems ,as well. The payback, depending on the size of the antenna, for such systems can be as little as three years.
Antenna Distortion
Contrary to statements issued by others, the heating of the antenna surface does not distort or de-focus the antenna. SHS Anti-Ice systems have been thoroughly tested on Ka-band antennas by an independent test authority at Munich University. Test results and findings are available on request.
Anti-Ice, Insulated Electric Panels
At SHS, with nearly 20 years of experience, the manufacture of Anti-Ice, self-adhesive, heater panels has been perfected. This is a lightweight, flexible, foil based insulated sheet with the heating elements applied in the workshop at precise spacing to ensure the correct w/m2 output. These can be manufactured to suit most antennas in a range of different voltages, such as 440v, 230v, 110v and 48v.
Installation is simple and quick. Simply clean and dry the antenna, peel off the self-adhesive liner and apply to the antenna, then connect the tails to the controller and sensor.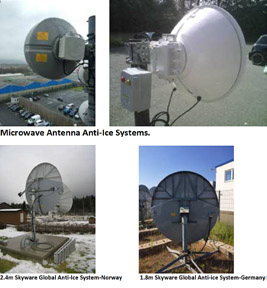 Control
Proper control of the system is vital. SHS uses the most modern control systems, with minimal moving parts, to ensure systems operate only when they are required to. This produces considerable savings for the end customer in running the unit as well as with maintenance costs.
The system can be operated to enable various combinations of heating, such as 1/2 or 1/3, 2/3 and full heating, and that includes the firm's web based I/O unit which can allow control and monitoring via a device such as a smart phone, tablet or laptop.
Resin + Composite Antenna Anti-Ice Systems
SHS also manufactures a range of self-adhesive heater systems for antennas. These are manufactured from injected resin and composite materials and are built in various shapes to suit the space between the rear of the strengthening ribs at the rear of the antenna and range in power loading from 250 – 400w/m2, depending on the make of antenna. These can be made in full or 1/2 heating and, again, SHS uses the latest self-adhesive technology, making on-site installation fast and economical.
GRP Heater Systems
For smaller antennas, from 0.3 meter Microwave antennas to 2.4 meter resin antennas, SHS manufacture a range of heated GRP shells which simply attach to the rear of the reflector. These are suitable for most frequencies, including Ka-band. The units are comprised of a molded GRP shell with integral heating elements, insulation and controls. Installation is quick and simple via self-adhesive or self-drilling screws and sealant.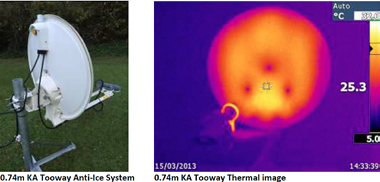 Microwave AntennaAnti-Ice Systems
At SHS, our feeling is that everyone should be able to enjoy trouble free communication &and TV viewing, even when snowing. Instead of putting up with snow on an antenna or sweeping the white stuff away with a long broom, an economic solution has been developed by SHS for small business and domestic antennas.
The SHS system is a patented design and is comprised of a semi-rigid, molded, plastic front cover with integral heating elements and temperature control. Installation is quick by simply locating the cover over the front of the antenna and securing the cover n place with the provided screws or clips and then plugging the unit into the power supply. There is no need to remove the antenna from the mount or re-align.
As the temperature falls, the heating activates and cycles between 5 to 7 degrees C, ensuring the front of the antenna remains ice and snow free without excessive running costs. Above that temperature, the system will turns off.
The company is continually up-dating and designing new systems for antennas which arrive in the market.

No matter the size of the antenna, a look at SHS for an honest opinion on how your snow/ice problems can be economically rectified is certainly worth your time.
For example, Global Antenna Services recently had the opportunity to work with Surface Heating systems personal on a 9 meter project in Vernon, New Jersey.
"Having had the opportunity to work on several other types of Anti-Icing and De-icing systems over the years, we found the SHS system to be easy to install, the workmanship was impeccable and testing was easy and fool proof," said Bob Cato, the company's owner. "If you are looking for an Anti-Icing system, I would suggest you look at the entire project, the cost of the system, the cost of labour for the installation, the amount of energy needed to keep the system running and finally how well the SHS will keep your antennas clear of ice and snow build-up."
shs-ltd.com/
---