Ericsson Television Limited's main R&D facility is located in Southampton in the United Kingdom (UK).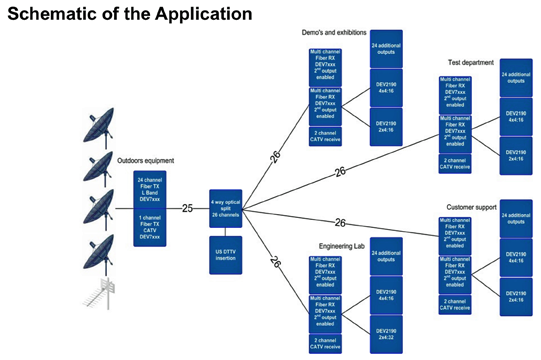 There are various Ericsson R&D and engineering teams that require high quality L-band and DTTV signals for the test and development of Ericsson compression, reception and transmission products.
The Challenge
At the Southampton facility, an outside antenna farm provides live signals for testing. In house, those same signals will also be used for demonstration and testing purposes. This means that a very high signal quality in the lab environment is critical to the testing process.
The distance between the antenna farm and the R&D labs is more than 400 meters. Over a distance greater than 100 meters, coaxial cable is not recommended for use, due to high signal loss. RF over Fiber is a low loss, elegant and efficient alternative for signal delivery. The application also requires remote management for all of the equipment, including RF levels and LNB power.
Ericsson was seeking a modular concept to satisfy their needs, a fix that would offer excellent and reliable RF performance.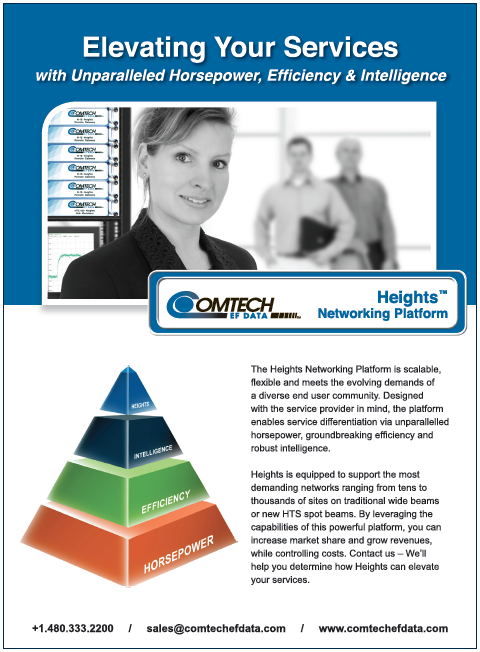 The DEV sales and project management team worked to design the best technical and commercial solution for Ericsson with that company's project manager. The solution was RF over Fiber technology that was based on DEV's OPTRIBUTION® product line.
DEV 7xxx range of equipment with TX and Rx cards for L-band and CATV-band signals was used for the RF over Fiber transport. DEV optical splitters were used to split the signals at the optical level to four different locations within the building. The DEV 2190 product range was used to amplify, split and manage the RF signals for the various departments.
Customer Benefits
Using a consulting approach, DEV's answer fully supported the customers' requirements, based on standard DEV equipment.
Using this equipment assured a uniform, easy-to manage solution, using proven RF over Fiber equipment for the highest signal quality and reliability. Ericsson benefited from:
• One partner for project management of the entire RF signal handling chain
• Single competent partner in RF over Fiber and coax transmission
• Best RF performance
• Space and cost saving solution with the highest density on the market.
• Enhanced system reliability via 1+1 Redundancy or N+1 Redundancy
• Permanent signal monitoring and recording
• Intuitive and complete operation with DEV Web Interface
• Complete SNMP-MIB for seamless integration into all common M&C Systems
• Modules are hot-swappable and can be integrated in all OPTRIBUTION® Chassis for maximum reliability and availability
• Broad choice of optical connectors (SC/APC, FC/APC or E2000 HRL)
• LNB bias powering with all TX modules
• Flexible configurations within one chassis
• Single reliable source for post-sales support.
• Reliable long term partnership
The Testimonials
John Fowler, the Engineering Infrastructure Manager at Ericsson Television Limited in the Solution Area—Media said, "Upgrading Ericsson Television Ltd satellite and terrestrial signal distribution network from copper to fiber using DEV Optribution equipment has seen considerable improvements, both in reliability and signal quality.
"The fiber infrastructure is unaffected by electromagnetic interference or cable length. As a result the fibre was routed in the most convenient way around the building, rather than previously worrying about cable lengths and avoiding sources of interference.
"The resulting improvement from the fibre distribution as measured in our laboratories shows an improvement of carrier to noise margin by 8-10dB. To date the system has been 100 percengt reliable. The ability to remotely monitor and log signal levels from our dishes is an enormous benefit.
"As a result of the fiber distribution, weak signals from satellites where we are on the footprint fringes can now be received confidently and reliably. This is important for our core business in our development labs, and especially for our customer support team who need to monitor and analyze errors from customer transmissions in many European countries."
The customer now benefits from a solid and highly reliable system for the distribution of L-band and DTTV signals throughout all of the facility's departments.
dev-systemtechnik.com/
Rainer Lorger is the Sales Director at DEV Systemtechnik and he has more than 30 years of expert knowledge and experience in sales management. Together with his team, Lorger has worked to establish DEV as a leading, global supplier of RF solutions, from transmission to antenna to receiver product
---