On March 29, 2014, Interorbital Systems' (IOS) Common Propulsion Module Test Vehicle (CPM TV) thundered off the mobile launch unit on the rocket's maiden flight. The 7,500-lb thrust engine performed flawlessly, propelling the 1200 lb. rocket to Mach 1.5 within seconds over the remote Mojave Desert of California.
The 30-foot long CPM TV rocket is a boiler-plate test version of the identical rocket units that will be bundled together to create Interorbital's modular orbital launch systems.
This unguided, fin-stabilized version of the CPM TV was controlled at the start of the launch by a unique cable guidance system that uses
guide-arms attached to the bottom edge of the fins. Cables attached to the guide arms are wound around pulleys and a common drum, allowing the cables to unwind at the same rate, keeping the rocket flying straight until the fins become effective.
This launch system is a low-mass equivalent of a 180 foot launch rail. The pyrotechnic guide-arm release system, which worked perfectly, is identical to the stage-release system that will be used by the IOS NEPTUNE orbital launch systems.
A standard CPM is designed to burn its hypergolic liquid propellants (nitric acid and turpentine) for up to 150 seconds, which is enough to carry a 320 pound (145kg.) payload on a suborbital flight to an altitude of 192 miles (310km.). Due to the maximum altitude restrictions at the launch site, the burn time had to be limited to 10 seconds and ballast was added to the rocket to increase its weight. The rocket reached 10,000 feet in a low-altitude test flight.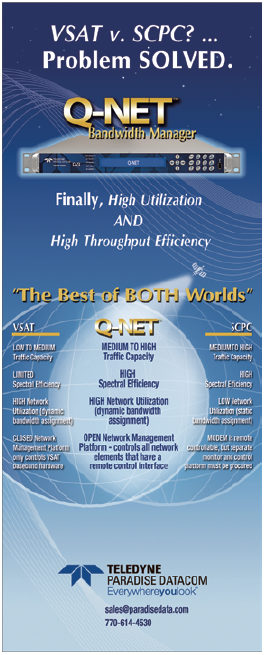 The following commercial payloads were on-board:
• National Cheng Kung University (Taiwan) 2U CubeSat
• M2M2SKY/Boreal Space (Brazil/California) 1U CubeSat
• Google Lunar XPRIZE Team SYNERGY MOON (California/International) Payload
• John Frusicante's (Red Hot Chili Peppers) album ENCLOSURE (The Record Collection, Malibu/Loducca, Brazil)
After a parachute recovery, all payloads came back alive—still functioning and intact. The rocket sustained minimal damage and will be re-used on the next test flight in which the CPM will be finless and guided.
Chief Designer, IOS Co-Founder and President Roderick Milliron gave his insight into Interorbital's bigger picture strategies. "Interorbital continues to expand its rocket development and launch horizons, having recently responded to an Army RFI with a respected industry partner to create what would be a follow-on to the SWORDS launch vehicle. Our two companies have submitted a joint proposal to give the Army what they've wanted all along. Interorbital's expandable or 'additive' modular NEPTUNE rockets organically evolved—without the advantage of government funding—to meet or exceed all the original SWORDS requirements, albeit independently of that program.
"IOS' launchers are agile, mobile, sized to fit in a 40 ft. cargo container; ready to deploy in minutes with a small team; low-cost; mass-produced on an assembly line; powered by green, sustainable storable, clean-burning propellants that are alternatives to the poisonous hypergolics in use today; priced under $1 million in quantity; customizable and expandable to fit any mission requirement for either land- or sea-launch; and completely "Made in America"—including rocket engines that Interorbital has successfully tested in flight."
After more than a decade of research and development, those engines—the GPRE7.5KNTA (General Purpose Rocket Engine 7,500-lb thrust Nitric/Turpentine Ablative) series—are now new to the market and allow for the creation of a nanolauncher perfectly sized for today's smallsat payloads and reduced budgets.
Designer Milliron continued, "The rocket engine's unique injector and combustion chamber architecture yielded a specific impulse (Isp), averaging 245 seconds at sea level ambient pressure, which equates to a 305 second vacuum specific impulse. The high density of the concentrated white fuming nitric acid and turpentine propellant combination produced a density specific impulse at sea level of 323 seconds. High density specific impulse substantially reduces the weight of a rocket's propellant tanks which leads to an overall reduction in the total rocket weight and a corresponding increase in payload weight."
With the orbital launch vehicle in mind, and the launch-licensing process is in the works, the IOS team used this first test flight to qualify systems that would be part of the NEPTUNE satellite launch fleet. Systems tested included:
• CPM Rocket Architecture
• Chemical Ignition in flight
• Propulsion System in flight
• Cable Launch Device (CLD) and Pyrotechnic Staging System (PSS) Telemetry
• Health and Recovery System
• Wireless-encrypted CPM controller
With an invited FAA/AST agent present and observing the in-flight technology demo, Interorbital activated its multi-module launcher staging-mechanism in a flawless performance of the same device that will be used to jettison the four spent modules comprising Stage I of the N5 nanosat launcher.
IOS' Current NEPTUNE 5 Launch Manifest of TubeSats and CubeSats for Missions I through IV: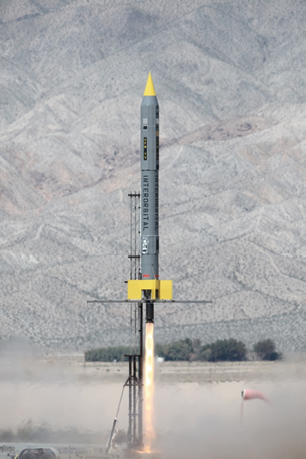 • UC Irvine
• Google Lunar X PRIZE Teams EuroLuna (2U), Canada's Plan B, Germany/US Part-Time Scientists, and SYNERGY MOON (3U)
• FPT University, Vietnam
• Nanyang Technological University, Singapore (2)
• King Abdullah University of Science and Technology (KAUST)(3), Saudi Arabia/US
• NASA IV &V Facility (3)
• Institute of Space Technology, Pakistan
• Taiwan National Cheng Kung University (TARO-2U)
• Morehead State University (Kentucky Space)
• InterAmerican University of Puerto Rico
• University of Sydney (2) Aslan Academy
• Project Calliope (Space Music Project)
• Universidad de Puerto Rico / Marcelino Canino Middle School
• Naval Postgraduate School (3)
• Defense Science and Technology Lab (DSTL, UK)
• Austrian arts group mur.at
• United States Military Academy at West Point (2)
• Brazilian Space Institute/Ubatuba Middle School
• ULISES-I Sat, Space opera from Mexico
• TriVector Services (3)
• AKQA Ad Agency, SF
• La Despensa Ad Agency Spain
• The Golden iPod, Bishop, California
• Institute of Advanced Media Arts and Sciences, Japan(7)
• Galaxy Global Corporation
• Universidad de Chile, Santiago
• University of Sao Paulo, Laboratory of Integrated Systems, Brazil (2)
• David Lawrence K-8 School, North Miami, Florida
• Optimize-EduSat
• RADG Ad Agency
• OMNI LABS (Brazil)
• 4-H/Ute Mountain Youth/Colorado State University Extension
• KEN KATO, Japan; Ryerson University, Toronto
• (US) Doyle's DOCTOR WHO TARDIS in Orbit
• Boreal Space (US)/M2M2Sky, Brazil
• Wayfinder-1 (2)
• Rufs the Space Lion, Sweden
• Uninova Instituto, Lisboa, Portugal
• National University of Singapore, RSPL (3)
• SpaceBooth, Belgium
• Manhattan Satellite Lab; RMC s.r.o.
• Popular SK, Slovakia
• Penn State University, Wilkes-Barre Campus
• Universidad Autónoma de Zacatecas, Mexico (2)
• DragonFly Astro
• MEDO South Africa, TubeSat
• Mission Miojo, Brazil/Japan
and more
IOS President Rod Milliron added, "The amazing array of science, art, music, academic, military, government, citizen-scientist, and advertising payloads already committed to launch beginning in 2015 demonstrates the broad-based acceptance and hunger for these new smallsats. For academic programs, a satellite kit and launch can still start as low as $8,000. What serious space experimenter could resist?"
Putting the Commercial Into Commercial Space
To design and build a low-cost, high-performance rocket system that will smash the price regime of the global launch cartels, and doing it with little-to-no budget, is a true challenge. So-called 'Commercial' Space is far from it; most of the New Space companies are firmly attached to the government and are holding on for dear life, on the dole for their often short existence, and out of business when the hand-outs end.
Not so with Interorbital Systems (IOS). When it comes to staying alive, IOS has the war wounds to prove that building launch vehicles is not easy; much-maligned for what outsiders view as a slow start. However, IOS is now poised to play a dominant role in the small-satellite launch market.
Nearly every revenue stream is considered sanctioned, if it keeps the R&D running and the rocket engines firing. Interorbital has persisted in its quest to provide the world with the Holy Grail of launchers: modular and quick to mass-produce; capable of high-performance through relatively low-tech manufacturing methods; capable of orbital, on-demand launch—and designed to stand at-the-ready to access any orbit or inclination through a series of unconventional, ultra-lean mobile spaceports. Interorbital's direct application of the Silicon Valley model of supporting a business on a golden undercarriage of advertising revenues has worked its magic when applied to the rocket world.
Interorbital found that by embracing marketing and promotional projects that standard aerospace companies would look at with disdain, or simply not have the creative chops to execute, IOS could generate a cash flow from the same deep well that keeps Google, Facebook, and their ilk running on fully lubricated ad streams.
For IOS, its AD-venture program brought and continues to bring in solid revenue without having to 'sell the farm.' Interorbital's founders maintain control and ownership of their company—a somewhat rare state of affairs in today's business landscape, where the rush to cash-out, or to become a quick snack for VC-vampires is generally the rule of law.
Many founders have found themselves suddenly employees of someone else who's running the company they built. In that nightmare scenario, with one's company lost, vision dies, and there is no freedom to allow for a Steve Jobs-like 'Think Different' approach/ That 'different' is what Interorbital's NEPTUNE rocket series is and, much to Interorbital's founders' delight, so is the firm's funding landscape.
With just south of one hundred payloads (most made with IOS' sat-kits) slated for launch on three sold-out missions, and one rapidly closing fourth orbital launch, and with two private spaceports in the works to augment the company's ocean-based, rapid-response-to-orbit launch service strategy—something must be going right at Interorbital.
Interorbital's interaction in marketing campaigns and ad sales with six agencies worldwide lifts much of the financial burden from the test-flight program. From this author's perspective, as both CEO and Director of Marketing, "We've always been 'creatives'—whether that's in the arts sector or the realm of science—innovation and creativity pay off—we drill down into both worlds for the cash to advance our scientific goals—and it's pure 1,000-proof fun when we have the opportunity to use art, music, film, and hard marketing to achieve those tech goals."
Exercising this form of creative control means maintaining a tight-knit, core engineering team to move the technology ahead. Keeping it spartan is what works in the IOS world.
IOS achieves major flight milestone with successful rocket launch March 29, 2014.
Roderick Milliron, Chief Designer and Co-founder sees it this way, "The small design team has always been my preferred workforce—I've been an employee in huge companies and know their process of the warehousing of people who are hired for government contract head-count only; when it comes down to delivering the product or services, it usually depends on a core-group of five to 10 people who shoulder the work for 10,000 surplus non-performers, or the 'unassigned.' I like to be where the action is—leading the design group—getting things done."
This ultra-lean approach has paid off. With a core team of five to 10, and a budget so low that it would send chills of fiscal terror down the spines of conventional aerospacers, Interorbital has accomplished the impossible. More than a dozen bipropellant liquid rocket engines and three launch vehicles down the design and flight-test path, IOS formally began launch operations by flying four commercial payloads on March 29th, 2014, with the inaugural launch of its CPM TV. Two of those payloads were signage and ad agency projects from Brazil's Loducca and the new and aggressive Tech4Y—with its signature 'Mother-in-Law' logo emblazoned on the side of the rocket.
From Red Hot Chili Peppers to Hot Spacey Noodles...
Exactly what is the allure of space and rockets to advertising agencies? Space-branding is hot, hot, hot! As we've all seen on TV—every car is secretly a rocket; every sports shoe will allow the wearer to leap to the Moon, and every energy drink is really rocket fuel—rocket power by inference and image association—but what about using real rockets as part of brand promotion?
Sizzle guaranteed! It has been done before—WEST Cigarettes commissioned a German artist to paint an ad down the side of a Russian rocket in 1992 as a brand-promotion and as part of the first art exhibition in space; Pizza Hut's 2001 PR stunt of pizza delivery to the residents of the ISS was a new ad milestone; and going farther into the past, who could forget Hermann Oberth's promised rocket launch, for the film 'Woman in the Moon' in 1929?. Today, space continues to work its magic and continues to exert its pull on the human mind.
In its latest AD-Venture, Interorbital Systems, partnering with Nissin/Ajinomoto, and F/Nazca Saatchi & Saatchi Advertising, and with the expert guidance of Chef Emmanuel Bassoleil, will engage in three progressively more difficult rocket cooking challenges, which culminate in what will be, to date, the hardest way to cook Ramen: taking the popular noodles beyond the Karman Line—the boundary between Earth's atmosphere and Outer Space—and returning the dish hot and ready to eat—cooked by the friction of re-entry. The project page and video are available for reader access at https://www.nissin.com.br/missaomiojo/
The beauty of these high-ticket ad campaigns is the notoriety and buzz they generate as well as the capsule technology created for the project, which serves double-duty as a controlled cooking device as well as a test-unit for Interorbital's manned and unmanned missions.
Roderick continued, "The Mission Miojo pays for our entire flight test program and the development of a re-entry vehicle, plus giving us the added benefit of getting that punk-marketing back-flash and shimmer of being part of a very cool, on-going, episodic, buzz-filled promotional campaign. This mission funds Interorbital, advertises the company, and gives our brand a kind of 'ride-share' payload status that gets us to where we want to go, while we get the product, the customer, and the ad agency where they want to go—to the winner's circle!"
And speaking of winners: Loducca /The Record Collection, who masterminded the Red Hot Chile Peppers' John Frusciante SAT-JF14 promo, won gold and numerous other awards at this year's Cannes Lions for the entire ad campaign and associated mobile apps. Interorbital played a part by building the satellite and conducting the rocket launch on which SAT-JF14 rode. Golden Lions, no less...
A quick run-down of the RHCP project: John Frusciante's new album ENCLOSURE loaded on experimental satellite and launched into cyberspace. Fans to download SAT-JF14 app for free album preview.
The ad copy and rocket imagery worked their spell…
"At dawn on March 29th, 2014, at a remote High Desert location in California, former Red Hot Chili Peppers guitarist John Frusciante's new album ENCLOSURE was loaded onto an experimental CubeSat called Sat-JF14 and launched aboard an Interorbital Systems' NEPTUNE Rocket Module…"
John's fans from around the world were able to download the free, custom-built Sat-JF14 mobile application developed by Frusciante's longtime label Record Collection and leading Brazilian Creative Agency, Loducca. This app enabled users to track Sat-JF14's movement in real time and communicate with one another via an integrated social chat platform.
The story exploded and went everywhere, across all new and old media platforms. The promotion generated a little static among the space community because it wasn't an actual 'orbital' launch, but a launch into cyberspace with a live rocket launch component (courtesy of Interorbital) and lots of PR and show-biz wizardry.
"Starting on April 2nd, as the virtual Sat-JF14 hovered over a fan's region on the website map, ENCLOSURE would be unlocked, enabling users to stream ENCLOSURE at no charge on any iOS or Android mobile device. The album preview lasted until midnight on April 7th, at which point, Sat-JF14 ceased transmission." By the Cannes consensus: space-branding works at the world-class level.
The author enjoyed much publicity from the campaign, including quotes in Rolling Stone Magazine, a feature in MALIBU magazine, and mention in nearly every music website and blog of significance: "This partnership with John Frusciante and Record Collection represents a new chapter in our quest to further explore the cosmic relationship between science and art," said Randa Milliron, Interorbital Systems co-founder and CEO. "ENCLOSURE is a musical masterpiece and we're thrilled to be able to utilize our proprietary space technology to facilitate this unprecedented form of space-enhanced distribution." For more details on the campaign, please visit http://1two3four5.com/sat-jf14/
Delivering Breakthrough Rocket Technology
Interorbital is largely self-funded and has been since its inception. The company has supported its own R&D efforts via a satellite kit; launch sales; with pre-sales of orbital tourism; with a NASA SBIR for Nanolauncher technology testing; and now with an increasing number of advertising clients from some six top level global ad agencies. From a practical perspective, IOS' test launches do double and sometimes triple duty, including proving its rockets can fly! In its first flight, the rocket completed three main goals: all hardware and software was tested in flight; Interorbital's commercial launch was inaugurated; and funding and visibility for the Interorbital brand was provided.
Everything about IOS' rocket program can be considered a commodity, including an unexpected by-product: sound. During the March 2014 rocket launch, award-winning sound designer Hamilton Sterling of Helikon Sound conducted an elaborate sound recording of the launch event. IOS has worked with Hamilton on previous rocket sound applications for the films War of the Worlds and Serenity, proving that everything about a rocket launch can be monetized. The newest audio treasures gathered by Helikon will soon be heard in the sound track of an undisclosed new feature film.
Interorbital's Next Steps: following two more suborbital test launches, with one of those carrying the Mission Miojo Noodle Capsule to space-altitude, IOS will launch the three sold-out orbital missions. IOS' upcoming Rocket Diver program with famed skydiver Olav Zipser presents an ideal marketing platform and on-going high-action campaign for the right kind of advertiser.
This features a series of progressively higher, record-breaking, extreme-sport space dives by Olav from specially customized models of Interorbital's rockets. This will also be a science mission, to create and test-fly an orbital rescue suit and, as Olav puts it, "To have fun on the way down."
IOS is also re-igniting its AD-SAT service, chiefly because of new customer demand for orbital exposure. The on-orbit product-placement is a fusion of space and advertising—-for use by forward-thinking advertisers as a glamorous differentiating alternative to conventional print and video product push. When it comes to putting their products in the public eye, clients should not settle for just a billboard on the boulevard... they can go all the way with real, out-of-this-world product placement: first in Earth orbit with AD-SAT; on to Lunar orbit, then to the surface of the Moon as part of upcoming IOS missions.

As part of all Interorbital's Google Lunar X PRIZE launches and on the company's own sample/return Lunar missions, one rule stands: every IOS NEPTUNE Rocket and VIRUS-1 Lunar Lander will bear a tiny good-luck sticker of author Robert Heinlein as homage to the ultimate Space-Marketer-in-Chief.
About the author
Randa Milliron, a co-founder, CEO and marketing director for Interorbital Systems, is going to be chairing the Launch Architecture session of the October 7-10, 2014, Lunar Cubes Workshop in Sunnyvale, California.