Prominent Presences @ World Satellite Business Week
The 14th annual Euroconsult World Satellite Business Week held September 10-15, 2012 in Paris, France, welcomed several hundred attendees including some of the most influential business executives in the commercial space industry.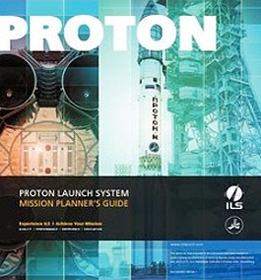 The session entitled "Launch Service Providers Seek the Right Tempo," on September 12, was moderated by Warren Ferster, Editor of Space News and included top executives from the commercial and government launch market: International Launch Services (ILS), Arianespace, Sea Launch, Lockheed Martin Commercial Launch Services, China Great Wall Industry Corp. and SpaceX.
Ferster summarized of the current commercial launch industry with new entrants such as SpaceX, the re-entry of Sea Launch and industry veterans such as ILS and Arianespace, all actively competing for launch orders in a softening market.Panelists responded to a wide range of industry topics and questions posed by the moderator. The following are McKenna's remarks and responses to questions during the panel.
There have been seven Proton launches performed this year; five commercial and two Russian Federal Missions. On August 7, the seventh Proton launch of the year, the Russian Federal mission with the Telkom 3/Express MD-2 satellites, failed to reach the intended orbit. The Russian State Commission issued a report that identified a component in the pressurization system that was not manufactured to specifications. This caused a shutdown of the Breeze M Main engine by the Breeze M flight control system during the third burn of the mission.
The ILS Failure Review Oversight Board (FROB) was established after the anomaly and was comprised of representatives from nine ILS customers, two insurance underwriting representatives and an independent outside subject matter expert.

The FROB concluded its review on September 11 and concurred with the findings and corrective action plan of the Russian State Commission. The corrective actions will include broad and thorough oversight of all rework procedures, testing, support equipment, and personnel, both at the Khrunichev (KhSC) production facilities and in Baikonur. ILS and KhSC will also develop specific initiatives to enhance the long-term Quality Management System (QMS) that has been in place and operating at all KhSC production facilities.
The return to flight mission will be the ILS Proton launch of the IS-23 satellite for Intelsat S. A. of Luxembourg in mid-October. Following that mission will be a Russian Federal launch. By the end of the month, the remainder of the Proton launch manifest for this year will be established. We expect that there will be 2-3 additional Proton missions before the end of the year.
ILS will be conducting a comprehensive and independent review of the quality systems, processes and measures following the August 7 Russian Federal mission anomaly. It is expected that the series of risk-based audits and new initiatives will be implemented in the fourth quarter of this year.
The modern framework of the Quality Management System (QMS) began in 2008, when 46 unique short term, intermediate and long-term quality initiatives were defined and funded, involving not only quality but also the design and production of the Proton vehicle. This led to a unified QMS for ILS and KhSC. Since that time, most Proton suppliers and manufacturers have been integrated under KhSC, the Proton production rate has increased substantially and all phased enhancements to the vehicle have been successfully flown.
Proton Launch History/Robust Production Throughput
McKenna spoke about the launch pace of the Proton vehicles with some facts and figures:
– There have been 29 consecutive successful commercial launches since July 2008.
– ILS has a backlog of 19 missions and has held an average of over 20 for five years.
– Proton has also conducted 45 flights over a four-year timeframe. This is a higher launch rate than all other commercial launch systems combined.
Over the past seven years, Vladimir Nesterov held the position of director general at Khrunichev, the majority owner of ILS and one of the pillars of the Russian space industry with over 43,000 employees and multiple product lines from launch vehicles and launch vehicle upper stages, communication and Earth observation satellites to rocket engines and Space Station modules.
McKenna said that during Nesterov's tenure, Proton production has increased dramatically and all of the suppliers and manufacturers of the Proton system have been vertically integrated. Nesterov was instrumental in the development of the next generation Angara system, which will conduct its maiden flight in 2013.
On September 3, 2012, Russian President Vladimir Putin signed a Presidential Decree accepting Nesterov's resignation as director general of Khrunichev, with Vasily Sychev appointed as acting Director General. Sychev was formerly acting in the capacity of First Deputy General Director at Khrunichev. The position will be formalized with a permanent replacement announced when the governmental process is completed.
There has been reduction in commercial communications satellites ordered over the past two years after operators have largely completed their planned replacement cycles. At the peak, there were 26 commercial launches to GEO, but this has tapered off and will return to a long-term average of roughly around 20.
Important dynamics have reshaped the small-to medium-lift marketplace. SpaceX has won nearly $1 billion dollars in commercial business without a real flight record; a tremendous achievement. Those missions would most likely have been awarded to Arianespace, who has enjoyed a monopoly in that market segment until SpaceX's arrival. "This creates an interesting dynamic in the marketplace," said McKenna, "and we are happy to participate in it."
McKenna said that ILS developed the ILS Proton Duo offering in direct response to operators' demand for lower costs/kilogram to orbit and the concerns regarding the monopoly position of Arianespace and the sharp rise in prices for the small to medium satellite launches.
ILS Proton can offer a performance rocket to bring satellites using electric propulsion for orbit raising to a higher transfer orbit. This capability would reduce orbit-raising time from 6 months down to 4 weeks. ILS Proton can offer the capability to launch electric propulsion satellites in a single or stacked configuration to support the smaller to medium size satellite trend.
With reduced demand and an increase in the number of launchers competing in the market; this will surely create stress in the launch industry. As we have predicted, oversupply will be damaging to the marketplace and will result in a restructure of the industry. In the near and long term, 2-3 players can adequately accommodate the market and demand.
ILS and Khrunichev are now preparing to launch the 75th ILS Proton mission next month with the IS-23 satellite for Intelsat S.A. with plans for 3-4 additional Proton launches by the end of the year. We thank our customers for their support, confidence and trust as we safely return to flight. As always, our focus is always to launch successfully with sustained quality and performance.
* * * * * * * * *
Success Is In The Saving
Eighty-two people have been rescued from the sea near Java following a distress call using IsatPhone Pro.
At 08:21 (UTC) on August 9th, Australia Maritime Safety Authority's (AMSA's) Rescue Coordination Centre (RCC Australia) was contacted by Australian Federal Police after they received a distress call via IsatPhone Pro from a vessel requesting assistance.
"RCC Australia successfully contacted the satellite telephone number and a person on board reported the vessel's engine was not working and there were 82 people on board. At this stage, the vessel's unconfirmed location was south of Java," said AMSA's spokesperson Jo Meehan.
RCC Australia sent out a distress broadcast to the area to call for assistance. There was an initial discrepancy over the vessel's GPS position until Inmarsat confirmed from satellite phone positional information that the vessel was approximately 31nm south of Java.
At 09:04 (UTC) an AP3 Orion maritime patrol aircraft, spotted the vessel and three merchant ships who had responded to the earlier broadcast were diverted to the scene, followed shortly after by Australian Navy vessels HMAS Glenelg and HMAS Childers. The MV Clipper Mayflower assisted in the rescue of two injured people from the water, while the remaining 80 people were taken on board the Defence vessels.
The diverted merchant ships were released and the MV Clipper Mayflower took the injured people to Indonesia for medical treatment, with support from an Indonesian rescue boat. Australian border protection command made arrangements for the people on board HMAS Glenelg and HMAS Childers to be transferred to Christmas Island, where they are undergoing security, health and identity checks and their reasons for travel are being established.
Inmarsat's maritime safety manager Peter Blackhurst said, "Our relationship with RCCs globally, of which we are extremely proud, has been developed over the years. It enables both parties to quickly pass essential information when required—once again Inmarsat communications was the conduit that enabled lives to be saved."
* * * * * * * * *
Solar Empowerment
EMCORE Corporation has been awarded a solar panel manufacturing contract by Orbital Sciences Corporation for NASA's Ice, Cloud, and land Elevation Satellite-2 (ICESat-2) mission targeted for launch in early 2016.
Solar panels populated with EMCORE's most advanced ZTJ triple-junction solar cells will power the ICESat-2 spacecraft manufactured by Orbital.

ICESat-2 builds on measurements taken by NASA's original ICESat mission. ICESat was the benchmark Earth Observing System mission for measuring ice sheet mass balance, cloud and aerosol heights, as well as land topography and vegetation characteristics. Data from ICESat, which was in orbit from 2003 to 2010, revealed thinning of the world's ice sheets. ICESat-2 will use precision laser-ranging techniques to measure the topography of the Greenland and Antarctic ice sheets and the thickness of sea ice.
EMCORE is the world's leading manufacturer of highly-efficient radiation-hard solar cells for space power applications. With a Beginning-Of-Life (BOL) conversion efficiency nearing 30 percent and the option for a patented, onboard monolithic bypass diode, EMCORE's industry-leading multi-junction solar cells provide the highest available power to interplanetary spacecraft and Earth orbiting satellites.
* * * * * * * * *
Matters Are Resolved
Globalstar, Inc. and launch services provider Arianespace have entered into an agreement regarding the additional amounts that Globalstar will pay to cover costs associated with the delays experienced during three prior launch campaigns.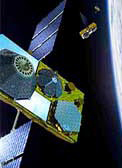 This resolution permits Globalstar and Arianespace to complete the fourth launch campaign under their current Launch Services Agreement.
Globalstar anticipates that satellite manufacturer Thales Alenia Space will complete the Pre-Shipment Reviews of the final six spacecraft purchased under the terms of the 2009 contract in the upcoming weeks in Rome. Once completed, the fourth launch campaign can begin. Due to available launch windows and the upcoming end-of-year holiday season, the fourth launch is now anticipated in early 2013. Globalstar will provide additional information regarding the specific launch date in the near future once its plans are confirmed with the launch participants.
"We are only months away from completing the fourth launch of our second-generation satellites to re-establish Globalstar's preeminent position within the Mobile Satellite Industry," said Jay Monroe, Chairman and Chief Executive Officer of Globalstar. "With our landline quality voice service, industry leading handset data speeds, high quality innovative M2M data solutions and low cost pricing plans, we are ready to mix it up in the MSS marketplace."
The Globalstar satellite is simple; Each consists of a communications system of both S and L-band antennas, a trapezoidal body, two solar arrays and each satellite operates at an altitude of 1,414km (approximately 876 miles). The second-generation satellites are manufactured by Thales Alenia Space.
The satellites utilize "bent-pipe" architecture. On any given call, several satellites transmit a caller's signal via CDMA technology to a satellite dish at the appropriate gateway where the call is then routed locally through the terrestrial telecommunications system.
* * * * * * * * *
Pumping Up The Portfolio + The DVBS2-RCS
NSSLGlobal has a new partnership with Iridium Communications Inc.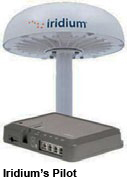 The new agreement sees the addition of Iridium Pilot™ terminals to NSSLGlobal's portfolio. Iridium Pilot, powered by the Iridium OpenPort
®
service, offers strong IP connectivity, pole to pole coverage, and is engineered to perform in the toughest of sea conditions.
Iridium Pilot will be offered as part of NSSLGlobal's combined Ku-/L-band global solution, where it will be combined with NSSLGlobal's own Cruise-IP VSAT service as part of NSSLGlobal's Service Assurance Package. The inclusion of Iridium Pilot in the maritime portfolio also provides a cost-effective option for vessels with lower data volume requirements than other products currently offer.
Service Assurance combines the high speed and capacity of a Ku-band service with the added security offered by an L-band service, which provides a backup connection outside of the Ku-Band footprint; a solution NSSLGlobal first introduced to its customers in 2009. The addition of Iridium Pilot to NSSLGlobal's portfolio gives customers a second L-band option for the first time, having previously used Inmarsat's FleetBroadband exclusively for the package.
Additionally, NSSLGlobal has announced industry-leading improvements to its DVBS2-RCS network. Following on from other recent announcements, in what is a first among Ku-band operators, NSSLGlobal has launched of its Premium Max service with broadband speeds up to 8Mbps.

Speaking about the latest improvements, Sally-Anne Ray, COO at NSSLGlobal, said, "2012 has seen a paradigm shift in the number of different mobile applications demanding ever more bandwidth and network resource being used by our Customers. This is particularly the case in the Super Yacht market where monthly data demand can reach over 100GB during the sailing season. Our new 8Mbps Premium Max broadband service has been specifically designed with the Yachting market in mind as we move a step closer to providing true global mobility, ensuring that our Customers can use the latest applications and devices wherever in the world they are sailing."
* * * * * * * * *
Metop-B, Going For Activations
Four of the instruments on the Metop-B weather satellite (AMSU-A, ASCAT, MHS, GRAS) have been activated this week and are delivering data.
This demonstrates that Metop-B, launched on September 17th, is performing well and is on its way towards replacing the ageing Metop-A as prime operational satellite in polar orbit, after the six-month commissioning phase.
The Advanced Scatterometer (ASCAT) and Microwave Humidity Sounder (MHS) are innovative European instruments.
ASCAT delivers information on near-surface wind speed and direction over the global oceans and soil moisture over land, while the MHS delivers information on atmospheric humidity in all weather conditions. The Advanced Microwave Sounding Unit-A (AMSU-A) is an American heritage instrument already flying on the US NOAA satellites, providing temperature soundings in all weather conditions. The Global Navigation Satellite System Receiver for Atmospheric Sounding (GRAS) instrument is delivering data which are used to provide atmospheric temperature and humidity profiles by measuring the bending of GPS signals through the atmosphere. Data from GRAS are also used for precise orbit determination of the Metop-B satellite before and after the nominal stop-drift manoeuvre, in conjunction with traditional ranging and Doppler measurements.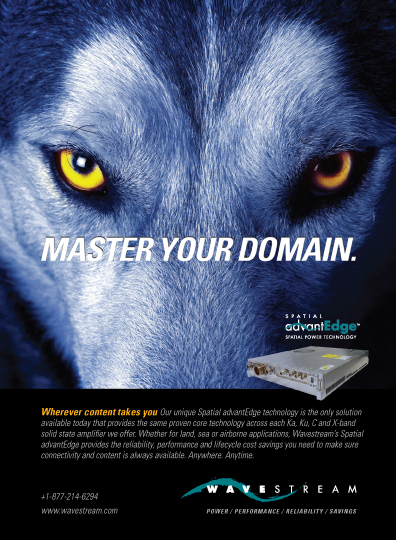 Temperature and humidity soundings, wind at the ocean surface, and soil moisture are essential inputs to Numerical Weather Prediction (NWP) models, the basis of modern weather forecasting. The all-weather wind measurements provided by ASCAT are used worldwide to track mid-latitude storms and tropical cyclones. These instruments also contribute to the long-term data sets needed for climate studies and monitoring.The first data delivered by the European instruments are a joint achievement by ESA, EUMETSAT, and the European space industry. For its mandatory programs, EUMETSAT relies on ESA for the development of new satellites and the procurement of recurrent satellites like Metop-B. This cooperation model has made Europe a world leader in satellite meteorology by making best use of the respective expertise of the two agencies.
* * * * * * * * *
Rural Relevance
DISH is expanding the availability of its broadband service with the launch dishNET, a high-speed Internet service via satellite nationwide.

Available October 1st, dishNET offers customers the convenience of one bill, one installation, one customer service number and a $10 monthly discount when bundled with DISH's most popular TV programming packages.
Ideal for rural residents underserved, or unserved, by wireline broadband, dishNET offers 4G-level speeds that are about 50 percent faster than the typical residential broadband connections in American homes. The affordable, reliable high-speed Internet service starts at $39.99 per month and is available with next-day installation.
In August of 2012, the Federal Communications Commission (FCC) reported 19 million Americans lack access to high-speed Internet, including 14.5 million who live in rural regions. The FCC highlighted that 23.7 percent of rural residents lack broadband access. The dishNET satellite service offers rural residents download speeds up to 10Mbps. These speeds are fast enough for typical Internet applications, including social media, telecommuting, music streaming, online video streaming and even Voice Over Internet Protocol (VoIP) services.
The dishNET brand leverages advanced technology and high-powered satellites launched from Hughes and ViaSat to provide broadband coverage nationwide. DISH will tailor its service to suit a customer's needs, location and budget. All services are sold, installed, billed and supported by DISH under the dishNET brand.
* * * * * * * * *
Dam The Jam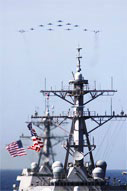 ITT Exelis has announced a significant development in the field of GPS technology. To be known as the Exelis GPS Interference, Detection and Geolocation (IDG), it will provide near real-time geolocation of intentional and unintentional GPS jamming sources through a network of sensors and advanced geolocation technology.
IDG technology is based upon a network of threat detection sensors that are networked to a centralized server running Exelis-developed geolocation algorithms. These sensors would be strategically located around high-risk areas, such as airports or utility grids, to instantaneously sense and triangulate the location of the jamming source. Should a threat be detected, users would receive pin-point geolocation information and actionable intelligence in order to respond.
The Exelis solution would benefit a broad range of GPS customers and users. Jamming devices can send out signals capable of disrupting the synchronization of a utility power grid and creating significant infrastructure and economic damage. In each of these scenarios, IDG would detect, analyze and geolocate the hostile signal, sending the intelligence through a secure network in order for the user to mitigate the threat.
"From security to transportation and almost every sector of the economy, the world relies on receiving precise GPS timing and positioning data," said Mark Pisani, vice president and general manager, Precision Instruments and Positioning, Navigation and Timing (PNT) Systems, ITT Exelis Geospatial Systems. "As GPS jamming devices become cheaper and more accessible, there is a greater need to protect military, commercial and industrial systems from a diverse range of threats. This technology is a major step forward in delivering actionable interference intelligence to an array of GPS users."
IDG builds on the legacy Exelis has established in the field of GPS and PNT. Exelis payloads and payload components have been aboard every GPS satellite for almost 40 years. Today, Exelis is involved in building tomorrow's Global Positioning System, developing and integrating the navigation payloads for GPS III. Exelis is also providing navigation processing components, precision monitor station receivers, and key components of the system security design for the GPS Operational Control System, also known as GPS OCX.