Paris-based Eutelsat is, currently, the third-largest satellite operator in the world (directly after Intelsat and SES) and the company is absolutely determined to grow.
This time last year, Eutelsat expanded to the East through the acquisition of a satellite business from GE, which is now named Eutelsat 172A and generating revenues from the APAC region, including part of Australia.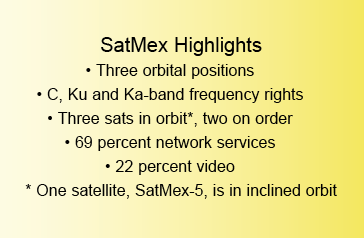 On July 30th, the company announced it would build a giant satellite (Eutelsat 65 West A) to serve the Latin American market, and, in particular, Brazil, from a recently awarded orbital slot at 65 degrees West. Then, on July 31st, came the major announcement: Eutelsat would buy Mexico's SatMex system and tap even further into the dynamic Latino market—the forecast growth by the company is 7.3 percent (2011-2016) and they'll have in-hand a market that compares to Western Europe in terms of potential customer size.
Satmex is the 4th-largest Latin American player (with an 11 percent market share and covers 90 percent of the region). Intelsat leads the market with a 40 percent market share.
The deal with Satmex was only wrapped at 7:30 a.m. on the morning of July 31st. Eutelsat is paying "an enterprise value of $1.142 million" for Satélites Mexicanos, S.A. de C.V. ("Satmex") which, by any measure, will mean Eutelsat is now a major player over Latin America. In hard cash, Eutelsat is paying $831 million and is absorbing Satmex's net debt of $311 million. Eutelsat also owns 33.7 percent of Madrid-based Hispasat (since 2001), which also has interests over the Americas. This could mean some aggressive competition between the two Eutelsat entities. The Satmex purchase will wrap by the close of this year.
However, early in the morning on July 31st, trading on the Paris bourse didn't care for the news. Eutelsat shares fell badly by 6 percent to 21.07 euros for the operator. Some observers also wondered whether the Mexican purchase now eliminates the potential Optus purchase, where Eutelsat was a reported bidder.
Other worries were focussed on the amount Eutelsat had paid for Satmex (at 9.7 times EBITDA), which seems somewhat expensive when compared to the amount paid for GE-23 last year (a bargain at 4.5x EBITDA).
However, as investment bankers Jefferies pointed out in a note to clients, if you calculate the value expressed as an enterprise value paid per transponder (both those in operation and about to be launched), then the multiple would be 9x for Satmex and an expensive 10.6x paid for GE-23. Arabsat's recent purchase of HellaSat would have been an expensive 14.9x based on this calculation method.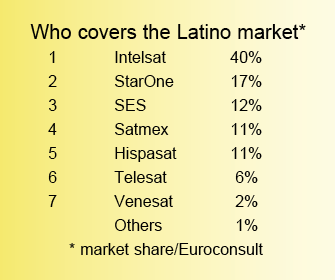 Satmex operates three satellites at contiguous positions 113.0 degrees West (Satmex 6), 114.9 degrees West (Satmex 5), and 116.8 degrees West (Satmex 8)—this is coverage of 90 percent of the population of the Americas. The company also benefits from frequency rights in C and Ku-bands and was granted Ka-band rights in 2012.
Satmex has an 11 percent market share in Latin America, where it enjoys a strong franchise in corporate data networks and cellular backhaul. Last year (2012), Satmex generated revenues of $111.8m and EBITDA of $89m. There would be very useful synergies operationally and in terms of sales, said deputy CEO Michel Azibert.
This is all good news—especially for Satmex and its owners. The company exited bankruptcy in May of 2011, assisted by a $325 million loan. Back in 2010, Denver-based Echostar was close to an acquisition of Satmex. However, at the end of the day, Echostar boss Charlie Ergen walked away from the deal, grumbling that Satmex's bond-holders were too demanding and that some of the satellites had been bought on less than attractive terms.
SatMex exited bankruptcy via a Pre-Pack arrangement approved by the Delaware Bankruptcy Court. In papers filed at that time, SatMex said it would raise $325m of fresh financing through high-yield debt, as well as $96.2m in new equity. SatMex's bankruptcy position was that it had declared assets of $441.6m and liabilities of $531.6m. Part of its obligations were a 4-transponder agreement in favor of Space Systems/Loral on SatMex-6. Unclear is as to what the position is on these obligations, and whether they extend to the life of the craft. No doubt the eventual transfer agreement will offer clarification on this aspect.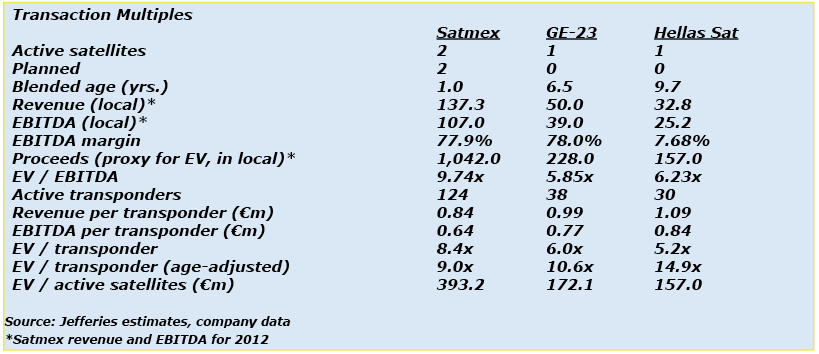 Eutelsat was also an earlier bidder for Satmex back in 2007 when (along with two Mexican co-investors) the company attempted to purchase 100 percent of the business. At that time, SatMex was in disarray, said De Rosen, and Mexico's state-owned portion of the operator meant that there would be difficulty for a European company to acquire control.
Those conditions are now changed. Indeed, Space Systems/Loral may still have certain rights over Satmex-6' capacity. SatMex has no DTH clients, but it has cable clients as well as the Mexican government and data clients.
Eutelsat will benefit from SatMex's accumulated tax-losses (worth around $450m), which it has translated into a value of $100m at the end of the day.
While the deal will not close much before the end of this year, Eutelsat is looking forward to continued growth in he Latino DTH region, especially in terms of HD and even Ultra-HDTV. Eutelsat is forecasting HD channel growth of 25 percent per annum over the period 2011-2016. With the 2016 Olympic Games taking place in Rio, Eutelsat is anticipating Ultra-HDTV to start kicking in and make demands on capacity. Those demands will be on core digital infrastructure as well as OU and longer-term digital delivery.
Eutelsat also released its end of year (to June 30) financial report after the market closed on July 30th, and the 'success' message was stressed in line after line of positive news. The message was needed to counter what was, in effect, a profits warning in the previous quarterly report. This time, Eutelsat pressed all the positive buttons, attempting even greater transparency and saying: Revenues up 5.1 percent to 1.284 billion euros; "high level of profitability" with EBITDA of almost 1 billion euros (995.3 million euros), a margin of 77.5 percent; an order backlog that stands at 5.4 billion euros (up 2.5 percent) and worth 4.2 years of revenues, and perhaps the best news of all for investors—the company was increasing its dividend payout by 8 percent to 1.08 euros a share. However, this payout—while welcomed—was less than some observers had expected to be delivered.

Certainly Eutelsat can claim to have had a good year in 2013. Three satellites launched: Eutelsat 21B, 70B and 3D, and the already mentioned GE-23/Eutelsat 172A, embraced into the fleet. The 7-8 degrees West position is going gangbusters (see separate panel) and Eutelsat has signed long-term relationships ("partnerships") with Russia's RSCC at 36, 140 and 56 degrees East. Plus,the company is buying 65A for the Latin market.
Eutelsat admitted that this year's revenue growth is not brilliant (at 2.5 percent). However, the next two years would experience an average growth of more than 5 percent until June 2016.
The official line from CEO Michel de Rosen, however, did deliver a warning: "Our industry is continuing to grow, albeit at a lesser pace than in the past decade. Several markets are still developing at a high pace—notably Russia, Central Asia and Africa—where we already enjoy strong positions—and Asia Pacific and Latin America, where we are actively developing our footprint, both organically, with, for example, the procurement of Eutelsat 65 West A.
De Rosen quoted new Euroconsult data which suggested a slowdown in demand in the EMEA region, but this decline in demand was more than compensated for by high growth in markets such as the Pacific Rim and the new Latino purchases.
De Rosen added that "targeted acquisitions" remain a clear objective for Eutelsat, although, perhaps this statement (from the accounts), was overtaken by the Satmex acquisition. "Our focus will be on expanding our presence in the markets and applications with the highest potential for growth on the back of a targeted fleet development plan, complemented where appropriate by external growth opportunities," he added.
Eutelsat revealed some useful data on its KA-SAT craft, saying that it has now had some 91,000 terminals deployed. A new team and solutions had addressed earlier problems. This new momentum was now strong in Europe and was nascent in countries such as Turkey and Russia. Moreover, Ka-Sat was not cannibalizing Eutelsat's other VSAT and Ku-based businesses.

About the author
Senior Contributor Chris Forrester is a well-known broadcasting journalist and industry consultant. He reports on all aspects of broadcasting with special emphasis on content, the business of television and emerging applications. He founded Rapid TV News and has edited Interspace and its successor Inside Satellite TV since 1996. He also files for Advanced-Television.com . In November 1998 he was appointed an Associate (professor) of the prestigious Adham Center for Television Journalism, part of the American University in Cairo (AUC), in recognition of his extensive coverage of the Arab media market.
* * * * * * * * *
Eutelsat+Nilesat growth up 24 percent
One region that has consistently outperformed the rest of the world is the MENA region, and at 7 and 8 degrees West, the combined might of Nilesat and Eutelsat are working together to grow the market to spectacular levels. Eutelsat said on July 30th. that the number of channels carried grew by 24 percent y-o-y to 662 (up 128).
Eutelsat said that the location has benefited from refreshed and expansion capacity on the Eutelsat 7 West A satellite, launched in October 2011, which has generated additional business with clients that include Al Jazeera, Gulfsat, MBC, Nilesat and Noorsat. "Resources at this neighborhood will be further reinforced in the first half of fiscal year 2013-2014 with the redeployment of HOT BIRD 13A to 7/8 degrees West (and to be renamed Eutelsat 8 West C). This neighborhood also contributed significantly to the company's strong backlog, with significant multi-year, multi-transponder contracts signed with anchor customers on Eutelsat 8 West B, well in advance of its launch in 3Q/2015."
As far as the rest of the Eutelsat fleet is concerned, Eutelsat said it is now carrying 4,661 channels, up by 400 channels y-o-y, or 9.4 percent growth). The number of HDTV channels reached 419 (as at June 30th), up 21.1 percent, from 346 a year ago. HDTV transmissions now account for 9 percent of Eutelsat's channels.