This year's IBC topped out at some 55,000 visitors (up 2,000+ on 2013), and became another record year for attendance. The sun shone and there was a definite sense of optimism around the halls, especially Hall 1, the event's home to the satellite broadcasting community.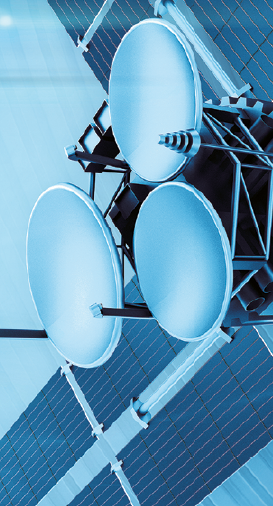 By and large, the optimism focused on a series of buoyant statements that emerged during the conference sessions and praised the impact that 4K/UltraHDTV would have on the broadcasting sector.
Typical were comments from satellite operator SES's COO, Ferdinand Kayser, who said SES was "convinced" of 4K success. He cited the challenges likely to be faced by IP-based telco system users, saying, "Currently, across Europe, the average consumption of web-based content is around 20 Gbytes/household a month. An individual HD-quality full OTT service would require around 35 times this amount, or around 700 Gbytes/household. Add UltraHD and this expands to 100 times today's average. Today's current observed average speed is 4.6Mb/s. Systems would need to handle 10 times this level to cope with UltraHD. Only about 54 percent of homes would achieve this technical reach level of access. This would inevitably create another digital divide. Dramatic upgrades would be needed to make this access possible."
Kayser said he expected some key European broadcasters to start closing Standard Definition (SD) channels this coming year in order to create capacity for UltraHDTV, as well as be ready for 2016's all-important Olympic Games and UEFA soccer championships, both of which would be captured in 4K.
Kayser reminded his IBC audience of SES' 54 orbiting satellites, and 1,500+ transponders from 37 orbital locations, and the 98 transponder expansion in capacity planned for the next few years to 2017 (and up to the launch of SES-12) which will add 14 percent to its fleet in total. SES commands 28 percent of the world's TV channels and has added 494 channels since 2012.
However, he quickly returned to his UltraHD theme, saying that by 2025, half of all screens and STBs would be for UltraHD. "Ultra-HD screens are already showing a similar price entry point and price decreases as full HD screens did when they first debuted. Introduction of the new [HEVC] compression format will require a new simulcast period to migrate from MPEG4 to HEVC. Congestion-free viewing of UltraHD services is a 'sweet spot' for satellite."
Kayser said SES had already collaborated with Sky Deutschland for the first end-to-end UltraHD broadcast of live soccer, and at IBC, the company showcased the world's first end-to-end encrypted transmissions of UltraHD (using Samsung screens and Kudelski's SmarDTV CI encryption).

Questioned as to whether SES favored 4K or the anticipated 8K transmissions under development in Japan, Kayser admitted that 8K would be wonderful for the satellite business.
Indeed, his enthusiasm is echoed by research house IHS and their Consumer Electronics & Video Technology division's latest study, which stated that UltraHD TV has "hit the ground running, and is about 10 years ahead of where HDTV was, just two years after standards ratification".
However, IHS also issues a warning stating that payTV broadcasters might not own the 4K opportunity. With Netflix already supplying 4K streamed content, and Amazon Prime Instant Video's launch being "imminent," as well as the likes of Samsung and Sony bringing UHD content to owners of their high-end displays, such VOD suppliers might be a good way to distribute 4K content to—as yet—fragmented audiences.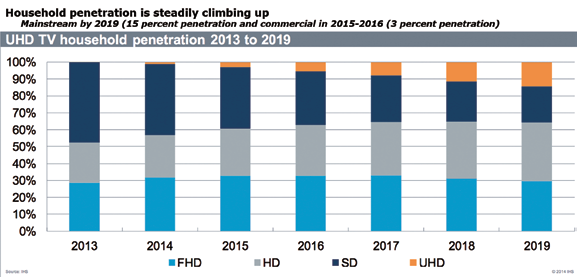 Tom Morrod, IHS' senior director, said that while the transition from SD to HDTV will have required more than 20 years to reach a 74 percent penetration of Western European households (in 2015) that own at least one HD-enabled TV set, UltraHD 4K is making significantly better progress.
"Household penetration is steadily climbing up," said Morrod. He added that it will already be commercially viable for broadcasters to commence 4K transmissions in 2015-16 (and a 3 percent penetration rate) and "mainstream by 2019 with a 15 percent penetration rate".
Another giant European satellite broadcaster is Eutelsat. Markus Fritz, the company's Commercial and Marketing Development Director, spoke enthusiastically about the prospects for 4K, although he admitted that there was currently no rush to book 10-year leases for the technology.
"In reality many of our customers will find space on one of their existing transponders with us for the early transmissions. How will it start? It will be similar to the early days of HDTV, but the set-top boxes have first to be available. In my view, there's plenty of content about, and if you wanted us to find content for two channels—let alone a few hours in the evening—we could do it. Certainly filling four or so hours a day is not difficult. We have two content operators who have said that as soon as we go live with [an aggregator's] service, they will go with two, 24-hr UHD TV channels. The UltraHD logo has emerged from Digital Europe and is ready and [was] communicated at [the Berlin trade show] IFA and IBC. What is also interesting is that I have a lot of public broadcasters interested in demonstrations than we had at the start of the HD process, and this includes the BBC, RAI, France Televisions, and others I cannot mention."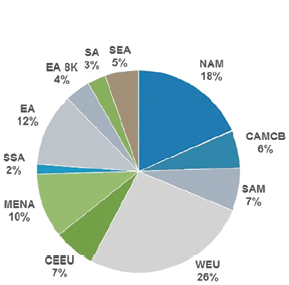 He recognized that many public broadcasters are financially limited in what they can do today and are, in some cases, still developing their strategies for 4K.
"If they start moving internally, then they will show their governments that there is a case, but it has to be financed. But they are pro-active.
2015-2016 will be key and we expect compression to free up some capacity which will absorb new UHD channels, but it is also possible that some seed investment could come from the satellite community to help broadcasters ramp up their 4K services.
"The big question is whether 4K will be a success, or will the market wait for 8K? Or, will 4K go on to become the mass market proposition and replace HDTV and close out 8K? If we look at the DTH industry, it is easy to see today's Standard Definition converting to HD and dropping SD completely. And there are still many SD channels out there, far more than HD. There is plenty of capacity expansion for us. But on a market-by-market basis, I think we need to do more in understanding whether the consumer will buy 4K. This means focus groups and the like. And it might be a different pace of adoption in some markets."
Fritz is correct. The $64,000 question—although more likely to be at least a $64 million question—currently being debated is whether to adopt the European Broadcasting Union's early 4K specification.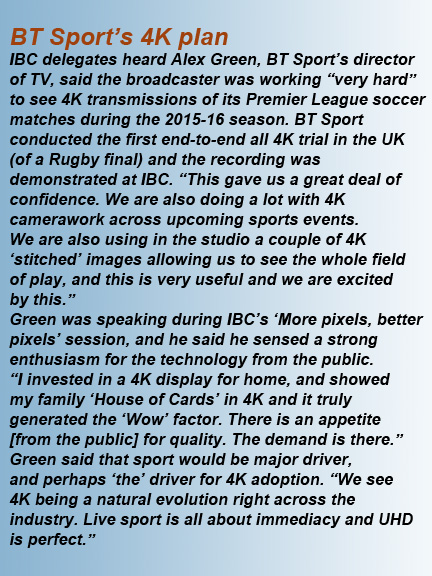 "Should we go for UHD-1 or wait for UHD-2?" asked the EBU's Hans Hoffman at IBC. "When will services start? When will consumers buy new displays? Should we wait for a more robust and satisfactory set of technical demands to be in place before we start?"
Hoffmann admitted that UHD-1 (and 2) have various subsets and standards, and immense confusion in the market, not least with a plethora of "4K" or "UltraHD" logos and claimed standards. "And it is getting worse as displays enter the retail chain," he added.
Paul Gray of research specialists DisplaySearch delivered his latest 4K display sales forecasts, which in terms of anticipated sales are impressive:
• 30m in 2015
• (12-15m in China)
• 45m in 2016
• 62m in 2017
China, he said, will be the world's largest market for 4K displays, followed by North America and Europe. Gray said that volume sales will be at largely at 55-inch size and above.
Hoffmann's expert panel also heard from the NexTV Forum's Kaiya Motohashi. He told IBC delegates that Japan's first 4K channel went 'live' on June 2nd, showing six hours a day of drama, sports, travelogs and natural history programming. During early 2016, it would be broadcasting an experimental 8K channel by satellite as well as two or three channels in 4K. "By 2018 there will be several 4K channels on air as well as 8K channels, tapping into interest from the Winter Olympics, the FIFA soccer from Russia and then the 2020 Olympics from Tokyo.
As to the inevitable 4K quality/standards confusion, Sky Germany's Stephen Heimbecher, while wearing his co-chair position of the FAME (Forum for Advanced Media in Europe), admitted that "UHD-1 has a momentum in Europe today."
Andy Quested, the BBC's head of technology for HD and 3D, said the BBC wanted to go back 30 years. "We'd like to be in a medium where natural history and drama were shot on a camera that had 16-18 stops of dynamic range. Our first transitions from film to video had everyone screaming that they couldn't work with such a tight dynamic range. It is only now that we are seeing cameras emerge that can get close to what film could do."
BSkyB's chief engineer Chris Johns summed up the dilemma. "4K is a bit like an airline. HDTV is obviously economy class. Everyone has it and they can fly anywhere in the world. But it's nicer in Premium Economy where you can get UHD-1/Phase 1. Then, in First Class, it's UHD1-Phase 2. Of course, 8K then means you are in your own executive jet."
Immediately following IBC, SMPTE held a series of meetings in Geneva and, in particular, a special session which saw EBU members pressing their requirements for High Dynamic Range capture.
"HDR has dependencies and impact factors. Good modern cameras capture images with quite a high HDR," said Hans Hoffmann. "In the RAW domain, we have a signal with a potential headroom, and broadcasters can store that for future use.
"The difficulty is what to do in terms of bringing it through an eco chain to the consumer. The whole chain has been designed for Rec 709," he added. "We need to reconsider all the operational practices. We need to define a signal which is going through the chain, and it has to be at least 10-bit. This should be manageable," said Hoffmann.
On the way are two SMPTE standards that address metadata as such pertains to HDR and it has a study group charged with studying the 4K eco chain and identifying gaps. Meanwhile, the DVB is due to discuss UHDTV Phase 2, which goes beyond static resolution.
"One of the most important issues will be HDR in environments where there are screens available with very high peak luminance," said David Wood, chair of the DVB commercial UHD group. "Technical additions need to be made, starting with more bits per sample. Secondly, what we used to call the gamma curve will be called the OETF (Opto Electronic Transfer Function). The decision will be taken very soon on whether to include this feature in the UHD DVB Phase 2 spec intended for broadcasting in 2017, when the chips with the necessary memory bandwidth are available from manufacturers," he added.

About the author
Senior Contributor Chris Forrester is a well-known broadcasting journalist and industry consultant. He reports on all aspects of broadcasting with special emphasis on content, the business of television and emerging applications. He founded Rapid TV News and has edited Interspace and its successor Inside Satellite TV since 1996. He also files for Advanced-Television.com. In November of 1998, Chris was appointed an Associate (professor) of the prestigious Adham Center for Television Journalism, part of the American University in Cairo (AUC), in recognition of his extensive coverage of the Arab media market.
---