The satellite industry has just completed its quarterly reporting season, and there's little doubt that the FSS sector is in great shape. Satellite operator SES, as of March 31st, was fully using 995 transponders out of a fleet total of 1249 (79.7 percent, and up 32 full transponders on the same period last year) with markets such as India filling "every available transponder" on its SES-7 craft. This is the reason why SES has ordered a new 33-transponder satellite (SES-8) to boost India coverage. India is proving to be a hot market for SES, where it has about 50 percent of the local DTH market. Its capacity is leased via India's ISRO space organisation, usually on five-year contracts for DTH clients. India's DTH demand is growing exponentially, up from 20 million at the end of 2009 to more than 32 million homes today.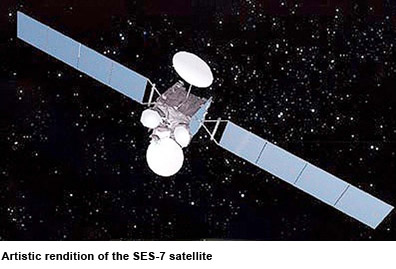 Prospects over Germany are also much better, helped by
SES Astra
's
HD+
platform (now at 769,000 connections) and renewals are running at more than 66 percent and "beyond our expectations," according to the company.
SES
confirmed that nine of its 33 German analog transponders have been re-contracted for HDTV transmissions by Germany's public broadcasters. Moreover, HD+, a system where free-to-air (FTA) network broadcasters can receive a modest income for switching into HDTV, is now the standard in the market, stretching across German cable and IPTV-delivered services. The growth of hybrid boxes, combining satellite and cable/IPTV services, is also looking far healthier.
SES' president/CEO
Romain Bausch
said the German consumer is ­— at last — starting to embrace high-definition (HD) and pay-TV in general.
News Corp
-backed
Sky Deutschland
's improved HD offering will continue to drive the consumer's interest in pay-TV, he suggested. Two or three new HD+ channels will also be added by year-end, he added. "There is progress in the market." Astra at
19.2 degrees East
currently could be left with around 20 unused transponders once Germany switches off its analog transmissions.
The move forward resulted in SES' Q1 operating profits which grew 6.7 percent to 206.3m euros, and with revenues up 4.2 percent to 428.4m euros. SES reiterated that its capital expenditure would continue to fall in the period to 2014 (down to about 10-15 percent by 2014, from 45 percent last year). There are 12 satellites scheduled for launch by the end of 2014, adding 293 incremental transponders and thus delivering 23 percent of extra capacity (compared with the position at December 2010).
However, SES' big news was an explanation of how its
OneSES
restructuring would work (see box). The operative words were "streamlining" and "refocusing" and how such will boost overall efficiency as well as seek new commercial opportunities, particularly in emerging markets. "SES is recruiting extra staff on a regional basis," said Bausch, to achieve the company's aims. SES' new management structure kicked in on May Day, May 1st, which saw a consolidation of its activities under a single operational system. This will help to deliver around 10 to 15m euros in cost savings per annum by 2012, building to a savings/increased revenues of 25 to 30m euros per annum by 2013.
This year will see six new satellites added to its fleet, with three of the craft adding incremental transponders. This includes
Yahsat 1A
, operating over the Middle East, Africa, Europe and parts of Asia, where SES Astra has a partnership to sell the DTH capacity on the craft. Yahsat 1A launched on April 22nd. The other six satellites will create a busy launch schedule, said Bausch.
Bausch
added, "SES' financial results are on track, reflecting business developments in the first quarter. A number of contracts were signed for new DTH and broadband services in Europe, and the development of HD programming in Germany was given a boost as the German public broadcasters committed to five transponders to follow the termination of analogue broadcasting in April 2012. New capacity agreements for broadcast and broadband services in Central and Latin America were signed, and additional capacity was contracted for global maritime services." However, Bausch was also cautious about some markets, especially Romania, where DTH consolidation was likely, and this would lead to some lost transponders to the industry as a whole.
SES is sticking with its formal guidance, which is to deliver three percent growth in recurring revenues this year, as part of the four to five percent CAGR anticipated in the 2010-2012 time-frame. SES Astra is carrying 211 HD channels across the fleet as of March 31st, up from 190 at the close of 2010.
Eutelsat Ups Guidance
As good as SES' numbers were, it was Eutelsat which took the market by surprise, with the FSS operator telling analysts that it would exceed its already upbeat guidance, and by a decent margin. Eutelsat also said that a long-running squabble between Deutsche Telekom (and Media Broadcast) over frequency rights at the 'Astra' second orbital position of
28.2 degrees East
, where Eutelsat operates its
Eurobird
satellite alongside at
28.5 degrees East
, is being submitted for arbitration before a
International Chamber of Commerce
tribunal. "The rights to certain frequencies at this orbital position are currently exploited by Eutelsat within the context of an agreement dating from June 1999 between Eutelsat and Deutsche Telekom (which has since transferred its satellite activity to Media Broadcast)."
A little history: The
DFS-Kopernikus
fleet, as far as operational/frequency rights are concerned, went to SES Astra for
K-1
and
K-3
(at 23.5 degrees East) following an agreement signed around 2000. However, K-2's frequencies, which operated at 28.5 degrees East, went to Eutelsat following their agreement with
Deutsche Telekom
(DT) in 1999. The deal with DT, signed on June 30, 1999, enabled Eutelsat to take over the DFS
Kopernikus
2
satellite at 28.5 and to subsequently deploy a new Ku-band, 24-transponder satellite at the end of 2000. Cheekily, at the time, Luxembourg's
PTT
contracted for many of the transponders which they immediately sold on to SES Astra!
Eutelsat, however, impressed the market with an impressive set of Q3 numbers (to March 31st) and also formally raised its guidance some 40m euros. In doing so, the Company told everyone it would exceed this year's trading targets. Revenues rose 10 percent, and the satellite operator says it now expects its full year numbers to exceed 1.16bn euros ($1.62bn). "Demand remains strong," said CEO
Michel de Rosen
.
Indeed, Mr.
de Rosen
was able to show that revenues grew (compared to the same period last year) in all segments of Eutelsat's business, with double-digit growth in its Data, Value-Added and quite spectacular expansion from its Multi-usage segment. Q3 numbers were up 10 percent to 295.2m euros, and nine month revenues to March 31st rose by 12.2 percent to 871m euros. Q3 video revenues rose from 189.6m euros last year to 198.5m euros.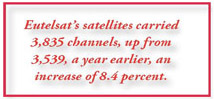 De Rosen
said, "We are delighted to report third quarter revenue growth of 10 percent. This growth was driven by further strong momentum in all our markets; an exceptionally strong contribution from our Multi-usage activity as demand from government agencies was high; and by the continued optimisation of our in-orbit resources, with the fill rate standing at above 90 percent since 31st December 2010. We are raising our objective for the full year and now expect to deliver revenues of over 1,160 million euros. Looking ahead, demand remains strong in all of our regions and our significant fleet expansion plan in the coming years will ensure that we are well-positioned to capture this growth."
Investment bankers
Morgan Stanley
, in a note to investors, said they remain upbeat on Eutelsat (and the satellite sector in general). "The fixed satellite service industry presents numerous advantages in an uncertain market environment. Demand for transponder capacity is poised to grow over the next three years, driven by (i) the accelerating take-up of HD / 3D in mature markets (ii) the proliferation of digital channels in emerging markets, and (iii) demand from government services."
Eutelsat says two other key video neighbourhoods attracted new customers. At the 16 percent East position, notably covering Central Europe, the leading telecom operator in Croatia selected Eutelsat to optimise the footprint of its TV platform in areas beyond its DSL network, particularly in the Adriatic archipelago. Elsewhere, one of Russia's principal suppliers of uplinking services for payTV platforms and channels selected Eutelsat's video neighbourhood at
36 degrees East
, the leading orbital position serving Russia, to launch a new platform.
The operator said video applications continue to benefit from positive long term global trends including the growing number of homes equipped for DTH and the increasing number of TV channels worldwide. As of March 31, 2011, Eutelsat's satellites carried 3,835 channels, up from 3,539, a year earlier, an increase of 8.4 percent. The number of HD channels broadcast by the fleet stood at 210, up from 120, an increase of 75 percent over the previous 12 months.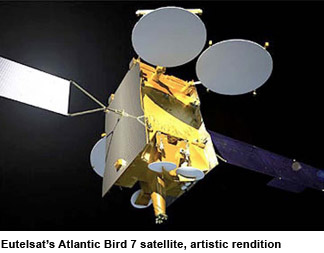 All of this past quarter's activity excludes
Ka-Sat
which is only just now coming into service and should kick in with meaningful revenues next year, and building to be worth 100m euros by 2014.
W3C
and
Atlantic Bird 7
, both due to be launched later in 2011, will also start to earn their investment back this coming winter.
An additional four satellites are currently under construction:
W6A
,
W5A
,
Eurobird 2A
and
W3D
. These satellites are scheduled to be launched between September 2012 and June 2013.
Morgan Stanley
's advice to investors on May 11th spoke of it remaining 'overweight' in Eutelsat (and SES) and the bankers being upbeat on Eutelsat's performance. "Eutelsat plans to launch an additional six satellites by the end of calendar Q1213, after having successfully launched Ka-Sat in December 2010. These satellites will increase the group's transmission capacity by 273 transponders on top of the 82 spot beams on Ka-Sat. For modeling purposes, we assume one spot beam equals one transponder. This means that between December 2010 and June 2013, ETL will have increased its capacity by 355 transponders."
The bank's forecasts look more than healthy for Eutelsat, growing beyond this year's revised revenues of 1.169bn euros, to 2012's 1.253bn euros, 2013's 1.34bn euros, and 2014 reaching 1.41bn euros. By 2015, says the bank, Eutelsat should have annual revenues almost reaching 1.5bn euros.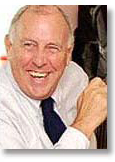 About the author
Chris Forrester is a well-known broadcasting journalist and industry consultant. He reports on all aspects of broadcasting with special emphasis on content, the business of television and emerging applications. This includes interactive multi-media and the growing importance of web-streamed and digitised content over all delivery platforms including cable, satellite and digital terrestrial TV as well as cellular and 3G mobile. Indeed, he has been investigating, researching and reporting on the so-called 'broadband explosion' for more than 25 years. He has been a freelance journalist since 1988.