Thousands of times each day, business owners and IT managers diligently search for communications services that can help meet their demanding networking requirements at a reasonable price.
When these buyers begin examining SATCOM, they often feel overwhelmed by the variety of technologies and associated pricing. Many buyers have begun using various online directories and web portals to identify SATCOM service providers (SPs) that cater to the specific connectivity requirements of top vertical markets. Some of those directories are more comprehensive and helpful than others.
Even with these useful directory services, many buyers still need help understanding the most popular satcom alternatives. To help buyers grasp the basic tenets of satcom, let's first examine the two major areas of variation—contention ratios and frequency bands.
Understanding Contention Ratios
SPs contend, or throttle, their bandwidth so they can offer services at different price points to match customer budgets. This means they allow multiple subscribers to share the same pool of bandwidth. SPs allocate bandwidth on the basis that subscribers will require usage at different times and that no subscriber will need—or is willing to pay—for the cost of exclusive access. When one or more subscribers are unable to access the bandwidth because someone else is using it, that is known as contention.
The industry uses contention ratios to measure the level of performance that can be expected from a link. Not surprisingly, less-expensive services have higher contention ratios (i.e., the SP will allow more subscribers to use the bandwidth pool at the same time). Thus, a service with a contention ratio of 5:1 should provide higher throughput than one contended at 50:1. We say 'should' because it can sometimes be difficult to know whether you are getting what you paid for, which can be a source of satcom buyer frustration.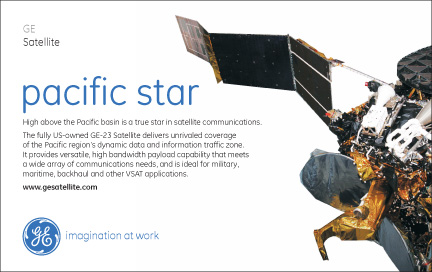 Some services are offered on what is known as 'best-efforts' basis. This means the SP is using a rule-of-thumb to allocate bandwidth. On this basis, the SP will monitor average performance based on the experienced traffic demand during peak periods (and level of customer complaints). This can lead to lower service levels than would otherwise be expected, based on the contention ratio. If customer complaints increase, the SP must decide how much additional bandwidth it is willing to allocate—and conversely how much profit it is willing to sacrifice.
Other services are offered on a committed, or guaranteed, basis. This establishes a level below which performance should not drop. On this basis, the data rate 1024/256Kbps link with 10:1 contention should not drop below 102/25Kbps. Customers can monitor this performance themselves. However, the better SPs provide online access to performance statistics.
Knowing Your Satellite Bands
Satellite engineers have a range of options from which to choose when designing a satellite link. These include the frequency of the signal path that are grouped into bands (L-, C-, Ku-, Ka-), the size of the antennas, and the coding mechanism that allows your data packets to be carried on the radio wave. These factors are interrelated and must be selected by considering customer conditions. Those conditions include the amount of real estate available (particularly in maritime environments), data rates required, and the size of the region in which the link will operate.
In general, lower frequencies such as L- and C-band provide better performance during rain events. However, they come with their own drawbacks such as high usage cost (L-band) and large antenna size (C-band). The higher-frequency bands tend to have coverage-area constraints (Ku-, and particularly Ka-) and susceptibility to rain-fade.
One of the reasons IT managers may find SATCOM difficult to understand is that the situation is not static. Technology advances have expanded the typical use of each frequency band so there are often multiple options available. Thus, antenna sizes have been reduced and there are now systems that continually adapt their coding and power levels based on the environmental conditions, increasing availability.
These advances are supported by commercial initiatives that enable near-global coverage by integrating multiple satellite-beam footprints.
Selecting The Correct Service For Your Needs
Before delving into satcom directory listings or contacting SPs, every buyer should be prepared to answer three basic questions:
1. What is your primary business objective?

2. Do your require specialized skills or training? If so, you will need to consider SPs that specialize in your industry.

3. How important is satcom to your business? Factors to consider may include potential losses of life, equipment and reputation that may be caused by terrestrial network outages.

4. Next, make a short list of SPs. Rank them based on their ability to support your business objectives. Key selection criteria should include experience and familiarity with your vertical market.

5. Finally, be honest when establishing your budget. Build a business case that goes beyond the cost of the link, taking into account any wider business advantages and savings.
You are now ready to select your satcom SP. Ideally, you will select one that: is willing to work with you; has a solution based on modern technology; is able to offer additional bandwidth to meet your evolving requirements, and; is willing to fit your budget.
Using the above process maximizes your ability to select the right solution for your business. This may not result in the least-expensive solution, but it is likely to enhance your likelihood of success in the long term.
About the author
Chris Frith is the founder and CEO of SatCHOICE, a new, global online marketplace that matches satellite communications suppliers with purchase-ready buyers. He can be reached at
chris.frith@satchoice.com
.
* * * * * * * * *
New SatCHOICE Marketplace Helps Buyers and Sellers
After marketing SATCOM solutions for more than 15 years, industry veteran Chris Frith determined there was a need for a web portal that could quickly match SATCOM buyers with the right suppliers. He founded the SatCHOICE (www.satchoice.com) online marketplace last year and has already secured participation from some of world's most prominent SATCOM suppliers.

For service providers, equipment vendors and other SATCOM suppliers, SatCHOICE helps boost sales by increasing their exposure to highly qualified buyers worldwide, in an efficient online forum. A SatCHOICE online directory subscription enables satcom suppliers to present their capabilities to eager buyers and submit detailed sales proposals. Buyers are free to work directly with suppliers after a match is made.

"SATCOM suppliers view SatCHOICE as a convenient way to expand their sales efforts, to reach buyers who are not aware of their capabilities and not likely to contact them directly," said Frith. "It is the only service of its kind to provide that advantage across a wide range of vertical markets."

Prospective buyers of SATCOM solutions save time and money by using the SatCHOICE portal to view listings of suppliers based on precise service criteria, including fixed and mobile applications in maritime, mining, enterprise, media and oil & gas markets.

Frith concluded, "The SatCHOICE marketplace also offers a valuable service to prospective buyers who have limited experience dealing with satcom solution providers. It helps them understand how their demanding networking requirements can be met by satcom and quickly enables them to compare sellers."