SatMagazine
Mr. Rogers, how did you decide to forge a career in the communications industry?

Kevin Rogers
It really started with some good luck after graduating from university all those years ago! The company that was to become Nortel offered me a decent graduate salary, in a great location and they were designing fiber-optic components for the telco sector, definitely an interest of mine. What could have been better? The telecoms "boom" carried me from components to telco systems and then to the mobile sector with Telenor.
SatMagazine
Exactly what services does AeroMobile provide for the aviation industry?
Kevin Rogers
Very simply, specialized on-board equipment provides an AeroMobile mobile network inside the airline cabin. The passenger switches on his or her phone when the aircraft reaches cruising altitude and can then use them for voice, texting and data inflight. The AeroMobile service allows passengers to use their phone inflight just as they would use their phone on the ground.
AeroMobile was the first mobile service to operate on a commercial flight in March 2008 and, since then, more than 20 million passengers have successfully connected to the AeroMobile network. The AeroMobile service is currently available across 13 airlines, including Emirates, Etihad, Lufthansa and Virgin Atlantic.
SatMagazine
What drew you to AeroMobile from your previous position?
Kevin Rogers
At that time, AeroMobile was owned by Telenor and had a strong presence in Norway, my home country at the time. AeroMobile was in a strong growth phase and I was asked to look after the company's roaming, regulatory and network operations. This was a great opportunity to influence the development of a unique market, a combination of telco and aviation.
SatMagazine
Please explain the how GSM manages to "communicate" at altitude? What role do satellite communications play within the AeroMobile technology mix? What challenges had to be overcome?
Kevin Rogers
The AeroMobile system uses a pico-cell (small mobile base station) installed inside the aircraft cabin. This provides a mobile signal to which the passengers' phones attach, just like your phone attaching to a mobile network on the ground.
With our service for example, you will see "AeroMobile" on your handset display instead of your home provider. "AeroMobile" can be thought of as a "country in the sky." The pico-cell connects to AeroMobile mobile ground network infrastructure via a Ku- or L-band satellite link (dependent on which satellite type the airline has installed). The ground network is just like any other operated by a mobile network provider. Calls, texts and data services are routed from here to the required destination network anywhere in the world.
Satellite technology has developed significantly over the past few years and enables higher bandwidths and more services to the aircraft. Obviously, the development of the AeroMobile system has required much testing and work on the integration of airborne and network elements to ensure a good quality of service. Additionally, the system has been certified by EASA and FAA for operation on many of the Boeing and Airbus airframe types. All of this take time and money, but has now been done.
SatMagazine
What are the latest developments from AeroMobile? Has AeroMobile reached any key milestones so far in 2014?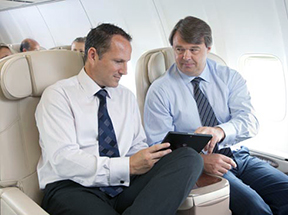 Kevin Rogers
2014 has been a good year for AeroMobile. We've launched the service with two new airlines (EVA Air and Qatar Airways), while our existing airline partners such as Lufthansa, Etihad and Emirates continue to roll-out AeroMobile services across their fleets. Passenger demand is also increasing and, in the first six months of 2014, the number of users on the network increased by more than 100 percent when compared to the same period in 2013.
SatMagazine
How does your service connect passengers once airborne?
Kevin Rogers
The aircraft is fitted with an external antenna which connects AeroMobile's network to the ground via satellite. In the cabin, there is a base station or pico-cell which provides a signal via a 'leaky' feeder cable along the length of the aircraft. This provides a uniform mobile signal throughout the cabin.
Once a passenger switches on their device, they will automatically connect to the AeroMobile network inside the aircraft. Pricing is set by the passenger's home mobile operator and charges will appear on the customer's mobile phone bill, just as they would when roaming abroad. No credit card or onboard payment is required on the flight.
SatMagazine
What is in the pipeline for AeroMobile in 2015? Are there any new developments, networks or airlines that are due to go live?
Kevin Rogers
Southeast Asia is a huge growth area for AeroMobile, with several airlines scheduled to launch the service in the coming months, including Thai Airways, Garuda Indonesia and a Malaysian airline. 2015 will see continued momentum from new airline partners and continued roll-out of the service by the existing airline partners.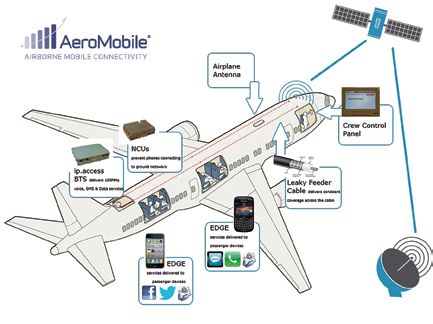 I am constantly looking at how we can reduce roaming costs so inflight connectivity becomes even more attractive to passengers. The satellite cost is, of course, a significant part of the service cost structure. Costs have reduced during the past few years. However, more does need to be done in order to keep pace with the cost and pricing demands from the passengers and mobile network providers. I expect to see further reductions in satellite costs over the next couple of years and will work with the mobile operators to ensure that these cost reductions are passed through to the end user.
SatMagazine
How are proposed regulatory challenges in the US affecting your business?
Kevin Rogers
The USA is obviously an important market to AeroMobile and its passengers. Regulatory clearance would enable, for example, the many US subscribers using the service outside of the USA to continue using the service over US airspace. Clearance would also allow the US airlines to choose whether to offer this service alongside Wi-Fi, as is done by many of their overseas competitors.
The Department of Transportation (DoT) has initiated a parallel proceeding to the FCC. Whereas the FCC is focused on the technical aspects of licensing the mobile phone service, the DoT is proposing to ban the use of voice on wireless devices, whether it be over GSM/mobile or over Wi-Fi. Time will tell. I am of the opinion that airlines can determine for themselves whether to provide voice without the need for regulation. In fact, airlines such as Lufthansa and Aer Lingus have already made that choice, limiting the service offering on mobile to text and data services.
SatMagazine
Does US. passenger behavior toward inflight mobile connectivity differ to European attitudes? Can you share any stats around usage trends?
Kevin Rogers
We monitored the inflight mobile usage of nearly 500,000 passengers across four connected airlines on long-haul routes between April 1st and
July 15th, 2014. The findings revealed a strong demand for inflight mobile connectivity from US travelers. Interestingly, US passengers' appetite for inflight mobile connectivity exceeded the usage of other customers onboard. In fact, on average American passengers used almost double the amount of data and texts than their fellow travelers inflight.
SatMagazine
What are your thoughts on the growth potential of inflight mobile connectivity?
Kevin Rogers
Inflight mobile connectivity has huge growth potential. Inflight mobile services initially took some time to gain momentum, largely due to the rigorous testing required to operate in-flight. However, over last two to three years, inflight mobile services have, in many cases, become fully integrated with the cabin experience.
SatMagazine
Will AeroMobile be involved in the growing In-Flight Entertainment (IFE) market with their service at some point in the future?
Kevin Rogers
AeroMobile is specifically focused on the provision of in-flight mobile connectivity services and is a subsidiary of Panasonic Avionics, which is the world's leading provider of in flight entertainment systems to the commercial airline industry and a leading supplier of airline connectivity solutions.
SatMagazine
As you review your career, what projects have brought you a true sense of satisfaction?
Kevin Rogers
To be frank, the AeroMobile "project" has provided me the greatest job satisfaction—results achieved from tangible action, growth and the opportunity to work with colleagues and partners across both the telco and aviation industries has been extremely satisfying.
For more information on AeroMobile, please visit http://www.aeromobile.net
Follow AeroMobile on Twitter @AeroMobile
---