Cheers erupted in the CAPE-2 lab in Madison Hall when the Minotaur 1 rocket lifted off from NASA's Wallops Island, Virginia, facility at about 7:15 p.m. Tuesday, November 19th.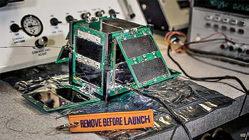 The launch sent the second small satellite designed and built by Unversity of Louisiana (UoL) at Lafayette students into space.
After the clapping, congratulatory exchanges and high-fives ended, a small group of students headed for their control stations, where they received a signal that let them know the satellite was where it should be: in orbit about 225 miles above Earth.
The CubeSat, a communication device that weighs about two pounds, zips around the globe at about 17,000 mph. That's about once every 90 minutes. The satellite, outfitted with deployable solar panels, is capable of converting speech to text, Tweeting and sending emails.
"It's exciting. We're going to wait for a day or two and be sure the batteries are charged. Next week, we'll start doing some of the experiments," said Nick Pugh, who earned a bachelor's degree in electrical engineering from the University in 1968.
Pugh, a communication industry professional, spends as much as 20 hours per week with students offering technical advice and encouragement. He is also a financial supporter.
The project leader is Louis Courville, a junior from New Iberia pursuing a bachelor's degree in electrical engineering. Courville said the CAPE-2 launch is the culmination of the efforts of many students. About 50 students have worked on the Cajun Advanced Pico-satellite Experiment-2 project over the last five years.
"It's basically an extracurricular program where we get to accelerate our curriculum here. People really cut their teeth on real world stuff with this project," said Courville, who works at an engineering firm while he pursues his degree.
CAPE-2 is one of 29 satellites created by educational and research facilities from across the nation chosen to participate in NASA's CubeSat Launch Initiative.
Wade Falcon, 36, who earned bachelor's and master's degrees from the University, was one of several students involved with the first project Falcon, an engineer from Lafayette, was at the CAPE-2 lab on Tuesday night to watch the launch. "I mentor students from time to time, so I came to support them," he said.
Emily Gannon, 19, a sophomore majoring in electrical engineering, didn't work on the CAPE-2 project, but still showed up at the CAPE-2 lab to watch the lift-off. Gannon and other students are working on a project to design and build a buoy that will, when finished, relay information to the satellite from a body of water such as the Gulf of Mexico. "It will transmit weather data," Gannon said.
"We're lucky to be to get the chance to be a part of something like this," said Roxanne Bradley-Powell, a sophomore from Murreta, California majoring in electrical engineering.
In 2007, UoL Lafayette became the first university in Louisiana to launch a working satellite into space with the CAPE-1 CubeSat, said Dr. Paul Darby, an assistant professor of electrical engineering. "I think the students are very intensely interested in the project. It lets them get an education while participating in a world-class project," he said.
University of Louisiana infosite: http://www.louisiana.edu/
Editor's note: The preceeding CAPE-2 information and photographs are courtesy of the University of Louisiana.