Parrot's Bebop 2 is a prime example of how professional 3D printing and Windform materials helped in the construction of this first "leisure drone."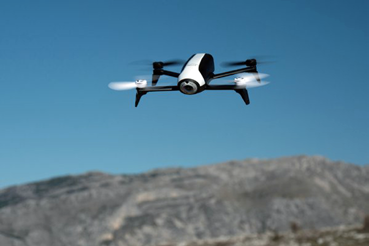 The body of this drone was built using Selective Laser Sintering techniques in combination with innovative Windform GT Additive Manufacturing material, which combined excellent aesthetic results with excellent resistance to impact and temperature changes. Reinforced composite materials for use by auto racing teams have taken the technology of 3D Printing to new heights, now producing parts for the entertainment industry and for consumers. This article describes the construction of the first leisure drone, Bebop 2, using these manufacturing techniques.
A Lightweight + Compact Drone.
With impressive stability and maneuverability—even in extreme conditions—Bebop 2 offers easy-to-use craft piloting with little learning required of the user (pilot). Data collected by the Bebop 2's seven sensors is analyzed and processed quickly, thanks to the impressive calculation capability of the craft's onboard computer.
A specifically designed, front facing camera is integrated into the BeBop2. A pilot can digitally alter the angle of the camera by 180 degrees simply by sliding a finger across the screen of the piloting device. Digitally stabilized on three axis, thanks to powerful algorithms, images are bright, perfectly stable and without distortion, regardless of the drone's movements.

Parrot developed the final Bebop 2 version with the help of Windform GT material. The first Bebop 2 structure was built on injected parts that were constructed with polyamide-based, glass reinforced composite material. Parrot then moved to Selective Laser Sintering (SLS) technology in collaboration with CRP Technology. This move was made to optimize structure performance that did not require a long lead time and to also avoid high cost injection tooling. Also acquired was the ability to accelerate unit iteration generation, improve manufacturing time and to facilitate series production.
The Bebop 2 parts in Windform GT are the main structure (central body) and all single arms. The body is robust and flexible and the arms are reinforced. Parrot carried out an original development approach that was based on experimental analysis and FE modeling, both aimed at improving the quality of captured video during flight (which is usually altered by drone vibration) through drone design optimization. The unit's structure was also implemented through smart design to reduce overall weight.
Parrot established that the natural frequencies of the parts made with Windform GT were quite similar to those parts that had been obtained through injection molding techniques that had been applied to glass fiber reinforced polyamide. Parrot was also able to evaluate the toughness of the product structure with the new manufacturing process, for, as a consumer drone, there was a tendency by beginner pilots to lose altitude and improperly land the Bebop 2—as falls from height do take their toll. Windform GT technology proved to be the only material for 3D Printing that was able to overcome the fall tests that were carried out by Parrot's technicians.
Other advantages obtained with Additive Manufacturing and Windform GT material included the ability to run small production batches to provide functional products to the team (i.e., quite helpful when developing other product functionalities, such as flying performance).
CRP Technology provided fast response time for new requirements, good cooperation with engineers and CAD designers, and provided the best output quality through the use of their unique proprietary process. All resulted in a fast model iterative process, the best ratio between structural strength and weight, acceptable and consistent end-results, as well as an opportunity to combine functionality from a single and unique part for multiple uses.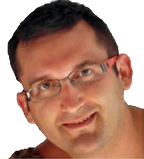 For additional information, please access:
http://www.crptechnology.com/2535-parrot-uas-bebop2-windform-gt-additive-manufacturing.html
Matthew Levoni , who specializes in Additive Manufacturing and Windform Materials, is the Head of the Reverse Engineering Department at CRP Technology in Modena. He attends international conferences as speaker on the use of the Additive Manufacturing in different fields, such as aerospace, motorsports, aviation, the automotive and maritime industries and UAVs . In his career Matteo Levoni has designed engines for a major automotive manufacturer.
---