Brian Collins was appointed as Chief Executive Officer of One Horizon Group in July 2014 after successfully guiding the company to list on the Nasdaq stock exchange in the same month. Mr. Collins joined One Horizon Group as Chief Technology Officer in 2010, following its acquisition of Abbey Technology, a software company that he founded in 1999. Mr. Collins is the co-inventor of the Horizon software solution.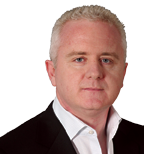 Abbey Technology specializes in the research, development and delivery of proprietary software solutions for telecommunications operators and has previously delivered software solutions to the Swiss banking industry. Prior to the formation of Abbey Technology, Mr. Collins worked as a software engineer for Credit Suisse First Boston Equities in Zurich. Between 1993 and 1996, he worked as a software engineer for Sybase, an information technology company, in California and Amsterdam. Mr. Collins graduated in 1990 with a BSc Hons in Computer Systems from the University of Limerick, Ireland. He also undertook further software research and development at International Computers Limited between 1990 and 1993.
SatMagazine
Mr. Collins, you have worked within a variety of engineering and telecom positions—what drew you to the telecom industry in the first place?
Brian Collins
There were two main draws for the software side of mobile telecommunications for me, one was the scale of the opportunity from a commercial perspective and the other was what I considered the availability of path-of-least- resistance of Internet technologies in the mobile sector, nothing exciting or innovative was being offered over wireless. I found that just assuming a wireless link can be overlaid with an Internet connection without considering the actual value added service's Internet needs was something that could be addressed, especially in a Voice over IP context. To improve upon the path-of-least-resistance products out there was going to be our way forward and using innovation to get there is in our DNA.
SatMagazine
What did you glean from your work within the banking industry that has prov en to be of benefit to your role at One Horizon?
Brian Collins
My experience is banking software products was primarily in real-time solutions for programmed trading systems for electronic stock markets. It is not such a technology leap to go from high-speed reliable trading messaging to steady-speed predictive delivery of Voice over IP. Both technologies use the Internet as the carrier and software solutions can be applied to improve efficiency, improve predictability and most importantly for VoIP, improve quality.
SatMagazine
You co-invented the One Horizon software solution please tell our readers about your technology.
Brian Collins
Our SmartPacket technology is a brand new approach to Voice over IP. We dispensed with the solutions, in widespread use, that use the Session Initiation Protocol and invented a whole new way of recording the human voice an d optimizing its transmission and playback over the Internet. We use ten times less bandwidth using our techniques, which leads to ten times less load on the wireless radio link.
Wireless radio links come in many forms such as satellite, 2G, 3G, 4G and 5G. Having a highly efficient and high quality Voice over IP solution designed specifically for wireless allows the spectrum use to be optimized by mobile operators, satellite operators as you s imply get more bang-for-buck when using our applications. Our efficiencies are, of course, best delivered on a smartphone, the ultimate mobile computing platform. Being efficient with the Internet has another great benefit for the smartphone, better battery life during voice calls.
We are continuously improving our software in this sector and some really advanced new features are on the roadmap for the coming month. This is a really exciting time for mobile software and we have been delivering high quality, carrier grade mobile solutions for more than four years now.

SatMagazine
Why is this technology so important to the satellite industry? Please explain how Satellite IP functions.
Brian Collins
Satellite is a wireless radio link that has the additional complexity of high latency. Our solutions overcome this issue using SmartPacket technology for Voice over IP. We have deployed our solutions over mobile satellite links such as Inmarsat and Thuraya and over numerous VSAT services to great effect.
Our recent "wins" in the sector are quite significant as our technology is adopted by two of the satellite industries highest caliber operators, Singapore Telecommunications and the Filipino operator Smart Communications. We have benchmarked our Voice over IP using industry standard measurements and are typically ten times more efficient than anything available today.
We have further enhanced our offering in satellite with a Windows PC application that optimizes Internet browsing without the need for on-vessel equipment and without the need for any special satellite-hub hardware. Our satellite IP platform on the Google Android and Apples iOS phone as well as the PC is delivered as a complete pay-as-you-go crew welfare solution where Internet access is managed by top-up vouchers that can be redeemed even at sea. Vouchers can be consumed for talking on the phone, sending an SMS, writing an email or surfing the web.
SatMagazine
With the various limitations of VoIP, that range from latency to packet los s, how does One Horizon tackle such issues?
Brian Collins
We address these issues by analyzing the problem and writing the software solution from scratch. No third party open source code, all our software is developed by us for wireless Internet. Voice over IP suffers from latency, jitter and packet loss and must also maintain voice quality by using good human voice compression techniques. SmartPackets do just this by running adaptive, variable length packets containing voice, advanced jitter management and voice activity detection solutions that get the best out of the link we have.
SatMagazine
Are such issues exacerbated when data and other content are downlinked to providers via satellite?
Brian Collins
Latency is particularly exacerbated over satellite. Jitter can be quit e a problem too especially is poor weather conditions. Designing our adaptive software playback really does help here. We have millions of minutes operating using our software over satellite and regularly see calls of over one hour at a time, over mobile satellite and using IP. That's robust VoIP, no doubt.
SatMagazine
How are these issues overcome?
Brian Collins
Through the use of our SmartPacket technology and by not having to rely upon exiting VoIP standards but tackling each problem from the bottom up. The "bottom" in the case for One Horizon is the operating system and not an pre-existing standard that must be adhered to. We have much fewer constraints that our competitors in where we can go with our inventiveness.
SatMagazine
What are the benefits of One Horizon?
Brian Collins
A truly efficient, turnkey mobile VoIP solution that is deployed on the worlds ever-increasing smartphone base. For satellite, just grab a Wi-Fi signal, top-up your mobile App and away you go. No bill shock for the vessel owner as all Internet access is secured and pre-paid, no hardware sleeves for a niche physical handsets, no specialized on-board equipment and no special equipment at the satellite hub. Download, top-up and go; it couldn't be easier.
SatMagazine
How can satellite operators and providers play an even more important role in Satellite Voice over Internet Protocol (SVoIP)?
Brian Collins
All satellite operators are looking for the best way to use their spectrum. Monetizing spectrum will soon no longer be just a matter of supplying a data "pipe." Operators should be looking to supply branded Value Added Services to their connections. Installation of telecommunications equipment for access to the regular telephone network (PSTN) at or near the satellite operators hub has a massive effect not the quality of the VoIP solution. You can now really deliver high quality VoIP over satellite.
SatMagazine
What do you see as among the most concerning challenges and possible solutions for the satellite and telecom industries during 2015?
Brian Collins
Avoiding a race to the bottom on spectrum pricing must be a concern. Value Added Services allow the satellite operator and its resellers to engage with the customer on land and at sea to offer innovation and billing-predictability. Solving this means offering reliable, affordable solutions to villagers, oil & gas workers, mariners and, now, their families. Smartphones are becoming affordable. How the satellite sector embraces this opportunity is something that One Horizon will strive to be part of.
SatMagazine
When you review your career to date, what brings a true sense of satisfaction to you?
Brian Collins
The delivery of carrier grade software to mobile and satellite operators and knowing that what we have delivered is really making a change in the way people can communicate with their friends and family. Being a part of t he smartphone-lifestyle really means something today and we are delivering our solutions to more and more people and leveraging the finite resource that is the usable radio spectrum.
To learn more about One Horizon, please visit http://www.onehorizongroup.com/
---