Jim Armor has been Vice President of Strategy & Business Development for Spacecraft Systems and Engineering Services of ATK Space Systems, Inc. at Alliant Techsystems Inc. since April 2009. Major General Armor [U.S.A.F., ret.] was the Founder and Owner of The Armor Group, LLC, and served as its Chief Executive Officer since September 2007. He served as an active duty officer in the United States Air Force from May 1973 to January 1, 2008. As a Major General, he served as a Director, National Security Space Office, Office of the Under Secretary of the Air Force until retiring in January 1, 2008.
Armor was responsible for integrating and coordinating defense and intelligence space activities, and advising the Office of the Secretary of Defense and the Office of the Director, National Intelligence, on matters affecting national security space capabilities. Prior to that, Major General Armor served as Director of Signals Intelligence Systems Acquisition and Operations, National Reconnaissance Office and he directed the development, launch, and operation of the U.S. Signals Intelligence satellite constellation and related global ground systems supporting intelligence and military operations worldwide.
His other positions includes Vice Commander, Warner Robins Air Logistics Center; System Program Director, and Program Director of the NAVSTAR Global Positioning System Joint Program Office, Space and Missile Systems Center. Major General Armor serves as a Director of Navsys Corporation. He served as a Director of Integral Systems Inc., from March 14, 2008 to February 15, 2011. Previously, he served as the Director of the Global Positioning System, the U.S. Government's largest satellite constellation. He served as Director of the GPS Program, and Director of Acquisition and Operations for Signals Intelligence.
SatMagazine (SM)
Would you please explain what these new buses offer and the differences between the basic and elevated configurations?
Jim Armor
ATK
's expanded A-series product line consists of four basic configurations: the
A100
,
A200
,
A500
and
A700
models, with elevated platforms of
A150
,
A250
and
A550
which aim to provide broader capability and flexibility for customers. The products are designed for a range of mission requirements based on mission class, design life, propulsion, pointing accuracy, payload mass and launch capability.
SM
What market segments are the targets for these new offerings?
Jim Armor
There is strong interest from both government and commercial sectors. Though mostly government today, commercial interests are growing and government organizations are steadily transitioning to commercial business practices and use of commercial space systems and products.
SM
When new satellites are birthed, launch vehicle selection can sometimes be somewhat minimized… how do these new buses fit in with current and future launch vehicle configurations?
Jim Armor
The A-series satellite buses are compatible with most launch vehicles, and in many cases are suitable to rideshare in a launch vehicle with other spacecraft. We have a variety of choices to fit customer needs depending on the mission. We have been very successful building small satellites quickly and efficiently over the years. This new family of A-series satellite buses is really just a way to communicate more clearly with a wide variety of customers who are looking for small, rapidly developed spacecraft.
SM
Will the buses be available for domestic and overseas satellite manufacturers? How will they be marketed?
Jim Armor
Yes, the buses are available for domestic manufacturers and for international markets. Our ability to build this type of spacecraft quickly and affordably is resonating with the marketplace and quite frankly, our timing to announce this expansion is on target. We are marketing this product line through advertising, trade shows, conference panel appearances, video animations and interviews like this one. We have found that our multi-pronged communications platforms are working and that potential customers are actually reaching out to us to learn more about the product line, as are launch providers to insure compatibility.
On June 29, 2011, the Operationally Responsive Space office's inaugural satellite, ORS-1, successfully launched from Pad 0B at the Mid-Atlantic Regional Spaceport, a facility owned by the Virginia Commercial Flight Authority, located at NASA's Wallops Flight Facility, Wallops Island, Virginia. Photo is courtesy of NASA.
We are also seeing an increased need for small satellites in the market given dwindling budgets in both the government and commercial sectors. Plus, the Department of Defense is rethinking how it acquires and manages its satellite programs in order to drive down costs and production timelines. They're looking to launch smaller, less expensive satellites for most military and national security missions. We had demonstrated our capability in that arena with the successful launch of the ORS-1 satellite for the Air Force. We built the bus from start to delivery in just 17 months when the usual time frame is three to seven years. ORS-1 launched in the summer of 2011 and achieved final operational capability in January.
That kind of "can-do" technology along with today's economic challenges is driving government users to adopt business practices already in place for the most part in the commercial sector. NASA also has begun to appreciate the high payoff of smaller, more specialized science spacecraft. We believe our expanded family of space platforms will enable us to capitalize on the up-swing we expect to see in a number of our targeted market segments.
SM
How do these new buses fall into line with increasing focus on the concept of Hosted Payloads?
Jim Armor
They are fully consistent with the concept. Depending on the specific mission, all our buses have capacity for hosted payloads. We look at hosted payloads as another tool in the toolkit for getting missions into space on a timely and cost effective basis. Hosted Payloads are applicable to all mission areas but not necessarily all missions. Clearly, at some point small free-flyers are cost and performance competitive with Hosted Payloads—it is not a given that Hosted Payloads are always a superior offering. Our bus line is ready for both options.
SM
Will they be amenable to in-orbit servicing and/or capture for repair and refueling?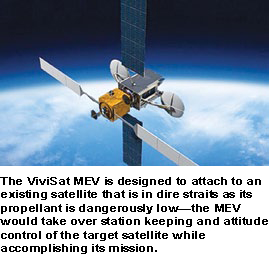 Jim Armor
We are highly predisposed to in-orbit servicing and ready to include those features, but most customer missions in low earth orbit or beyond geostationary are not yet amenable to it. On the other hand, we believe that satellite servicing is an important new market, whether it involves life extension, satellite repair, in-orbit refueling or spacecraft repurposing.
Our ATK A700 series, the largest mission class, is the foundation of the ViviSat
Mission Extension Vehicle
(
MEV
), a significant new satellite servicing spacecraft capable of docking with a client satellite and providing an alternative attitude control and propulsion system for satellites out of fuel but with functioning payloads.
The MEV was introduced in 2011 when ATK and its partner, U.S. Space LLC, launched
ViviSat LLC
, the first U.S. based company to offer satellite life extension services to commercial and government geosynchronous satellite operators. Through ATK's long, successful history with
Hubble
repair missions and ongoing spacecraft servicing work at
NASA/GSFC
, and now as part of the
DARPA
Phoenix
program repurposing a satellite in orbit, we have laid the groundwork for this game changing technology and believe the commercial market is ready.
SM
Given client specifications, how quickly can the new, smaller buses be built? How cost effective are they when compared to current products?
Jim Armor
Typically 12-18 months depending on the complexity of the customer's requirements.
In terms of price, we believe our options are highly affordable for today's market expectations. Obviously, the price of a smaller satellite is considerably lower than the larger systems, which could take as long as seven years to build and launch.
SM
What is the future of the smaller satellite market?
Jim Armor
I believe the small satellite market is coming of age. Primarily, the government is looking for ways to downsize and reduce costs while increasing the resiliency of their constellations, so they are turning to smaller satellites that can be built in a matter of months instead of years.
However, I also think smaller satellites will generate new uses and applications that don't even exist today. As sensors and payloads become smaller and more innovative, national security, scientific and commercial communities are finding more uses for them. There is a huge interest in cubesats and nanosats in academia which points the way in the future. We are seeing existing companies and start-ups put more capability in smaller packages more affordably increasing the value of small satellites. Based on our heritage and performance, we believe we have positioned ourselves very well with this new and expanded line up of small satellite buses.
The small satellite market will be an active one in both government and commercial sectors.