The Angara-1.2ML (Maiden Launch) integrated launch vehicle (ILV) was successfully launched by the Russian Ministry of Defense from the State Testing Cosmodrome (Plesetsk Cosmodrome) in the Archangelsk Region of Northern Russia on July 9, 2014.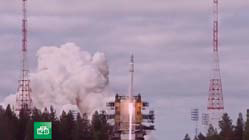 The light-lift Angara-1.2ML with a mock payload on board lifted off from the Angara multi-purpose launch pad and delivered a dummy satellite to the designated landing site at the Kura range in the far eastern Kamchatka Peninsula, 5,700km away from the launch pad.
The ILV mission proceeded over the Russian territory along a ballistic trajectory in accordance with the planned timeline. Following the liftoff and the subsequent separation of Stage 1, the payload fairing was jettisoned during the Stage 2 powered flight. Stage 1 and the fairing were released into a planned targeted area in the southern part of the Barents Sea. After 21 minutes and 28 seconds, Stage 2 and the firmly attached mass/dimensional payload simulator reached the planned targeted area.
Building the Angara launch system is a task of particular national importance. When the Angara launch system becomes operational, Russia will be in a position to launch all types of satellites from its own territory, gaining guaranteed independent access to outer space.
The Angara-1.2ML ILV comprises two stages that are based on Common Core Boosters (URM-1 and URM-2), a payload mockup with a mass of 1.43MT, and a payload fairing. The propulsion system runs on ecologically clean components of oxygen and kerosene. The lift off mass of Angara-1.2ML ILV is approximately 171 Metric Tons. The Angara Launch Vehicle family includes a range of light-, medium-, and heavy-lift launch vehicles based on generic modules. The Angara family will have the capacity to launch virtually the entire range of would-be payloads to orbits of the entire range of altitudes and inclinations including geostationary orbits, affording true independence to domestic space programs.
To see the video of the Angara 1.2 ML launch, please go to http://www.ntv.ru/novosti/1117456/