Sierra Nevada Corporation Working Hard — 11 ORBCOMM Satellites Ship
Sierra Nevada Corporation (SNC) delivered 11 ORBCOMM Generation 2 (OG2) satellites to the launch site at Cape Canaveral Air Force Station, Florida, for ORBCOMM's upcoming OG2 Mission 2 launch aboard the SpaceX Falcon 9 rocket, which is targeted for mid-December 2015.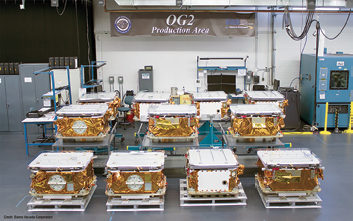 As the prime contractor for ORBCOMM's OG2 satellites, SNC is responsible for the design, manufacture and integration of the OG2 satellites in the constellation.
Eleven OG2 Mission 2 Satellites at SNC's facility in Colorado Prior to Shipment to Cape Canaveral, Florida.
"SNC looks forward to completing the OG2 constellation with the delivery of 11 flight-proven and highly-capable satellites for the Mission 2 launch," said Mark N. Sirangelo, corporate vice president of SNC's Space Systems. "These 11 satellites were integrated and tested in a high-volume production environment, demonstrating our ability to efficiently integrate and produce constellations in this class. In addition to the design and build of all OG2 satellites, SNC will also support launch, in-orbit testing and deployment of these satellites simultaneously from our Satellite Operations Center in Louisville, Colorado."
SNC successfully completed the Pre-Ship Review in late October 2015, and soon thereafter, all 11 satellites were shipped to the launch site, initiating launch operations.
During launch operations, with the support of SNC engineers and technicians, the OG2 satellites will undergo further post-transport testing, fueling and inspection.

This approach builds upon the OG2 Mission 1 launch and deployment of six spacecraft in July 2014.
Following the launch and the completion of in-orbit testing, the spacecraft will be incorporated into ORBCOMM's global machine-to-machine (M2M) communications network, consisting of the Mission 1 OG2 spacecraft currently in operation as well as ORBCOMM's Generation 1 (OG1) spacecraft. ORBCOMM's ubiquitous M2M network provides tracking, monitoring and control services for remote and mobile assets in core markets including transportation and distribution, heavy equipment, industrial fixed assets, oil and gas, maritime and government.
"ORBCOMM and SNC are pleased to be in the final stages of the launch and test of our advanced next generation OG2 satellites," said Marc Eisenberg, ORBCOMM's chief executive officer.
"We expect to be offering our customers in Q1 2016, an enhanced, more efficient communications network, significantly increasing network capacity, coverage and performance, including an Automatic Identification System (AIS) payload on every spacecraft."

All OG2 spacecraft are based on SNC's flight-proven SN-100 satellite bus, which can be tailored to support a variety of applications, including communication, Earth observation, weather and space science.
The SN-100 is designed for a five-year-minimum life and uses a modular payload deck that can be rapidly integrated and tested using highly automated scripts to test all functions. This allows the baseline satellite to be quickly and cost-effectively configured to meet the needs of many customers.
---
WRC 2015: Clarity Of Vision Regarding Satellite Services
The world's governments resoundingly affirmed a clear vision for the importance of many vital and irreplaceable services provided over satellite.

They also agreed on a clear framework for future access to satellite spectrum for innovative satellite communications.
This was accomplished by agreeing to preserve and create new, additional, valuable spectrum for fixed and mobile solutions used to support a multitude of video, television and data services, to expand Internet access, and to bridge the "Digital Divide" for billions of people around the world.
The inter-governmental decisions in support of satellite spectrum were made during the conclusion of the International Telecommunication Union's (ITU's) World Radiocommunication Conference (WRC), where the agreements reached by national administrations reflected a comprehensive strategy in which the unique value proposition of satellite-based connectivity is an integral part of a portfolio of synergistic technologies.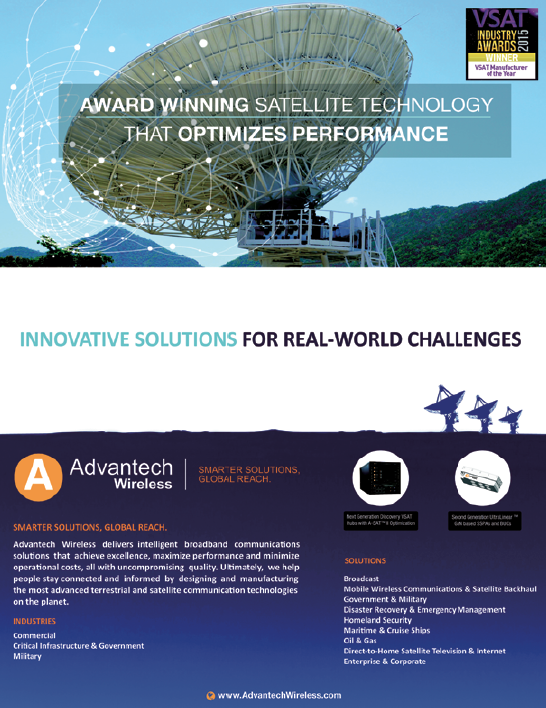 "WRC-15 has been a turning point in the global recognition of the value of satellite services for the future. We commend the national administrations—and the WRC Chairman, Mr. Festus Daudu—for their commitment to connectivity for all," read a joint statement of a coalition of associations representing the satellite industry. "These decisions provide the stability necessary for the entire satellite industry to fully leverage its strengths in support of the vision expressed by the WRC delegates."
Among the key decisions made during WRC are the following:
• L-band: WRC-15 avoided identification of the L-band spectrum, which is used by mobile satellite service operators around the world, for IMT. The Conference identified the band 1427-1518 MHz for IMT, requesting the ITU-R to determine the technical measures to ensure compatibility with the mobile-satellite service operations in the adjacent band (1518-1559 MHz).
• C-band: WRC-15 reconfirmed the need to protect critical fixed-satellite service (FSS) services throughout the world in this unique band. The lower 200 MHz of the C-band downlink frequencies (3400-3600 MHz) were identified for IMT in ITU Regions 1 and 2; in Region 3 a handful of countries will sign a footnote allowing potential IMT use of these 200 MHz, while the vast majority of the region will continue satellite use of this band with "No Change". A position of "No Change" was adopted in the band 3600-4200 MHz, and only in Region 2 was a footnote agreed which identified IMT for a few countries in the 3600-3700 MHz band. A "No Change" decision means that administrations have recognized the vital and widespread use of those frequency bands by satellite services. Anywhere that IMT is deployed, it will be subject to adherence to strict protection requirements with neighboring countries. In addition, the Conference declined to consider a proposal for IMT systems in the C-band uplink frequencies (5925-6425 MHz).
• Ku-band: In order to address a spectrum imbalance in Ku-band spectrum, WRC-15 identified additional spectrum for FSS systems between 10-17 GHz. A downlink allocation in the 13.4-13.65 GHz band in Region 1 (EMEA) was approved by the Conference. In addition, an allocation in the 14.5-14.8 GHz was approved in several countries around the world.
• Future bands for 5G: The Conference decided that no globally harmonized bands for the fixed satellite service, mobile-satellite service and broadcast-satellite service in C-, Ku- or Ka-band would be included in the scope of a new WRC-19 agenda item, which aims to identify new frequency bands for future IMT/ 5G use. Throughout the deliberations, multiple administrations in every world region expressed strong opposition to studying the Ka band for IMT/5G, again confirming the Conference's confidence in satellite being a key player in the future digital eco-system.

• ESIMs: The Conference adopted new regulations to facilitate the operation of "Earth Stations in Motion" (ESIMs) in part of the Ka-band satellite spectrum (19.7-20.2 GHz and 29.5-30 GHz). ESIMs operating in this band provide satellite broadband connectivity to mobile terminals, such as on ships and aircraft. The new regulations adopted by WRC-15 will facilitate the global roaming of such terminals, while protecting other services and applications from interference.
• Other: WRC-15 adopted several agenda items for future conferences that will spur growth in the satellite industry. Studies were approved for WRC-19 for additional FSS spectrum in 51.4-52.4 GHz. In addition, the conference adopted a future agenda item for WRC-23 for additional satellite spectrum in the 37.5-39.5 GHz. Also, in a hotly contested debate, the Conference adopted a Resolution which sets the path towards allowing the use of FSS links for Unmanned Aerial Systems (UAS).
For additional information, visit: satellite-spectrum-initiative.com
---
Developers Are Invited By Inmarsat To Attend IDC 16
Inmarsat will convene the firm's second annual Inmarsat Developer Conference (IDC 16) at the Park Plaza Hotel in London on February 29 to March 1, 2016, following a highly successful inaugural event in 2015.

Software, hardware and application developers are invited to attend and hear from prominent industry experts, including Ford and SpaceX, and to discover more about the latest development opportunities for the creation of innovative solutions using Inmarsat's L-band and Global Xpress (Ka-band) networks.
Inmarsat's open technology strategy, announced in January of this year at the first IDC, has given the growing developer community the freedom to use Inmarsat technologies to develop innovative and bespoke applications, based on cutting edge technology. The latest development opportunities are set to be unveiled at the industry event next year.
Featured on the agenda, Scott Lyons of Ford Connected Vehicle and Services Organization, will deliver the keynote speech on "what does the connected car really mean for today's drivers?" In his speech, Scott will describe Ford's vision for the connected car, specifically related to driver safety.
The President and COO of SpaceX, Gwynne Shotwell, will also attend IDC 16 and will take part in a "fireside chat" with Michele Franci to discuss where they think satellite communications will be in 30 years' time.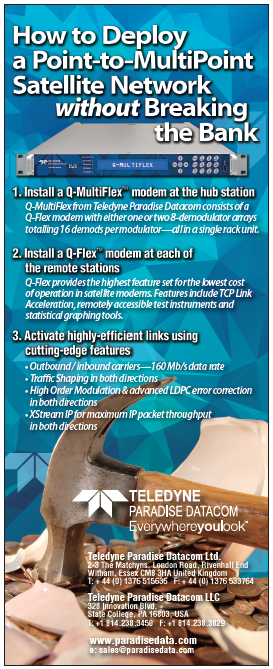 During the two-day event, more than 500 software, hardware and application developers will have the opportunity to respond to many new Inmarsat development opportunities, among these, to mention a few, are aircraft data in the cloud, fisheries apps for Fleet One and BGAN terminals dedicated to IoT. The Conference will consist of technical sessions, hands-on workshops, briefings on the satellite communications industry and existing Inmarsat developer stories.
For more information on IDC 16 and to view the agenda, go to: inmarsat.com/idc
---
Cobham's AVIATOR 200S Attains "First Call" Milestone
Cobham SATCOM announces the first call has been made using the company's AVIATOR 200S system over Inmarsat's SwiftBroadband satellite communications service.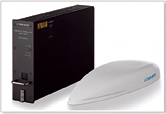 The 'on air' milestone represents a significant step forward in making AVIATOR 200S—the first of several upcoming solutions in the AVIATOR S Series product range—available for airlines and coincides with the anticipated approval of Inmarsat's new generation SwiftBroadband-Safety service in 2016.
The on-air voice call was achieved using the AVIATOR 200S CSDU (Compact Satellite Data Unit) and HELGA (combined HLD and Enhanced LGA) antenna over the Inmarsat LDR (Low Data Rate) bearer type.
Carried out in a laboratory environment, the breakthrough represents a significant step forward in the development of the system and was notable as:
• The first voice call through an AVIATOR 200S CSDU
• The first IP data session through an AVIATOR 200S CSDU
• The first ever voice and data calls through a HELGA antenna
• The first ever voice and data calls through a Class 4 Radio Module
• The first ever voice and data calls over LDR bearers
The ground-breaking AVIATOR S Series provides SATCOM solutions for the airline fleet of tomorrow for the purpose of Air Traffic Control (ATC) and Aircraft Operation Control (AOC).
Using SwiftBroadband safety services to transmit ACARS data, AVIATOR S Series enables secure data communication, IP connectivity and multiple voice capabilities.
The combination of IP and ACARS data pipes allows network integration with a portfolio of data housing and transmitting components on the aircraft such as cockpit, Electronic Flight Bag devices (EFB), onboard maintenance computers and devices used by the crew to service passengers.
Smaller, lighter and more cost-effective than current SATCOM systems, AVIATOR 200S reduces the number of LRUs on the aircraft from 4 to 2.
Kim Gram, vice president of Cobham SATCOM's aeronautical business unit, said, "This is another important milestone in the evolution of our game-changing AVIATOR S Series, allowing airlines to e-enable their fleet with a previously unseen versatile and economic SATCOM solution. The first call is particularly significant as it represents a new solution running on a new service—a double first. Our teams in Lyngby and Cape Town have worked hard to achieve this impressive landmark.
"This is a very big step towards our first customer shipment, and shows that we are on track for release of AVIATOR 200S as planned. We believe the significantly smaller, lighter and easier to install hardware associated with the SwiftBroadband ACARS data services, represented by our AVIATOR S series product range, will provide aircraft manufacturers and airlines with a route towards significant changes in operational efficiencies and, not least, in flight situation awareness and safety."
Mary McMillan, vice president of aviation safety and operational services at Inmarsat, said, "We congratulate our partner Cobham SATCOM on the achievement represented by the first successful call. Powered by Inmarsat's SwiftBroadband – Safety, the AVIATOR 200S represents a major advancement of SATCOM technology and, together, provide the next generation aviation safety communications platform for the global aviation community."
cobham.com/satcom
---
ATEME Incorporates DVB-S2X
New from ATEME is their Kyrion encoder and decoder that has been designed for contribution over satellite, fiber and Internet networks.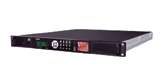 The new product offers value added features such as ultra-fast-boot, ABR output, and integrated Automatic Repeat reQuest (ARQ).
The Kyrion encoder and decoder are now available with DVB-S2X, a new extension of the DVB-S2 satellite broadcast standard. The product increases the modulation efficiency by 50 percent, resulting in significant savings in terms of bandwidth.
The Kyrion encoder and decoder will enable satellite operators to add services within their current capacity and users to reduce their link OPEX.
The DVB-S2X option is available for new and existing Kyrion users via a simple to install software upgrade.
---