Paradise Breakthrough — 100W Ka-Band Outdoor SSPA
Teledyne Paradise Datacom, a business unit of Teledyne Microwave Solutions, announces the availability of a breakthrough Ka-band outdoor SSPA that is based on a single 100 watt GaN module.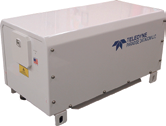 Two and four-module models can generate power levels that exceed those of traveling wave tube amplifiers (TWTAs) commonly used at gateway Earth stations today.
With the superior reliability of solid state technology, the new SSPA finally gives operators of HTS and all other gateway earth stations the opportunity to achieve dramatic long-term CAPEX savings by deploying high power SSPAs in lieu of TWTAs.
The new product, Model A2100, is a compact outdoor SSPA that weighs less than 44 lbs. (20.0 kg). With a small footprint and leveraging GaN technology, the A2100 produces 100 watts of saturated power and 50 watts of linear power from 27-31 GHz.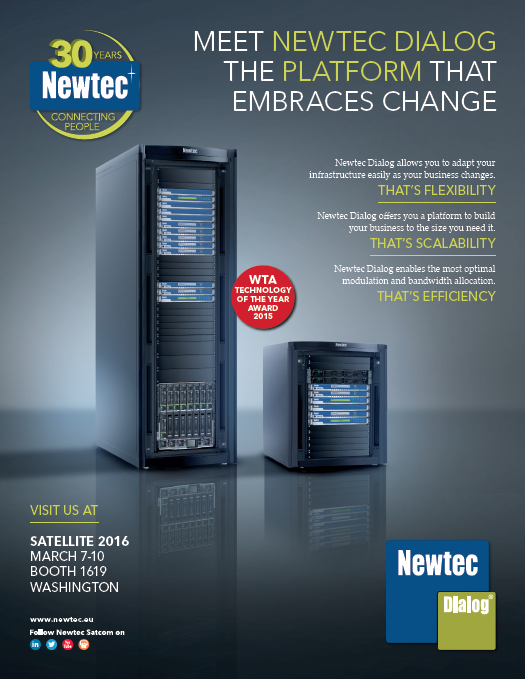 When packaged in Paradise's 'high power' outdoor enclosure, it can deliver power levels of 100 watts P-linear/200 watts P-sat and 200 watts P-linear/400 watts P-sat, giving customers an excellent alternative to legacy 500 watt TWTAs.
The A2100 delivers the highest power density in the industry. With a tough, robust construction built to withstand harsh environments and deliver the highest operational reliability, the A2100 can be used in applications and markets that have historically been reserved for TWTAs.
With an optional side-mount AC input for SNG installations, the A2100's broad range of linear power and high output are perfectly suited for high-definition SNG vehicles as well as HTS Gateway Earth Stations that require:
• Higher MTBFs than TWTAs
• More robust construction
• Infinite shelf life of spares
"We believe our development of this new 100W Ka SSPA represents a real game change for the industry," said Steve Turner, the long-time VP of RF Engineering for Teledyne Paradise Datacom.
"Until now, there has not been a viable option to TWTAs for Gateway operators in need of very high horsepower. With Model A2100, we have finally brought solid state technology to the point where it can clearly replace that legacy TWTA technology and deliver to Operators a far lower TCO over a system lifecycle."
paradisedata.com
---
Hughes Wins Best Biz Company Award
Hughes Network Systems, LLC, has received a silver award as one of the top North American companies in the 2015 Best in Biz Company of the Year Competition.
The Company of the Year award recognizes companies for achievements and excellence over the preceding year. A panel of journalists and industry analysts chose Hughes for its work in bridging the digital divide between emerging and developed economies and for its partnership with 4-H to promote STEM (science, technology, engineering and mathematics) education, among other accomplishments. Hughes won in the category of companies with more than 1,000 employees, which includes companies such as Symantec, Hilton and Dell Computer.
Hughes pioneered satellite Internet access and is the world's leading provider of technology and broadband services

to customers in over 100 countries on five continents, connecting enterprises, governments and consumers to the digital economy. Earlier this year, Hughes announced a partnership with OneWeb and other major players to support the goal of closing the digital divide by bringing affordable broadband satellite services to millions of households, schools and organizations around the world.
2015 also saw Hughes continue its partnership with 4-H to introduce more American youth to hands-on, community-based STEM learning. Together, they have conducted several national programs to spark interest in STEM. Among them was National Youth Science Day (NYSD), the world's largest youth-led science experiment. Additional programs included
"Tech Takeover Days" at several local 4-H camps, "Inspire a Future Scientist" online video contest and programs for National Engineering Week.
Best in Biz Awards honors companies, teams, executives and products for their business success in the current and previous year. Best in Biz Awards is unique, as it is the only independent business awards program judged by members of the press and industry analysts. For more information, visit bestinbizawards.com/.
"The Company of the Year award focuses on non-traditional metrics to judge a company's impact on its industry and community," said Pradman Kaul, president of Hughes. "We are honored that journalists and analysts with broader knowledge of company best practices have recognized Hughes efforts to be a responsible corporate citizen along with its business success."
hughes.com
---
Sub-Saharan Connectivity In Progress
Afrique Telecom is deploying Internet solutions over Sub-Saharan Africa in combination with Eutelsat's satellite capacity.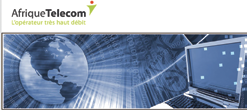 The company's "TamTam" service extends access to the Internet in rural areas using WiFi hotspots for collective access.
In a new step just announced, "TamTam" will be used to offer free access to French-language Wikipedia content for many thousands of users.
This initiative, starting in French-speaking Africa, supports Wikimédia France's strategy to promote free access to educational content, in particular through Wikipedia. In order to offer free, unlimited access, Afrique Telecom has developed a server located at "TamTam" hotspots that will locally host French-language Wikipedia content.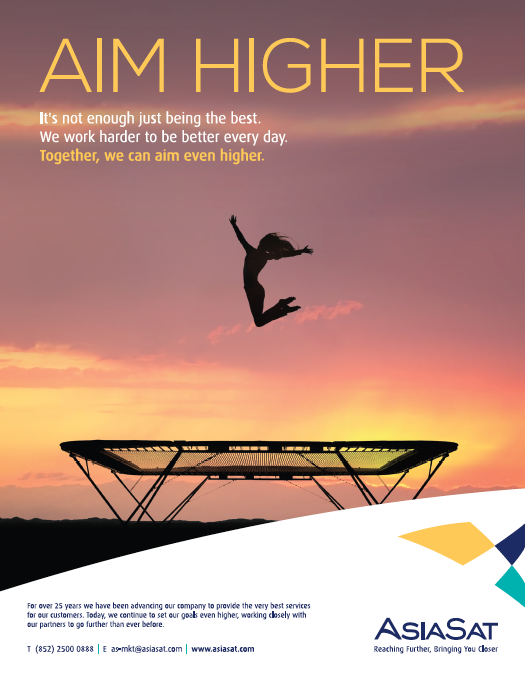 The content will be updated regularly via a satellite link provided by Eutelsat.
Afrique Telecom's ambition is to roll-out "TamTam" to between 4,000 and 8,000 hotspots in the next two years.
Eutelsat has agreed to finance servers hosted by the first 1,000 hotspots as a springboard that will also measure the impact of
the service.
The Wikimedia movement has made a priority of improving accessibility and content creation on Wikipedia for so-called "Southern" countries.
There is still a large gap between Northern and Southern countries in terms of the number of readers and contributors to Wikimedia platforms as well as content on Southern countries.
French-speaking Africa is a priority action area for the Wikimédia France Foundation, as a complement to its Afripédia project.
afrique-telecom.com/
---
Contract Beefed Up For Marlink By Geoscience Firm CGG
Fully integrated geoscience company, CGG, has extended its contract with Marlink for customized Sealink VSAT services for an additional five years.

As part of the agreement, Marlink will continue to deliver dual C-/Ku-band connectivity to support efficient operations on CGG's high-end survey vessels, mainly operating in the Gulf of Mexico, the North Sea and South East Asia.
CGG offers a complete range of marine acquisition services, providing high-end broadband solutions, state-of-the-art narrow-, wide- and full-azimuth towed-streamer exploration, development and 4D seismic surveys and complementary non-seismic techniques such as gravity and magnetic surveys.
In partnership with its seabed joint venture, CGG also provides hybrid node-streamer surveys and seamless acquisition from deep to shallow water.
Marlink connects CGG vessels to its recently upgraded iDirect VSAT network platform, including X7 modems, further enabling the
company to use its connectivity for smart operations, leading to reduced operational costs whilst increasing crew and client satisfaction and supporting compliance for safety processes and regulations.
The longstanding relationship between Marlink and CGG and the effectiveness of the recent connectivity upgrade supported CGG's decision to continue operations using Sealink customized VSAT services.
CGG reports that, following the upgrade, one of its key clients, a major oil and gas producer, declared the broadband facilities on board as "Best-in-class."
Providing fast, reliable connectivity for client networks is a critical aspect of CGG's service delivery, but the high-throughput link provided by Sealink VSAT also supports the company's own admin and vessel operations, in addition to providing sufficient capacity for crew communication.
Onboard hardware across the fleet includes Dual C- or Dual C-/Ku-band antennas, with fully redundant below-deck equipment, including dual X7 modes and dual Cisco routers and switches.

Marlink has also established MPLS (Multiprotocol Label Switching) terrestrial integration to ensure a high-quality connection to the CGG onshore office network in addition to Public IP and DataManager web compression and filtering for the crew LAN.
"The connectivity upgrades to the fleet earlier this year enhanced CGG's service offering to clients and its own communication facilities across its fleet. This and our ability to provide flexible and reliable services with high bandwidth and QoS (Quality of Service) control played an important part in CGG choosing Sealink VSAT for a further five years," said Tore Morten Olsen, CEO, Marlink.
"The combination of the customized network architecture with iDirect is a real game-changer for CGG from both a business and welfare perspective. Not only are our broadband facilities now rated 'Best-in-class' by our offshore client representatives, all crew onboard CGG vessels can enjoy shore-like connection speeds for leisure, social networking and banking, etc.," said Mark Cassellis, Global IT Manager, Marine Business Line, CGG.
marlink.com/sealink.html
cgg.com
---
Polar Satellite Markets Are Examined By NSR In An Upcoming Analysis Report
The Polar Region has gained attention in recent years, specifically in the enterprise sector with the opening of sea lanes and opportunities presented by key industries such as oil & gas, mining and commercial airlines increasing the number of flights using the Polar route—tourism has, likewise, led to consumer oriented opportunities as the number of Arctic and Antarctic visitors rises annually.
Yet, the region's geography presents technical and coverage challenges for satellite operators that must assess the risks associated in launching capacity dedicated to serving the region. Economic conditions are likewise tenuous as exploration has diminished in the once highly promising oil & gas sector, which was a key market driver for satellite investments.
This industry benchmark NSR report assesses current and future Polar satellite requirements by application, vertical and by frequency platform, offering key insights for industry players looking to navigate and gain insights into the market's future supply and demand potential. The report enables satellite operators, service providers and equipment vendors to anticipate market developments and assess their market position in both existing and new segments that offer either long-term revenue opportunities or a highly risky investment.
nsr.com
---