Rocket Lab and KSAT tying their smallsat expertise together
Rocket Lab has partnered with Kongsberg Satellite Services (KSAT) to be the sole provider of ground station services for the Electron launch vehicle and Photon satellite bus customers.


Peter Beck (l), CEO of
Rocket Lab, and Katherine
Monson (r) of KSAT USA.
This agreement sees Rocket Lab delivering a complete solution for smallsat operators, including satellite design and build, launch, and ground segment support leveraging an existing global network of ground stations.
Rocket Lab's Electron launch vehicle is currently the only commercial, dedicated smallsat launch vehicle operating a service to orbit, making space more accessible for small satellites. With a proven launch vehicle in operation since January 2018, the next evolution of Rocket Lab's mission services is the Photon satellite bus.
Designed for seamless pairing with Electron, the Photon satellite bus streamlines the entire end-to-end satellite experience for customers from design to build to launch.
Likewise, KSAT's KSATlite ground network is designed and optimized for small satellite systems, providing streamlined access (through standardized API driven interfaces) and scalable support that grows to meet mission needs.
The closely integrated partnership with KSAT now provides launch to operations ground segment support for Photon customers – the final piece for small satellite operators seeking an end-to-end mission partner.
This enables small satellite operators to focus on what really matters—their applications and their customers—freeing engineering time and capital from having to develop a spacecraft platform, secure a launch, and coordinate access to ground stations from different providers.
The partnership between Rocket Lab and KSAT provides Photon customers downlink and uplink capabilities in UHF, S-band, X-band, and Ka-band across a global ground station network of over 200 antennas that supports 50,000 contacts per month.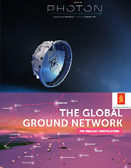 Rocket Lab Chief Executive and founder, Peter Beck, stated that the company's partnership with KSAT will play an important role in continuing to streamline the path to orbit for small satellite operators. Rocket Lab has solved the launch challenge when the firm began regular and reliable launch services in January of 2018. Now the company is simplifying the spacecraft side of the equation with the combination of Photon and KSAT's ground network support.
Head of KSAT USA, Katherine Monson, noted that there is an enormous rise in demand for data from small satellites in space, yet the challenges of procuring launch, building your own spacecraft and then having to coordinate ground communications can be time and cost prohibitive.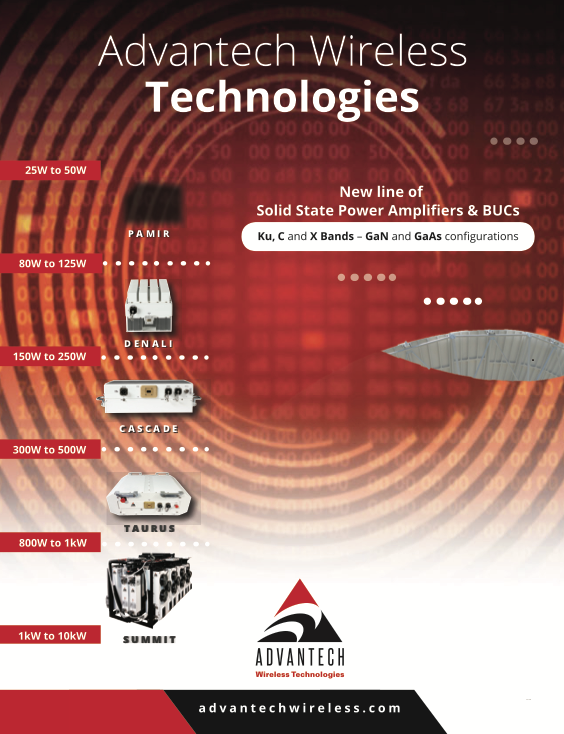 She noted that this partnership with Rocket Lab and its Photon customers means small satellite operators will now have access to reliable, scalable services across our global network – starting with support on a per-pass basis and options to move to full antennas as their communication demand grows. KSAT is the bridge back to Earth for both the Electron launch vehicle and Photon customer payloads, thereby making space more accessible, through cost-efficient access and proven mission assurance.
www.rocketlabusa.com/photon/
www.ksat.no/services/ksatlite/
---
Globalstar delighted with 15K SPOT device sales
Globalstar Europe Satellite Services Ltd., a wholly owned subsidiary of Globalstar, Inc., has announced that UK specialist wireless and satellite technology reseller, Global Telesat Communications (GTC), a subsidiary of Orbsat Corp., has surpassed the milestone of selling 15,000 SPOT devices.
This includes 1,500 SPOT units deployed to safeguard remote working or at-risk employees for organisations including the UK Forestry Commission and numerous other commercial and non-commercial entities.
GTC's customer base for SPOT spans both consumer and organizational users including security firms, utilities, maritime operations specialists, sports event organizers, government agencies, professional remote workers, as well as adventurers and other travelers.
GTC has won SPOT contracts awarded by government and commercial organizations including the deployment of more than 850 SPOT Gen3's by the UK Forestry Commission since early 2016. The Commission, and GTC's other organizational customers, use SPOT Gen3 to improve the safety of staff working in remote areas where alternative communications are unreliable or unavailable. NATO procured its SPOT Trace devices from GTC to study ocean current movement, using buoys, for operational purposes.
By using satellite communications, enabled by Globalstar's second-generation LEO satellite fleet, SPOT enables users to stay connected with emergency services, colleagues, friends and family, anywhere, even when beyond the reach of mobile phone networks and radio communications.
Both SPOT Gen3 and SPOT X, the most recent addition to the SPOT family, feature a one-touch SOS button that instantly sends the user's GPS location to the GEOS International Emergency Response Coordination Centre (IERCC) over Globalstar's satellite network. The IERCC then transmits details to local first responders to dispatch help to the user's location. The devices' tracking feature can help first responders, friends and colleagues to locate users even if they are unable to press the SOS button during an emergency.
Organizations that deploy SPOT for staff safety have the option of configuring their devices to directly send an SOS alert to in-house security and operation centers, instantly transmitting GPS co-ordinates for prompt internal emergency handling.
SPOT X, launched in EMENA in January 2019, offers full two-way SMS and email as well as GPS tracking and a one-touch SOS button. It is the only satellite messenger on the market to give users a permanent phone number, easy check-in function and a full, backlit QWERTY keypad for intuitive typing. SPOT X also offers the industry's longest battery life in both tracking and SOS modes and is competitively priced.
Since its 2007 launch, Globalstar's family of SPOT GPS satellite messengers have helped to assist in over 6,800 rescues worldwide, in many of which lives were saved.
www.globalstar.com
globaltelesat.com
---
Maxar launches into a strategic agreement with the Australian Space Agency
Maxar Technologies (NYSE:MAXR) (TSX:MAXR) has signed a joint statement of strategic intent and cooperation with the Australian Space Agency.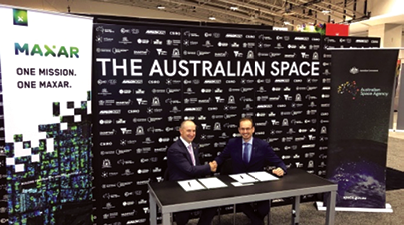 Maxar CEO Dan Jablonsky (left) signed a cooperative agreement
on October 22 with Anthony Murfett, Deputy Head of the
Australian Space Agency—photo is courtesy of Business Wire.
Under the statement, Maxar and Australian Space Agency will investigate collaboration in areas of mutual strategic interest related to Earth intelligence and space infrastructure capabilities, and space-related Australian education and training initiatives.
These projects may include development of next-generation space robotics, ground stations focused on optimized servicing of large satellite constellations, optical and communications satellites, space-based maritime surveillance and artificial intelligence and machine learning technologies that extract insights from Earth observation data at scale.
Dan Jablonsky, Maxar CEO, said the company is honored to support the Australian Space Agency as it seeks to expand the nation's role in the international civil space community and the firm looks forward to contributing technology and expertise from Maxar's 65 year heritage in space to projects and programs that enable them to achieve this goal.
Anthony Murfett, Deputy Head of the Australian Space Agency, said the organization aims to triple the size of the Australian space industry to $12 billion and create 20,000 new jobs by 2030. Signings with companies such as Maxar will continue to develop the local space economy, and benefit Australians through space technologies.
He added that cooperation across government, private industry and research both nationally and internationally will provide linkages for Australia to access a greater segment of the global space economy.
www.maxar.com
www.industry.gov.au
---
NSSLGlobal's VSAT Service to Support Sea-Eye e.V. NGO
NSSLGlobal has announced the provision of its high-speed VSAT service to Sea-Eye e.V., a German registered, non-profit organization working hard to rescue refugees from hazardous conditions at sea.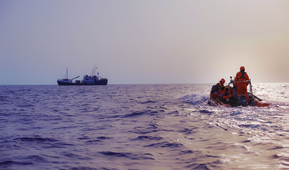 Alongside its VSAT connectivity, NSSLGlobal is also providing tracking hardware, safety systems and training fundamental to the search and rescue (SAR) missions that the non-governmental organization (NGO) is conducting across the Mediterranean Sea.
Founded in 2015, the NGO, Sea-Eye e.V., operates vessels sailing from Spain to the Mediterranean to undertake search and rescue operations to save the lives of refugees in distress during their perilous journeys to Europe.
NSSLGlobal has helped to equip Sea-Eye's third vessel, the Alan Kurdi, – a 38.6 meter converted research vessel – into one of the best-connected SAR NGO vessels in-region.
The contract includes VSAT IP@EURO 20, Accounting Authority (AAIC) and Long Range Identification and Tracking (LRIT) services, and the Global Maritime Distress and Safety System(GMDSS) A3 upgrade, allowing the vessels to use NSSLGlobal's end-to-end VSAT service communication systems.
In addition, it makes it possible for Sea-Eye e.V. to broadcast live video to illustrate the urgency of rescue missions at sea to the European public and the media.
Media presence is essential for the work of NGOs, especially in scenarios where it is perceived that politicians are doing their best to prevent unfiltered information.
Gorden Isler, Vorsotzender, Sea-Eye e.V., commented that Sea-Eye e.V. has selected NSSLGlobal's VSAT service because of its high-speed connection, based on a strong recommendation.
He added that the NSSLGlobal team has always supported the company's mission and the company relies on the support and advice of NSSLGlobal, and they have gone beyond that to ensure that the firm's ships are seaworthy.
Henrik Christensen, CEO Continental Europe, NSSLGlobal, reported that it's a huge motivator to see the company's technologies being used for such a worthy cause and making a difference at a humanitarian level. The team at Sea-Eye e.V. are doing an amazing job and have saved almost 15,000 people from drowning over the years. NSSLGlobal has been impressed by the heart and conviction shown by them the company is hoping the firm's expertise and support will continue to help the team make the difference to those who need
it most.
www.nsslglobal.com
sea-eye.org
---
SOAR's real-time imagery now available to all
Satellite imagery company Soar has announced the company is now allowing public access to the firm's satellites which provide near-real time imagery all across Earth at 10 meter resolution per pixel.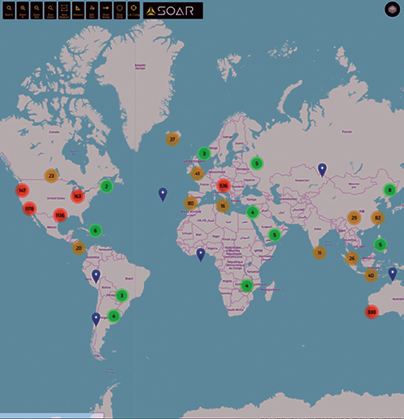 Both the public and the media will now be able to see high definition aerial views of anywhere on Earth to observe events as they happen.
This includes, but is not limited to, environmental disasters,such as wildfires, tsunamis, hurricanes and drought. Governments will also be able to monitor activities such as the protests in Hong Kong, illegal mining or deforestation.
Developed by geospatial experts, the map sources satellite images from the European Space Agency's Sentinel and NASA's Landsat feeds and the SuperView and Gaofen satellites.
As well as satellite content, the super-map will integrate imagery sourced from drone owners (drone pilots) around the world, who can earn passive income as the value of their imagery becomes realized. Thus, becoming a one-stop-shop for the collection, distribution, and monetization of mapping imagery from different sensors.
With almost 10 petabytes of data already acquired, Soar is planning additional imagery as part of their growth strategy.
Soar has already received several partnership requests from multinational organizations with excess satellite, aerial and drone content from across the globe.
In the near future, the platform will also feature additional data streams from higher resolution satellites, aerial imagery providers, as well as both commercial and recreational drone operators globally.
The use of Soar is ideal for a wide range of industries and applications including agriculture, environmental, logistics, mining and insurance.
However, since its beta launch in late 2018, the largest area of growth has been news and social media as users share imagery of landscape events from around the world.
Soar founder and CEO Amir Farhand said the problem Soar is solving is that almost 80 percent of all mapping imagery is currently accessed through just one channel, which is, for the most part, reserved mostly for niche commercial use. In many cases, the general public only has access to resources which are not updated as frequently.
He added that Soar addresses these limitations by generating dynamic, ever-changing data on our platform. Imagery taken by a drone user can be uploaded to social media, and may attract a few likes, or will sit idle on a hard drive. The same image uploaded to Soar contributes content to the seeding of the super-map, providing value to a global community, as well as generating income for the drone pilot.
Soar's Head of Growth, Tim Glover, noted that how beneficial it would be if imagery could be re-used in such a way that was totally authentic, collaborative and most importantly, accessible to all. Soar allows anyone to view the Earth from above, meaning it's easy to observe things like environmental changes, including drought, melting ice caps, industrial growth, natural disasters like volcano eruptions, just to name a few uses. The aim of Soar is to enable anyone to explore and discover our ever-changing world.
soar.earth/
---
Nanoracks and Maritime Launch Services to re-pupose rockets for launches from Nova Scotia
Nanoracks has signed an agreement with Canada's Maritime Launch Services to work on re-purposing and re-using spent C4M upper rocket vehicle stages, which would be on-orbit after launch missions from Nova Scotia's Canso Spaceport, Canada's first and only commercial spaceport.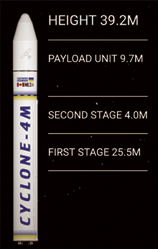 In 2018, Nanoracks was one of the awardees of a study contract by NASA to develop the future of commercial spaceflight in LEO.
Through that award, Nanoracks has been investigating the commercial case for repurposing in-space hardware, and this agreement with Maritime Launch further establishes the company's commitment to innovating a more affordable and less-risky pathway to establishing in-space habitats ('Outposts') for future crewed missions, instead of fabricating modules on the ground, and subsequently launching them to orbit.
Steve Matier, Maritime Launch CEO, said the proven heritage of the C4M launch family, with over 220 launches to date, will provide Nanoracks with plenty of opportunities to choose the appropriate missions on which to test and develop the proposed upper stage conversions into resilient automated habitats, and one day human habitats.
He added that Canada has a reputation for providing in-space robotics for the International Space Station, such as the CANADARM and the Dextre programs. With Nanoracks, the organization hope to see this country's legacy expanding further into economically viable space habitats, and to organize the related launch missions to bring equipment and supplies to these new working structures.
Nanoracks CEO Jeffrey Manber added that it's Nanoracks vision to re-purpose upper stages of launch vehicles and convert them into Outposts. The company envisions populating the solar system with cost-efficient platforms, that can serve as hotels, research parks, fuel depots, storage centers and more/ Nanoracks is proving time and time again that there are new ways to look at how to explore deep space and that time is needed to think creatively and work cost-efficiently. He noted that this agreement with Maritime Launch will provide the firm with the in-orbit test bench second stage articles to do exactly that, and to grow the space industry even further.
nanoracks.com
www.maritimelaunch.com
---