Machine to machine (M2M) communications and the Internet of Things (IoT), are more than just the latest technological buzzwords.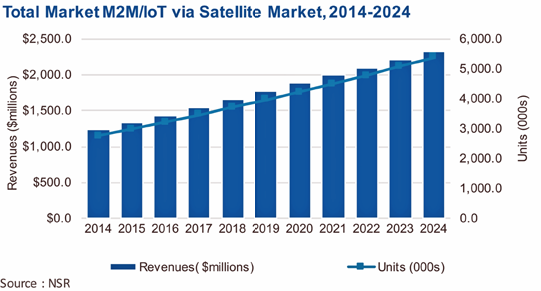 With companies, customers, end-users and governments all expecting the technology to significantly change the way we live our lives, we can expect the world to become much more quantified—supply chains, logistics, cities and even health.
Cisco expects more than 50 billion connected devices by 2020, but others feel this number is too conservative, with some expecting in excess of 75 billion connections. While the majority of these devices will be connected over cellular, or in some cases wired connections, a comparatively small percentage of these connections do occur over satellite. These satellite based connections will generate a disproportionately large amount of revenues from mostly high value connections, where high SLAs are critical.
According to data from NSR's recently released report M2M and IoT via Satellite, 6th Edition, annual revenues from satellite based M2M/IoT are expected to increase from $1.2 billion in 2014 to more than $2.3 billion by 2024, corresponding to an annual growth rate of 6.5 percent. This represents a 6.9 percent annual growth rate for in-service M2M/IoT units, increasing from 2.7 million to over 5.3 million over the same 10-year period.
For the first time, now included in the 6th Edition of M2M and IoT via Satellite, the much requested data breakout of Land Transport, Maritime and Aeronautical units and revenues are now included. Here we will discuss these three key markets, and the growth opportunities which present themselves worldwide.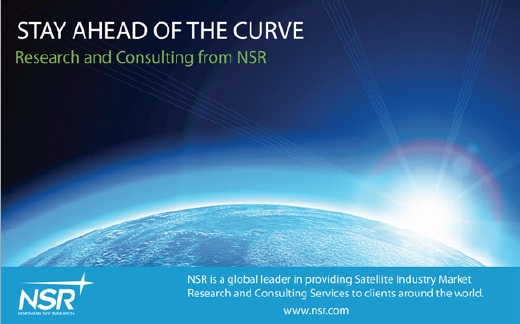 Land Transport: Driving The Future
The Land Transport market is by far the largest segment, raking in more than 32 percent of global revenues at end of year 2014, between rail, cargo, trucking and other vehicular transport. This is, in part, due to the high value of cargo that is now shipped around the world, a figure which is increasing every year as populations, the economy, and Internet shopping continue to grow rapidly.
However the Land Transport market does have its challenges. Out of all applications which NSR tracks for M2M/IoT, Land Transport suffers the most when examining terrestrial competition. This is by its very nature as vehicles and trains spend the majority of their time within a terrestrial footprint, and often times within urban areas, especially in the USA and European markets.
While in the short-term, ARPU is increasing as the kinds of data transferred continues to expand, this is expected to peak in 2021 at $288 per unit, as price competition from cellular providers becomes increasingly significant. This is especially the case as cellular pricing moves from value-based pricing toward cost-based pricing, that is, moving in the direction of consumer cellular data per bit pricing.
Nevertheless, Land Transport is one of the ripest markets for the utilization of dual-band technologies, in which a single terminal can connect to both terrestrial and satellite connections. While the upfront cost can be greater, running costs can be significantly lower running this kind of system, with trucks for example only needed to transmit data over the more expensive satellite connections in rural areas with no coverage.
However, in less developed regions, most notably in Latin America and Southeast Asia, this is less common. Cellular networks cannot necessarily be relied upon and often cannot meet the strict SLAs that logistics and other companies require for the transportation of their high value goods.
Aeronautical: A Market Taking Off
The Aeronautical sector, likewise, has very high SLA requirements, but clearly cellular options are out of the question. Consequently, aeronautical ARPUs are significantly higher, ranging between $680 and $720 over the next decade—the highest of all transportation related applications.
However, in-service units are comparatively few, with 28,000 units in 2014 increasing to 48,000 by 2024. This is driven by safety requirements, aircraft to aircraft messaging, and meter usage, among others.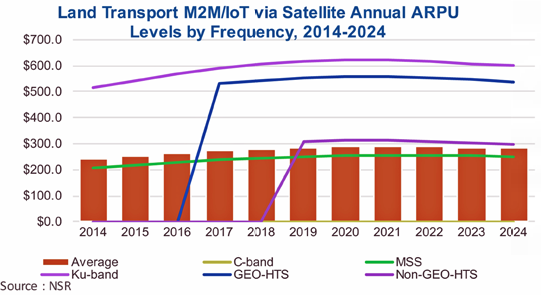 Due to legacy installations, L-band has the highest share of in-service units in terms of frequency, and this is not something that is expected to change any time soon. While MSS services generally dominate the entirety of the satellite M2M/IoT market, generally there's a minority for Ku-band VSATs for backhaul type networks and high bandwidth usage customers.
However for the Aeronautical application, L-band's proven track record will mean that, at least for safety and other M2M type applications on-board aircraft, terminals will remain L-band.
Following a number of high profile aircraft incidents, a trend has accelerated to equip flights, most notably major long-haul commercial flights, with some form of voice and data communications outside of HF and VHF coverage. It is also looking increasingly likely that increased regulations will be implemented to track aircraft when outside of typical radar coverage.
For example, in December 2015, the European Union enacted regulations to do just that. Although intervals to send location data were not included in the regulations, more frequent updates will be required in the event of an emergency. Expect other jurisdictions to follow suit and adopt these more stringent regulations to help prevent future serious aviation incidents.
While this will bolster demand for the aero M2M market, it is expected to remain predominantly a wide-body and narrow-body dominated market, with business jets and other smaller aircraft unlikely to install M2M/IoT terminals in large numbers, especially as these systems are not yet considered a 'must have' in many parts of the world, with a negative cost perception relative to the perceived safety benefits.
Maritime: High Growth On The High Seas
Maritime applications have the strongest growth opportunities of all the transportation based applications, albeit coming off a lower base, with revenues increasing from $85 million at end of year 2014 to more than $200 million in 2024, representing an annual growth rate of 9.2 percent.
Bulk cargo ships, tankers, and private yachts and other recreational vessels are all represented here, but it is the bulk cargo which has more than 55 percent of the market over the next decade, due to high value of contents which M2M is helping to track.
Europe remains the largest market for cargo merchant shipping, with the ease of trade between European Union states bolstering demand for shipping products. In other regions such as Asia, growth will be driven by population increases, as well as strong economic growth and purchasing power, driven by China.
Trade blocks such as ASEAN are at a much earlier stage of development compared to the EU, and as such higher growth is expected, and likewise from other global trade pacts such as the Trans Pacific Partnership (TPP) increasing trade between Japan and Southeast Asia, for example.
A number of maritime tracking programs are in place, such as Long Range Identification and Tracking (LRIT) to track movements of all passenger ships, cargo ships, and mobile offshore drilling vessels. Satellite Automatic Identification System (S-AIS), and the Ship Security Alert System (SSAS) to alert law enforcement in the event of terrorism or piracy on a vessel.
However there are limited opportunities here for non-MSS terminals, with only ~12 percent using Ku-band, and just under 1 percent of HTS (both GEO and non-GEO) terminals by 2024.
While the polar market has remained a tiny fraction of the overall maritime M2M market, this is a market worthy of consideration. Longer-term this has the potential to grow with the eventual opening up of the northwest passage, however satellite operators will need to invest in capacity over this region in order to see real sustained take up of M2M and other types of demand from new shipping capabilities.
Expectations
There are expected to be over 50 billion Internet connected devices expected by 2020, and unquestionably huge opportunities worldwide for M2M and IoT. While the majority of connections will be on cellular connections, or even lower bandwidth networks such as SigFox or LoRa, satellite will always play a key role to play for Land, Maritime and Aeronautical transport applications, especially those where high SLAs are demanded.
Especially in developed regions, but soon globally, the expectation and competitive pressure to be able track all goods at all times through the logistics and supply chain process will intensify, driving significant numbers of new transportation based customers to satellite based M2M/IoT.
With data polling increasing in both packet size and frequency, combined with the fact that more types of data are being collected than ever before for analytics and big data purposes, revenues and investment opportunities are set to expand.
New entrants, new customers and opportunities, and new revenue streams will be available to satellite operators, service providers, systems integrators and retailers alike.
nsr.com/research-reports/satellite-communications/m2m-and-iot-via-satellite-6th-edition/

Mr. Crisp joined NSR in 2014, following a Hong Kong based engineering role at Aurecon. Mr. Crisp is the co-author of NSR's annual M2M and IoT via Satellite report and also Linear TV and other video broadcasting reports
As a member of NSR's Fixed Satellite Services (FSS) group, Mr Crisp's areas are comprised of M2M and IoT communications, including the satellite and terrestrial M2M landscape. Previous consulting experience includes forecast analysis and risk management of natural disasters in Manila, where he made recommendations to policymakers about backup and emergency telecommunication links for use in city and nationwide emergencies.
Alan obtained a Bachelor's Degree with First Class Honours in Engineering (Civil & Structural) from the University of Adelaide, Australia.
---