When engineering students Steve Massey and Maria Barna were recruited to work on a project in the Saint Louis University's (SLU) Parks College of Engineering, Aviation and Technology a year and a half ago, they said they never expected to be making Saint Louis University history.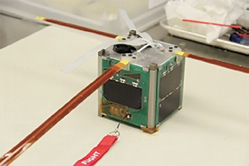 Massey and Barna, now seniors, along with several other students, have now experienced the launch of their satellite into outer space as part of NASA's CubeSat initiative. Their satellite, COPPER, which stands for "Close Orbit Propellant Plume and Elemental Recognition," is SLU's first satellite in space.
The COPPER proposal was one of 20 satellite programs in the nation that NASA selected as part of CubeSat, among other universities and organizations, including the Air Force Research Lab and the U.S. Military Academy. NASA selected SLU as the COPPER mission has scientific value and NASA experts said they believe that completion of the satellite is possible.
Michael Swartwout, a professor of aerospace and mechanical engineering, assisted the students with the COPPER proposal, serving as the project's principle investigator who ensures that SLU delivers NASA a functioning satellite.
For past 15 months, Steve Massey has been working on the COPPER Payload under Dr. Kyle Mitchell (ECE) and Dr. Michael Swartwout (AE/ME) as an independent study. The team members include Steve Massey, Nidaa bogiss, Gauri Nijsure, Dylan Jones, Tyler Olson and Richard Henry.
COPPER has three main goals. First, it will show the ability of SLU students to design and build a satellite. Barna, who is managing the project, said that although she has reached many technical issues throughout the project, the lessons she learned in the lab are beyond what she could have learned in a course. Even though Dr. Swartwout is an excellent resource for assistance, both Barna and Massey said they have had to solve problems with their own ingenuity.
Massey said that COPPER plans to test a low-cost and low-power infrared camera when it is launched into space. "We think we can use this smaller infrared camera to take pictures of the earth," Barna said. "The CubeSat is simpler due to its small size and reduced complexity."
The project's second overall objective is to launch the CubeSat from a spacecraft. Swartwout explained the process of the launch. A P-Pod, a device bolted to the rocket, will open its doors and send the CubeSat into outer space once the rocket reaches orbit.
Swartout said the launch of COPPER could be beneficial for Earth Observation. "We think it could be useful for science purposes, but especially for engineering purposes to observe the thermal properties of spacecraft to look for damage, heat problems and to figure out what the spacecraft is doing at all times," Swartwout said.
In addition to taking photographs, Barna said COPPER may be able to take video footage so that, after the CubeSat is launched, it will turn around and take videos and pictures of the launch vehicle itself.
The third and final goal of this mission is to test a radiation effects modeling experiment in flight. This test was developed by Vanderbilt University, which is partnering on its second satellite, Argus, with SLU. The proposal for Argus was submitted this week, and results on whether or not Argus will fly on a NASA rocket will be revealed in February of 2012.
Swartout said that the program is always interested in recruiting participants, especially for the upcoming Argus satellite. "This program is such good training for us young engineers," Massey said.
COPPER has an orbit lifetime expectancy of five years and is designed to operate in orbit for six months. The CubeSat will capture approximately 2,000 images during its first eight minutes after ejection. The best theoretical resolution expected of objects on the Earth's surface is around 600 meters.
Saint Louis University infosite: http://www.slu.edu
Editor's note: The preceeding COPPER information was authored by Anne Marie Beckerle of The University News, Saint Lous University.