Mr.Wade was appointed as the President and Chief Executive Officer of the Company on August 1, 2010. Prior to assuming his role as Chief Executive Officer, Mr. Wade had served as AsiaSat's Deputy Chief Executive Officer for 16 years.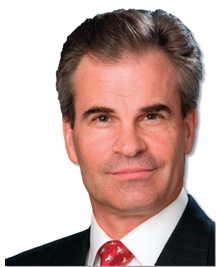 Mr. Wade has more than 26 years of experience in the satellite and cable television industry. Prior to joining AsiaSat in April 1994, he was with Hutchison Whampoa, as Director of Business Development for Pan Asian Systems, and was in charge of all sales and regional operations. Mr. Wade had also served as the Executive Director for Echosphere International (Echostar), where he established Echosphere's permanent Asian operations in Singapore while managing the company's activities in Asia and the Middle East.
Mr. Wade speaks Mandarin and holds a Bachelor of Arts (Honours) degree in Communications from the University of Utah and a Master of International Management degree from Thunderbird (the Global School of International Management).
SatMagazine (SM)
Mr. Wade, would you please tell our readers what initiated your interest in the satellite communications industry? With previous involvement with companies such as Hutchison Whampoa and Echosphere, what drew you to AsiaSat to further your executive career?
William Wade
I started my career in the satellite and cable television industry in Asia when I was sent to Singapore by Echosphere (Echostar) and later moved to Hong Kong with Hutchison Whampoa. Due to these previous experiences, I was seconded to be
AsiaSat
's Deputy CEO in 1994 by Hutchison Whampoa, which at that time was one of AsiaSat's three major shareholders. That's how I got my start in this exciting space industry, and how I ended up living and working in Asia for more than two decades.
SM
With 25 years of successful operations in Asia, how do you view AsiaSat's development and that of the Asian satellite industry over the past decades?
William Wade
I am very proud of AsiaSat's development over the past two and a half decades. The evolution of AsiaSat has driven many of the important milestones for the development of the Asian satellite and pay television industries. As Asia's first private regional satellite operator we helped pioneer satellite television in Asia in 1990 with the launch of
AsiaSat 1
, Asia's first private regional satellite.
We continued to evolve from a private single satellite company to a publicly listed company, which now operates a fleet of four in-orbit satellites, with two new satellites under construction targeted for launch in 2014 and another satellite planned for launch in 2016.
Along with our company development, we have witnessed the exciting development of the Asian satellite industry over the years, from technological advances including the conversion from analogue to digital transmissions, developments in VSAT, the advent of HDTV, 3D and 4K delivery, the diversity of content development, and the availability of new distribution platforms such as IPTV, OTT, digital cable and DTT.
SM
What market sectors do you see as holding the most growth potential within the APAC region?
William Wade
We see continued strong demand for DTH, notably in India and Indonesia. The HDTV conversion in the Asia-Pacific region is still a major growth area. Increased sports and event activities requiring capacity for intercontinental and cross region video transmissions, the digitization trends in major cable markets in India, Taiwan, and the implementation of DTT among ASEAN countries are also driving industry growth. We also see opportunities from other service sectors such as mobile backhaul, VSAT and broadband, which are on the top agenda of many Asian governments for improving their domestic communications infrastructure.
SM
Where do you believe the opportunities exist for the company's growth in the future?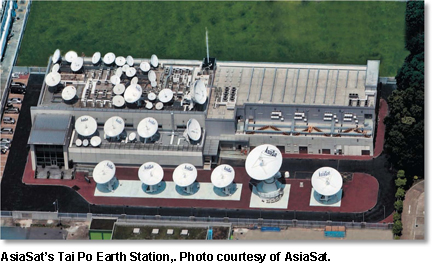 William Wade
We look for opportunities for growth in all potential growth areas, whether DTH, DTT and digital cable, particularly in places where the supply of national networks is insufficient to meet local development. For example in India, DTH operators need capacity to expand their service offerings to compete with each other and with cable TV digitization. We also envisage opportunities from other markets issuing more DTH licences, and the doors of countries such as Cambodia, Laos, Bangladesh and Pakistan eventually opening to more satellite services. We also expect to see future growth from applications emerging from new technologies. Cooperation with and/or acquisitions of other satellite operators will also offer opportunities for future growth.
SM
Does AsiaSat have any additional new projects in the development pipeline in addition to the upcoming AsiaSat 6 and AsiaSat 8 satellites?
William Wade
We have issued an RFP for the construction of AsiaSat 9, a replacement satellite for
AsiaSat 4
at
122 degrees East
, to be launched in 2016. In addition to expanding our capacity in C- and Ku-band,
AsiaSat 9
will host
GeoMetWatch
's first
hyperspectral STORM
™ sensor, which will collect and return to Earth sophisticated and critical weather data not currently available with the present global weather satellite network. We are excited by this ground breaking project as this new partnership with GeoMetWatch will expand our satellite services into a new arena and will provide additional revenue sources for the Company.
SM
How will expanded ground facilities help reinforce and complement your firm's core transponder capacity leasing?
William Wade
Through our expanded infrastructure and facilities at our
Tai Po
Earth Station in Hong Kong, we are offering a diverse range of value added services to our customers. This will complement our existing transponder capacity leasing business and enable us to offer more comprehensive service solutions to customers, from signal turnaround and uplink, MCPC platforms to broadcast and teleport services.
SM
In your opinion, how important are hosted payloads to the future of SATCOM?
William Wade
I expect hosted payloads to be a growing part of the future satellite business; however, the use of hosted payloads in Asia is not developing in the same way as many countries in the West where governments and organizations are developing projects for environmental, meteorology and military applications specifically with a hosting strategy in mind.
In Asia, the focus still seems to be on developing the core technological capabilities, for building satellites, launch vehicles and space missions rather than a hosted payload. The limited hosted payloads in Asia, so far, have been mainly for military applications. These payloads have been deployed on domestic satellites that are controlled by government operators. However, in the future we expect to see more hosting opportunities, from scientific, imaging, weather and navigational payloads with specific hosting applications similar to our recent partnership with
GMW
.
SM
Another area of concern for the industry is that of satellite interference. How do you approach the need for such technologies with your firm's products?
William Wade
The best way to deal with satellite interference is to make sure the satellites are well coordinated before they are put into service. This guarantees customers with quality transmissions. In terms of interference from terrestrial networks due to the deployment of wireless broadband services utilizing frequencies initially dedicated for satellite services, we are continuing to work closely with industry associations and our government regulator to lobby authorities to protect our satellite networks.
SM
What differentiates AsiaSat from other firms in your core markets?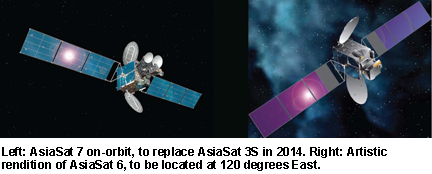 William Wade
In the satellite industry, keeping up with the ever-changing business environment can be extremely challenging. To stay on top of the competition, we have continued to build our core business by exploring ways to innovate and expand into new growth markets, seize new opportunities and develop new applications, while remaining conscious of the inherent risks associated with our industry.
We have invested to expand our satellite fleet and ground infrastructure to enhance our core business services and support the growing needs of our customers. Carefully looking after critical issues such as satellite coordination and interference is also a way to differentiate us from others and provide added value to our services.
We look ahead to meeting the future needs of our customers and as mentioned are building two new satellites, that will offer additional capacity in growth markets and allow us to offer a more diverse range of services. These initiatives are important to maintain our market leadership in the Asia-Pacific region, and to move the Company forward.
SM
With 4K technologies driving great interest within the broadcasting arena, will this technology be supported by AsiaSat for content delivery via satellite within the APAC region?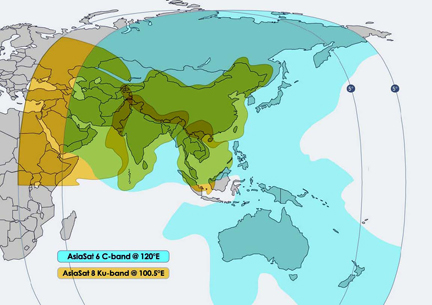 William Wade
With Asia still striving to increase HDTV and to implement digitization, 4K will be a small but growing niche for the moment. The technological development is moving faster than content development, so I expect the adoption of 4K in Asia will be slow, similar to the growth of HDTV.
With 4K presenting four times the pixels of the regular HD format, a substantial amount of bandwidth is needed to support the delivery of a 4K channel. Our existing high-power satellites, and our upcoming
AsiaSat 6
and
AsiaSat 8
, will be able to support such content delivery requirements if 4K develops a viable and cost efficient business model in Asia.
SM
Do you see satellite continuing as a major player within the APAC broadcasting segment, or as an ancillary actor to fiber and wireless?
William Wade
Satellite will continue to be the most cost effective in terms of distributing content to multiple locations as well as serving remote areas where infrastructure is limited or undeveloped. In certain applications, satellite does not compete well with fiber and wireless, so some of these applications will see a continuing reduction in the use of satellite but, generally, I would say in most services, we are complementary.
SM
Some prognostication, please—what do you see as occurring within the satellite industry over the next few months into 2014 that will excite new customers and drive new partnerships?
William Wade
I would say the growing trend of cooperation amongst Asian satellite operators with condosat, dual operations and joint procurement arrangements will be in the spotlight over the next few months. This could potentially lead to mergers and consolidation over time. Additionally, we are hoping to see governments relaxing regulations to allow the entry of foreign operators to support domestic growth and demand for capacity from local broadcasters and telecom service providers.
SM
Given your 26 years of experience within this industry, what project or projects over the span of your career truly bring a sense of personal accomplishment to you?
William Wade
Since joining AsiaSat in 1994, I have had the privilege of contributing to the growth and development of the company. The past few years have been exciting and rewarding as I have witnessed AsiaSat grow from strength to strength. Through the expansion of our satellite fleet and new investments in satellite-related ventures, we have achieved record results for the past four consecutive years while embarking on new and diverse business opportunities. To continue to build on our reputation as Asia's leading satellite operator, we have refocused our efforts on our core transponder leasing business and in developing new growth businesses.