2010 has been a bellwether year for Iridium. The Company has experienced steady and robust growth in all metrics, with third quarter financial results, released November 9th, revealing total revenue grew 12 percent over Q3 of 2009, while Operational EBITDA was up 22 percent over the same period last year — the number of total billable subscribers has grown to 413,000, which is up from 339,000 for Q3 of 2009 and up from 383,000 for the previous quarter of this year. Our total billable subscribers grew 22 percent year-over-year.
Buoyed by another successful year, the next big step is the full development and deployment of Iridium NEXT, our next-generation satellite constellation. Here are a few highlights of this year's impressive performance, which more fully tell the story about how Iridium NEXT will come to full realization.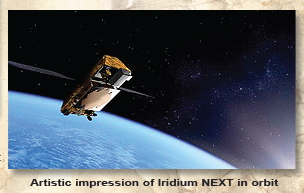 In June, Iridium capped a long procurement process by selecting the prime contractor for development of Iridium NEXT, awarding a $2.2 billion contract to Thales Alenia Space France, one of the top satellite manufacturers in the world. The contract with Thales Alenia Space France calls for the design and construction of 81 satellites — 66 operational satellites, six in-orbit spares, and an additional nine ground spares. Iridium has also signed the largest single commercial launch deal ever with Space Exploration Technologies Corp. (SpaceX) to be the primary launch services provider for Iridium NEXT.
Work has already started under the contracts, and the first launch of Iridium NEXT satellites is scheduled for early 2015. In October, the financing facility for Iridium NEXT successfully closed. A syndicate of nine international banks will provide up to $1.8 billion of financing to Iridium for the design and manufacture of Iridium NEXT satellites. Ninety-five percent of the borrowings under the financing facility are insured by the French export credit agency Compagnie Française d'Assurance pour le Commerce Extérieur, or Coface.
In addition, Iridium entered into two comprehensive, long-term agreements with The Boeing Company for maintenance, operations, and support of Iridium's satellite network. Under the first agreement, Boeing will continue operating Iridium's current satellite constellation and will provide support for Iridium's satellite control system. The second agreement is a new support services contract under which Boeing will become the exclusive operations and maintenance provider for Iridium NEXT. The combination of these agreements allows Iridium to benefit from having a single operator during the transition from the current constellation to Iridium NEXT.
Network investments continue to ensure the provision of a highly reliable service to the customer base during the transition to Iridium NEXT. Important upgrades are being completed to our gateways, operation centers and tracking and telemetry stations, transitioning infrastructure into a state-of-the-art teleport architecture. Iridium recently won three U.S. Department of Defense (DoD) Defense Information Systems Agency (DISA) contracts to upgrade the Enhanced Mobile Satellite Service (EMSS) Gateway in Hawaii. The DoD's Iridium EMSS Gateway serves as a dedicated portal for the uplink and downlink of voice and data traffic through Iridium satellites for the DoD and other U.S. government users throughout the world. With the upgrades, enhancements that support our mutual migration toward Iridium NEXT are being built.
In conjunction with the Johns Hopkins University Applied Physics Laboratory (APL) and The Boeing Company, Iridium successfully implemented a new space-based system to monitor Earth's space environment in real-time for the first time ever. Known as the Active Magnetosphere and Planetary Electrodynamics Response Experiment (AMPERE), the system provides real-time magnetic field measurements using commercial satellites as part of a new observation network to forecast weather in space.
Throughout 2010, Iridium continued to increase its international expansion by strengthening its partnerships with companies and customers around the world. This year, Iridium announced the establishment of Iridium South Africa, under which Iridium has licenses to operate, provide and sell mobile satellite services (MSS) in the country. This authorization enables Iridium partners to better address the growing government and commercial enterprise market demand with Iridium products, services and applications in South Africa. The Company continues to pursue licenses in other significant geographical markets which represent the opportunity for further expansion of the company's products and services. Strong business relationships have been built in Latin America, where the mobile data market for asset tracking and management is in high demand. In Brazil, for instance, distribution partners have signed major enterprise customers such as Enalta and JBS Friboi.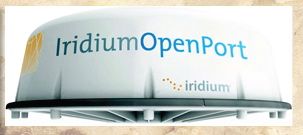 The maritime sector, including commercial shipping, fishing and private yachts, is definitely one of Iridium's core markets. The Iridium OpenPort® broadband satellite system continues to provide unequaled value proposition of multiple phone circuits and data links up to 128 Kbps. More than 2,500 terminals have been delivered and activated on a wide range of vessels. Demand for lower-cost solutions for crew welfare services, enabling crew members to call and e-mail their families and friends when at sea, is a primary growth driver for Iridium in this arena.
In the aviation sector, Iridium is working with LiveTV, a leading provider of live in-flight entertainment and connectivity technology, to develop an Iridium OpenPort®- Aero platform for commercial and business aircraft. Like the maritime version of Iridium OpenPort, the new broadband aero system will provide multiple voice channels and data rates up to 128 Kbps with always-on IP connectivity. In addition to in-flight passenger e-mail, the Iridium-based broadband system will provide real-time voice and data connections for flight operations and cockpit communications. Supplemental Type Certificate (STC) trials for Iridium OpenPort - Aero are scheduled to begin in Q1 2011, with commercial rollout expected in Q2 2011, pursuant to regulatory approval. Iridium is also in the final stages of obtaining FAA certification for air safety communications on commercial transoceanic flights.
In the government sector, Iridium has also experienced rapid growth of the Distributed Tactical Communications System (DTCS). Also known as "Netted Iridium," DTCS leverages Iridium's constellation of cross-linked, low-Earth orbit (LEO) satellites to enable over-the-horizon, beyond-line-of-sight, push-to-talk radio nets for military personnel on the move in mountainous terrain. They operate similar to military tactical radio, but without the restrictions of terminal distance. There are nearly 5,500 DTCS units currently principally deployed in the Middle East.
In April, a Government Advisory Board comprised of former senior U.S. government officials and business leaders was initiated to provide counsel to Iridium, as the company continues to enhance its suite of products and services for federal and state civilian, defense, intelligence and law enforcement customers.
Iridium satellite phones have become widely accepted as a "utility," providing worldwide voice and data links for a broad range of users who live, work and deploy in regions where landlines and terrestrial wireless communications are unavailable, unreliable or overburdened. Since its initial launch in 2008, the Iridium 9555 satellite phone has established a new benchmark in the industry for reliability and performance. New features and enhancements continue to roll out for the Iridium 9555, making it easier for subscribers to connect to a laptop with a standard mini-USB cable and to interface directly with computers running on most operating systems, for example.
Early this year, the Iridium 9602 SBD transceiver was unveiled, the first and only device offering global, low-latency, two-way data links. Designed to be embedded into partner-developed products and systems that enable remote machine-to-machine (M2M) asset tracking and monitoring, the smaller, lighter and lower-cost Iridium 9602 two-way device is making global satellite M2M obtainable for a much larger group of partners and applications. The Iridium 9602 has further enhanced our ability to serve the Company's faster growing market — the M2M sector — and has quickly become the premium service in the market. More than 90 of our value-added manufacturers and resellers have already been testing and integrating the Iridium 9602 into their products, including a new generation of personal satellite location and distress alerting devices.
Recognizing the need for standards in this emerging market, Iridium joined with other satellite providers, equipment manufacturers, government regulatory bodies and the international search-and-rescue community to create a coalition called the ProTECTS (Promotion of Two-Way Emergency Communication and Tracking Systems) Alliance. Formed in late 2009, the ProTECTS Alliance serves as a framework for its members to dialogue and work in a collaborative atmosphere to foster broad-based industry standards for two-way data communications products. Since its inception, the ProTECTS Alliance has more than doubled its membership to 38 companies in representation. Working with the U.S. National Search and Rescue Committee (NSARC), the ProTECTS Alliance spearheaded the development of standardized message formats for reports from portable data devices to first responders. Recently, the ProTECTS Alliance became a Special Committee of the Radio-Technical Commission for Maritime Services (RTCM).
Iridium products and services have proven to be critical communication links for relief-and-recovery operations during recent earthquakes and other natural disasters. In Haiti, more than 60 different organizations depended on Iridium handsets in their relief efforts. Also, during the Gulf of Mexico oil spill, several Iridium-based technological solutions, such as remote tracking devices, data-collecting Seagliders and drifting ocean buoys, were on the front lines of the clean-up efforts.
In 2011, Iridium will work with various partners in the aviation market to commercially roll out the Iridium OpenPort - Aero system for aircraft, and to achieve full certification internationally as a supplier of air safety communication services for commercial aircraft on long-haul flights. Leveraging the established success with Iridium 9602-based tracking and monitoring devices, rapid deployment of these products is expected and the focus will be to maintain growth in the M2M sector. This will include a number of large enterprise organizations as well as niche players.
Moving ahead with full-scale development of Iridium NEXT is a major priority for 2011, investing in infrastructure enhancements and debuting new products during the year. Next year's Year in Review column will, no doubt, contain many interesting developments to share with all. In the meantime, let me personally take this opportunity to wish all our friends in the satellite industry a Happy New Year, as we all look forward to the excitement 2011 will bring to Iridium.