Picture Perfect Partnership
Skybox Imaging (Skybox) has entered into a multi-year, strategic partnership with Japan Space Imaging (JSI), a subsidiary of Mitsubishi Corporation, to provide high-resolution imagery and full motion commercial video to the Japanese market.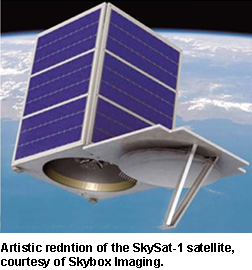 The agreement, subject to U.S. regulatory approval, will enable JSI to directly task, downlink and receive imagery from Skybox's constellation of microsatellites on a reliable and frequent basis.
Skybox will provide JSI a rapidly deployable ground station, called a SkyNode, comprised of a 2.4 meter communications antenna and two racks of supporting software and equipment.
Skybox is pioneering the use of Apache Hadoop, an open-source framework that allows for the distributed processing of large data sets, for geospatial applications.
Skybox has designed the SkyNode software suite to enable customers to efficiently schedule imagery collections, task satellites, downlink imagery and process image products on a user-friendly web platform.
Operations will start following the launch of Skybox's first two microsatellites, SkySat-1 and SkySat-2, currently scheduled for late 2013. By combining Skybox's product offerings with JSI's existing product offerings, JSI will be able to continue expanding the uses of satellite imagery in applications including land monitoring, environmental monitoring, and disaster response.

* * * * * * * * *

Anniversary's Pricing Promo
Korea Aerospace Research Institute (KARI) has announced the successful operation of KOMPSAT-3 for one year since its launch on May 18, 2012.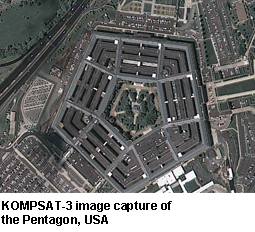 During the first year of operation, the performance of KOMPSAT-3 was validated and KARI's worldwide commercial service was launched through Satrec Initiative, starting on April 1, 2013. KOMPSAT-3 is the first sub-meter satellite from Korea and was developed by KARI as a successor to KOMPSAT-2 for VHR EO data continuity. KOMPSAT-3 can provide sub-meter images with various imaging modes that include single pass stereo.
The satellite will continue to provide sub-meter imagery to domestic and international users for use by public safety agencies, for resource management, environmental monitoring, location-based services, intelligence and disaster monitoring. The constellation that is comprised of KOMPSAT-3 and KOMPSAT-2 now has a data collection capacity that reaches 2M km2 per day, of which 300,000 km2 per day is from KOMPSAT-3.
After the launch of KOMPSAT-5, the KOMPSAT constellation will offer a combination of optical and radar sensors. KOMPSAT-3A, with enhanced performance, is planned for launch in 2014. KOMPSAT-6, with SAR payload, will enhance the capabilities of KOMPSAT constellation. Currently, the catalog of KOMPSAT-2 and KOMPSAT-3 imagery is available at
http://arirang.kari.re.kr
.
In honor of the one-year anniversary of the KOMPSAT-3 launch, Satrec Initiative (
http://www.satreci.com/eng/index.htm
) has released sample data and is offering promotional prices for KOMPSAT-3 imagery in order for users to experience the KOMPSAT-3 data sets. Promotional pricing is applicable to orders confirmed by Satrec Initiative until June 17th at 6:00 p.m. KST. During the promotional period, KOMPSAT-3 imagery will be offered at the same price with KOMPSAT-2 imagery. Orders placed through resellers are also eligible.
* * * * * * * * *

Bridge Building
Bridge Technologies has appointed Acetel Co. of Seoul, Korea, to supply and support Bridge Technologies digital media monitoring systems in South Korea.
Acetel is the systems integrator, having installed the first multi-service digital head-end system in Korea, and with a considerable presence in terrestrial, digital cable, DTH and telco integration.
"The Korean Broadcasting Market is already mature and Korean broadcasters focus on the quality of the video and audio they are delivering," said Acetel's Steven Park. "Bridge Technologies' market-leading range of digital media monitoring systems will help our customers maintain the quality of their services by quickly assessing where and when any problems occur."
Based in Oslo, Norway, Bridge Technologies designs and develops advanced analysis, measurement, and monitoring solutions for the digital media industries. Bridge Technologies systems offer true end-to-end monitoring and analysis capability from satellite to set top box and viewing device, giving the operator total control over delivery chain performance and the customer's quality of experience.
In addition to state-of-the-art solutions for terrestrial, cable and satellite infrastructure, Bridge Technologies offers OTT monitoring tools included in most of its probes, as well as the new microAnalytics System for monitoring OTT and 'TV everywhere' services to multiple devices including smartphones and tablets. The microAnalytics System allows operators to remotely access real-time data from set top boxes, connected TVs, iPads, iPhones and other mobile devices, making accurate and comprehensive end-to-end multiservice/OTT monitoring a reality for the first time.
"We welcome Acetel to our network of Business Partners," said Philip Burnham, Sales Director, Bridge Technologies. "Korea is a very dynamic market with rapid development in conventional and OTT services, so we are delighted that Acetel will be able to offer its customers the most advanced and comprehensive monitoring systems."
* * * * * * * * *

A Hub Of Activity
Hermes Datacommunications (M) Sdn. Bhd. ("Hermes") and MEASAT Satellite Systems Sdn. Bhd. ("MEASAT") now have an agreement for the provisioning of VSAT (Very Small Aperture Terminal) satellite communication services across Malaysia's offshore oil fields via the MEASAT-3 satellite.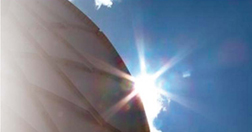 Under the agreement, Hermes will base their new communications hub at the world-class MEASAT Teleport and Broadcast Centre. The Hermes hub will provide telecommunications access to Malaysia's growing oil and gas industry via VSAT connectivity. The hub represents a significant investment by Hermes to support a drilling campaign being carried out in Malaysian waters.
"This is a very exciting new service," said Mohd Faizal Zainal Amri, General Manager, Hermes Malaysia. "Our new hub provides optimized bandwidth utilisation for efficient and reliable communications with high link quality to support voice calls, video and real-time data applications for Malaysian oil fields."
"MEASAT is pleased to support Hermes to provide reliable satellite communications connectivity to the Malaysian oil and gas industry," said Alex Tan, Director, Sales and Marketing, MEASAT. "Our collaboration with Hermes expands MEASAT's support to local companies and the Malaysian Information and Communication Technology industry. We look forward to continue supporting Hermes as their service grows."
* * * * * * * * *

Moving On Up
Pactel International has appointed Peter Dowers as a Voice & Data Business Development Manager, for Oceania.
Peter will be responsible for the management of some existing accounts spanning across 15 countries across Asia-Pacific as well as lead the initiative of developing new business relationships in this region.
Peter brings over 25 years of engineering and senior sales experience in the telecommunications industry, serving recently as the Voice Manager-Pacific Islands at Telecom New Zealand International.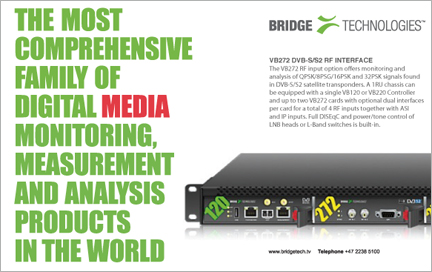 "I am confident Peter's past experience and expertise will add further value to our customers", said Andrew Taylor, CEO at Pactel International. "I feel this appointment is an indication of Pactel's commitment to providing superior customer service and expanding company voice capabilities to address the changing market environment", Mr. Taylor added.
* * * * * * * * *

Expanding The Message
RRsat Global Communications Network Ltd. (NASDAQ: RRST) now has a long term agreement to enable Word Network, the largest African-American religious network in the U.S., to reach millions of viewers in Australia, New Zealand and the Arab world.
The broadcast solution uses RRsat's Ku-band platforms on the Eutelsat 25C satellite and Optus D2 satellite.
Under the agreement, RRsat will enable Word Network to reach cable headends and DTH viewers in Australia and New Zealand, as well as DTH viewers throughout the Arab world.
The Eutelsat 25C satellite, located at the Badr position, reaches viewers throughout the Arab world, in the Middle East as well as North Africa (MENA). The RRsat platform on Optus D2 satellite provides coverage of Australia and New Zealand.
RRsat currently provides turnaround and uplink services for Word Network from its platforms on the Galaxy 19, Eutelsat Hot Bird 13A and Thaicom satellites.
* * * * * * * * *

Engineering Pick Hit Award
Vislink won the prestigious Broadcast Engineering Pick Hit award in April at the National Association of Broadcasters trade show.
The NewStream is a state-of-the-art vehicle system combining Satellite News Gathering (SNG), Electronic News Gathering (ENG), and Cellular News Gathering (CNG) in one compact rack mounted unit. This new multi-mode system is the most comprehensive mobile broadcast system available today.
The NewStream combines both licensed and unlicensed RF technologies together within a user-friendly platform. As the newest addition to Vislink's LiveGear brand, the NewStream provides multiple ways to transmit up to two simultaneous live videos; anytime, anywhere.
* * * * * * * * *

Ready To Sprint
The Japan Aerospace Exploration Agency will launch the Spectroscopic Planet Observatory for Recognition of Interaction of Atmosphere (SPRINT-A) by the first Epsilon Launch Vehicle (Epsilon-1) in the following schedule.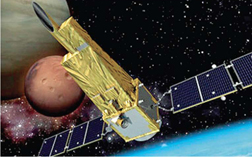 – Launch date: August 22 (Thursday), 2013 (Japan Standard Time)
– Launch time: between 1:30 p.m. through 2:30 p.m. (JST)*
– Launch window: Aug. 23 (Fri) through Sept. 30 (Mon.), 2013
– Launch site: Uchinoura Space Center
The Spectroscopic Planet Observatory for Recognition of Interaction of Atmosphere (SPRINT-A) is the world's first space telescope for remote observation of the planets such as Venus, Mars, and Jupiter from the orbit around the Earth.
The image of the satellite is courtesy of JAXA.
* * * * * * * * *

Lift Off To A New Era
The Indian Space Research Organisation (ISRO) is all set to deploy the crucial Indian Regional Navigational Satellite System or the IRNSS on June 12th, thus ushering in a new era in terrestrial, aerial and marine navigation services.
Slated to be launched on board home-grown rocket PSLV-C22 XL at 1:01 a.m. from the Sriharikota spaceport, the IRNSS will help in disaster and fleet management as well.
The Standard Positioning Service of the satellite will help navigation services on land, air and water for civilian use, while the encrypted Restricted Service is meant only for authorized users, such as the armed forces.
The navigation system, which will also be used for tracking vehicles by law enforcement agencies, is housed in a 1425kg. satellite, with a life span of about 10 years. IRNSS has been developed at a cost of Rs 16 billion.
IRNSS is an independent regional navigation satellite system, and at its peak operational capacity, it should provide positional accuracy of better than 10 metres over Indian territory and extending to about 1,500km around the country.
The system will include a constellation of seven satellites under IRNSS by 2014-15. The fully-deployed IRNSS system will consist of three satellites in GEO (geostationary orbit) and four in the GSO (geosynchronous orbit), at approximately 36,000km above the earth's surface.
Each satellite will be continuously monitored and maintained by a team of on-ground engineers. The navigation software of the satellite has been developed indigenously by ISRO engineers in Bangalore.
* * * * * * * * *

Best Operator In India
Hughes Communications India Limited (HCIL), a subsidiary of Hughes Network Systems, LLC (Hughes), has been awarded "2013 Best VSAT Operator in India" at the Telecom Operator Awards 2013 presentation that was held on March 21, 2013.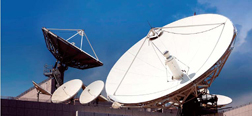 The prestigious award recognizes companies that demonstrate outstanding performance in delivering world-class results in service and support in the telecom sector.
The award was presented to Partho Banerjee, president and managing director of HCIL by Alok Brara, publisher of Tele.net. HCIL has now been honored for the sixth year in a row.
The award winners were selected by Tele.net on the basis of an extensive survey conducted among a carefully selected group of professionals and sector experts. Hughes Communications India emerged the winner by a wide margin.
* * * * * * * * *

Selecting Beidou—Not GPS
Pakistan is set to become the fifth Asian country to use China's domestic satellite navigation system, which was launched as a rival to the U.S. global positioning system (GPS), a report said on Saturday. The Beidou, or Compass, system started providing services to civilians in the region in December and is expected to provide global coverage by 2020. It also has military applications.
Thailand, China, Laos and Brunei already use the Chinese system, which currently consists of 16 operational satellites, with 30 more due to join the system, according to English-language China Daily.
Huang Lei, international business director of BDStar Navigation, which promotes Beidou, told the newspaper the company would build a network of stations in Pakistan to enhance the location accuracy of Beidou. He said building the network would cost tens of millions of dollars.
American website Defensenews.com reported early in May that Pakistani military experts were in favor of using the Chinese system, even though the availability of the signal could not be guaranteed in case of conflict. But, according to one of them, Pakistan cannot place its trust in the United States. "Pakistan's armed forces cannot rely on U.S. GPS because of its questionable availability during a conflict that has overtones of nuclear escalation," former Pakistan Air Force pilot Kaiser Tufail told the site. Chinese Premier Li Keqiang recently traveled to Pakistan, a long time ally, after a visit to India.
* * * * * * * * *

WGS Terminals Out The Door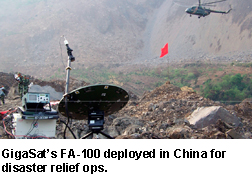 Good news from New Zealand for GigaSat...the company has announced the signing of a contract with the New Zealand MoD for the supply of WGS certified flyaway satellite terminals for use as part of the NZDF Strategic Bearer Network.
GigaSat is an ideal candidate to meet the exacting tender requirements due to the extensive experience supplying WGS certified terminals to other nations in the program.
The GigaSat FA-240 2.4m and FA-370 3.7m terminals are fully certified in X- and Ka-Bands for use on the WGS network. And the FA-100 is specifically designed for high mobility and rapid deployment needs, such as emergency telecommunication services, front line military communications. and (D)SNG.
* * * * * * * * *

GEMS For The Portfolio
Ball Aerospace & Technologies Corp. has been awarded a contract from the Korea Aerospace Research Institute (KARI) to build the Geostationary Environment Monitoring Spectrometer (GEMS) for the National Institute of Environmental Research in the Ministry of Environment of South Korea.
GEMS is a geostationary scanning ultraviolet-visible spectrometer designed to monitor trans-boundary pollution events for the Korean peninsula and Asia-Pacific region.
The spectrometer provides high spatial and high temporal resolution measurements of ozone, its precursors, and aerosols. Hourly measurements by GEMS will improve early warnings for potentially dangerous pollution events and monitor long-term climate change.
Ball Aerospace and KARI will design, fabricate and test GEMS which is manifested on KARI's GEO-KOMPSAT-2B geostationary satellite for a 2018 launch.
The GEMS instrument is the Asian element of a global air quality monitoring constellation of geostationary satellites that includes the Tropospheric Emissions: Monitoring of Pollution (TEMPO) spectrometer.
Ball is the TEMPO instrument provider for NASA Langley Research Center and Harvard Smithsonian Astrophysical Observatory on this Earth Venture line program.
* * * * * * * * *

Higher Data Rates Brought Into Play
GL Communications Inc. has released its latest product—Long Term Evolution (LTE) Emulator for X2 Interface.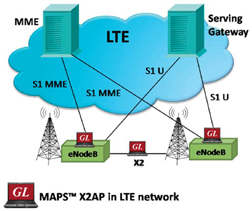 Mr. Jagdish Vadalia, Senior Manager for product development at the company, said, "Long Term Evolution is the all packet architecture that mobile networks are in the process of transitioning. It will permit vastly higher data rates to mobile smartphones, making voice, video, and data truly integrated for the first time—thru a single access technology. This is yet to be accomplished over wired networks.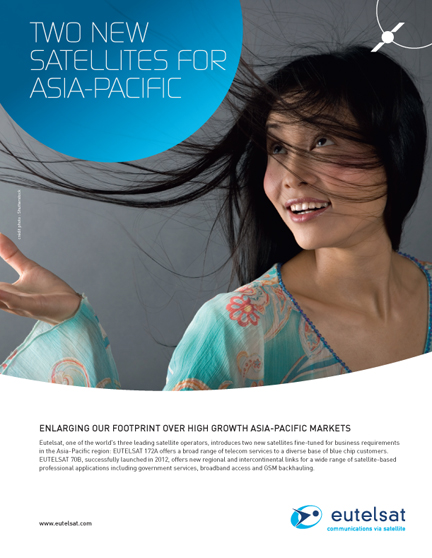 In simple terms, LTE consists of a "Packet Core" and a network of eNodeBs (as shown below). eNodeBs have two interfaces, the X2 interface permits eNodeBs to talk to each other directly, and the S1 interface permits talking to the "Packet Core." Vadalia added, "GL has introduced LTE X2 Interface Emulation to test and verify eNodeB implementations through its MAPS architecture. GL's Message Automation & Protocol Simulation (MAPS™) is a multi-protocol, multi-technology platform used for the emulation of a variety of communication protocols over IP, TDM, and Wireless networks. MAPS™ can be used to test signaling over legacy networks (such as CAS, SS7, ISDN, PPP and more), IP networks (such as SIP, MGCP, MEGACO, SIGTRAN, Diameter…) and also the Wireless technologies including GSM, UMTS, and LTE networks. Recently LTE X2-AP has been introduced."
Mr.Vadalia added, "GL's MAPS™ X2 Application Protocol (X2-AP) Interface Emulator is used to coordinate handovers and perform load management between eNodeB (Evolved Node B) network elements - Source eNodeB and Target eNodeB. The MAPS™ X2-AP test tool is designed with specific test cases, as per LTE 3GPP mobile standards. It supports powerful utilities like Message Editor, Script Editor, and Profile Editor which allow new scenarios to be created or existing scenarios to be modified using messages and parameters."
* * * * * * * * *

Ionosphere Investigation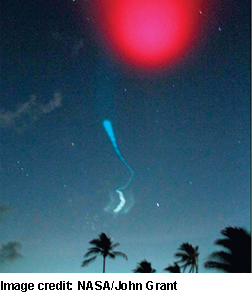 Red and white vapor clouds filled the skies over the Marshall Islands as part of NASA's Equatorial Vortex Experiment (EVEX).
The red cloud was formed by the release of lithium vapor and the white tracer clouds were formed by the release of trimethyl aluminum (TMA).
These clouds allowed scientists on the ground from various locations in the Marshall Islands to observe the neutral winds in the ionosphere.
The EVEX was successfully conducted during the early morning hours on May 7th from Roi Namur, Republic of the Marshall Islands.
A NASA Terrier-Oriole sounding rocket was launched at 3:39 a.m. EDT and was followed by a launch of Terrier-Improved Malemute sounding rocket 90 seconds later.
Preliminary indications are that both rockets released their vapor clouds of lithium or trimethyl aluminum, which were observed from various locations in the area, and all science instruments on the rockets worked as planned.
* * * * * * * * *

Amplifier Amplification
Pro-Comm, Inc. has introduced the latest in the company's Solid State RF Amplifier Series, the PC1300-3C.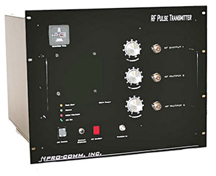 This new product is a 3-channel Solid State RF Amplifier with independent channels, with each channel providing 1000 watts peak RF power. The RF amplifier is driven by a single customer supplied RF input signal. Power and phasing are manually adjusted via a front panel control as well as via a dB-25 coupled remote control.
The unit is ferrite isolator protected at the RF input and at each of the three RF outputs. The power of each channel is adjustable from max to -10 dB—the unit is completely self-contained and includes all of the power supplies as well as internal cooling.
The PC1300-3C lso offered in a complete stand-alone package that includes the internal source with the only customer requirement being the input trigger and AC voltage only; no RF signal is required. Multiple channels are available, depending on customer requirements. Output power is as low as 10 to 1000 Watts Peak.CW output power ranges from 10 to 250 Watts.
* * * * * * * * *

Productive Partnership
Geoimage has signed a partnership with Spatial Energy which will build capacity and expand access to greater spatial content within the Oil and Gas industry in Australasia.

This partnership will anhance the capabilities of Australian customers who operate nationally and globally and allowing them to derive more value from their existing and new geospatial datasets.
Spatial Energy is a market leader in providing, hosting and disseminating spatial imagery and derived content to the Oil and Gas industry through its widely used online system, Spatial on Demand®. Geoimage is recogniszd as a premier provider of satellite imagery and processing services to the Mining, Oil and Gas and Engineering sectors in Australia.
Through this partnership, Geoimage augments its existing capabilities by providing Australian customers with the superior hosting and dissemination technologies that Spatial Energy brings, offering local expertise and services to global customers operating in the Australian region. This will bring new products, capacity and technology to the Australian energy sector, allowing customers to extract even more benefit from their imagery and derived spatial data layers.
* * * * * * * * *

Hams + Pros Piece Photos Together
For about one week, engineers at NASA's Ames Research Center, Moffett Field, California, and amateur radio operators around the world collaborated to reconstruct an image of Earth sent to them from three smartphones in orbit. The joint effort was part of NASA's nanosatellite mission, called PhoneSat, which launched on Sunday, April 21, 2013, aboard the Antares rocket from NASA's Wallops Island Flight Facility in Virginia.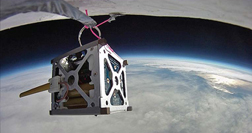 Although the ultimate goal of the PhoneSat mission was to determine whether a consumer-grade smartphone can be used as the main flight avionics for a satellite in space, the three miniature satellites used their smartphone cameras to take pictures of Earth and transmitted these "image-data packets" to multiple ground stations.
Every packet held a small piece of "the big picture." As the data became available, the PhoneSat Team and multiple amateur ham radio operators, who call themselves "hams," pieced together a high-resolution photograph from the tiny data packets.
"During the short time the spacecraft were in orbit, we were able to demonstrate the smartphones' ability to act as satellites in the space environment," said Bruce Yost, the program manager for NASA's Small Satellite Technology Program. "The PhoneSat project also provided an opportunity for NASA to collaborate with its space enthusiasts. Amateur radio operators from every continent but Antarctica contributed in capturing the data packets we needed to piece together the smartphones' image of Earth from space."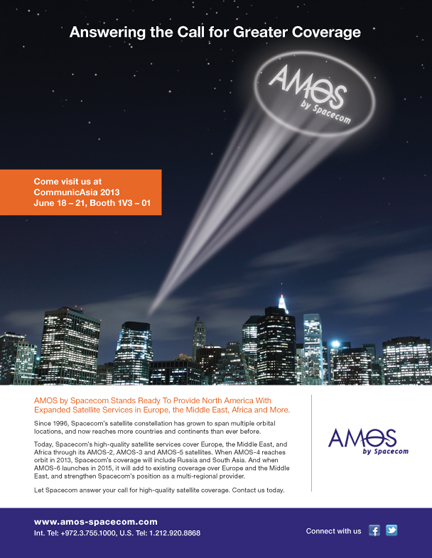 As part of their preparation for space, the smartphones were outfitted with a low-powered transmitter operating in the amateur radio band. They sent the image information to awaiting hams who worked with the Ames engineers to stitch together multiple, tiny images to restore the complete Earth view.
Piecing together the photo was a very successful collaboration between NASA's PhoneSat team and volunteer amateur ham radio operators around the world. NASA researchers and hams working together was an excellent example of Citizen Science, or crowd-sourced science, which is scientific research conducted, in whole or in part, by amateur or nonprofessional scientists. On the second day of the mission, the Ames team had received over 200 packets from amateur radio operators.
"Three days into the mission we already had received more than 300 data packets," said Alberto Guillen Salas, an engineer at Ames and a member of the PhoneSat team. "About 200 of the data packets were contributed by the global community and the remaining packets were received from members of our team with the help of the Ames Amateur Radio Club station, NA6MF."
The mission successfully ended Saturday, April 27, 2013, after predicted atmospheric drag caused the PhoneSats to re-enter Earth's atmosphere and burn up.
"The NASA PhoneSat Team would like to acknowledge how grateful we are to the amateur radio community for contributing to the success of this mission," said Oriol Tintore, an engineer and a member of the PhoneSat Team at Ames who participated in the picture data processing.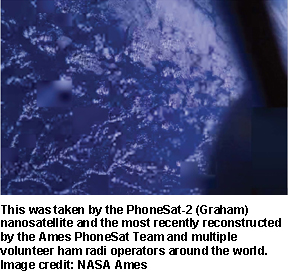 The PhoneSat project is a technology demonstration mission funded by NASA's Space Technology Mission Directorate at NASA Headquarters and the Engineering Directorate at NASA Ames Research Center. The project started in summer 2009 as a student-led collaborative project between Ames and the International Space University, Strasbourg.
These results will encourage further research into applying low-cost terrestrial technologies to space applications and also may open space to a whole new generation of commercial, academic and citizen-space users, according to Yost.
* * * * * * * * *

3D Is Home In Its Slot
The EUTELSAT 3D satellite of Eutelsat Communications (Euronext Paris: ETL) was successfully launched by a Proton Breeze M rocket supplied by ILS for operation at 3 degrees East.
Lift-off of the satellite, built by Thales Alenia Space using their Spacebus 4000 platform, occurred on May 14th at 16.02 GMT (18.02 CET). Following a 9-hour 13-minute flight, Proton released EUTELSAT 3D into geosynchronous transfer orbit. The partial deployment of the satellite's solar panels was successfully carried out from Eutelsat's control centre in Rambouillet three hours and 15 minutes after separation from the rocket.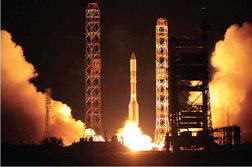 Eutelsat also announced that it has signed a new launch contract with ILS for a satellite to be launched in the 2014-2016 timeframe. This will be the eighth satellite to be launched for Eutelsat by the Proton launcher.
Michel de Rosen, Eutelsat CEO, said, "We are delighted to confirm that EUTELSAT 3D is on its way to 3 degrees East. From next month, this new satellite will take service at 3 degrees East to a new level in advance of the launch in 2014 of EUTELSAT 3B. Our thanks to Thales Alenia Space for delivering our new satellite and to ILS and Khrunichev for this flight which maintains our track record of 100% success since our first Proton launch in 2000. We are pleased to renew our confidence in the powerful Proton launcher with a new contract that gives us the scope to increase our operational agility, a key asset in our business."
ILS President Phil Slack added, "The Proton vehicle and Eutelsat partnership dates back 13 years starting with the SESAT 1 launch on Proton in 2000. After seven launches, including the 50th ILS Proton launch in 2009 with the EUTELSAT 10A satellite, we are honoured that Eutelsat continues to place their trust in us to enable the expansion of their business. Many thanks to the Eutelsat, Thales Alenia Space, Khrunichev and ILS teams for ensuring mission success with the launch of EUTELSAT 3D."
With a baseline design equipping it to strengthen Eutelsat's overall in-orbit flexibility and back-up from multiple orbital slots, EUTELSAT 3D address high-growth video, data, telecom and broadband markets. It will serve customers in Europe, North Africa, the Middle East and Central Asia through a configuration of Ku- and Ka-band transponders connected to three footprints. A fourth service area in the Ku-band will serve markets in sub-Saharan Africa.
EUTELSAT 3D will operate at 3 degrees East slot until the deployment of the EUTELSAT 3B satellite to this position in 2014 to provide spectrum growth and high levels of operational flexibility in C-, Ku- and Ka-bands. It will subsequently continue service at 7 degrees East. The satellite is designed to operate in orbit for 15 years.