The industry continued to face challenges in 2010. The global economic recovery predicted at the beginning of the year did not take hold as experts had expected. Yet, bright spots quickly emerged, including the continued increase in demand for Satellite Communications (SATCOM) by commercial and government customers, the reliance on partnerships across the industry to increase efficiency and decrease costs and the need to acquire affordable, easily accessible and customizable Commercial-off-the-Shelf (COTS)-based solutions as an alternative to expensive, proprietary products.
For almost 30 years, Integral Systems has concentrated on delivering affordable, effective products and solutions to our customers and our business partners to support their business and mission success. The Integral Systems family of companies — Integral Systems, Inc., RT Logic, Newpoint Technologies, SAT Corporation, Lumistar and Integral Systems Europe — provides best-in-class products and is uniquely positioned to extend our COTS-based approach to deliver cost-effective solutions, systems and services. Our deep industry expertise in command & control, signal processing, network management, interference monitoring, detection and geolocation and secure communications is meeting the needs of customers globally on-schedule and within budget. Our solutions allow our customers to optimize and expand their operations with little to no increase in staff.
In March, the Company announced the acquisition of CVG-Avtec. The following month, Integral closed on the most recent technology acquisition, Sophia Wireless. Both CVG-Avtec and Sophia Wireless now operate as part of the SATCOM Solutions Division (SSD). The acquisitions significantly increased Integral's portfolio of COTS-based products and our customer base within the Department of Defense (DoD), a critical growth area for the Company.
At the 2010 SATELLITE Conference in March, the newest initiative was launched to bring efficient, affordable operations to commercial and government organizations. Integral Systems Service Solutions (IS3) offers RF signal monitoring, interference detection and geolocation, Quality of Service (QoS) assurance and remote network management as a subscription service, eliminating the need for significant upfront capital investments and significantly reducing annual operating costs. I am pleased to report that IS3 has already secured multiple customers — well ahead of schedule — including a contract by the United States Strategic Command (USSTRATCOM) to provide worldwide interference geolocation services. The immediate traction we have seen, confirms the need for comprehensive SATCOM Network Operations (NetOps) management offered as a service.
This summer, Al Jazeera Sports Channel turned to Integral Systems Europe (ISE), a wholly-owned subsidiary of Integral Systems, to identify and locate a significant satellite inference event that disrupted broadcasts of FIFA World Cup™ football matches to millions of Al Jazeera Sports subscribers across the Middle East and North Africa. Our industry-leading satID® Expert with Monics® comprehensive interference monitoring, detection and geolocation solutions was used to quickly and accurately identify and locate the source of interference.
This customer partnership is a hallmark of Integral Systems' philosophy. We remain committed to listening to our customers and delivering innovative products to better achieve their objectives. The research and development teams continue to deliver innovative, customer-focused solutions, as exemplified by the newly developed SATOPS Enterprise Architecture. This technology provides satellite and space operators with a platform for a comprehensive Space Situational Awareness (SSA) capability by integrating mission relevant multi-source data from Integral Systems best-in-class products and technology, as well as third-party products and data sources.
The year ahead will find Integral continuing to work closely with customers and partners to bring COTS-based approaches to market to provide cost-effective, flexible solutions. As the need for more efficient, scalable, affordable operations continues to increase, the opportunities to bring industry-leading, COTS-based solutions to a new customers and new industries is self-evident.
The Integral Systems Family of Companies will continue to develop commercial-based products that are open and flexible and that incorporate new technologies as well as the ability to integrate with legacy systems, required to provide longevity and return on investment. The Company remains committed to delivering the industry's most comprehensive and economical solutions based on a shared mission to help our customers succeed.

Integral Systems provides satellite command and control, network management, interference detection and geolocation and Telemetry, Tracking and Control (TT&C) antenna/radio frequency (RF) solutions to this market, often times in an integrated turnkey package or as a service. Looking at 2010 from a global perspective, we saw a noticeable increase in interest for Commercial-off-the-Shelf (COTS) satellite ground system products and services.
Over the course of the year, this group deployed four large international integrated solutions for satellite command and control and are in the process of deploying two more. Product sales and antenna/RF systems integration work internationally have also been very active this year. The COTS product-based approach is particularly relevant here as satellite operators, service providers, and broadcasters are looking to lower costs, increase margins, enhance Quality of Service (QoS), enforce Service Level Agreements (SLAs) and quickly and easily upgrade their systems with the latest technology.
International military and civil government also embraced COTS solutions. These customers face a unique set of challenges, and often times require systems be deployed in a very short period of time, if not immediately. Relying on proven commercial products offer a full-featured, low-risk approach with an accelerated development and deployment schedule.
Looking forward to 2011, the international market is a major growth area. The "condo-sat" approach will gain momentum as satellite operators share costs with partners, and take advantage of the high-power, high capacity communications satellites available today. As our ground system solutions are so widely used, the chances are excellent that one or both of this group's partners will have our systems in place. Continuing to use cost-effective COTS solution eases the integration effort for the ground systems, while maximizing value to both partners.
In addition, as the hyper-competitive environment in Asia-Pacific shrinks margins for service providers, Quality of Service (QoS), Service Level Agreement (SLA) enforcement and efficient network operations will be critical to ensure customer satisfaction, as well as to protect the bottom-line.. The COMPASS Network Management System (NMS) with Remote Site Management (RSM) has been developed to specifically address these issues, especially for customers who need to centrally monitor and manage 50-500 geographically spread out sites to ensure consistent and reliable coverage. In most instances, COMPASS is able to restore a site without having to send out a technician, saving the service provider the considerable cost.
Similar to Asia, EMEA-based customers face a myriad of complex communications issues. In addition to working with satellite operators to provide ground system solutions, there is an increasing demand for Monics® signal interference monitoring, detection, and satID® geolocation systems by military and government regulators in the region. These cost-effective COTS solutions provide the means to police the spectrum and to protect critical communications used by the warfighter.

In 2010, the global thirst for Satellite Communications (SATCOM) bandwidth continued to increase as the efficiency of these services dictated the daily functions of commercial and government entities. The need to actively manage SATCOM Network Operations (NetOps) assets (payloads, terminals and links) to ensure Quality of Service and increase margins becomes increasingly important.
For many smaller satellite operators, resellers and bandwidth service users, the significant costs of establishing and operating a modern SATCOM NetOps infrastructure have proven prohibitive, with implementation often being beyond the means of smaller organizations. The scarcity of cash and the difficulty of financing or investing in new systems is a concern for most businesses.
To mitigate these risks, and meet the needs of smaller organizations and others wishing to outsource requirements, turnkey subscription services offer access to industry-leading solutions without upfront capital investment. Significantly reducing annual operating expenses is an additional benefit.
Integral Systems has been working closely with our aerospace and communications customers for almost 30 years to solve their most complex problems. These capabilities include satellite command and control, signal processing, network management and Radio Frequency (RF) monitoring, interference detection and geolocation.
Evaluating the market and discussing requirements with customers, the need for interference monitoring, detection, and geolocation capabilities as a service became clear. The ability to successfully monitor carrier signals, identify interference and geolocate a source is incredibly difficult. Additionally, upfront capital costs and ongoing operating expenses often put a best-in-class solution out of reach for small- to mid-sized satellite operators, service providers, resellers and broadcasters.
According to industry group estimates, an operator managing a small fleet of satellites can expect interference to cost up to $2 million per year. With millions of dollars per year in lost revenue and decreased margins on the line, turning to inferior interference detection and geolocation systems or attempting the "do-it-yourself" approach to reduce costs is no longer a viable option.
To meet the needs of these customers, we formed an autonomous group offering these and other related managed services to commercial and government customers. Integral Systems Service Solutions (IS3) brings together our industry-leading Monics® signal monitoring and interference detection system, which is in use by an overwhelming majority of satellite operators globally, and our satID® geolocation solution, the market's most accurate geolocation system.
Earlier this year, a major international broadcaster used our satID Expert with Monics comprehensive interference monitoring, detection and geolocation system, along with our technical experts, to restore its broadcast signal to millions of FIFA World Cup™ viewers in the Middle East and North Africa. We partnered with the broadcast network to quickly and accurately identify and locate the interference source. As a testament to the system's power and precision, the interferer's location was narrowed to a three-kilometer area.
In 2011, RF interference will continue to plague the industry. By not proactively addressing the problem with proven technology and techniques, commercial satellite operators, service providers, resellers and broadcasters risk losing millions of dollars. More importantly, as signals are degraded or interrupted altogether, they jeopardize hard-earned customer relationships. In an industry with ever-shrinking margins, every customer lost is a direct hit to the bottom line. With the introduction of satellite interference monitoring and mitigation capabilities as a service, small- and medium-size organizations now have access to the most powerful interference detection and geolocation capabilities available today. Deploying proven technology managed by industry experts, interference issues are identified and mitigated quickly and accurately, resulting in enhanced customer satisfaction and ultimately, increased margins.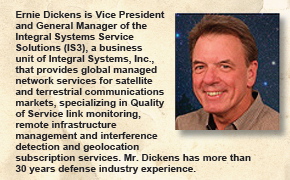 The new year will also bring about another significant change. As satellite operators and service providers look to increase margins, they will begin to view network management as an enablement solution with a direct tie to the bottom line. In order to meet this demand, IS3 has assembled a team of industry experts with a proven track record of building advanced network management systems to align to today's multi-use networks. The complexity of networks and the challenge to unite voice, video and data into a seamless network has created an environment with multiple management systems and multiple organizations managing these resources. Furthermore, many are stovepipe systems with limited interoperability between each other or with other network management organizations. IS3 can solve these issues by consolidating these stovepipe systems into a single interface and one interconnected network ecosystem.