A Power Booster From US Patent Office For EMC
EMC has again earned recognition from the US Patent and Trademark Office (US PTO).
The latest EMC patent—US 9,130,644 B2—is for a power booster that improves efficiency and performance of connectivity links with Medium Earth Orbit (MEO) satellite networks operating in the Ka- and Ku-band frequency ranges.
"We developed this MEO Booster to manage the seamless switchover between MEO satellites as they move across the sky from horizon to horizon," said Federico Fawzi, vice president of advanced engineering, EMC.
"A descending satellite can conduct a handoff to an ascending satellite when the propagation delay from the two are equal by aligning amplitudes, frequency offsets and phases. EMC MEO Booster improves throughput of MEO satellites by 30-50 percent over modem technologies such as adaptive coding modulation."
"MEO satellite services offer just one more way we can deliver mission-critical communications to organizations and people on the move, in the world's most remote locations, to keep them EMC-connected," said Abel Avellan, founder and CEO, EMC.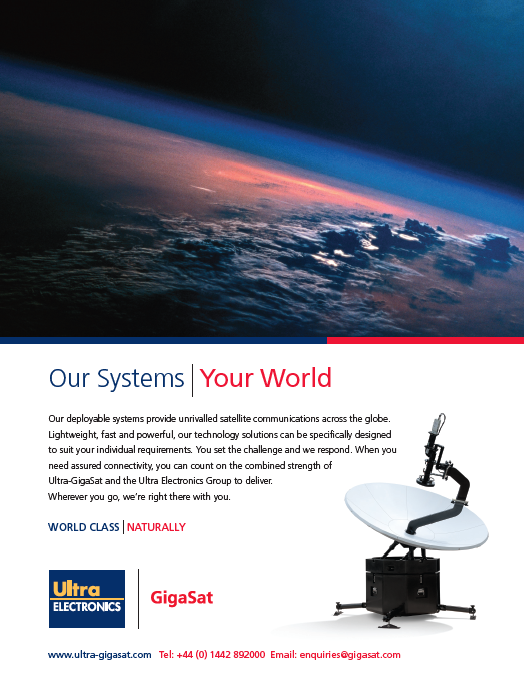 "Continuous innovation and technology development are key elements of achieving this mission. That is why we earned more than 20 patents, and have another 12 patent applications in the works.
We are proud of our many industry firsts. This technology innovation allows EMC to deliver the most advanced mobility platform in the industry."
The US PTO granted EMC subsidiary EMC SatCom Technologies LLC this patent in September of 2015.
emcconnected.com
---
LISA Pathfinder Launches + Is Ready To Ripple
Arianespace marked another mission accomplished for science as the company's light-lift Vega vehicle successfully launched Europe's pioneering LISA Pathfinder technology demonstrator, built by Airbus Defence and Space—the satellite will study the ripples in space-time predicted by Albert Einstein's General Theory of Relativity.
Lifting off from the Spaceport's SLV launch site at 1:04 a.m. local time in French Guiana—the planned precise moment of launch—Vega lofted its passenger during a flight lasting approximately 1 hour, 45 minutes and 33 seconds, with LISA Pathfinder placed in an initial elliptical Earth orbit.
During a subsequent step, this spacecraft will use its own propulsion module to reach an operational orbit around the first Sun-Earth Lagrange point (L1), which is located approximately 1.5 million kilometers from Earth.
In post-launch comments from the Spaceport, Arianespace Chairman and CEO Stéphane Israël congratulated this mission's customer—the European Space Agency (ESA)—and underscored his company's continuing contributions to space research and science at the service of European institutions.
Speaking directly about the LISA Pathfinder launch with Vega, Israël added, "It is a true honor for Arianespace to be involved in the LISA adventure, which is so fundamental for human knowledge of the universe and the laws of physics."
To evaluate the concept of low-frequency gravitational wave detection, LISA Pathfinder—which was produced by Airbus Defence and Space— will put two test masses in a near-perfect gravitational free fall, controlling and measuring their motion with unprecedented accuracy.
The test masses will be suspended inside their own vacuum containers, with LISA Pathfinder designed as the quietest spacecraft ever launched, allowing for extremely small distance measurements with the masses to be performed by an onboard interferometer.
This mission—designated Flight VV06—marked the sixth launch of a lightweight Vega, which joins Arianespace's medium-lift Soyuz and heavyweight Ariane 5 to form the world's most capable family of launchers, operating side-by-side at the Spaceport.
In a major milestone, the mission was the sixth and final flight as part of European Space Agency-managed VERTA (Vega Research and Technology Accompaniment) program to showcase this vehicle's flexibility and versatility in a variety of mission types. Following the achievements during this development phase, Vega is ready to be declared fully operational.
"Vega is keeping up with all its promises," said Arianespace's Israël. "From a technical standpoint first, thanks to its flawless record so far and to its versatility, truly demonstrated by the variety of missions it is able to address. Thanks also to the successful ramp-up operated in 2015, with three launches performed in one single year."
The development of Vega was carried out in a multi-nationally-financed European Space Agency program, with the launcher's design authority and prime contractor role performed by Italy's ELV company—a joint venture of Avio and the Italian Space Agency.
Vega Flight VV06 was the 11th launch with an Arianespace family vehicle in 2015, continuing the company's record pace of 12 missions performed from Europe's Spaceport in French Guiana during the year. It builds upon two additional Vega successes (in February and June), plus six with Ariane 5 and two with Soyuz.
LISA Pathfinder will spend two weeks raising its orbit using a dedicated propulsion module, also built by Airbus Defence and Space, through six separate engine firings. After the final escape burn is performed and the health of the spacecraft module is confirmed, the propulsion module will be jettisoned, approximately 51 days after launch.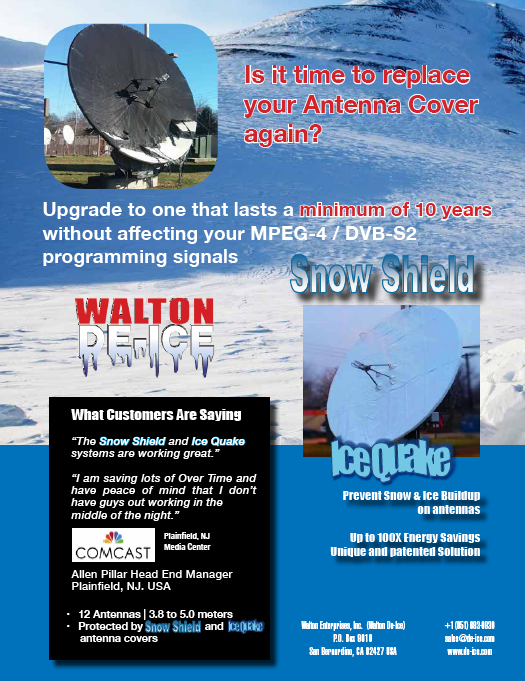 The spacecraft will continue on its journey to the first Lagrange point (L1) at 1.5 million km from Earth. Its operational orbit is a 500,000km x 800,000km Lissajous orbit around the L1 point. During the drift phase, the platform and the two spacecraft propulsion systems (Cold Gas and the NASA Colloidal micronewton thrusters) will be tested and verified.
Twenty-four days after the separation, the mission will start with three weeks commissioning of the science payload including tests such as the release and capture of the test masses, and verification of the Drag Free and Attitude and Control System (DFACS). This will be followed by the six-month long main mission.
sci.esa.int/lisa-pathfinder/
---
SkyVision + ABS Partnership
SkyVision Global Networks Ltd. announces a partnership with ABS, to launch two new video platforms on ABS-3A.

This agreement will result in the provisioning of quality DVB-S and DVB-S2 content, including HD, via satellite across Sub-Saharan Africa, including French speaking Africa and South Africa.
The signing of this agreement will deliver vital communications services via ABS-3A, a premium satellite located at the 3 degrees W orbital position, to effectively meet the growing demand for content and DTH services using 90cm dishes.
The new platforms will support both SD and HD channels in MPEG-2 and MPEG-4 encoding. Coverage will focus on the Free-To-Air (FTA) channels and payTV markets in Sub-Saharan Africa.
SkyVision boasts more than 10 satellite platforms and a network of high-capacity fiber optic cables via its gateways in Africa, Europe, North America and the Middle East as well as multiple points of presence (POPs) in Africa.
SkyVision's contribution to this important project is to provide the company's global hybrid system of high-capacity network of fiber optic cables to the Internet backbone via ABS-3A. This will enable superior distribution services of special events, news and DTH channels from Asia and Europe to Africa.
"Launching these services on ABS-3A creates a new era of high performance satellite services to customers in Africa," said Ori Waterman, SkyVision's CEO. "This deal establishes new key broadcast platforms over the ABS-3A and enhances our distribution capabilities with our African customers via Ku-Band Platforms to best serve broadcasters and a wider viewing audience."
Tom Choi, CEO of ABS, said, "We are quickly developing an excellent broadcast neighborhood on ABS-3A over Africa and this agreement with SkyVision enhances our capabilities and opportunities. Our cooperation with SkyVision will result in a cost-effective solution to expand coverage in remote regions throughout Africa, add viable bandwidth and introduce new services to more customers."
skyvision.net/
absatellite.com/
---
First Two PlanetiQ Weather Satellites To Be Launched Via India's PSLV Launch Vehicle
PlanetiQ has signed a contract with Antrix Corporation Limited, the commercial arm of the Indian Space Research Organization (ISRO), for the launch of PlanetiQ's first two weather satellites on a Polar Satellite Launch Vehicle (PSLV) during the fourth quarter of 2016.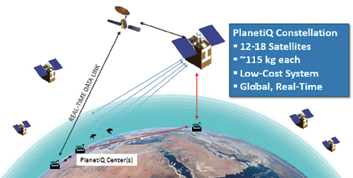 Ten more satellites are planned for launch in 2017 to complete an initial set of 12 satellites that will dramatically improve global weather forecasting, climate monitoring and space weather prediction, and enable advanced analytics for numerous industries worldwide.
The ISRO's PSLV is among the world's most reliable launch vehicles with 30 consecutive successful flights. The PSLV has launched 51 satellites for international customers from 20 countries, in addition to 33 Indian national satellites.
Each of PlanetiQ's 10-kilogram microsatellites will fly PlanetiQ's Pyxis-RO™ sensor, the most advanced satellite weather sensor in such a small package that can penetrate through clouds and storms down to the Earth's surface.
Pyxis-RO uses a technique called radio occultation to track the bending of GPS and other signals as they travel through Earth's atmosphere, and then converts the bending angle into high-precision measurements of global temperature, pressure and water vapor in the atmosphere, and electron density in the ionosphere.
Pyxis-RO quadruples the data collection capability of radio occultation sensors on orbit today by tracking signals from all four major satellite navigation systems—GPS, Galileo, Beidou and GLONASS.
With 12 satellites on orbit, PlanetiQ will collect approximately 34,000 "occultations" per day, evenly distributed around the globe with high-density sampling over both land and water. Each occultation is a vertical profile of atmospheric data with very high vertical resolution, comprised of measurements less than every 200 meters from the Earth's surface up into the ionosphere.
The data is similar to that collected by weather balloons, but more accurate, more frequent and on a global scale.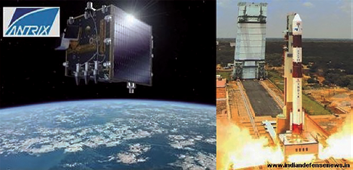 "The stellar track record of the PSLV combined with our seven-year satellite design life provides the reliability and data continuity not just desired, but required by the operational weather forecast community," said Chris McCormick, Chairman and CEO of PlanetiQ. "Within days after launch, we will validate and start delivering high-quality data and services to our customers."
"The world today lacks sufficient data to feed into weather models, especially the detailed vertical data that is critical to storm prediction. That's why we see inaccurate or ambiguous forecasts for storms like Hurricane Joaquin, which can put numerous lives at risk and cost businesses millions of dollars due to inadequate preparation or risk management measures," McCormick said. "Capturing the detailed vertical structure of the atmosphere from pole to pole, especially over the currently under-sampled oceans, is the missing link to improving forecasts of high-impact weather."
planetiq.com
antrix.gov.in
---
EUMETSAT + NOAA To Provide Observations Via A Joint Polar System
EUMETSAT and the National Oceanic and Atmospheric Administration (NOAA) of the United States signed an agreement regarding their Joint Polar System (JPS), which will provide observations from two complementary polar orbits in the period from 2020 to 2040.
This JPS Agreement was foreseen by the Agreement on Long Term Cooperation signed on August 27, 2013, and extends to a new generation of polar-orbiting satellites the cooperation established since 1998 on the Initial Joint Polar System, which builds on EUMETSAT's Metop and NOAA's POES and Suomi-NPP satellites.
Under the new Agreement signed by Stephen Volz, NOAA Assistant Administrator for Satellite and Information Services, and Alain Ratier, Director-General of EUMETSAT, both organizations will establish and operate a Joint Polar System composed of EUMETSAT's Metop-Second Generation (Metop-SG) satellites, NOAA's JPSS satellites and shared ground systems and services.
Joint operations will include cross support for data acquisition and spacecraft monitoring through European and US ground stations located in Svalbard, Spitzbergen, and McMurdo, Antarctica.
The Metop-SG and JPSS satellites will continue to respectively cover the mid-morning and the afternoon orbits to provide more frequent global coverage for a broader range of observations of weather, atmospheric composition, ocean and land surfaces.
Polar-orbiting meteorological satellites provide the most important observational inputs to the numerical weather prediction (NWP) models used for up to 10 days.
Today, the observations from the Initial Joint Polar System account for nearly 50 percent of the contributions of all observations to the reduction of errors in numerical forecasts for day one, and further improvements to forecasts are expected from the enhanced observation capabilities of the JPS satellites.
After the signing, which took place during the 84th session of the Council of EUMETSAT, Alain Ratier said, "This agreement is a new landmark in our strategic cooperation with NOAA and will continue to provide substantial benefits to Europe, the United States and the worldwide meteorological community. We know from studies that our current Initial Joint Polar System has more positive impact on forecasts than the sum of our individual contributions, and I am sure the impact will increase with the future Joint Polar System."
Stephen Volz said, "Today's agreement means our [NOAA and European] forecasters can rely on improved satellite data to predict and track storms and monitor the global environment from space for years to come." He added, "Our successful partnership with EUMETSAT demonstrates why international collaboration and full, free, and open data sharing are essential to meeting NOAA's commitment to protecting lives and property in the United States."
---
Arianespace Scores... Will Launch Azerspace-2 / Intelsat 38 Satellite
Azercosmos and Intelsat have selected Arianespace to launch the Azerspace-2 /Intelsat 38 telecommunication satellite.
The satellite will be launched by an Ariane 5 launch vehicle from the Guiana Space Center, located in Kourou, French Guiana.
Expected to launch in 2017, Azerspace-2 will be Azercosmos' second telecommunications satellite and will expand on the current capacity of Azerspace-1.
The satellite will support growing demand for DTH, government and network services in Europe, Central and South Asia, the Middle East and Sub-Saharan Africa.
For Intelsat, the satellite will provide continuity of service for the Intelsat 12 satellite that is currently stationed at 45 degrees East, an orbital location which hosts DTH platforms for Central and Eastern Europe as well as the Asia-Pacific region.
Intelsat 38 will also provide connectivity for corporate networks and government applications in Africa.
Azerspace-2 / Intelsat 38 will be designed and built by Space Systems/Loral.
The satellite design is based on the highly reliable 1300 satellite platform that provides the flexibility for a broad range of applications and technology advances.
"This contract will give us the opportunity to implement a tailor made launch solution that complies with both Azercosmos and Intelsat requirements, hence demonstrating our capability to address the needs of both regional and global satellite operators worldwide," said Stéphane Israël, Chairman and CEO of Arianespace.
"This new satellite will provide Azercosmos with additional capacity for the increasing demand in the region, and will allow us to continue to bring the best service to our customers," said Rashad Nabiyev, Chairman and Chief Executive Officer of Azercosmos.
"In today's competitive environment, fast and reliable access to space is an absolute imperative," said Thierry Guillemin, EVP and Chief Technology Officer of Intelsat. "Arianespace has a long and proven track record of executing against its launch manifest."
arianespace.com
---