Distance and a lack of terrestrial infrastructure are two of the key challenges to organizational communication in Africa. As one of the major remote working industries, mining companies know this and use VSAT to ensure reliable voice and data communication on the African continent. However, feeling the pressures of the global financial environment as much as any industry, operational efficiency has come very much to the forefront in the mining world.

Already an 'early adopter' of satellite communications, the sector is committed to maximizing profitability through smarter operations—securing robust and high bandwidth communication network is an important aspect of this. When looking at the use and development of SATCOM in Africa, what is happening in the mining industry is a healthy indicator of changing usage patterns in other sectors, such as NGOs and heavy industries.
Bandwidth demand continues to increase, almost regardless of the communications band in operation for a communications service. This has led to the development of the multi-band AuroraGlobal portfolio introduced by Airbus Defence and Space in March of 2014. AuroraGlobal is designed to ensure availability of bandwidth on existing Ku- and C-band services, while being ready for forthcoming Ka-band services. In this way, businesses, industry, government bodies, NGOs, and mining companies in Africa can be certain of their long term ability to communicate, even as bandwidth requirements continue to grow.
Mining in Focus
There are several stages of a mining project's lifecycle that may require different types of SATCOM service and hardware. Using high quality voice and mobile broadband satellite, such as BGAN, exploration teams need to deliver progress reports, photographs, video and seismic data to off-site experts. As BGAN is highly mobile, such drives the efficiency of exploration efforts, while Iridium/Inmarsat/Thuraya handsets or asset trackers deliver voice, messaging, on-line tracking and emergency alerts to better ensure worker safety in the field.
During the development and production phases of a mine, deploying economical full-scale, high quality global network communications solutions is critical for daily mining operations and business. Services might include portable and fixed VSAT systems, enabling instant broadband connectivity, and Wide Area Network (WAN) solutions to offer the best combination of high performance VSAT and hybrid networks to provide full communications capabilities including voice, data, videoconferencing and managed services. Collaboration is key to improving efficiency in most industries, so one of the most developed communication tools for mining companies has become videoconferencing.
Improving Video Conference Performance
As an example, a multi-national alloy producer wanted to connect some sites in Gabon and have a faster, more reliable link with its HQ in Europe. High on the requirements list was the ability to conduct video conferences between its sites in Gabon to a very high standard—no jitter, noticeable delays, and so on.
On a standard star network topology using geostationary communications satellites, this would require at least two satellite hops. This meant the service would suffer from high latency (2 x and up to 600ms latency). This required the less common star mesh network topology to be deployed.
The architecture is a hybrid mesh-star network based on a Newtec platform, which delivers dedicated capacity for the client in order for service levels to be guaranteed. This topology, with the company's server located in one of the Gabon offices, links directly with a single satellite hop all of the Gabonese sites. Latency was decreased (max. 600ms vs. 1200ms) between offices in the country and the overall business connectivity experience is enhanced.
Inter-Continent Business Networking
Another key requirement of the network was to secure connectivity to the server at the production site in Gabon, for the administration and finance staff in Europe. To achieve this, a Multiprotocol Label Switching (MPLS) connection from an Airbus Defence and Space hub to the Datacenter was established. This added an extra dimension made straightforward by the Star Mesh topology. When it comes to month-end, when staff at HQ need their accounting systems the most, they experience a fast, reliable connection, ensuring that they can get the job done quickly and efficiently, regardless of the server being located in Gabon.
Providing Bandwidth for Employee Welfare
In today's world, workers expect to communicate from remote regions just as they would at home. An employee who can talk to friends and family, as well as access email, social media or browse the Internet, is a far happier worker who will provide more value to a business. However, rather than sharing bandwidth from a corporate or operational network, Airbus Defence and Space has created a new concept for employee communication in the mining industry—Link2Mine.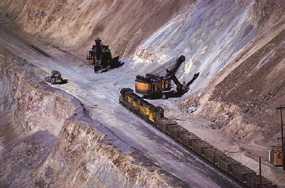 This fully managed service is based on a dedicated network for only employees and third parties workers. Airbus Defence and Space takes care of this—management doesn't need to worry about bandwidth for critical communication being used for non-business communication by employees. By purchasing prepaid vouchers, employees have access to the Internet and phone for international calls, either in an Internet café or installed telephones, or over Wi-Fi using their own devices.
Networking for All Applications
Of course, SATCOM applications are not mutually exclusive. When a customer has their network in place, a wide range of applications can be used, as long as the system is flexible and robust enough.
A recent project for an Airbus Defence and Space mining customer demonstrates a dual focus on corporate and employee welfare needs. It included establishing a network for one of the world's leading mining companies to provide telecommunications services to the firm's mining operations in West Africa.
Under the contract recently signed, Airbus Defence and Space provides Internet connection to staff working and living at the mining sites—nearly 1,000 people in all. Fiber through microwave towers brings bandwidth to the remote sites where staff are able to connect their laptops, tablets and smartphones via wireless solutions.
Airbus Defence and Space also provides additional telecommunications services, such as bandwidth on demand via VSAT to the sites, to be further used for VoIP, videoconferencing and corporate applications. The network is managed by Airbus Defence and Space with value added services such as security and Virtual Private Network with high-level service agreement.
The Airbus Defence and Space infosite may be accessed at http://airbusdefenceandspace.com/
---