Argentina + LATAM recipients of a two satellite positioning following an Ariane 5 launch
Arianespace's mission with Intelsat 30, hosting the DLA-1 payload, and ARSAT-1, in a mid-October launch via an Ariane 5 liftoff from the Spaceport in French Guiana, was a total success, burning five tons of fuel per second.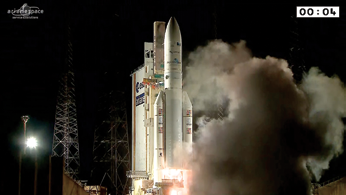 Total lift performance for this launch was approximately 10,000kg., with the two spacecraft successfully deployed during a flight that lasted a total of 33 minutes.
Arianespace continued Ariane 5's track record of success with another heavy-lift mission that orbited a pair of telecommunications satellites for Latin America: Intelsat 30, which is hosting the DLA-1 payload, and ARSAT-1.
The spacecraft were deployed into geostationary transfer orbits following their ascent from the Spaceport's ELA-3 launch area.
"The two satellites orbited will serve users located in Latin America, a region that has always had a special place in the heart of Arianespace, as this is where our launches take place, and also because our market share in the region has always exceeded 50 percent," said Arianespace Chairman & CEO, Stéphane Israël, during post-launch comments at the Spaceport.
Israël added the launch was performed at the service of two established global telecommunications players—Intelsat and DIRECTV—as well as for a new regional operator—ARSAT (Empresa Argentina de Soluciones Satelitales Sociedad Anonima).
Intelsat 30, released first from Ariane 5's upper passenger position, is a high-power relay spacecraft built by SSL (Space Systems/Loral) for Intelsat. Based on the 1300 series satellite platform, Intelsat 30 hosts the DLA-1 payload for DIRECTV.
With a design life of 15 years, Intelsat 30 will be co-located with Intelsat's Galaxy 3C satellite at 95 degrees West—from where the satellite will expand Direct-To-Home (DTH)entertainment offerings in Latin America, as well as provide backup and restoration services for the company.
Intelsat 30 is the 54th satellite launched by Arianespace for Intelsat, as well as the 45th SSL-produced relay platform, continuing a 31-year relationship between these three companies.
The second payload deployed by Ariane 5 on this mission—ARSAT-1—is the first geostationary satellite built in Argentina. The satellite was produced for ARSAT by INVAP, with Airbus Defence and Space and Thales Alenia Space serving as leading equipment suppliers.
As the first satellite to be launched by Arianespace for ARSAT, ARSAT-1 will operate from an orbital position of 71.8 degrees West and will deliver a wide range of telecommunications, data transmission, telephone and television services across all of Argentina, Chile, Uruguay and Paraguay.
With this success, Arianespace has conducted nine launches from French Guiana in 2014. These have been comprised of five Ariane 5 flights, three missions with Soyuz and one Vega liftoff. This pace keeps the company on track to meet its 2014 target of 12 missions, based on the availability of the payloads scheduled for these launches.
Arianespace's Stéphane Israël said the company's three remaining scheduled missions for 2014 are a lightweight Vega flight on November 18 with Europe's Intermediate eXperimental Vehicle (IXV) spaceplane, an early December liftoff of Ariane 5 with the DIRECTV-14 and GSAT-16 relay platforms, and a medium-lift Soyuz launch with a cluster of O3b Networks connectivity satellites.
Airbus Defence and Space has been the prime contractor for the European Ariane 5 launcher, one of the largest and most ambitious space programs in the world, since 2003. The company oversees an industrial network that brings together more than 550 companies (more than 20 percent of which are SMEs) in 12 European countries.
ARSAT-1 is the first GEO satellite to be built in Argentina, specified by the national telecommunications company ARSAT, who also did the technical monitoring of the entire project. The Argentinian high technology company, INVAP, was the manufacturer of various components and responsible of the design and integration of the satellite.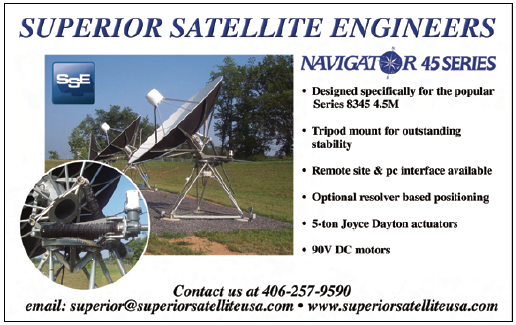 The Arianespace infosite: http://www.arianespace.com/
The SSL infosite: http://www.sslmda.com/
The ARSAT infosite: http://www.arsat.com.ar/
---
Government of Colombia shelves satellite—lack of funds
Colombia's vice president has announced the country will not purchase a $250 million satellite, but instead will continue to buy information delivered by other nations' satellites.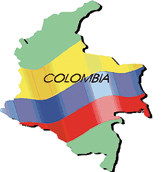 The planned satellite is canceled because the government doesn't have the budget for the purchase, vice president German Vargas stated. "We have explored the possibility over the last few years, but the government concluded that at this time is too inconvenient. Unfortunately, the country does not have the economic capacity to make this investment," Vargas said.
The government now prefers to purchase the necessary satellite images elsewhere, which cost $11,5 million a year, adding up to $80.5 million in the same seven years the planned satellite's life expectancy would have been.
According to the opposition political party, Colombia is running behind on technology. Conservative opposition senator and former Communications Minister Maria del Rosario, warned that by not investing in a satellite, Colombia is allowing other Latin American countries to take advantage technologically. The lawmaker added that satellite technology is necessary to predict natural disasters.
According to the El Tiempo newspaper, most Latin American countries get their information through a third party with access to satellites. However, major economies such as Brazil, Venezuela, Argentina and Mexico own their own satellites.
Colombia uses satellite data for different purposes, such as communications, national security, identification of illicit crops, agricultural development programs and the implementation of infrastructure plans.
There are other ways of gathering information. The President of the Geographic Institute Agustin Codazzi (IGAC), Juan Antonio Nieto, stated that information can be retrieved from other sources than satellite, according to newspaper La Vanguardia. Nieto mentioned that radar and drones can be used to produce much of the required information.
Story by Christoffer Frendesen, journalist covering Colombia.
---
A processing power partnership
PCI Geomatics has reported that the company 's Mexican partner, Cloud Mapping Technologies (CMT), has selected the high-speed, automated, GeoImaging Accelerator (GXL) image processing system to power its production center.

The announcement was made at a launch event held at the Latin American Geospatial Forum (LAGF) in Mexico City.
CMT, which also serves as a PCI Geomatics' authorized reseller in Mexico, selected the GXL system as the cornerstone of their investment in a highly automated image production center designed to process large volumes of imagery quickly, efficiently, and with a high degree of quality.
CMT's production center is ideally suited to help customers who are faced with sudden peaks in demand for their color-balanced, orthorectified mosaic products, derived from raw aerial or satellite imagery.
The system delivered to CMT is capable of processing both satellite and aerial imagery.
The CMT Production Center will provide a unique opportunity for PCI customers in the region.
Through the implementation of this center, a world class facility is now available in region where Latin American customers can receive live demonstrations, training, and benchmarking services more quickly and easily.
For additional information, please visit http://www.pcigeomatics.com
---
Globecomm completes VSAT network in support of Iraqi oil exploration
Globecomm has successfully completed a 158MB VSAT network, in partnership with one of the country's leading telecommunications suppliers, for a European-based client that is conducting oil exploration at sites in Iraq.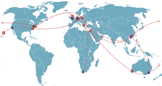 The network supports dedicated Internet, data and voice connections to manage the complex exploration process and to provide crews with essential communications.
The VSAT network is combined with 100MB terrestrial microwave links in a managed service that includes a Cisco call manager telephone system terminating calls at the Globecomm Europe teleport in the Netherlands.
The design of the dual-path network provides complete redundancy for all sites.
"The main exploration site alone has a crew camp that supports five thousand people working and living there," said Globecomm Europe's Business Development VP Patrick Visser. "Communications services will be heavily used for both business and private purposes, and it has been engineered to guarantee a high level of quality and reliability."
One of Iraq's leading telecommunications suppliers was contracted to install the remote sites, install and manage the terrestrial microwave link, and provide all local technical support to the oil exploration company.
It is the kind of partnership that Globecomm has created in multiple countries to bring advanced communications to fast-growing emerging markets.
For more information, please visit http://www.globecomm.com/
---
C-COM's antennas save wildlife in Africa + in the Great Limpopo
A rhino is killed every eight hours, as the animal's horns have become more valuable—pound for pound—than gold and this relentless slaughter threatens the rhino's very survival.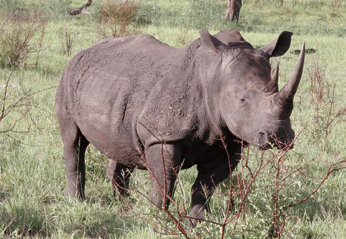 C-COM Satellite Systems Inc. antennas are being used in The Great Limpopo Transfrontier Park located in Mozambique, South Africa, and Zimbabwe to monitor and prevent the poaching of rhinos.
The combined size of these three parks covers 35,000 square kilometers and is one of the world's greatest animal kingdoms. The park contains 40 percent of the world's rhino population and it has recently become the frontline of the rhino poaching wars especially on the borders of Mozambique and South Africa.
Saab Grintek, a C-COM iNetVu integrator based in South Africa, is sponsoring a foundation that is working closely with the three governments where the park is situated.
The foundation has been testing Unmanned Arial Vehicles (UAV's), which are equipped with regular, as well as infrared cameras, and thermal sensors for sensing body heat as well as heat from vehicles during the night.
These UAVs are flown and controlled from a specially equipped vehicle. Using the C-COM iNetVu vehicle mounted antenna, the unit stays in contact with the operational center, and any disturbance or potential breach in the conservation's life is immediately responded to on the ground.
This setup provides the park rangers with the ability to monitor activities in the park in real-time, day and night and intervene as required, as well as record the action for eventual prosecution of the poachers.
"Having the C-COM Mobile unit as the main means of connectivity during this operation, proofed to be the best decision we made. The success and the availability of the system has become the norm of a daily process," said Gustav Engelbrecht, Product Manager Satellite Systems at Saab Grintek Technologies.
"This innovative solution of using UAV's in conjunction with the C-COM iNetVu antennas for monitoring and control of large areas or difficult to access locations from the air will open up many new applications. We expect to see a number of our integrators from around the world apply this technology to their existing vertical markets, such as emergency communications and disaster management," said Leslie Klein, President and CEO of C-COM.
Saab Grintek Technologies (SGT) is a telecommunications company offering a comprehensive range of end-to-end services and solutions to operators, OEMs, enterprise and governments. The company specializes in integrated, leading edge and comprehensive solutions across the entire spectrum of telecommunications.
The company's infosite is located at http://www.saabgrintek.com/
C-COM Satellite Systems Inc. provides commercial grade mobile satellite-based technology for the delivery of two-way high-speed Internet, VoIP and Video services into vehicles. C-COM has developed a unique proprietary Mobile auto-deploying (iNetVu®) antenna that allows the delivery of high-speed satellite based Internet services into vehicles while stationary virtually anywhere where one can drive.

The iNetVu® Mobile antennas have also been adapted to be airline checkable and easily transportable. The company's satellite-based products and services deliver high-quality, cost-effective solutions for fixed and mobile applications throughout the world.
C-COM's infosite may be reached at http://www.c-comsat.com/
---
A new teleport build by SES TechCom for Es'hailSat
SES TechCom, a wholly-owned subsidiary of SES S.A and Es'hailSat, The Qatar Satellite Company registered in the State of Qatar, have signed a comprehensive consultancy service agreement.
The agreement provides Es'hailSat full access to the technical and engineering experience of SES. In the framework of the contract, SES TechCom will support Es'hailSat in the development of that company's new teleport facility.
The teleport will be built on a green field site north of Doha and will be designed as a modern, state of the art facility providing satellite control and communications support (TT&C) for the Es'hail 2 satellite, as well as offering up-linking and reception facilities tailored for Es'hailSat's business partners.
The teleport will be designed from the outset to allow for significant future growth, and will feature all major requirements in order to provide customers with comprehensive satellite ground station and platform services.
During the course of the contract, SES TechCom will work closely together with Es'hailSat's project management team and their selected contractors, in order to create a new and exciting satellite facility for the future of Qatar's communication infrastructure.
Ali Ahmed Al-Kuwari, CEO of Es'hailsat, said, "The establishment of our own teleport in Qatar is an integral part of the Es'hailSat program, giving us a secure and independent satellite infrastructure. It marks another key milestone in our plan to become a leading satellite operator and center of excellence in the MENA region.
Gerhard Bethscheider, Managing Director of SES TechCom, said, "SES operates several of the largest and most successful teleports in the world—this initial contract has the potential to foster a long standing partnership between our two organizations."
The SES TechCom infosite may be accessed at http://www.ses.com/techcom
Es'hailSat's infosite is available at http://www.eshailsat.qa
---