ORBCOMM and Kordia receive AIS contract from Australian Maritime Safety Authority
ORBCOMM Inc. (Nasdaq: ORBC) has announced that the Australian Maritime Safety Authority (AMSA) has extended their contract for another year through ORBCOMM's partner Kordia.

ORBCOMM and Kordia will provide satellite Automatic Identification System (AIS) data used for ship tracking and other maritime navigational and safety efforts to AMSA for designated regions and specific maritime projects.
The AMSA contract award, which extends into 2020, was the result of a competitive bid among providers of space-based AIS data services.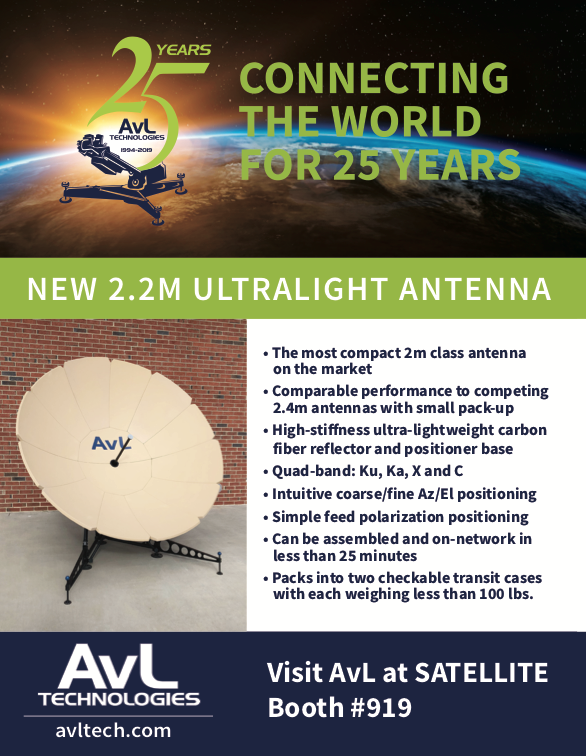 Headquartered in Canberra, Australia, AMSA is responsible for promoting maritime safety of navigation and protection of the marine environment as well as providing a national search and rescue service.
ORBCOMM's AIS service provides the most comprehensive and reliable global coverage, processing over 26 million messages from well over 200,000 unique vessels per day through a combination of satellite and terrestrial AIS data for marquee government and commercial customers worldwide.
Marc Eisenberg, ORBCOMM's CEO, said that through the company's collaboration with Kordia, both firms have been able to help AMSA improve navigation safety and environmental protection by providing ORBCOMM's satellite AIS data service for the past two years.
Marc added that the company's continued work with AMSA and other national regulatory authorities around the world confirms ORBCOMM's market leadership in delivering the most complete situational picture of global vessel activity available today.
Derek Neilsen, Executive GM of Maritime at Kordia, add that the extension of our contract with AMSA is an exciting opportunity to continue working with ORBCOMM to facilitate maritime surveillance and intelligence, while ensuring safety of life at sea within the Australian continent and surrounding regions. Leveraging the company's mission-critical maritime communications network, we look forward to continue supporting AMSA's efforts in one of the largest search and rescue regions of the world.
www.orbcomm.com/en/networks/satellite-ais
www.kordia.com.au
---
One hundred cumulative years of on-orbit smallsat ops achieved by Space Flight Laboratory
Smallsat missions developed and launched by Space Flight Laboratory (SFL) have achieved 100 cumulative years of on-orbit operations.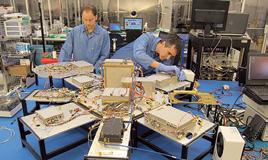 Over the past two decades, SFL has developed 25 smallsats that have been launched for space science, Earth Observation (EO), communication, radio frequency geolocation, environmental monitoring, technology demonstration, and ship detection.
SFL was established in 1998 as a self-sustaining specialty lab at the University of Toronto Institute for Aerospace Studies (UTIAS) to provide end-to-end microspace services on tight schedules and at low cost to deliver significant returns for clients around the world.
These technological breakthroughs include advanced control for formation flying and precise pointing and tracking, modular power systems for a range of spacecraft sizes, and propulsion systems tailored to sub-100 kg. platforms.
Advanced attitude control technologies have been a key differentiator for SFL since its first microspace mission launched in 2003.
Several SFL staff members were key contributors to the Canadian MOST space telescope, which proved a smallsat could achieve the stability in space for serious astronomy applications.
Since then, SFL has continued to break down the barriers to what could be accomplished with nano- and microsatellites. Some notable recent missions include:

• HawkEye 360 Pathfinder (artistic rendition above) constellation, three formation-flying smallsats built by SFL under contract to Deep Space Industries for HawkEye 360 Inc. Launched in December 2018 and commissioned in early 2019, the constellation is offering commercial space-based radio frequency (RF) detection and geolocation services.
---

• NorSat-1 and -2 smallsats (artistic rendition above) developed under contract with the Norwegian Space Agency (NoSA) and launched in 2017, have achieved significant improvements in maritime ship monitoring and important international scientific objectives, resulting in SFL being awarded the development contract for NorSat-3 in 2018.
---

• GHGSat-D smallsat (artistic rendition above) launched in 2016 by GHGSat Inc. to demonstrate that point sources of greenhouse gas emissions on Earth could be detected from orbit, leading to SFL being contracted to develop GHGSat-C1 and -C2 for commercial operations.
---
Including NorSat-3 and the two GHGSat microsatellites, SFL currently has 12 satellites under development at its facility in Toronto.
Among these, SFL is developing an aerosol and greenhouse gas monitoring microsatellite, DMSat-1, for the Mohammed Bin Rashid Space Centre (MBRSC) in Dubai.

Additionally, SFL has completed Slovenia's first Earth observation satellite, NEMO-HD, for capture of high-definition video and imagery, which will be launched later this year.
SFL Director Dr. Robert Zee said the company was established with the goal of creating breakthrough technologies that enable smaller satellites to cost-effectively perform complex missions once believed only possible with expensive larger satellites.
Dr. Zee added that SFL is proud to be a world leader in developing microspace technologies that open the door for nanosatellites and microsatellites to perform cutting-edge commercial applications. Such applications would otherwise be forestalled or precluded by the expense of traditional satellite approaches.
www.utias-sfl.net/
---
ESA opening up to new ideas for addressing space-related challenges
ESA aims to harness a new resource for future space activities: ideas from European researchers, businesses and the general public — through the organization's new Open Space Innovation Platform (OSIP), anyone is welcome to respond to space-related challenges.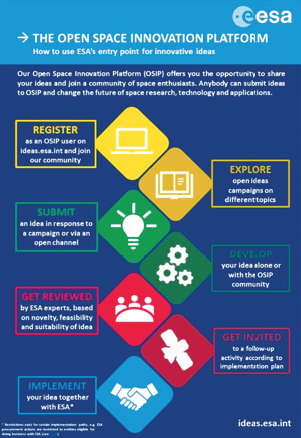 The Agency's new Open Space Innovation Platform website is a streamlined entry point for novel ideas, both in response to specific problems and open calls.
The platform forms part of a wider effort to support the future competitiveness of European space industry with early technology development, implementing the new Space Technology Strategy.
ESA Director General, Jan Wörner, commented that through OSIP, ESA hope sto build and nurture a community of space technology enthusiasts, enabling people to inject their insight into the ESA and collaborate smoothly with ESA experts to contribute to the future of the Europe in space.
OSIP will challenge users to propose new ideas to address specific problems in form of thematic campaigns. The site currently hosts two such public challenges, both linked to the oceans, as well as a channel to submit ideas for co-sponsored research.
Two inaugural challenges have just been released on OSIP at ideas.esa.int:
• Calling for novel ideas on ways of achieving the currently impossible task of detecting and tracking marine plastic litter
from space
• Methods to enlarge the effective area of autonomous shipping – today heavily reliant on satellite navigation – into heavily-trafficked ports requiring precision navigation as well as the high Arctic, where satellite navigation is rendered less reliable.
Another OSIP channel calls on ideas for research projects without a specific theme. These novel space-related research proposals would be co-funded by ESA.
While the two campaigns have deadlines, the channel is open ended with rolling evaluations and selections.
ESA's first contact with new ideas typically comes through the Discovery element, which also includes the Advanced Concepts Team (ACT), the Agency's future-oriented think tank staffed with a rotating roster of Ph.D. researchers. Initial studies are typically system studies, asking: if we incorporate this innovation into a space system, what would it enable, how could it work in practice?
The next stage is the Agency's Technology Development Element, similarly active across all sectors of space.
This is dedicated to creating the first laboratory prototypes of new ideas to demonstrate they are ready to be taken further by follow-on programs, such as ESA Science's Core Technology Program, the ARTES Advanced Research in Telecommunications Systems program or the General Support Technology Program, readying technologies for spaceflight and the open market.
The goal of ESA's seamless chain of innovation is to have a steady stream of new technologies ready for take-up by ESA missions and programs — making the correct discoveries available at the correct time as missions and applications require them.
www.esa.int
ideas.esa.int/servlet/hype
---
Drop test success an important step for PLD Space
An important step has been completed by PLD Space in the firm's development of a European reusable launcher.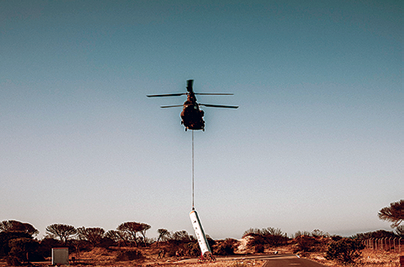 On April 11, the recovery drop test of the first stage of the MIURA 5 rocket was carried out from El Arenosillo Experimentation Center (CEDEA), of INTA (Instituto Nacional de Técnica Aeroespacial).
This operation, an essential part of the campaign to develop future launchers (FLPP) of the European Space Agency (ESA), serves the purpose of validating the recovery system of MIURA 5- PLD Space's first private reusable orbital launcher.
This successful drop places PLD Space in a good position for the further development of this reusable orbital launcher that will allow space access services for smallsats.
This test was carried out by the Transport Helicopter Battalion V (Bheltra V), of the Aeromobile Forces of the Army.
They released the demonstrator from a height of 5 km. using a Chinook CH-47 helicopter.
In the first attempt, an electric problem caused the cancellation of the mission and, after repairing it, the test was started once again.
The demonstrator, 15 meters long and 1.4 meters in diameter, fell within a controlled area of ​​the Atlantic, located 6 km. from the coast of Huelva, part of a segregated space controlled by INTA.
In carefully timed sequence controlled by the electronic systems on-board, a series of three parachutes were ejected to decelerate the demonstrator, until its splashdown in the Atlantic Ocean at a speed of about 10 meters per second.
The parachute system was designed and developed by Airborne Systems North America, the company that developed the parachutes for the NASA Apollo capsule, among others.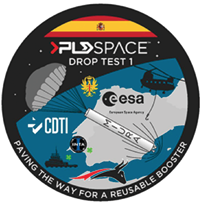 This same parachute system, used aboard the drop test, will be used on MIURA 1 and MIURA 5 flights.
Once the demonstrator impacted the water, a team of divers recovered the demonstrator, dragging it back to a nearby tugboat.
The demonstrator has been returned to the port of Mazagón after its successful recovery and will be transported back to the headquarters of PLD Space, in Elche, for further analysis.
The FLPP-LPSR project has been funded by the European Space Agency (ESA) with the support of the Center for Industrial Technological Development (CDTI).
The company reported that this project was extremely complicated and required tremendous organization.
This project's success is due to the support that PLD Space has received from ESA, CDTI, INTA and the Army (Ejército de Tierra) .
Additionally, the coordination of companies and other organizations that have participated in the project include Tecnalia, Airborne Systems North America, Sensonor, Solycal, Nomasa, Itecam, Mecanizados especiales, Cadamadrid, Talleres Blasco, Sertrain, STS, Helibasket, the University of Alicante and Integral Risk Global.
pldspace.com
---
Provisional certification from the WTA for two U.S. Electrodynamics teleports
U.S. Electrodynamics, Inc. (USEI) has achieved provisional certification from the World Teleport Association of their Brewster (Washington, USA) and Vernon Valley (New Jersey, USA) Teleports under WTA's Teleport Certification Program.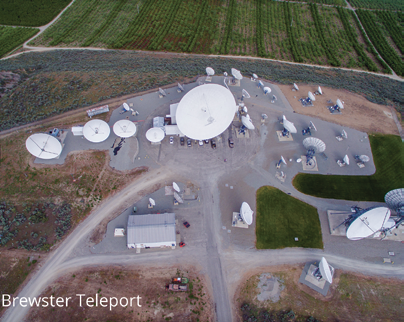 Since 1985, USEI headquartered in Brewster, Washington, has been providing government, commercial and private satellite and terrestrial teleport network services from their four, global, serving teleports.
These services include Telemetry Tracking & Control (TT&C), broadcast video, mobility, GEO, MEO and LEO tracking and
Internet services.
USEI's Brewster Teleport in Washington State and Vernon Valley Teleport in New Jersey are major satellite gateways, delivering connectivity to the Pacific Ocean Region (POR), Contiguous USA (CONUS), Central and South America and the Atlantic Ocean Region (AOR).
Combined, USEI offers a GEO satellite orbital arc view from 3° to 188° West longitude from the Brewster and Vernon Valley teleports. Additionally, USEI is in process of turning on eight, global, LEO/MEO stations, most with five, 7.6 meter NEC antennas. Three of these stations are already operating.
USEI mission statement is "Bringing the World Together" and defines the firm's quality of Spirit that accomplishes the highest levels of reliability, experience and world class customer service.
Since the program's introduction at IBC 2015, the Certification program has quickly grown in popularity. Starting with one certified facility in 2015, the program has added 40 in three years and currently has 12 teleports engaged in the quality evaluation process. Certifications have been issued to teleports operated by STN, Eutelsat, du, COMSAT, Signalhorn, Optus, Globecomm, Horizon, Media Broadcast, Elara Comunicaciones, GlobalSat, Talia, Telenor, Vivacom, Cyta, Batelco, SingTel, CETel, Etisalat, Hawaii Pacific Teleport, Intelsat, Speedcast, Telstra and Arqiva.
The industry has quickly adopted the transparent, independently verified standards as a means for teleports to differentiate themselves and for customers to choose the price-performance level suitable for their applications.
To achieve Provisional Certification, a teleport operator completes a +170-item questionnaire and submits it to WTA. The Association analyzes the data based on standards established by its Certification Committee and issues the Provisional Certification based on the self-reported information. The teleport then has six months to achieve Full Certification.
To achieve Full Certification under WTA's program, an auditor is dispatched to visit the teleport, provide independent validation of the data submitted in the questionnaire, and identify additional factors that may positively or negatively affect the score.
Full Certification is issued at a Tier number from 1 through 4, of which 4 represents the highest degree of excellence, and remains in effect for three years.
Jim Veeder, Founder of U.S. Electrodynamics, Inc. (USEI) since 1985, welcomes this opportunity to be evaluated by the WTA through its independent process and said that the company's core values: 1) Integrity of word, 2) vigilance to the firm's responsibilities to their customers. USEI's bottom line is built upon 100 percent reliability, quality and resilience delivered at a very personal level of service that we are known for delivering.
He noted that the company's facilities have been built with multiple redundancies and the training of staff is focused on building technicians and engineers well beyond operator skills, enabling USEI to meet all challenges. At USEI, human communications are considered to be a gift from the Creator and is a business facilitating His Love and Divine Will. Veeder added, "Wherever there is sky, we aim to be there."
WTA's Executive Director Robert Bell stated that certification supplies the crucial, missing answer to the teleport customer's biggest question: what quality of service will really be received? Independent, standards-based evaluation and validation sets teleport operators apart and assures customers that they will receive the price-performance outcome they expect.
For more information about the Teleport Certification Program, visit www.worldteleport.org/?page=Certification
www.usei-teleport.com/
---