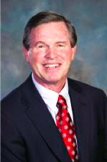 Frank McKenna became the president of International Launch Services (ILS) in October 2006, after two years serving as vice president and deputy at the company. He possesses more than three decades of experience in aerospace and the space launch businesses with Martin Marietta and Lockheed Martin Corp., which was a partner in ILS until October 2006. McKenna's background includes business management, business development and strategy, several CFO positions, and domestic and international joint ventures. McKenna holds a bachelor's degree in economics from Stetson University in Deland, Florida.
SatMagazine (SM)
Mr. McKenna, what are your thoughts on supply and demand in the commercial satellite marketplace?
Frank McKenna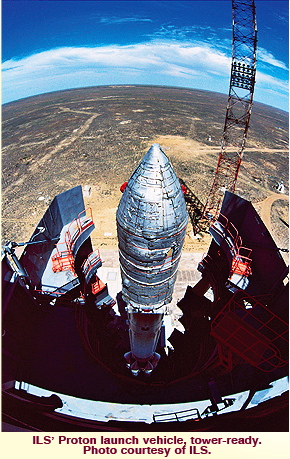 We believe we are currently at the end of a peak replacement and recapitalization cycle for the FSS market and that commercial GEO launches will drop to about 20 per year or less. This is consistent with historical business cycles and the most recent Euroconsult estimates. Given this expected drop in the coming years, we feel an increase of additional launch suppliers could be extremely damaging to the marketplace. As we have seen in the past, oversupply leads to instability and drives businesses out of the market as it did with Atlas and Delta and the resultant bankruptcy of Sea Launch. We could see a very rocky road in commercial launch in the next several years as Sea Launch attempts to return from bankruptcy and others enter the market.
SM
What is your current backlog and how does ILS plan to prepare for the expected drop in demand in the near-term?
Frank McKenna
Our current backlog is 23 orders worth approximately $2US billion. ILS and Khrunichev have been planning and preparing for the anticipated trough in satellite orders. With an average backlog of 20 or more orders for the last three years, ILS/Proton will be launching eight systems a year for the foreseeable future and overall Proton is launching at the rate of about once per month including the Federal launches. We believe that a balanced mix of Government and commercial launches provides for the strongest and most viable foundation for success in the business.
SM
What are the new improvements or enhancements to the Proton vehicle?
Frank McKenna
There has been a series of evolutionary improvements made to the heritage Proton system. Phase III Proton enhancements include a payload systems mass capability to 6.15 metric tons. This capability was initially successfully demonstrated on Proton with the Federal dual Express mission in February 2009 and commercially demonstrated this year with the launch of EchoStar XIV for DISH Network in March of this year. This was the heaviest satellite launched to date, weighing 6.38 metric tons at spacecraft separation. Phase III was demonstrated again with another EchoStar mission in July of this year, with the EchoStar XV satellite, so that is three successful flights with the Phase III enhanced Proton to date. This will be the standard configuration for most commercial missions going forward.
Phase IV Proton enhancements include 150 kg of added performance which bring total payload systems mass capability to 6.3 metric tons. These improvements are scheduled to be completed in 2012. These incremental improvements to the Proton system are specifically designed to address the favorable value and trend towards larger spacecraft including hosted payloads, and continue to make Proton the industry leader in heavy-lift. In addition to the Proton vehicle improvements, Khrunichev is also in the process of modifying the 92A50 processing facility to allow two spacecraft and spacecraft manufacturer teams to conduct simultaneous spacecraft test operations. It will also help to create additional manifest flexibility with two launch campaigns overlapping by seven to eight days, providing additional schedule assurance for our customers.
SM
As Khrunichev State Research and Production Center has purchased the majority shares of ILS in May 2008, how has the partnership been working?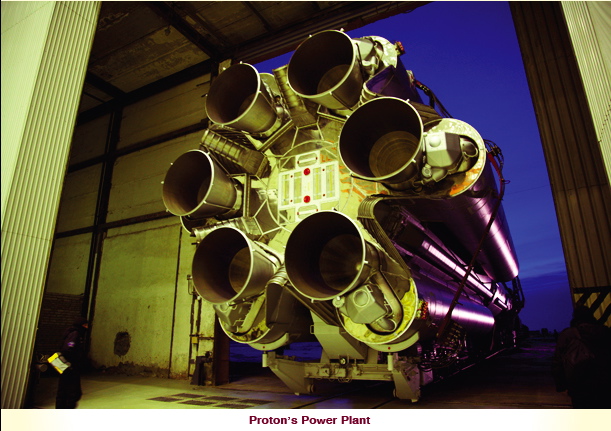 Frank McKenna
The ILS/Khrunichev partnership has been a tremendous asset to the commercial launch industry. We have a streamlined ownership structure and decision making, and an extremely solid financial foundation, increased productivity across the board and a commercial focus, all to serve our customers better.
Also, Khrunichev has been the leader of the Russian space industry consolidation — with most of the Proton suppliers and manufacturers all being overseen and managed in full by Khrunichev. Looking at the past five years with Khrunichev, the results are dramatic in terms of production, going from a rate of six systems produced annually to up to 14, which is more than double over that timeframe. As an example, last month we had two commercial Protons in Baikonur and one Federal Proton; this demonstrates a truly unprecedented production rate. These efficiencies in the factory create an added benefit to our customers in terms of pricing due to the increase in efficiencies and economies of scale.
SM
Mr. McKenna, what is the difference between the ILS/Khrunichev partnership and that of Sea Launch/Energia?
Frank McKenna
The differences between the ILS/Khrunichev partnership and the arrangement between Sea Launch and Energia are dramatic. We appreciate the opportunity to make the distinction. ILS is healthy and launching routinely and serving the commercial launch industry with new capabilities and real competitive value, launching some of the most important commercial missions that the customers across the globe have initiated. Quite frankly, we do not understand the organizational and financial structure of the realigned Sea Launch business as it looks unusually complex for what would be a rather straightforward business arrangement. In our opinion, it appears to be very risky, operationally constrained and not needed as the commercial launch market drops over the next several years. Both Energia and the Sea Launch customers will need significant financial resources to weather the operational and financial risks of this plan and the market.
In terms of the Khrunichev structure, Khrunichev is a Federal State Unitary Enterprise (FSUE) with complete support and backing by the Russian Federal Government, which represents roughly half of Khrunichev's business. The Russian Federation makes ongoing investments in the Khrunichev infrastructure, future programs and upgrades to help ensure the success of one of its core Space Centers in Russia. As we stated earlier, this balance is key to being successful in the commercial launch industry. Khrunichev has a diverse product portfolio; however, the Proton launch system is the primary business for Khrunichev. A large portion of the entities now merged under Khrunichev support the ongoing development and production of the Proton vehicle. The supply chain is robust, healthy and well managed. To date, Khrunichev has invested over $300M into the supply chain integration effort – across the Proton product line.
Khrunichev is one of the world's premier aerospace entities and, in 2008, was responsible for orbiting one out of every 3 kg of world space cargo or more than 39 percent. Khrunichev has invested $300M in the retooling and upgrading of production equipment since 2006 and will continue to reinvest in the business as they are committed to ensuring the success of the Proton vehicle. The bottom line is, the ILS/Khrunichev partnership is sustainable and well organized and is an established business that is way ahead of the pack and will be here for the long term.
SM
Is ILS involved in the Russian GLONASS satnav constellation project and/or other Russian launch manifests?
Frank McKenna
No, ILS is not involved in the Glonass missions and does not have any involvement in any of the other Federal missions on Proton. ILS has the exclusive rights to market the Proton launch vehicle for commercial satellite missions. Khrunichev manages the Federal manifest and missions including the Glonass navigation satellites.
With respect to the European navigation system — Galileo — ILS has provided a cost effective and technical solution that could help ESA and the EU retain the mission objective for that program. As it stands now, the program is up to 400 million Euros over budget and a delayed deployment could result in diluted capabilities for the entire European navigation system. With Proton's successful history of launching multiple spacecraft, and ability to deliver on-time with a price that makes sense, it could be the ideal solution to a program that has a very uncertain future.
Additionally, with the announcement of the YAMAL 401 and 402 missions in May of this year, two satellites for Gazprom Space Systems, the world's largest producer of natural gas, ILS will be launching the first set of Russian commercial satellites. ILS will be launching another first, with the pairing of SES-3 for SES with the Kazsat-2 satellite, a Khrunichev-built satellite for the Kazakh government to provide telecommunications services to Russia and central Asia. This will be the first time a Western (Orbital) commercial satellite will be launched with a Russian Federal mission, which will be exclusively managed by Khrunichev. We see more opportunities such as these, opening up for ILS.
SM
What do you see as new opportunities or trends in the marketplace that could be ideally suited for ILS Proton?
Frank McKenna
We see the hosted payload market as becoming more of an opportunity for ILS Proton given that it is a high performing vehicle with a history of launching on schedule. We've been serving this market for a while now and have the technological and licensing capability; with several launches under contract such as: YahSat 1B for Yahsat with a dual use payload for the United Arab Emirates Air Force; IS-22 for Intelsat, a commercial satellite with a UHF payload for the Australian Defense Force; and the Anik G1 satellite for Telesat, with an X-band payload for military use. I-22 and Anik G-1 are both scheduled to launch in 2012.
The satellite industry is developing some exciting, new technologies and innovations; ILS and Khrunichev are very proud to be playing an important role in their development. Two of note are the KA-SAT satellite for Eutelsat, the first to operate exclusively in high-capacity Ka-band and SkyTerra-1 with its hybrid satellite and terrestrial 4G network services. Both of these satellites will launch this year on ILS Proton with SkyTerra-1 scheduled for November and KA-SAT in December.
A Federal Proton Glonass mission will take place in November as well. The next launch for ILS Proton is the SIRIUS XM-5 mission for SIRIUS XM Satellite Radio on 15 October. This will round up the year with up to eight commercial missions and four Federal Missions for Proton. This in an exceptional launch pace that ILS and Khrunichev plan to continue in the years to come.