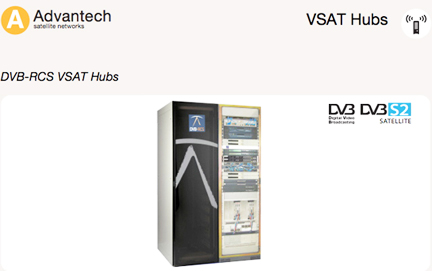 Advantech Satellite Networks offers a two-way, open standard (DVB-RCS), broadband satellite access system.SatNet's DVB-RCS Hub, and in particular, its Return Link Sub-System (RLSS), is at the heart of the broadband access system.
SatNet Hubs
(including the
RLSS
) are turn-key systems which can be installed in days to enable a wide range of public and/or private network topologies with satellite interactive terminals.
The RLSS from SatNet is a modular hub sub-system which can be integrated with new or installed IP/DVB broadcast platforms and IP switch/routing equipment to provide two-way satellite broadband access services.
The RLSS is designed to receive inbound traffic, handle inbound and outbound signaling, schedule and control networks of satellite interactive terminals (available from multiple suppliers). A single scalable RLSS unit can support networks ranging from just tens to thousands of simultaneously logged-on terminals.
Advantech Satellite Networks Hubs and Terminals
are highly flexible; several different network architectures are possible. Some key features of the SatNet DVB-RCS Hub include:
Frequency independent—hubs, terminals and onboard processors can be operated in any frequency band (e.g., Ku, Ka, C, X or hybrids of these)
Satellite versatility—the system can operate with the forward and return link on the same satellite, or on different satellites.
Multi-mode System capability— evolves the DVB-RCS standard one step further by allowing for a centrally managed hybrid DVB-RCS and DVB-SCPC network
Terminal diversity—networks can support receive-only terminals at the same time as two-way terminals, as well as both mesh and star topologies of terminals.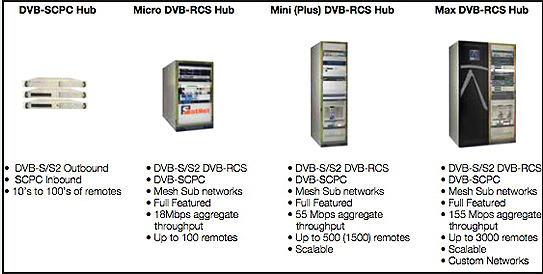 Advantech Satellite Network's entire system, as well as the DVB-RCS standard, have been designed to minimize the cost of scaling a broadband access network from terminal populations as small as a few tens of terminals to tens of thousands.
Performance of access layer protocols is highly dependent on traffic profile. Advantech's implementation of DVB-RCS, using dynamic assignment techniques mandated in the DVB-RCS specification, has been specifically designed and tuned for multi-media traffic.
NetManager™
Advantech has responded to market demands by developing a powerful management system capable of meeting the functional and scalability requirements of a variety of system configurations. The SatNet Hubs feature the NetManager™, which provides Hub & Network Operator Tools, Service Provisioning Tools and Multiple User Interfaces.
The management of SLAs, Return Link and Forward Link Quality of Service (QoS) and the daily management of SITs, is made easy with the use of the SatNet NetManager™.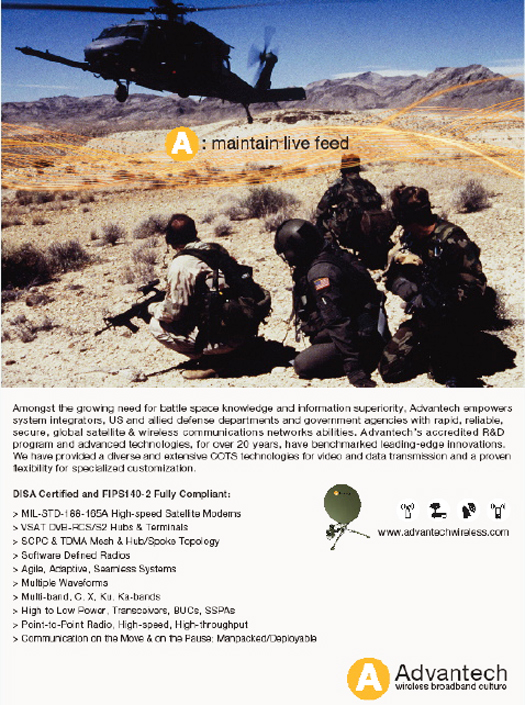 The Advantech multi-mode connectivity offering revolves around taking the DVB-RCS standard and evolving it one step further. The Advantech multi-mode approach delivers open standard benefits to fixed and mobile users. The
S5420
VSAT terminal has the ability to be reconfigured between DVB-S/S2/TCC (SCPC) and DVB-RCS (MF-TDMA). Multi-mode operation brings an extra dimension to networks where the need for SCPC connectivity is frequent within the population of terminals but occasional at the individual terminal level.
The hub provides the forward link DVB-S2 modulated service to the multi-mode terminal using the standard DVB-RCS forward link. The return link operates typically in DVB-RCS mode but can switch to a DVB-S/S2/TCC SCPC mode through the hub station NMS which provides centralized management of the system. The switching mechanism, on the return link, between the DVB-RCS TDMA system and the DVB-S/S2/TCC SCPC modes is customer controlled and can be commanded by the hub Operator.
The Satnet Multi-Mode solution, with its scalability and flexible mix of DVB-SCPC and DVB-RCS terminals, offers a highly cost-competitive solution for any size network. With the addition of the Mesh Overlay capability, Satnet offers a powerful network architecture that can meet the demanding requirements for virtually any application.