aabdfbad
Kepler Discovers A Tiny Planet System
NASA's Kepler mission scientists have discovered a new planetary system that is home to the smallest planet yet found around a star similar to our sun.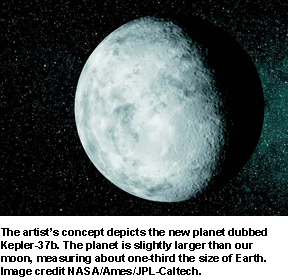 The planets are located in a system called Kepler-37, about 210 light-years from Earth in the constellation Lyra. The smallest planet, Kepler-37b, is slightly larger than our moon, measuring about one-third the size of Earth. It is smaller than Mercury, which made its detection a challenge.
The moon-size planet and its two companion planets were found by scientists with NASA's Kepler mission to find Earth-sized planets in or near the "habitable zone," the region in a planetary system where liquid water might exist on the surface of an orbiting planet. However, while the star in Kepler-37 may be similar to our sun, the system appears quite unlike the solar system in which we live.
Astronomers think Kepler-37b does not have an atmosphere and cannot support life as we know it. The tiny planet almost certainly is rocky in composition. Kepler-37c, the closer neighboring planet, is slightly smaller than Venus, measuring almost three-quarters the size of Earth. Kepler-37d, the farther planet, is twice the size of Earth.
The first exoplanets found to orbit a normal star were giants. As technologies have advanced, smaller and smaller planets have been found, and Kepler has shown even Earth-size exoplanets are common.
"Even Kepler can only detect such a tiny world around the brightest stars it observes," said Jack Lissauer, a planetary scientist at NASA's Ames Research Center in Moffett Field, California. "The fact we've discovered tiny Kepler-37b suggests such little planets are common, and more planetary wonders await as we continue to gather and analyze additional data."
Kepler-37's host star belongs to the same class as our sun, although it is slightly cooler and smaller. All three planets orbit the star at less than the distance Mercury is to the sun, suggesting they are very hot, inhospitable worlds. Kepler-37b orbits every 13 days at less than one-third Mercury's distance from the sun. The estimated surface temperature of this smoldering planet, at more than 800 degrees Fahrenheit (700 degrees Kelvin), would be hot enough to melt the zinc in a penny. Kepler-37c and Kepler-37d, orbit every 21 days and 40 days, respectively.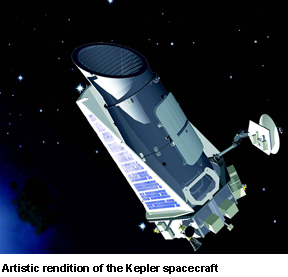 "We uncovered a planet smaller than any in our solar system orbiting one of the few stars that is both bright and quiet, where signal detection was possible," said Thomas Barclay, Kepler scientist at the Bay Area Environmental Research Institute in Sonoma, Calif., and lead author of the new study published in the journal Nature. "This discovery shows close-in planets can be smaller, as well as much larger, than planets orbiting our sun."
The research team used data from NASA's Kepler space telescope, which simultaneously and continuously measures the brightness of more than 150,000 stars every 30 minutes. When a planet candidate transits, or passes, in front of the star from the spacecraft's vantage point, a percentage of light from the star is blocked. This causes a dip in the brightness of the starlight that reveals the transiting planet's size relative to its star.
The size of the star must be known in order to measure the planet's size accurately. To learn more about the properties of the star Kepler-37, scientists examined sound waves generated by the boiling motion beneath the surface of the star. They probed the interior structure of Kepler-37's star just as geologists use seismic waves generated by earthquakes to probe the interior structure of Earth. The science is called asteroseismology.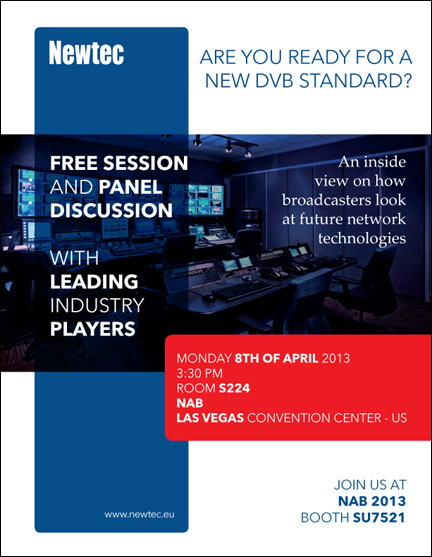 The sound waves travel into the star and bring information back up to the surface. The waves cause oscillations that Kepler observes as a rapid flickering of the star's brightness. Like bells in a steeple, small stars ring at high tones while larger stars boom in lower tones. The barely discernible, high-frequency oscillations in the brightness of small stars are the most difficult to measure. This is why most objects previously subjected to asteroseismic analysis are larger than the sun.
With the very high precision of the Kepler instrument, astronomers have reached a new milestone. The star Kepler-37, with a radius just three-quarters of the sun, now is the smallest bell in the asteroseismology steeple. The radius of the star is known to 3 percent accuracy, which translates to exceptional accuracy in the planet's size.
Ames is responsible for Kepler's ground system development, mission operations, and science data analysis. NASA's Jet Propulsion Laboratory in Pasadena, California, managed Kepler mission development.
Ball Aerospace & Technologies Corp. in Boulder, Colorado, developed the Kepler flight system and supports mission operations with the Laboratory for Atmospheric and Space Physics at the University of Colorado in Boulder.
* * * * * * * * *

X-Band Certified
GATR Technologies has announced that its 2.4- and 1.8-meter unique inflatable satellite communication terminals are certified to operate at X-band on the Wideband Global SATCOM (WGS) network.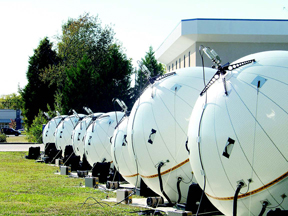 This certification affirms that GATR's terminals adhere to the stringent performance and operational control requirements needed to operate on the WGS network.
GATR's extreme portability, in combination with this certification, enables the warfighter to easily transport and deploy the system, as well as transmit and receive mission critical data, voice, and video faster and more securely.
Testing was completed by the U.S. Army Space and Missile Defense Command/Army Forces Strategic Command (SMDC/ARSTRAT) in support of the U.S. Marine Corp System Command.
The WGS constellation of satellites increases the communications capability of United States, Canadian, Australian, and other allied nation militaries by providing additional bandwidth capabilities for tactical command, control, communications, and computers; intelligence, surveillance, and reconnaissance (C4ISR); battle management; and combat support information.
WGS offers the ability to exchange information faster using higher data rates, and more efficiently, versus commercial satellite solutions.
"GATR's WGS certification fulfills mission requirements for a high-gain, low-weight satellite terminal that will directly benefit the warfighter," states Dr. Larry Lowe, VP of Engineering at GATR Technologies.
Lowe continued, "The portability and performance advantages of our technology are already realized by comms groups within the military and homeland security; this certification enables all DoD users to exploit these advantages."
GATR's 1.8- and 2.4-meter X-band solutions are also certified to operate on commercial X-band networks such as X-TAR and Paradigm.
* * * * * * * * *

Antarctic Imagery, Courtesy Of Inmarsat's BGAN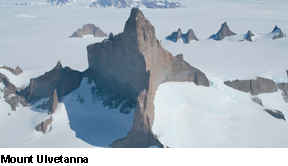 A team of mountaineers on Queen Maud Land in the Antarctic used an Inmarsat BGAN terminal to relay their "epic adventure" to the world.
The six-man team were there to climb Ulvetanna, which lies at 71° 51' South, 8° 20' East, in the Orvin Fjell mountains on Queen Maud Land—an area half the size of Europe.
The mountain is known as the most technically demanding peak on the harshest continent.
With temperatures dropping as low as -35°C and with the potential for 100mph winds, it was no picnic for the team, who departed for Antarctica from South Africa on December 16th.
Led by climber Leo Houlding, the team included film director and photographer Alastair Lee who reported their BGAN Explorer 700 terminal was "working like a charm" as he used it to update blogs and send back images from the desolate icy wilderness.
Images sent included shots of the team in a beautiful blue ice cave, which took nearly six hours to carve out. Another showed the near vertical face of lvetanna and the task ahead of them.
"The cave is amazingly sheltered and has this beautiful blue color. Combined with the hundreds of facets scored into the icy snow by a saw, and the shiny surfaces resulting from breathing and water boiling sessions inside the cave, it makes you feel like you have entered a magical crystal dungeon," said Alastair.
The team eventually conquered the summit in late January.
"Ulvetanna's fearsome North East Ridge allowed us safe passage up and down from her summit, but not without showing a few teeth," said Alastair.
"We did it. A decade of dreaming, a year of planning, a month on the ice, and week on the wall, but we did it!"
And he praised the efficiency of the BGAN terminal they used for their marathon trip, saying: "It is a solid piece of kit and the battery life was amazing.
"We were on the ice for 35 days and only had to charge it once. We used it to upload photographs to our sponsors and keep our blogs updated—it never missed a beat."
"We also found it very easy to align with the satellite—we had a clear shot North across the ice sheet so that was no problem. I would definitely use it again if we had a similar climb."
's adventure on their blog. A film of the adventure called "The Last Great Climb" is also being produced.
* * * * * * * * *

SSPI—2013's Honorees
The Society of Satellite Professionals International announced five new inductees for the 2013 Hall of Fame— they will be honored on March 19 during SSPI's annual Gala.

They will join more than 40 Hall of Fame members including Dr. Arthur C. Clarke, Dr. Harold Rosen, Olof Lundberg, Eddy Hartenstein, Frederic d'Allest, Sidney Topol, Takayushi Yoshida, Mary Ann Elliott, Mary Frost, Peter Jackson, and Robert Berry. The 2013 Hall of Fame Honorees include...
Romain Bausch, President and CEO of SES.
Since joining SES in 1995, Romain Bausch provided the leadership that transformed SES from a regional satellite company offering direct-to-home TV distribution in Europe to a global satellite operator serving broadcasters, telcos, enterprise, and government customers. Under his leadership, SES became one of the big "consolidators" in the FSS industry, integrating among others Nordic Satellite AB, GE Americom and New Skies Satellites, and also providing significant investment and support to O3B Networks. He managed this expansion program while keeping SES on a solid financial footing, and took the company public in a successful IPO in 1998. Romain Bausch is also Vice Chairman of the Board of Directors of O3b Networks, member of the Board of the European Satellite Operators' Association (ESOA), and a Director of Luxembourg's Business Federation. In 2002, he was honored as Via Satellite's Satellite Executive of the Year.
Robert Zitter, Executive Vice-President and Chief Technology Officer, Home Box Office.
Robert Zitter is responsible for HBO's technology interests worldwide, overseeing satellite-based distribution, origination, production operations and engineering. Zitter's career has included spearheading the introduction of digital compression technology, the development and launch of HBO HD and HBO On Demand and the founding of HBO's businesses in Latin America, Asia and Europe. "There are very few names that come to mind who have had as significant an impact on our industry as Bob Zitter," said HBO president and COO Eric Kessler. "His accomplishments and innovation have helped transform not just the business at HBO but the entire landscape." Zitter was inducted into The Cable Television Hall of Fame in 2006 and is a recipient of the NCTA's Vanguard Award for his leadership in science and technology. He also served on the FCC's Technology Advisory Committee and as a director of the North American Broadcasters Association.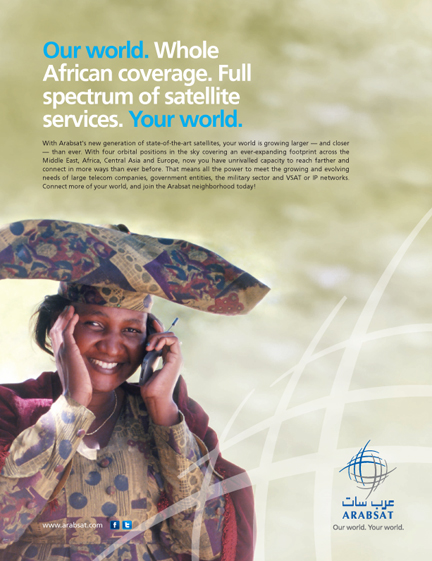 Susan Irwin, President, Euroconsult US.
Susan Irwin, one of the original founders and directors of SSPI, has more than 30 years experience researching and analyzing industry trends and developments on the use of satellite communications for voice, video and data. She is responsible for business development and management of Euroconsult's U.S. business. For 25 years, she headed her own consulting firm, Irwin Communications, contributing her expertise in satellite markets and applications to start-ups, government agencies, NGO's and private corporations worldwide. She was a pioneer of satellite distance learning, teleconferencing and business television and has been a key contributor to the commercial advancement of innovations such as DTH, digital compression and satellite broadband. Susan is widely published and a frequent speaker at conferences throughout the world. She has been Conference Chair of SATCON since its inception in 2001; Director Emeritus of the SSPI; Director Emeritus of the Arthur C. Clarke Foundation, on the Board of Governors of the Pacific Telecommunications Council, and was recently elected Vice President, International, of the American Astronautical Society.
Prof. U. R. Rao, Chairman, the Governing Council of the Physical Research Laboratory at Ahmedabad.
Prof. U. R. Rao is an internationally renowned space scientist who has contributed to the development of space technology in India and its extensive application to communications and remote sensing of natural resources since starting his career in 1960. More than any other single individual, Professor Rao is responsible for the creation of India's space and satellite capabilities and their application to the nation's development. As head of the Indian Space Research Organization, Prof. Rao undertook the responsibility for the establishment of satellite technology in India in 1972. Under his guidance, beginning with the first Indian satellite 'Aryabhata' in 1975, over 20 satellites were designed, fabricated and launched. Rao also accelerated the development of rocket technology in India, resulting in the successful launch of ASLV rocket in 1992 and the operational PSLV launch vehicle. He has tirelessly promoted the use of space technology for broadcasting, education, meteorology, remote sensing and disaster warning. Rao, who has published over 360 scientific and technical papers in various journals, has received many honors and awards, including the Padma Bhushan Award, a very high civilian award of the Government of India.
Dick Tauber, VP Transmission Systems & New Technology for the CNN News Group.
Dick Tauber, a former member of the SSPI Board of Directors, is the current President of the Board of Directors of the Southeast Chapter of SSPI, which he helped found in 2005. He has worked at CNN since 1981, when he joined the company as a satellite trainee. As the satellite technology leader for a global newsgathering and distribution business, he has implemented technologies and solutions that allow this organization to gather its content from any place on the planet, any time a news story unfolds. He has also been the Chair of WBU-ISOG since 1985. More recently, Dick has also served as Co-Chair of The Radio Frequency Interference - End Users Initiative (RFI - EUI), an organization that seeks to mitigate the risks of satellite interference and develop quality assurance practices that programmers and distributors require for the collection and distribution of their content. Tauber has received three Emmy Awards for his work at CNN - 1986 for his part in Turner Broadcasting System, Inc.'s Goodwill Games, in 2002 honoring CNN's coverage of the events of Sept. 11, 2001 and a Technical Emmy in 2007 for CNN's mobile, IP newsgathering system.
The Hall of Fame was introduced in 1987 to recognize the valuable contributions of the visionaries and pioneers who have made possible the age of satellite communications — individuals who have devoted their careers to the advancement of technology and to helping build the political and commercial foundations of the industry.
The Hall of Fame Ceremony will open the 2013 Gala dinner on March 19th at the Renaissance Hotel in Washington DC. Hall of Fame members are selected by a committee of industry leaders, chaired by Richard Wolf, Senior Vice President, Telecommunications & Network Origination Services for ABC Television, and past Chairman of SSPI.
* * * * * * * * *

Driving Content, Quite Literally
SIS LIVE has deployed its new 1.8m vehicle mounted antenna DriveForce®.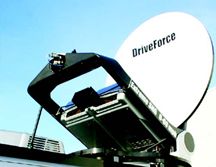 DriveForce delivers high bandwidth transmissions with the ability to transmit at any location including those, such as links golf courses, where exceptionally windy conditions prevail.
SIS LIVE is currently operating a new dedicated DriveForce SNG truck for Sky and has launched an additional six DriveForce vehicles to support Sky Sports News and other news and sport customers. The DriveForce system has already received tremendous feedback from operators and clients.
With increasing demand for high bandwidth HD transmissions, many existing systems use mounts developed for small aperture antennas, bolstered to take a larger reflector, thus compromising the design.
With DriveForce, SIS LIVE have adopted a 'grass roots' approach, ensuring that the mount is optimized to carry the large antenna and capable of operating in wind speeds of up to 60mph, almost double that of competing products.
The ultra-high performance carbon fibre system is fully automated, capable of very high bandwidth or dual path transmissions and incorporates SIS LIVE's award-winning differential antenna control technology to find and track any satellite within seconds.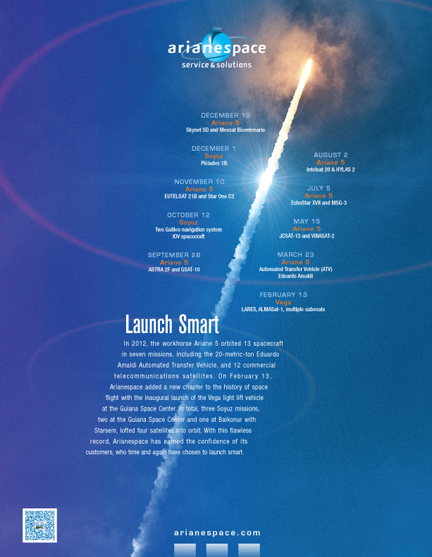 SIS LIVE has invested heavily in accurate tooling and high quality, low tolerance manufacturing processes, ensuring optimal quality and performance of its antennas.
This significant investment has enabled the development of units that feature high levels of integration and are extremely lightweight due to the extensive use of composite materials.
Additionally, SIS LIVE has put together a working group to explore the technology and workflows required to deliver live, 4K, multi-camera event coverage from an outside broadcast unit, culminating in a field test at St. James' Park on February 2nd.
Working with major camera and equipment suppliers, SIS LIVE has conducted proof of concept tests at base using a range of cameras coupled with its latest 3G capable outside broadcast unit OB 14. All recent SIS LIVE trucks have been built to be 3G capable, designed to handle 4K and HD signals.
This has involved testing of signal flows, the use of lenses suitable for live event coverage, as well as the integration of recording technology.
Testing continued on 2nd February with a Premiership football match featuring Chelsea and Newcastle captured in full 4K using the Sony F65 camera paired with a Fujinon 75mm-400mm lens, recording to the camera's onboard 256gb flash memory cards.
Additionally, one of Psitech's 4K Vortex systems and a specialist engineer were flown over from the United States to take part in the testing.
* * * * * * * * *

Successful Robotic Refueling Demo
Following six historic days of operations aboard the International Space Station, NASA's Robotic Refueling Mission, or RRM, demonstrated remotely controlled robots using current-day technology could refuel satellites not designed to be serviced.
RRM tests from January 14-25 culminated in a first-of-its-kind robotic fluid transfer, a demonstration that could be a catalyst to expanded robotic satellite-servicing capabilities and lead to a greener, more sustainable space. NASA also hopes that RRM technologies may help boost the commercial satellite-servicing industry.
"RRM gives NASA and the emerging commercial satellite servicing industry the confidence to robotically refuel, repair and maintain satellites in both near and distant orbits—well beyond the reach of where humans can go today," said Frank Cepollina, associate director of the Satellite Servicing Capabilities Office, or SSCO at NASA's Goddard Space Flight Center in Greenbelt, Maryland.
Since 2009, SSCO has aggressively advanced robotic technologies for a notional, free-flying, servicer spacecraft that could access, repair and refuel satellites in geosynchronous Earth orbit, or GEO. RRM is a critical part of this technology development campaign.
"RRM allows us to take a major step into the future—a future where humans and machines can together take on greatly expanded roles in space capability, research and exploration," Cepollina said.
Veterans of five manned servicing missions to NASA's Hubble Space Telescope, Cepollina and the SSCO team conceived the idea of RRM and saw it through its rapid 18-month development to its July 2011 launch on STS-135, the last space shuttle mission. A joint effort with the Canadian Space Agency, RRM uses the space station as test bed for the research and development of robotic satellite-servicing capabilities.
The cutting-edge technologies RRM demonstrates could extend the lives of many of the hundreds of satellites currently in GEO. These assets deliver such essential services as weather reports, cell phone communications, television broadcasts, government communications and air traffic management.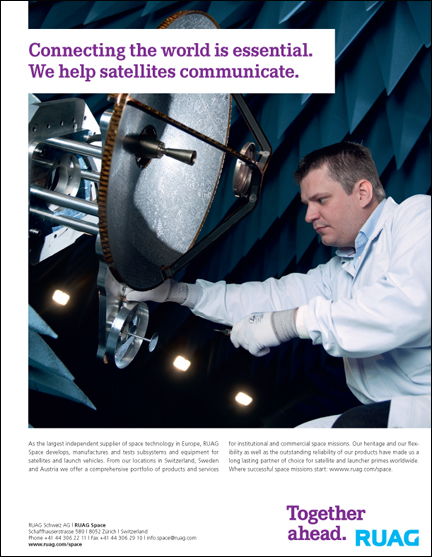 Servicing capabilities could greatly expand options for government and commercial fleet operators in the future, potentially delivering stakeholders significant savings in spacecraft replacement and launch costs.
The January RRM activities employed the teleoperated Canadian Dextre robot, four sophisticated RRM tools and the washing-machine-sized RRM module to execute an end-to-end refueling demonstration on orbit. Unlike other demos, RRM is the first to test the robotic refueling of satellite interfaces not designed to be accessed or serviced.
Robot controllers at NASA's Johnson Space Center in Houston first commanded an RRM tool—working at the end of more than 70 feet (21.34 meters) of combined Dextre and Canadarm2 robotics—to cut a pair of twisted wires each 0.02 inches in diameter, the thickness of four sheets of paper. Additional exacting tasks followed, with RRM tools cutting more wire— used to secure satellite parts during launch—and unscrewing and stowing two protective caps before finally exposing the representative fuel valve.
After the Johnson team threaded the RRM Nozzle tool with its attached hose onto the valve, operators at NASA's Marshall Space Flight Center in Huntsville, Ala., sent a precise sequence of commands to activate the RRM Fluid Transfer System. Liquid ethanol flowed from the Fluid Transfer System into the Nozzle Tool and through the attached fuel valve, ultimately pulsing back into the module's reservoir. Once the fluid transfer was complete, the Nozzle Tool used a novel technique to withdraw from the valve, leaving behind a clever "quick disconnect" fitting that would allow for a simpler and more efficient future refueling connection.
Future RRM tasks scheduled for 2013 include thermal blanket cutting, and fastener and electronic termination cap removals: all firsts of their kinds. A new round of servicing task boards, tools and activities are slated to continue its investigations through 2015.
Results of RRM operations show that current-day robotic technology can refuel the common, triple-sealed satellite fuel valves of orbiting satellites. "The RRM tools, technologies and techniques passed their tests with flying colors," said SSCO deputy project manager Benjamin Reed. "We are immensely pleased with its success and very grateful to our partner the Canadian Space Agency."
The team's excitement in completing the task was heightened by the treasury of experience and insight gained from the exercise.
"Nothing compares to seeing how your hardware and procedures work in a real space environment," said Reed. "This is the beauty of being able to test new, game-changing technologies on the International Space Station."
"We were very excited to see the RRM refueling task validated the ground development work that our dedicated SSCO team performs every day," Reed said. "It is direct evidence that we are not working blindly in the proverbial vacuum, but rather that our carefully planned work at Goddard accurately simulates the real environment of space."
SSCO plans to present RRM results to date at the upcoming Satellite 2013 conference, as well as during space station panels and other events.
NASA continues to test capabilities for a new robotic servicing frontier. In conjunction with RRM, the SSCO team has been studying a conceptual servicing mission and building technologies to address uncharted territory. They include an autonomous rendezvous and capture system, a propellant transfer system for zero gravity and specialized algorithms to orchestrate and synchronize satellite-servicing operations.
On January 15, NASA released a Request for Information to seek input on a potential public-private partnership to effect the full utilization of NASA-developed technology through an end-to-end technology demonstration of a satellite-servicing capability for client satellites located in GEO. The conceptual Restore Mission would potentially perform servicing operations in orbit in the 2018-2023 timeframe. RRM is proving the technology to achieve such a future mission.
"RRM is a harbinger of the next era in satellite fleet operations," Reed said. "It disrupts the accepted paradigm that a GEO satellite must be decommissioned at the end of its propellant reserves. Nearly 50 years of common practice is challenged with the options that RRM proves and foreshadows."
Story by Adrienne Alessandro NASA's Goddard Space Flight Cente
r