Jay Monroe has held the Chairman position at Globalstar since the purchase of the assets of the Company by Thermo Capital Partners in April 2004. He was previously elected as the Company's CEO in January 2005, a position he held until July, 2009. He resumed the position of CEO following the retirement of Peter Dalton in July 2011.
As Chief Executive Officer, Mr. Monroe manages the long-term strategic growth of Globalstar, Inc. and its subsidiary company SPOT LLC., and oversees daily operations. He is responsible for extending the quality and broadening the reach of the company's portfolio of satellite voice and data solutions. Mr. Monroe has been the majority owner of the Thermo Companies since its founding in 1984. Mr. Monroe has overseen operations in a wide variety of businesses at all phases of growth, from startup through maturity.
Under his direction, the Thermo Companies founded or acquired companies in diverse industries including power generation, natural resource development, industrial equipment distribution, real estate, telecommunications and leasing services. Mr. Monroe is on the Board of Directors of Thermo Capital Partners and several of its portfolio companies. Mr. Monroe is a graduate of Tulane University in New Orleans.
SatMagazine (SM)
Good day, Mr. Monroe. In 1984, you were the majority owner of Thermo Companies, which founded or acquired companies in various industries. What led Thermo into purchasing the assets of Globalstar in 2004, and what was the reason for moving even further into the communications arena?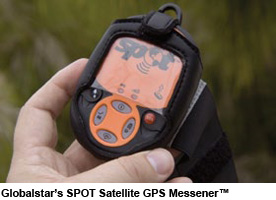 Jay Monroe
Thermo stresses the purchase of assets in all its investments. Globalstar was appealing as it has two solid assets—the Globalstar satellite constellation and its spectrum. This investment provided an opportunity to participate in the rapidly changing data and communications marketplace.
SM
Would you please offer us some history as to when and how Globalstar was founded and the charter behind the firm's creation?
Jay Monroe
Globalstar began as a partnership of the world's leading telecommunications service providers and equipment manufacturers, led by founding partners Loral Space and Communications and Qualcomm Incorporated. The Company began commercial operations in 2000, with the goal of establishing an affordable, global communications service. In 2004, Globalstar completed its corporate restructuring as well as an IPO in late 2006. Today, Globalstar serves nearly half a million customers operating in over 120 countries around the globe.
SM
What are Globalstar's various operating divisions, and what market segment is each business focused upon?
Jay Monroe
At the highest level, Globalstar is split into two divisions: the Simplex business, which includes simplex modems and the SPOT™ family of personal GPS satellite messenger devices, and the Duplex division of products and services, which include mobile and fixed satellite telephones, Duplex satellite data modems and flexible airtime service packages.
Many land based and maritime industries benefit from Globalstar with increased productivity from remote areas beyond cellular and landline service, while outdoor enthusiasts around the world feel safer and stay connected with their SPOT devices. Global customer segments include: oil and gas, government, mining, forestry, commercial fishing, utilities, military, transportation, heavy construction, emergency preparedness, and business continuity as well as individual recreational users. Globalstar data solutions are ideal for various asset and personal tracking, data monitoring and SCADA applications.
SM
Mobile satellite and voice and data services have a major impact upon how communication is accomplished across the globe, especially when one considers how GPS integration plays its role in such offerings—how does Globalstar manage bandwidth and capacity issues for the network?
Jay Monroe
Due to the manner in which our network is designed, capacity has not been a major issue for Globalstar. Using a "bent-pipe" space-to-ground network architecture allows us to make major networks upgrades at our ground-based satellite gateways instead of in orbit.
For example, two years ago we completed upgrades to our Simplex data network capacity and receiver sensitivity by installing new software and hardware at specific gateways around the world. These upgrades expanded our Simplex data geographic coverage and our Simplex data subscriber messaging capacity by as much as 10 times, thereby increasing the size of the customer base that we can support for our high quality and affordable M2M asset tracking and SPOT Satellite GPS Messenger™ products and services.
SM
The Company is currently promoting its "first, second-generation LEO network," thanks to the recent launches of your firm's updated constellation, which will be comprised of 32 satellites. Could you tell us about the LEO satellites capabilities and technical specifications, and how such improves upon the first generation constellation?
Jay Monroe
First and foremost, since our LEO satellites orbit at approximately 875 miles, our satellite phones deliver the highest voice quality (whisper clear, with far less latency or voice delay) compared to the experience delivered via GEO satellites that are orbiting approximately 23,000 miles away from Earth. Additionally, while our first-generation satellites were designed to last seven years, the new second-generation satellites are built to last 15 years. We already offer our customers the MSS industry's fastest data speeds, but once Globalstar has completed the launch of our second-generation LEO network and our ground station upgrades are installed, our customers will enjoy even faster data speeds—up to 256 kbps. We also expect to offer additional functionality, such as MMS (multimedia messaging) and support of 3G and 4G mobile services, with the completion of our second-generation LEO satellite network.
SM
How do your new satellites manage voice and data delivery?
Jay Monroe
Globalstar's network utilizes a "bent-pipe" system architecture. This means when a customer uses one of our phones or data products, the signal is sent into space where it is immediately relayed onto a ground station within range of the satellite. From here the call or data message accesses the PSTN or the Internet. Because there is no need for expensive cross-linking of signals, which can drive up the cost of the service, we can provide our customers with an affordable solution to their remote communications needs.
SM
What discernible difference does a LEO satellite network provide to satellite phone service?
Jay Monroe
It all comes down to performance. Because of the way a LEO satellite network operates, our satellite customers enjoy the highest voice quality—the purest in the industry with virtually no latency—along with the data speeds that are three to four times faster than on other types of satellite networks.
SM
What role does Code Division Multiple Access (CDMA) play?
CDMA technology built into the Globalstar GSP-1700 handset provides our customers with industry-leading voice quality without the echoing or garbling experienced by other satellite handset customers. In fact, Globalstar satellite handset voice clarity is quite honestly comparable to the finest landline phones, which translates into a significant performance advantage for our customers.
SM
How do you feel the Globalstar LEO satellite network is going to fundamentally change satellite communications?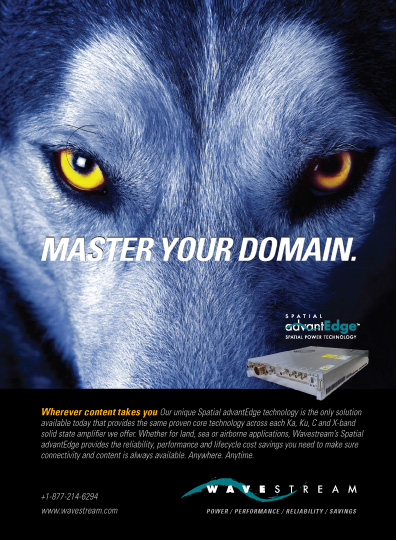 Jay Monroe
Globalstar was founded on the belief that we can provide affordable, high quality satellite communications on a global scale. Going forward, we will be bringing satellite communications into the modern, data-driven, wireless era. As a result, businesses that rely on data and communications from remote systems and workers can compete more effectively.
SM
How will the recent FCC-proposed ATC (Ancillary Terrestrial Component) rule making, where the Company was denied a postponement for an ATC license by the agency, affect Globalstar?

Jay Monroe
Globalstar enthusiastically supported recommended actions by the U.S. Federal Communications Commission (FCC) regarding the proposed development of terrestrial broadband services utilizing the MSS 2 GHz band. The FCC further stated that it intends to address issues pertaining to the ATC rules for Globalstar's Big LEO band in a separate proceeding at a later date. As Globalstar completes the launch and deployment of its second-generation constellation, we look forward to participating in that future proceeding and anticipate receiving similar flexibility to offer terrestrial services within the Big LEO spectrum band.
SM
What projects is Globalstar currently at work on, and what might we expect from the Company over the next year or two?
Jay Monroe
We're currently exploring some new technologies that could fundamentally change the way businesses and people communicate. Whether it's a seamless integration of terrestrial and satellite phone service, or taking our SPOT satellite GPS messengers to the next level, you can expect some exciting things from Globalstar in the next few years.
SM
Please tell us about your SPOT Satellite GPS Messenger devices and what is your vision for SPOT moving forward?
Jay Monroe
When we launched SPOT four years ago, we created an entirely new consumer category of personal GPS satellite messengers that has fundamentally changed the way outdoor enthusiasts prepare for their time off the grid, outside of cellular or radio frequency range. We're incredibly proud of the role that SPOT has played in facilitating rescues during emergency situations —as of this writing, we're now up to more than 1,800 rescues initiated around the world via a SPOT device! We're also seeing a convergence of outdoor enthusiasts' desire to stay connected with their social networks while they're off the grid, and then share their adventures with their communities once they've returned. We believe that SPOT devices will become the go-to companion for outdoor enthusiasts around the world –as automatic as a water bottle or bike helmet.
SM
Looking over your career, what projects or products truly bring a smile of satisfaction to you?

Jay Monroe
One of the most satisfying experiences I had in my time with Globalstar was the creation of an entirely new consumer product category of personal satellite messengers. We developed SPOT and put it in-market in less than nine months. But then I learned of some of those very first SPOT-initiated rescues. I began to realize the potential magnitude of this ground-breaking product—not just in terms of the effect it would have on the business, but also recognizing that we were actually helping to save peoples' lives.
It was also a tremendous day when we began launching the second-generation constellation. And the really nice thing about satellite launches is that they are tangible evidence of great collaboration and years of hard work.