June was a busy month for Rupert Murdoch. Prior to announcing his divorce from Wendi Deng on June 13th, on June 11th News Corp's shareholders approved the company's plan to divide itself into two entitites, effective as of June 28th.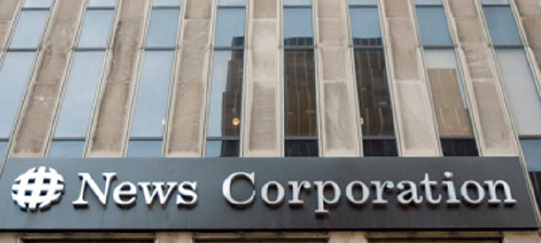 The split of News Corp.—not from Ms. Deng—means the much talked-about, and somewhat toxic, publishing arm of News Corp. will separate from the broadcasting and film divisions, hereinafter to be called 21st Century Fox.
"We are pleased that the proposals have been approved by an overwhelming majority of the outstanding shares, and that our shareholders clearly recognize the anticipated benefits of the separation," News Corp. chairman and CEO Rupert Murdoch said in a statement. "We are on track to complete the separation on June 28th and look forward to launching two new industry leaders."
That may be true, but it also removes a lot of baggage from the 21st Century Fox operation. Out goes the myriad hacking and corruption scandals (with many of the U.K. accused now appearing in the U.K. courts). While such will not wipe the slate clean, as far as Mr. Rupert and Mr. James Murdoch are concerned, it does. And, at the very least, this move does permit 21st Century Fox to start planning for an acquisition of the 60 percent of BSkyB that it does not already own.
That's the view of analysts at Miami-based investment bank Espirito Santo which, in a recent update, gave BSkyB a target price of 990p, a 26 percent premium over current levels and a potential market capitalization of a spectacular 16 billion pounds (or US$24 billion).
News Corp. initiated its pursuit of BSkyB in 2010 (at 700p a share). However, local opposition in the wake of the News of the World hacking scandal forced the company to abandon that attempt. A threat by the U.K. broadcasting regulator OFCOM that they could start an investigation as to whether Rupert and James (and, by implication, News Corp) were 'fit and proper persons' to hold a U.K. broadcasting license led to BSkyB passing that test with flying colors and won praise for the manner in which Sky itself had stayed aloof and untainted by the News of the World problems.
Where are we now? The News of the World is dead and gone. Those accused are now threading their way through various court appearances—and possible jail sentences. News Corp.'s interest in BSkyB is no more, or won't be after the June 28 split.
James Murdoch and Chase Carey have both referred to the BSkyB bid as "unfinished business." The question for Murdoch-watchers is whether a bid for BSkyB might happen ahead of a U.K. general election (in May of 2015), or whether 21st Century Fox will await a new U.K. government.
The problem for 21st Century in bidding for the remainder of BSkyB is that there remains in the U.K. as sort of an unwritten rule that acquisition should be by 'anybody but Murdoch,' as far as progress in British media is concerned. Now News Corporation will own The Times (of London) and The Sun, and has a zero connection with 21st Century (other than the Murdoch name), it will be interesting to note how the U.K. 'Establishment' handles any sort of bid by 21st Century Fox for BSkyB.
It's not as if we have not been down this road before. Attempts by the—then—News Corp to enlarge its influence were totally thwarted.
In 1997, BSkyB formed a partnership with Carlton TV and Granada to bid for the U.K.'s digital terrestrial licence (ONdigital). The regulator ordered BSkyB out of the consortium, which subsequently failed. Since then, there has not been a single year wherein BSkyB was not under some sort of investigation. In some years, there have been two or three sets of legal enquiries into one aspect or another of Sky's activity. In other words, whatever Rupert Murdoch does, and no matter what hat he might be wearing, any bid for BSkyB is going to be minutely examined by U.K. regulators, Parliamentarians, and rival media concerns, as well as the European Unnion Regulatory Commission (which passed the 2010 application).

However, the prize, if he can achieve the acquisition, would be a huge "win." Murdoch could then consolidate his European Sky broadcasting assets under one umbrella and probably float the lot off independently from 21st Century Fox.
Another variation on this theme might be some sort of European reverse acquisition. Readers with a long memory will recall the attempt back in 1996 to launch a European-wide payTV system—this had Canal Plus and Bertelsmann as participants, along with BSkyB and Havas. That came to naught, so Murdoch tried once again.
In late 1998, he launched News Corporation Europe. Rupert Murdoch invested in a grand statement at the Savoy Hotel, London where he made a few vague promises to expand his News Corp. media empire into mainland Europe— and instantly wiped 8.5 percent off Canal Plus' share price (Nov. 23, 1998). Murdoch at the Savoy press conference said News Corp Europe (NCE) would not have a set budget but, instead, would examine each project on a case by case basis. Canal Plus, at the time, made no response to Murdoch's announcement.
The first step, he said, would be an Italian payTV joint-venture, then NCE's first specific project would be a new channel, established with Paris-based network TF1 and targeted at 15 to 24 year olds, due to launch in 2000 on the Television Par Satellite (TPS) payTV bouquet. Mrs. Letizia Moratti, formerly head of Italian pub-caster RAI, was to be chairman of NCE and would join the main News Corp. board and that of BSkyB. Murdoch said BSkyB would be welcome to join the new Europe-wide venture as partners, "if that was the decision of the board of BSkyB." That enterprise attempt also came to naught.
To bring the story up to date, we all know how successful Murdoch's operations are in Germany and Italy. Both have more work to do, however, few would doubt the wisdom of Murdoch's longer-term vision. News Corp. has extended its interests beyond Europe's natural borders and into the Middle East with Prince Alwaleed Bin Talal's Rotana Group, or in places such as Afghanistan (with Moby), as well as with TataSky in India and Star TV.
In other words, Murdoch is already ahead of the game, and no doubt could derive a scheme to by-pass the pesky London regulators, and center his 21st Century Europe operation somewhere else. In tax-friendly Luxembourg, perhaps? You never can tell!
However, getting back to the 'anybody but Murdoch' threat from the British government, it emerged on June 14th that a future Labour government would slap a new cap on cross-media ownership—clearly with Murdoch in its regulatory sights. The next two years will certainly be interesting, not the least for an unencumbered Rupert Murdoch who is out to achieve a lasting legacy in Europe.

About the author
Senior Contributing Editor Chris Forrester is a well-known broadcasting journalist and industry consultant. He reports on all aspects of broadcasting with special emphasis on content, the business of television, satellite broadcasting, and emerging applications. He founded Rapid TV News and has edited Interspace and its successor Inside Satellite TV since 1996. He also files for Advanced-Television.com. He was also appointed an Associate (professor) of the prestigious Adham Center for Television Journalism, part of the American University in Cairo (AUC), in recognition of his extensive coverage of the Arab media market.