Until three years ago, the limited options for broadband communications at sea forced mariners to select from a menu of unpalatable choices that either offered small hardware and prohibitively expensive airtime, or massive antennas with unreliable airtime supported by a patchwork of regional services. All changed in late 2007 with the launch of the mini-VSAT Broadbandsm service and TracPhone® V7 antenna from KVH Industries, Inc., and its partner, ViaSat, Inc.
For the first time, vessel owners and operators were able to choose a solution that offered a unique combination of features — an antenna 75 percent smaller than traditional VSAT systems, the power of a seamless global Ku-band network, broadband connections up to four times faster than Inmarsat's fastest data rates, airtime costs more than 85 percent less expensive than competing services, and a single point of contact for hardware, airtime, and worldwide support.
The response has been remarkable, with more than 1,000 systems shipped to vessels worldwide, making mini-VSAT Broadband the fastest growing maritime VSAT solution in the industry. The professional dealers and technicians in the National Marine Electronics Association recently named the TracPhone V7 the best marine communication system available, and mini-VSAT Broadband has become the satellite communication solution of choice for the U.S. Coast Guard, while also being used on vessels in the U.S. Navy, foreign coalition navies, state emergency service organizations, commercial fleets, and leisure yachts.
KVH believed that the marine marketplace was ripe for the emergence of a new, truly disruptive approach to maritime communications, one that offered faster speeds, smaller hardware, more reliable service, global coverage, and a level of affordability that was unmatched. That's exactly what has been achieved with the development of our TracPhone V7 hardware and the creation and launch of mini-VSAT Broadband in collaboration with ViaSat. Our long-term partnership with ViaSat enabled the two companies to leverage KVH's expertise in mobile satellite antennas, maritime sales, and global service with ViaSat's powerful ArcLight® spread spectrum technology and network capabilities to develop an end-to-end hardware solution and a seamless network that is unique in the industry.
The result of this collaboration and the network's ongoing evolution is a robust, high-capacity, Ku-band global broadband service offering data rates as fast as 2 Mbps shore-to-ship and 512 Kbps ship-to-shore. Subscribers enjoy access to multiple Voice over IP telephone lines with optimized service as well as voice prioritization to ensure crystal-clear connections at all times. ViaSat's proven ArcLight technology, frequency re-use architecture, and burst message transmission approach provide enhanced efficiency resulting in lower airtime costs for end users. Just as valuable, it also enables the use of small, 60 cm VSAT antennas while offering faster speeds than Inmarsat while serving as ViaSat's Yondersm in-flight broadband network for business and commercial aircraft.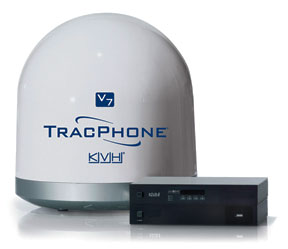 The U.S. Coast Guard's recently selected the TracPhone V7 and mini-VSAT Broadband as its new satellite communication solution. The $42 million contract will result in mini-VSAT Broadband deployment on as many as 216 Coast Guard cutters while displacing the existing, legacy systems and service. This a huge milestone in the establishment of mini-VSAT Broadband as the new industry leader for maritime satellite communications and represents one of the largest maritime VSAT awards ever, in terms of the number of vessels.
To assist customers such as Nordic Tankers, Mowinkel, Vadero, and others, KVH continues to enhance the value of the fully integrated, end-to-end solution. The recent introduction of the GlobalCare Premium Support Program provides 24/7/365 concierge-level support in thousands of ports around the world.
It is crucial for us, and for our customers, that the Company continues to add value to the mini-VSAT Broadband solution, along with providing the most reliable and affordable maritime VSAT service available. That's one reason for the Virtek Communication AS acquisition, which equips us with a new suite of network and data management tools through the CommBox™ technology to further improve network efficiency and equip our customers with powerful features to control and manage their own airtime use.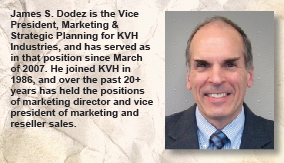 KVH is also integrating crew communication options, picocell technology, and other features to make the TracPhone V7 and mini-VSAT Broadband even more versatile. The Company has worked hard and invested aggressively to seize this leadership position in the maritime satellite communications market and will do everything possible to improve the network, keep our customers happy, and increase the value of our solution to them.